From Out Of The Cinematic Shadows [2022-05-24]

Peopled by glamorously elegant- yet- tricky femme fatales, flawed heroes, and shadowy yet cunning criminal bosses- noir is one of the most atmospherically intriguing and moodily iconic of all film genres. In recent years, the genre has seen something of a major revival, and one of the labels leading this revival has been UK's Powerhouse Films. Over the last two years, they have released a series of Blu Ray Boxset's focusing on the noir out-put of Columbia studios during the 1940's and 1950's. Each, of the four to date, box sets have featured six films, with a classy and crisp remastered print for each picture, a broad selection of extras, including informative and engaging commentary tracks, and bulky, fact/ stills packed inlay books. Due out late June of this year is the companies fifth Columbia noir boxset, and this focuses on the most iconic and known actors of the original noir cycle Humphrey Bogart. I caught up with John Morrissey Powerhouses co-owner/ director for an email interview regarding the boxsets and all things noir.

M[m]: The interest in the cinematic noir, be in its form original or the later neo-noir variety, has seemingly grown in leaps and bounds over the last few years. Why do you think this, and what do you see as the key appeal of the noir form?

John: noir deals with themes and concerns which are universal and give it a timeless appeal.

M[m]: So Far Powerhouse has put out four Columbia noir boxset's, with more planned. Why do you think this type of film was so popular with the studio? And in total do you know how many noir films did the studio release in the original golden age of noir?

John: I don't have any hard facts and figures to hand, but the sheer volume of noir films that were produced by the studios during the 40s and 50s suggests that it was a genre that spoke to audiences, and that they were happy to return to see some of the great actors of the time (including Glenn Ford, Rita Hayworth, Humphrey Bogart, Joan Crawford, etc.) in tales of deception, greed and danger.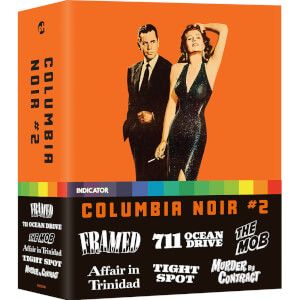 M[m]: Each of the four sets released thus far has really managed to cover the wide scope of the genre- be it tight & twisting crime drama, Cops Vs scammers, undercover cop mystery, taut one location thrillers, or melodramas. Please discuss how you went about selecting/ arranging the film selection on the boxsets? And will this remain the same on upcoming boxsets, or will you go down a more theme-based route? as you have done with Hammer boxsets.
John: Our approach to the selections was based on a number of criteria, including ensuring that each set contains films from a range of production years (rather than having a cluster of titles that were made over just a few years), directed by a wide selection of filmmakers (rather than having two or three by any single director), and which - as you note - represent a variety of styles and 'flavours'. This is the same approach we have taken to #3, and will be how we tackle the remaining sets, too.
M[m]: You have now released details of your fifth noir boxset, which will be appearing in June this year. It takes in six films from the genres most known/ recognized actors Humphrey Bogart. Why do you think studios first cast him in noir pictures, and do you know if he was personally happy to be so connected to the genre?
John: Humphrey Bogart made it cool to be middle-aged. Over forty when he finally broke through to stardom in 1941 with Raoul Walsh's High Sierra and John Huston's The Maltese Falcon, he made his vintage as much a selling point as it is on fine Scotch. His youthful awkwardness had mellowed into self-assured minimalism; his anger at a craven and false-hearted world was distilled into dry, scathing wit. He knew how to sit back, pulling on his ear lobe and puckering his basset-hound eyebrows, observing the sad antics of a world in which, as he liked to say, everyone was 'three drinks behind'. Bogart was the perfect star for an age when America grew up fast, a hero for the cold light of the post-war hangover. Film noir fit him like a glove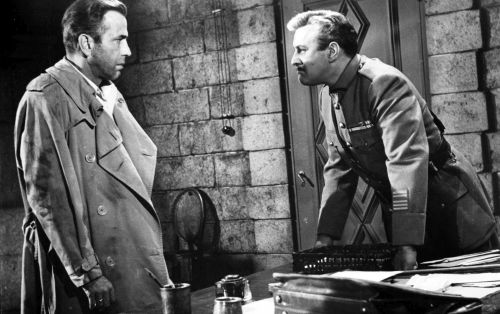 M[m]: As always, the new extras are most impressive for noir 5- with a broad selection of commentary tracks, interviews, other things and a one-hundred-and-twenty-page book. I am guessing these sets take a huge amount of time to plan/ map out- how long did it take for this set in particular?
John: Putting this set together has been a wonderful experience, what better dream project, than a Humphrey Bogart collection. We have a marvellous production team, which we have added to, since the start of Powerhouse Films 6 years ago, who have a whole wealth of experience tracking down those hard-to-find extras. So, with their new contacts and reference points it certainly added enormous value, as you can see from the lengthy list of extras. The planning and preparation on a project of this size, took around 3 months
M[m]: were any of the films featured in the box set difficult to source prints for? And did any cause any issues in their remastering?
John: Sony supplied all the masters for these great movies, and we are incredibly pleased to say they were in perfect condition. Having worked with Sony Pictures from our very first film, their quality has always been terrific, with very few occasions where we have had any issues.
M[m]: Many of the noir film actors, crews, and directors were connected or put on the McCarthy blacklist- why do you think this was? and do you think any noir films highlight a clear Communist agender?
John: The history of HUAC and the blacklist is something which weaves its way through the period, and - as an unavoidable consequence - through the discourse that runs across our set (in commentaries, booklets and the selections of accompanying short films which we've made). There is no doubt that the shadow of McCarthy hangs over noir, and that it permeates the genre through the decisions which scriptwriters and filmmakers made about the stories they tell and how they chose to tell them (including who they would use - onscreen and off - to work with).
M[m]: All the noir boxsets feature Powerhouse's usual selection of great/ worthy extras, but one curious addition to the sets has been the Three Stooges shorts. Please discuss their inclusion on both sets thus far.
John: This was the bright idea of Anthony Nield, the producer of all the Noir box sets. Including the films is not only a great way to demonstrate how the themes and tropes of the genre were influencing popular culture, but it also allows us to speak to the deeper legacy of Columbia as a major force in filmmaking (i.e., as a producer of successful feature-films as well as short subjects and comedy series).
M[m]: Following on from the last question- were there many successful examples of feature-length comedic noir films?. And following on from this were there many successful noir genre cross breeds- for example, noir horror, historic noir, or family-focused noir.
John: The question of what is or is not noir has been long debated, and I don't intend to affirm any specific position by giving examples of film titles here. Suffice to say that the legacy of noir is great, and its DNA can be found in a wide and diverse number of films.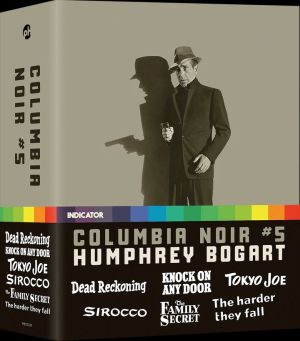 M[m]: The artwork for all four-boxset released thus far has been very eye-catching -who designed these, and will future sets follow the same look?
John: Our chief designer is Nick Wrigley, one of the best in the business, we have been lucky to have him on board from the start of Powerhouse Films. He never ceases to amaze us with his foresight and sheer quality. Nick was the mainstay behind Eureka Masters of Cinema for many years.
M[m]: who out of the more prolific noir directors do you feel had the most consistent output?
John: Wow that is a big list. We are big fans of William Castle, John Huston, Fritz Lang, Jacques Tourneur, Orson Wells of course. The frustration for our industry is that the focus for the Hollywood Studios is their digital offering, so trying to get them interested in these kinds of titles is very frustrating. We were lucky with Sony Pictures, we just caught them at the right time. There are real gems we would love to get our hands-on, and we are constantly approaching the studios to
M[m]: Does Columbia have a physical huge archive of their films, and if they do is this where you got hold of the prints for the boxsets?
John: They have an amazing archive as you would expect, based in L.A. The resource to look after their prized gems is not what it used to be, the move to digital is the Studios priority these days I'm afraid. We did however manage to get all the masters for the Noir series, and all were in great condition, which really helped us.
M[m]: Please talk about the work you do on remastering/ processing the films for the noir boxsets? And were there any particular films that stood out as more problematic when it comes to processing?
John: The entire process is very controlled by Sony Pictures, they provide the masters, but we are not allowed to do any restoration work on them. To be fair Sony are renowned for providing some of the best masters in the business. There have not been any titles that were problematic, I'm pleased to say. It has been a great project to work on, and the results seem to have been very well received.
M[m]: Now you have started distributing your releases stateside- are they any plans to reissue the noir boxset in the US, or would there be rights issues?
John: We would love to release these Noir sets in the US, they have been really well received everywhere, unfortunately the rights are not available for the US for the majority of the titles. Maybe Sony Pictures will take our lead and release similar sets themselves.
M[m]: have you ever considered including CD soundtracks/ track compilations in your noir boxsets?
John: This has been something we do receive requests for, but being a fairly small team, and with the added workload of the launch of Powerhouse US we just do not have the time to be able to do it. We did the Birdy soundtrack deal with Peter Gabriel's record company, which was a very easy one to do thankfully.
M[m]: Clearly Columbia made a lot of films in the classic noir period- but are there any other studios who were also as prolific? And if so, have you ever considered releasing a boxset of their releases?
John: Some of the best Noir titles are from Columbia without doubt, but there are studios that were also fairly active in this genre. We do have a deal in the offing for a whole batch more with another Hollywood Studio, watch this space as the saying goes, it will be epic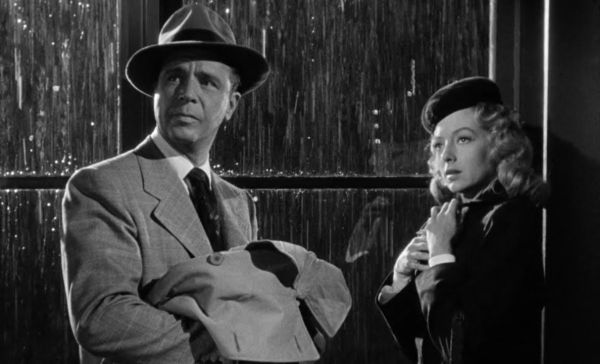 M[m]: As well as releasing/ celebrating the original run of noir, Powerhouse has recently put out some great examples of neo-noir from the 1990s. Why do you think the noir genre re-appeared in the '90s, going on to become prevalent in the decade?
John: Again, there is much writing about this by far greater analytical minds than mine, but - as I mentioned above - there is a universality to the themes of noir. It deals in fundamental, often difficult truths about human nature. What is more, there's something incredibly cinematic about the noir aesthetic, which endures. That aspects of its themes and style should come around again (and again) to influence successive generations of filmmakers is not surprising.
M[m]: What do you see as the pros and cons when comparing original noir and neo-noir?
John: I am not sure it is really about 'pros and cons'. There is a relationship between the two, in that one is the precursor of the other, but each is born of, and operates within, its own time. A great 'neo-noir' is not simply a re-make or a pastiche of noir, but rather a work which tells its own story, and which uses its own style, albeit one which owes a debt to what has gone before.
M[m]: I know you have released a few stand-alone neo-noir releases- but any thoughts on a neo-noir boxset?
John: Yes again this is something that we have in the works, so keep an eye for future announcements.
M[m]: Do you still think there has been any successful and good example of the noir film released in the last ten/ twenty years? And if so, please discuss some of these.
John: There are countless films which have undoubtedly been influenced by the noir film. From the Coen Brothers to David Lynch, Park Chan-wook to Nicolas Winding Refn, there are far too many films and filmmakers to mention. But again, the success or otherwise of these individual filmmakers' films has less to do with whether they conform to our understanding of what constitutes noir, and more to their unique visions.
M[m]: As you have a history of releasing British genre films- have you ever considered releasing a British based noir boxset?
John: Yes, very much so, we do have plans to release some British Noir films, so watch this space.
M[m]: Will there be a noir 6, and if so, can you give us any hints what it might consist of?
John: Yes there will be a Noir 6, looking likely at an Autumn release for that one. This series is from one of the other big Hollywood Studios, so strap yourself in, for lots more classic Noir films.
Thanks to John for his time and efforts with the interview. Vol 2 through 4 of the Columbia Noir boxsets are still available directly from Powerhouse- and can be found here. Vol 5 is out on the 22nd of June.
Picture credits: large front page picture still from 1954's Pushover ( aka The Night Watch, 322 French Street), which was part of the Columbia Noir #4 box set. Menu picture from 1958's Murder By Contract, which was part of Columbia Noir #2. Columbia Noir #2 boxset. Still from Sirocco (1951), which is part of Columbia Noir #5. Columbia Noir #5 boxset. Still from johnny o'clock (1947), which was part of Columbia Noir #3.
Roger Batty