Work that body! [2004-10-27]The downtempo genre has a new star and his name is Rodney Hunter. Growing up with Peter Kruder (from Kruder & Dorfmeister fame), one can wonder why it took so long for the Austrian to complete his album. And that was exactly my first question when I had the opportunity to interview Rodney.

Rodney Hunter: I wanted to make the album as good as I could and spent a lot of time over thinking the whole process. To make and finish the record wasn't really what took the most time, it was more the thinking about what to do and what not that took a while.

musique[machine]: On Hunter Files you used quite some guests to perform. How do you search for artists that fit with your music?
RH: On Hunter Files I only worked with people that I knew, just to keep the whole thing easier. It can be really nerve wrecking if you want to work with someone and you have to deal with their lawyers first. To avoid all those hassles, I just asked my friends, who I hang around with the whole time (Hubert Tubbs, Ken Cesar, Orietta Pires, Aladin, Stoney) if they would help me out on some tunes and that's how the whole thing happened.
m[m]: But why didn't you sing more by yourself? Your performance on You're Not Alone is most impressive…
RH: Thank you. Well, I didn't know that I could do it. You're Not Alone was the last song to finish for the album, and because of nobody being around when I was in the drive to finish the track, I just went in the recording room myself and tried some stuff out, and that turned out really nice! It was mind-blowing for me to find out I could do it and I have to admit that I think that's the direction how it will be going in the future.
m[m]: You've known Peter Kruder for a long time, but what made you and your friends actually get involved in making music at that time?
RH: Our big influence was my brother, Billy Hunter (rip). He was 10 years older than me and a professional musician. He was Falco's guitarist (Falco is one of the best-known Austrian artists, remember Rock Me Amadeus? - ed.) and a heavy booked session musician, which was the coolest thing in the world to Peter and me. We locked ourselves in the bedroom and recorded about 5000 songs and riffs on a cassette player. I played bass, Peter played guitar. We are talking about 1984 here, so we were really young. Later we got more professional towards production and I think we were one of the first people back then that worked with tools which are standard now like midi, sampler, etc.
m[m]: Your music obviously belongs to the same downtempo genre as Peter Kruder & Richard Dorfmeister do, and you also got a little help from them on your album. Are you not afraid that your music will become too similar to K&D's music due to the influence of the two?
RH: I never really thought about that. I would rather say that we all influenced each other. In the last ten years we always worked a lot together. I did a couple of remixes for Tosca and Peace Orchestra and I also made a couple of tracks with Richard which came out as 12". I think it's natural that you pick things up that you like, so I probably have been influenced, but I also gave some inspiration back to the boys which I can hear sometimes in the tracks. We call it "posse filesharing".
m[m]: What is exactly your connection with the Stereo MCs? Anything happening in the future?
RH: The Stereo MCs are very old friends of mine. They were my label bosses for the Leena Conquest project and they were my publisher. They made a lot possible for me and made sure that back then I could get a "good start". We are in heavy phone contact, so wait and see what happens!
m[m]: What's up with your own label Uptight Recordings?
RH: Uptight Recordings doesn't exist no more. Uptight was a sublabel from the BMG company and when the contract expired, BMG didn't want to finance the label, so we sat down to calculate the whole thing and figured out we could not finance the label with our money, because it was too expensive. So we decided to call it a day.
m[m]: Vienna has a fantastic music scene with outstanding qualities. What is it in the city or scene that made the musical environment in Vienna of such a high standard?
RH: Well, probably it was Peter, Richard and me, haha! Serious now, when we started to make electronic music, we were alone on this planet. We had no MTV, we didn't have import record shops or a good radio station. So I think that made us sharpen our instincts. We would work on tracks, close to going crazy, that's how much we thought about our work, and that's what made the whole thing so special. Vienna is the perfect city for music, because that's about the only thing you can do there. There aren't that many clubs and you know everybody, the chances of being distracted are very low.
m[m]: I've never been to Vienna. What would you recommend me to visit or see?
RH: You have to go to the Dubclub! One of the best soundsystems in Europe and very nice people! For records I would recommend black market. For food, go to Ra'an. If you like nice parks you have to go to Burggarten.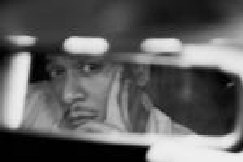 m[m]: The pictures you used for your debut album are very good. What was it like working with Oliver Jiszda and did you actually get to ride that bike?
RH: I know Oliver since he was a little boy; I used to be a hairdresser and his mother (also a famous photographer) was one of my costumers. Oliver is getting really big now, making pictures for Vibe Magazine and international campaigns. I was very happy that he had some time to take good pictures of me. And yes, I ride that bike, it's mine!
m[m]: Hunter Files is very good for dancing and chilling, but do you also feel your music is sexy?
RH: I never thought about that, until I noticed how all the ladies are reacting. Very funny, because since early Uptight Recordings days I've been told that my music is very sexual, which is bizarre because you don't think about that when you're in the studio. But then again, being in the studio so long, you have to put your energy somewhere, maybe that's why it sounds oversexed…
m[m]: What can we expect from a Rodney Hunter live set?
RH: I hope good vibes! We go on stage with drums, keys, bass, percussions, midi and of course the vocalists, mixed with a brilliant visual show from my man Fritz Fizke. All in all I'm very happy with my live crew and hope to play in a place near you soon!
m[m]: To conclude this interview, what new music should I check out to reach the same ecstasy I had when hearing Hunter Files for the first time?
RH: Well, I could recommend the new Dublex Inc album which is very nice and there is a new Tosca album coming, so check that out. And of course be ready for the next Rodney Hunter exploitation!
Be sure to read my review of Hunter Files here. Here are some more related links:
G-Stone Recordings
Oliver Jiszda
Soul Seduction
Dubclub
Pictures by Oliver Jizda & Ester Vörösmarty
Justin Faase