Dark and Deranged Spirits Gather [2022-01-27]

I think it's fair to say that black metal as a sub-genre is one of the more prolific and popular forms of metal. Here at M[m] we must get a least ten or so albums from within this genre for review each month, and sadly more often than these releases just re-treading the same old cliches and tropes in a rather stale and bland manner- with little or no creativity, flare, or grim passion. From time to time we do get through an album that darkly glints in the sea of black metal mediocrity- and one such album was last years Eclipsing Through The Womb Of Twilight And Dementia. The album appeared on Lithuania's Inferna Profundus Records as either a 180-gram vinyl or digital download- and after a few EP's, demos and splits this was Glemt first full length. And this makes it all the more impressive, as it's a wonderful unpredictable and darkly deranged release that shifts between clamouring 'n' wonky mid-paced BM, crude speeding chaos, and creepily grim to darkly lumbering atmospherics. After being so impressed/ taken by the album, I just had to track down who was behind the project- and below you'll find my email interview with the projects one and only member Orobas, who is based near London in the UK.

M[m]: What are some of your earliest musical/ sonic memories, and do you think any of these influenced your love of the dark and the grim?

Orobas: Some of my earliest memories of music was listening to Johnny Cash as a child being driven in the car by my father and watching MTV and being mesmerized by the music videos, so it was only natural that I picked up the drums at 8 years old. I grew up not necessarily liking Metal but Bands like Black Sabbath, Dio and Iron Maiden really did it for me. I only really got into metal when I was 14 being shown bands like Pantera and Megadeth by a friend who I was in a band with, I distinctly remember going into Central London with them to HMV to buy Far Beyond Driven and Defenders Of The Faith by Judas Priest, my friend and I made a habit of going there quite a lot to find new music. It only really got more extreme from there, I got into Death Metal, especially to the Tampa Florida scene, but I remember I when was 16 I was in HMV with my friend and I picked up Transilvanian Hunger on CD, I thought the cover was very striking so I picked it up. I listened to it when I got back home and it was the rawest and most bleak album I heard, I found it so much more honest than bands like Obituary and Deicide. That album really changed a lot for me, then after that, I really got into Black Metal.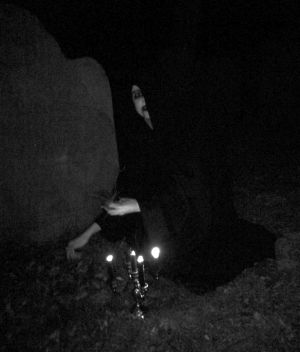 M[m]: Please discuss how and when Glemt first came about? And what's the meaning behind the projects name? And is this your first project?
Orobas: Glemt was my first project, yes, but I've been a part of loads of bands. Glemt started on the 25th of February of 2019 out of total fucking chaos, sleepless nights and the hideous nectar of trauma, I felt like I could see this black void before me, Glemt manifested itself from this void and made its self known to me. I didn't want to play black metal because I thought it would be fun or I just got bored one day like others seem to do now, it came out of hatred and disdain for everything. At that point I wasn't eating or sleeping it was destruction on all levels, this was manifested in the first demo I had only been playing the guitar for about three months at that point as well.
Glemt is just means Forgotten in Norwegian, I am not Norwegian, I just thought this was appropriate to honour those who came before me whilst still having meaning to me at the time, it's coming up to 3 years as of writing this it brings on new meaning to me.

M[m]: You mention playing both drums and guitars- do you play anything else, or would there be something else you'd like to play?
Orobas: Yes, if keys and vocals count as well. I really want to get into synthesis and more analogue gear such as reel to reel.

M[m]: Clearly Glemt is primally a Black metal project, but I can certainly hear the influence of ambient, gothic music, horror soundtracking too. What do you see as say five albums that were a major impact on Glemt's sound?
Orobas: I would definitely say Les Légions Noires and the Portuguese Black Circle had a profound impact on me, bands like Peste Noir, Drowning The Light, Black Funeral and Deathspell Omega as well. It is extremely hard to narrow it down to just 5 albums. Leviathan - The Tenth Sub Level of Suicide, Abruptum - Obscuritatem Advoco Amplectère Me, Black Cilice - A Corpse, A Temple, Taake - Hordalands Doedskvad and Burzum - Hvis Lyset Tar Oss. You say that, I do listen to goth music 'In the flat field' I listened to a month straight when I first got the record and Christian Death's Only the Theatre Of Pain was quite a pivotal albums for me as well

M[m]: You've recently released Eclipsing Through The Womb Of Twilight And Dementia, your debut album via Lithuania's Inferna Profundus Records. Please talk about how you came to work with the label, and what to you see as the key themes behind this album?
Orobas: I first came to work with Inferna Profundus through AIV of Abduction saying I should send over the split was working on at the time with Vampirska and that came out through IPR in early 2021 and we have kept in contact since, it an absolute honour to be working with such a prestigious label. This album came from my experience with spirits and demonic entities throughout my life, the confusion and fear and quite intense experiences I've been a part of. I can only describe some of these intense experiences as the moment before vomiting and the moment before a sexual climax. That being said this is quite personal to me.

M[m]: As a whole album Eclipsing Through The Womb Of Twilight And Dementia is a wonderful unpredictable and grimly wonky ride- how long did it take to firm up the track runtime/ flow of the album?
Orobas: This was written and recorded over a course of a year, I would get myself in an unstable state before recording like peering into insanity so I can allow myself to become a receptacle of this darkness that is manifested, this defiantly had a hand on how it sounded in the end. The run time and flow came easily after this, the side of twilight is very much an ode to these entities that made themselves known to me, the side of dementia is the knowledge that has been bestowed upon me through this communication.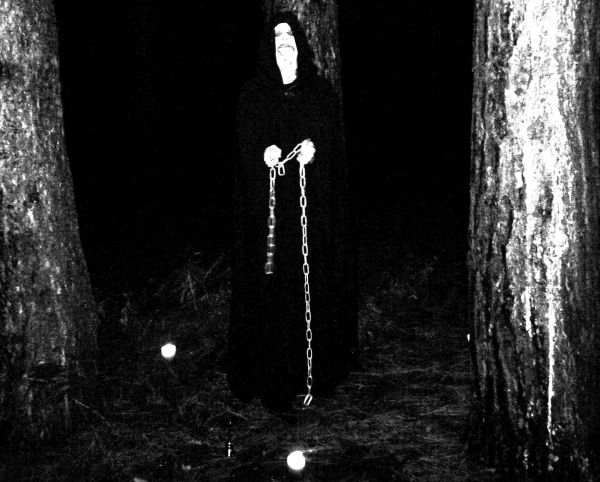 M[m]: You talk about spirits and demonic entities as being an influence on the album- are you able to detail/ quantify any of these more?
Orobas: I have had experiences with spirits ever since I was as young as six, I was raised as an orthodox Christian so I would see this and think it was angelic beings or would just try and convince myself that I didn't see or feel what I did. But now I have come to realize that these were spirits, they would come in dreams and appear to me in the night. A lot of these were not harmful or malicious in any way to me they would assist me and impart knowledge I've been very fortunate in this aspect of my life, this definitely not to this album is anything to do with triumph (only in terms of a spiritual one) in all other aspects it is agony and metal torment.

In this modern age corrupted by these seeds of Abraham we as a modern society have very little understanding of these spirits and demonic entities. It has been made to look evil where in actual fact people have become weak and are now scared or they have an agenda they want to use power through religion and or social means to hinder true spiritual freedom this behaviour I utterly detest and I only have utter disgust for the people and institutions that enforce this. There is no white or black Magick as some modern-day witchcraft society would have you believe, this is ultimately another ploy of control, telling practitioners what they can and can't do, it is down to the individual whether they think they are justified in the actions they take.

These things are built into are modern-day nature there is no shedding of this as a society, we can only try and understand make sure as we few individuals honour those who have come before who go to great lengths and impart this almost forgotten knowledge on those to come, for example, shamans of days of old tormented themselves to go past physical barriers of this world, it is our duty to learn from these past experiences both through ones that are self-discovery and second-hand experiences done by those who dedicate their mortal existence to these things.

M[m]: The album features a few guests appearances from the likes of UK's Thy Dying Light, and Canadian Nocturnal Departure- please talk about how some of these came about?
Orobas: I've been in contact with Hrafn from Thy Dying Light since the second Demo 'Animus' and in fact, I met him at a London show he was playing and the last (for the time being) Blackwood Gathering, he was also was a part of the label that put out the second demo. I have always admired his work so it was surreal for me to be working with him then and still is now. And with Nocturnal Departure I, in fact, did a Split with Hellmoon which is Funeror's solo band, but before that I needed some artwork for a compilation CD and I spoke to him about it and he did the artwork for that and we have been in contact ever since he is a very talented individual and an absolute pleasure to work with. I wanted collaborations with this full length because I wanted them to add their own individual voice to these rituals.

M[m]: At present the album only comes in vinyl and digital form, will there be CD or tape releases down the line?
Orobas: Of course, more than likely something will be arranged later on in 2022.

M[m]: Over your early demos you did quite a few interesting surprising covers- one of these was your take on the Cure's Cold off their 1982 album Pornography. How do you go about picking what covers you want to do, and I'm guessing you're a fan of the cure in general?
Orobas: Yes, I do like The Cure, Disintegration and Pornography are albums I listen to regularly. In terms of this cover, I thought it was appropriate to the time and place whilst I was recording the first demo. In all, I have done three covers including that one, usually only available on the physical additions of the demos I have done. Including Cold, I have done Joy Division's 'Twenty Four Hours' and Judas Iscariot's ' The Wind Stands Silent '

M[m]: Metal Archives lists you as being the drummer in Mørktår- do you have any songwriting credits in this band, and how does your approach to playing vary in this project?
Orobas: When it comes to Mørktår it very much comes from Thrym Mørktår, I play the supporting role I write the drums and make sure everything flows and has the required intention for the music.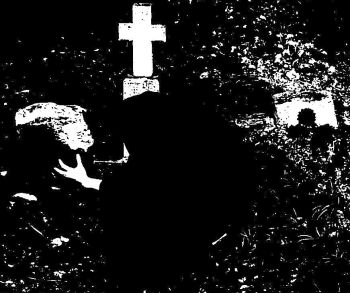 M[m]: Have you ever played live with Glemt, and if so what is the projects performances like?. And if not is this something you'd like to do?
Orobas: No, I have never done that. I am not against the idea but I feel like the live show would have to match the honesty that I display on recording, too many bands when they go live become a parody of themselves or it just doesn't match what you wanted it to be. So saying that if and when Glemt does go live, it needs to be material that people have not heard before and will never hear again, very much a ritual.

M[m]: What's planned next for Glemt?
Orobas: In 2022 I plan to do more reissues of past realises and also I am currently writing an EP that is quite different sounding to Eclipsing Through The Womb Of Twilight And Dementia, it is quite early to go into depth about this.

M[m]: Over the last year or so what has been impactful on you- be it music, art, or film?
Orobas: Yes though that there has only really been a few realises that has come out this year that made an impact on me this would include Crusfixioin Bell's 'Eternal Grip on a Noctural Empire', Burning Apparition Of The Master's 'The Bellowing Echoes Of Absurdity' and Amargor's 'Decepció. Apatia.'. I have really got into Francis Bacon, he really depicts torture and human pain in his artwork. Another would be Charles Bukowski, he displays such a harsh realness to his poems. And lastly, Choas Magick and Planetary Magick has played a big role this year for me reading 'Liber Null & Psychonaut' by Peter J. Carroll really perpetuated this, moreover the book 'The Devils Dozen' By Gemma Grey I really resonated with.

Thank you to Orobas for his time and efforts with the interview. You can purchase Eclipsing Through The Womb Of Twilight And Dementia direct from Inferna Profundus here, and Glemt Bandcamp can be found here.
Roger Batty