Cinematic Provocateurs [2021-12-01]

Starting out in early 2020 Anti-Worlds Releasing is a UK based film label, who from the off wanted to be one of the more daring and unpredictable genre labels around. With their output moving from the arty slacker drama/comedy/ horror of Relaxer. Onto the vapid-to-troubling gangster film Holiday, through to dealing- with-a-loss drama/ BDSM themed jet-black romantic comedy of Dogs Don't Wear Pants, onto Penny Slinger: Out of the Shadows- a documentary charting the life of the largely forgotten modern artist who utilized sexualized and darkly surreal imagery. We tracked down Andy Starke, one of the main minds behind this label that constantly likes to surprise and challenge its audience, for a rare interview.

M [m]: What was your first personal experience artier/ experimental film making, and do you think any one particular film made you want to form Anti Worlds Releasing?

Andy: I probably need a psycho-analyst to know why, but I've always liked weird films… from a child watching the BBC 2 double bills on Saturday night (Bride of Frankenstein still being a favourite film of mine) to long nights at the Scala cinema (Thundercrack seared into my brain etc) I've always loved things that prod and provoke and bang me over the head. I want Anti-Worlds to be a home for films that cause a reaction and get the brainwaves moving… that could be good or bad or happy or sad! But also wanted a label that championed films that perhaps wouldn't be released otherwise… I was at a film festival in Argentina and saw Chained For Life. I knew nothing about it and was blown away - so smart and so subversive - a very political film in its own way challenging the stereotypes and subverting genre rules - that was the film that I really didn't understand why it wasn't released and started the ball rolling.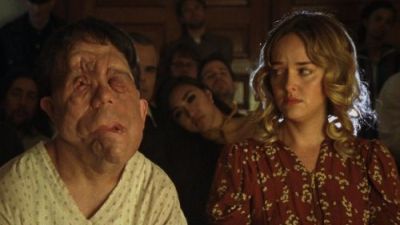 M[m]: Please discuss how and when Anti Worlds Release first came about? And what do you see as the meaning behind its name, and did you have any names you nearly went with?
Andy: I've produced several films( Kill List, The Greasy Strangler, In Fabric- to name a few) and I just became interested in the whole process. So, making them is one thing but where they end up is another and as a producer, it's important to understand all these elements I think - so the process was interesting to me. I'd been to a number of film festivals and seen films in that bubble and noticed they weren't getting a release in the UK, so I saw there could be an opportunity to release some films. The end game idea is to build a community of like-minded filmmakers and release the films in conjunction with the people that made them. It's been a real privilege getting to know the people who made the films we admired enough to want to release.
The origins of the name are for a pop quiz ha ha "His anti-worlds go spinning through his head" - that's a clue! I liked Shady Tree - lifted from the comedian in Diamonds are Forever - it felt like good logo opportunity…. but it also felt a bit shady…and that's not good… Anti-Worlds is what it says… a window on the other and a cheap excuse to have reverse catalogue numbers.
M[m]: Who is behind the label, and does each member of the team have firm/ set roles?
Andy: It's a small team - Zoe Flower does press and publicity and I've worked with her for years. She did the press on all the early Ben Wheatley films and is brilliant at her- job so she is essential!. Jason Wood knows the theatrical world better than any… Evrim Ersoy works on the producing side but he also programmes festivals like Beyond fest - so is great with recommendations. So whilst everyone has their own expertise it's really a cross over- it's a very small business so everyone helps out across all areas and we all jointly decide what we release - each bringing films to the table…, oh and Sam Dunn from Indicator really helped us out at the start getting us set up for physical distribution.

M[m]: You mention the other members of the team, but you didn't detail your role(s) within Anti worlds?
Andy: I guess jack of all trades describes it best. I'd like to think that as I also work as a film producer I have a pretty good idea of what I would want from the distribution of a film I'd made.. again - it's making a time capsule for the film that we and the filmmakers can be proud of. I also have a background in editing so that's helpful putting the supplements together - it's a cottage industry so we all need to do bits of everything!

M[m]: To date, the label has released eight blu rays- and each of these have only really been connected due to their more off-kilter/ arty take on each of their subjects/ themes. How do you go about deciding what to release next, and what do you personally see as the focus of the label?
Andy: First and foremost - we need to like the films - pretty simple! After that it's really just economics - there's been a bunch of films we would have loved to have released but couldn't afford to and others that end up on streamers etc. We're looking at some physical releases of films that are just streaming now. I hope it's films that may feel like they are from the edges, but all are extremely well made and have a point of view… it's about keeping an open mind and surrendering to the filmmaker's intentions - not imposing rules of what makes something good or bad.
M[m]: Pretty much with each of the eight films you've put out thus far on Blu Ray, finds you always going the extra mile adding in in-depth/ expansive material. Of all your releases thus far, what have been some of the more difficult extras to track down?
Andy: I mentioned how important Indicator were in setting this all up - Indicator set a very high benchmark! We wanted to treat new releases in the same way as older films are traditionally represented. For me - I ultimately want to present a film in the way the filmmaker's desire and at the very least create a time capsule tribute to the work. Some filmmakers want a lot of stuff on the disc and are happy to open the whole process up (Relaxer for example: Joel Potrykus provided some incredible stuff for the discs) others want to keep it more mysterious… but as I say - it's about respecting the filmmaker's intentions - from the artwork to the content.
M[m]: On the Krabi, 2562 release you added on 136 minutes' worth of sound-art by Ernst Karel who created the films sound design/ score elements. Could you see yourself in the future putting out a soundtrack CD as part of a release, or stand-alone soundtrack/ score releases?
Andy: We have good friends at labels like Invada and Mondo - so I tend to recommend things to them and see if they are interested -one of our latest acquisitions After Blue for example has a great soundtrack and will be a vinyl release in France… so def something we'd hope for some of the films
M[m]: You've also now released three digital streamed films- Jumbo, Murder Me Monster, and Patrick. Why did you decide to go down the digital route with these titles, and will there be physical releases down the line?
Andy: Just time- they will be blu's - we're working on them now!

M[m]: What have been some of your more popular/ bestselling titles?
Andy: the bestselling is Holiday - don't ask me why! That said- it's a bold, provocative, and visceral film - made by a very intelligent writer-director with something to say - that's enough for me and feels good that it works for others too!
M[m]: Have any of the releases hit against censorship problems with the BBFC? And if so could you please detail these?
Andy: Holiday is obviously the film that is the most extreme in content, so it's understandable that took a while to be certificated. I think it got watched 3 times by the BBFC! Personally, I like to be challenged and provoked and I'm OK with certifying stuff. that said - I'd rather an "unrated" system like the US. We had fun getting a certificate for a trailer for Patrick - nudity is a no-no in the UK… on the forthcoming blu ray we've got a batch of trailers showing its evolution from an 18 to a PG.
M[m]: As you often release more changeling/ at points disturbing films- where do you draw the line, and is there any type of extreme/ arty film you wouldn't release?
Andy: I'm sure it's possible for a film to be extremely annoying in its extremities… but… if it gets a certificate and we think it's a good film - we'll happily release it. I think it's clear that what we release won't be for everyone and that's fine and I think our audience is grown up enough to realise that it's OK to be shocked or offended from time to time….

M[m]: What are you presently working on release wise at present- and do you hope to put out another physical batch this year?
Andy: We've just finished Infinite Football and Patrick blu rays - both releases suffered theatrically of course during the pandemic so I'm really happy to get them out at last (released in January). Patrick floored me when I first saw it - obviously very committed to its central theme! But after ten minutes you forget everyone is naked and you realise it's about something else entirely - so clever - I wished id been involved! Infinite Football is just an incredible film - something I'm very proud to release. it's so smart yet very very entertaining… its also kind of heart-breaking. We are lucky to have the directors feature doc The Second Game on the disc - basically him and his father -who was a football referee in pre-revolutionary Romania - just commentating on a grainy VHS of a match he refereed. It's a perfect partner to Infinite Football and a microcosm of his society - really amazing.
When you work on these films you have to watch them over and over again - it's a fascinating thing the way they creep up on you - revealing stuff slowly that I just miss seeing things once. that's what I love about physical media - something tangible you want to revisit… like I say - a time capsule!
We've just licensed a couple of new films that I'm very excited about…. depending on when this gets published, I'll let you know what they are!
M[m]: Over the last year or so what art- be it film, music, sound or art objects have had an impact on you?
Andy: Blimey - so much stuff! I watch a lot of films and continue to be amazed by how much great stuff is out there. Really for me it's about keeping an open mind -I'm constantly surprised, provoked and excited by films art and music - sometimes it's overwhelming how much stuff is out there - but for me it's always been the stuff at the edges I'm interested in - it may not be slick it may not even be commercial but there should be room for some of everything and I hope that's what Anti-Worlds will continue to bring.
Thanks to Andy for his time and effort with the interview, and thanks also to Zoe who made it all possible. If you'd like to buy any of the companies Blu rays directly/ and or stream their releases head here. And keep an eye out for Jan 2022, when they are releasing two new Blu rays- Patrick, a nudist drama-come-dark comedy mystery. And Infinite Football- a documentary that blends the real and surreal.
Picture credits: Anti Worlds logo, a still from Chained For Life- the companies first release, a still from Holiday, still from Murder Me Monster.
Roger Batty