Geek-bound fear 'n' dread [2021-05-12]

Recently released via Arrow Video The Bloodhound stands as one of the more classy, distinctive, and subtle uneasy psychological thrillers to appear in some years. The films based loosely on Edgar Allan Poe's The Fall of the House of Usher. It focusing in on Jean-Paul Luret(Joe Adler)- an awkward, rich & glum twenty-something man, who lives with his largely unseen sister, in a glass, wood & grey blinded secluded large house. He's visited by his school friend Francis (Liam Aiken) - who is equally awkward, though slightly more devious. The film slow, but surely unfolds blending together creepy awkwardness & lulling unease. It nods back to grim and troubled thriller/ horror films of the 1970s, with a side order of early 2000's awkward geek-ness- which is what makes the whole thing so distinct. Most impressively this is the debut feature from LA-based Patrick Picard- who wrote and directed the film. After been most taken by The Bloodhound we arranged an email interview with Patrick, and below you'll find said interview- where he discusses not only his chilling debut film, but art and music- both his own & others.

M[m]: When did you first become interested in film, and were there any particular films that made you want to create your own work?

Partick: When I was a kid I watched certain movies over and over. I watched All Quiet on the Western Front something like a hundred times. I had Amadeus memorized. I didn't think seriously about making my own films until I was around 22. I started to get ideas that concerned atmosphere and world-building and dreams that I wasn't able to communicate with painting or music. Filmmaking just became a kind of synthesis of interests.

M[m]: You briefly mention your own painting & music- could you talk about both these a bit more, and can we find any of your music or painting on-line?

Partick: I started painting at the same time I started experimenting with films. The two have always sort of gone along together. Whenever a painting wasn't going well I'd say, "what do I know? I'm just a filmmaker.", or whenever a film wasn't going well I'd say "what do I know? I'm just a painter." The truth is that I love the abstract realm of pictorial design and I love to create particular moods. With narrative film you get to dive a bit deeper with character and story. Music has always been around and I play a variety of instruments. I think this has helped in terms of editorial rhythm. You can always go to patrickpicard.com to see some of my visual work-- but you won't find any music. However, I think I'd like to be more involved in the creation of scores in the future.
M[m]: Between 2014 and 2016 you directed a series of four short films. Please could you outline the plot/ flow of each, discuss their themes, and which do you feel was the most successful at doing what you intended?
Partick: Ha-ha I can't recapitulate the plots of each of those films. Those films were made as a student at the AFI. The only way to see them is to go to the AFI library and ask to watch them. At the time of making them they all felt very different-- but looking back there's definitely a continuity. To me they were each a kind of experiment after different ideas-- which I more or less succeeded in putting across in an interesting way.
M[m]: Last year you wrote and directed your debut film The Bloodhound- how did this come about, and what made you want to make your first film a low-key horror film?
Partick: It wasn't really a conscious intent to make a low key horror film. I just went with the idea that best kept my attention-- which happened to be this story about two old friends in this sort of nightmarish environment. The spark for the idea was the first few pages of The Fall of the House of Usher-- which I just happened to pick up on a whim. But as soon as I had that spark, I realized I had all these other ideas backlogged. I took the script to a few producers I met while at the AFI and we just made the thing happen. We willed it into existence.
M[m]: The Bloodhound is influenced by Edgar Allan Poe's The Fall of the House of Usher- what appealed to you about this short story?. And what are your thoughts on the previous screen adaptions of short story?
Partick: What appealed to me about The Fall of the House of Usher was really two things. I loved the atmosphere set up at the beginning: visiting an old friend in a strange old house. But secondly, I loved how the story didn't give the game away in the same way that some other Poe stories do. The story ends as mysteriously as it began. I wasn't very interested in the other film adaptations of Usher, though I watched the one by Epstein and Bunuel out of historical curiosity.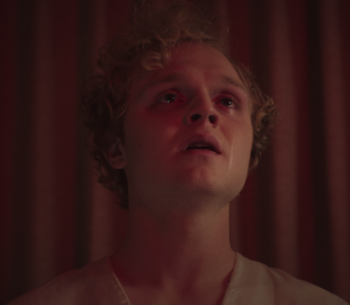 M[m]: The Bloodhounds mix of dread and geeky awkward-ness is rather distinctive. How difficult was it to get the balance between the two right?. And are there different cuts of the film, where you leaning more into one or the other?
Partick: That's an interesting question because I think that's what my editor and I are most interested in playing with. That stuff is seriously fine-tuned. And yes there are layers and layers of pentimenti of previous versions. You just keep working till the thing sings for you. I don't like the idea of giving audiences permission to laugh or be scared. I don't want them to know what to do-- that's more like life to me.
M[m]: Joe Adler plays the films lead Jean-Paul Luret, a detached & troubled young rich man. His performance is great, as he really nails awkward tension & quirky oddness well. Was he your first choice for the part?. And I take it he found it difficult to ease back out of the character after filming?
Partick: We were certainly set on getting Joe. I got hip to him from a casting director friend of mine. I really liked his face and his voice. He's nothing like that character in real life. He's very non-threatening. I have no idea if it was difficult for him to turn off the character but I know that it was difficult during the shoot for him to be so weepy and depressed all the time.
M[m]: Please tell us a little bit about how you came use the 1930 modernist house as the film's location? And was this your first choice, and did you have any alternatives?
Partick: Well I looked at an endless amount of properties. I know the modernist collection in Los Angeles pretty well at this point. This was my favourite house because there are aspects about it that are totally mysterious. Furthermore, the house was in the right kind of condition for the film because no one lives in it and therefore no one is updating the space in hideous ways. You'll have some great classical modernists homes in Los Angeles, but the residents have updated the kitchens and bathrooms in ways that are so not correct to the spirit of the thing. The Luret house needed to look original and soggy. I really love that house.
M[m]: You filmed most of the night time shots in the house, during the day- with the house covered. Please discuss why you decided to do this. And I'm guessing this raised a fair few issues/ problems- please could you discuss these?
Partick: We had to tent the house because we were, for the most part, not permitted to shoot in the house after 7pm and it was summer. But it's just one of those things that becomes a boon for the overall feeling of the film. I like that it's an artificial night-- it feels right for the film.
M[m]: The Bloodhound features a great low-key creepy soundtrack that blends drifting & haunting piano keys, with off-key ambience. Who created this, and do you have any thoughts about releasing the soundtrack?
Partick: The music was created by a composer named Ali Helnwein-- very much in the spirit of Morton Feldman-- and then it was morphed by our sound-designer to blend more seamlessly with the other sound elements. I don't think I'd release the soundtrack on its own because it's too married to the images. Just like I wouldn't release the film without the music.
M[m]: I didn't see Morton Feldman as an influence when watching The Bloodhound, but now watch the film with him in mind I can total see that. I'm a huge, huge fan of Feldman's work- do you personally have a favourite piece from him?
Partick: Triadic Memories.
M[m]: Following on from the last question, do you enjoy any other minimalist/modern classical composers?
Partick: For sure. I saw Morton Subotnick give a concert in Los Angeles a couple of years ago-- which I really responded to. I also love John Cage's percussion pieces.
M[m]: When writing/ creating The Bloodhound- what other things influenced you- be it books, films, music, or art?
Partick: I've got everything I've read and watched and listened to there to help me, but I try to not rely directly on influences to solve the problems of the material. I try to figure out what the nature of the story is asking for and make decisions based off of that. We did think about Morton Feldman's music in many ways and some of the early paintings by Lucian Freud.
M[m]: The Bloodhound came out during the Covid pandemic- how did this affect getting it released, and were there any issues caused by the pandemic with the film?
Partick: Yes! Our premiere was cancelled. We had already sold out the theatre when, at the beginning of March 2020, everything shut down. It was so depressing. I've still never seen the film in a theatre with an audience. Luckily Yellow Veil took the film to Marche du Film and Arrow was able to see it. The only interesting aspect was that Covid gave the setting of the film (being stuck in a house) this sort of oppressively relevant quality to it-- which is never something I'm thinking about.
M[m]: Have you started thinking about your next project yet- if so can you give us any details?
Partick: I've more than started thinking about my next project but I don't want to share details because I'll seem like a ding dong if it doesn't happen that way.
M[m]: I understand you not wanting to jink your next project- but could you give an idea of what type of film it will be?, will it be another low-key horror film, or something different?
Partick: I can't! It will be different. But it'll probably be a little spooky.
M[m]: Lastly what has personally made an impact on you over the last year- be it film, books, music, or art?
Partick: I got a book of Toaist writings by Leih-Tzu that has been a really warm addition to my household. I'm back to being really interested in Euan Uglow's paintings as well. I like when artists are absolutely obsessed to the point where it's sort of obscene. Uglow would have the same model posing for him sometimes as long as six years. The model would get married and divorced before he'd even finish the picture.
Thanks to Patrick for his time and efforts with the interview. The Bloodhound is available via Arrow Video( both in the UK & US) as either a Blu- ray or as a streamed film.
Roger Batty