An ongoing sonic love-film [2004-06-25]American singer and composer Percy Howard started a career in rockmusic in 1992 with Sway. Inspired by Swans, Dead Can Dance and Joy Division they released a CD in 1993. After the demise of that band Percy moved on with the ambient rock band Nûs in 1994 with whom he released two albums. When that band too collapsed in 1997 Percy's current project Meridiem came into existence whose wonderful second album called A Pleasant Fiction has just been released. I wanted to inquire about this project and Percy was so kind to answer a couple of questions: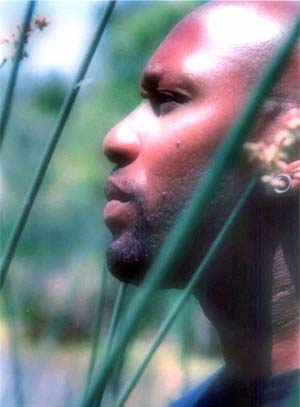 m[m] Can you please tell a bit about your background?
Percy I am the product of a military family and my father moved quite a bit when I was younger, but we settled on Long Island, New York, specifically East Hampton for the important portion of my formative years. My mother is an amazing singer and if it had not been for her restrictive and limiting religious upbringing, she could have been a Diva of monstrous proportions. I studied art song and classical music in high school, but was always interested in what was happening on the fringes of popular music, listening to people like the Velvet Underground, Nico, Marianne Faithful and Scott Walker as a teenager. This was interspersed with the eclectic musical taste of my father, which included everything from Bobby Blue Bland and Ella Fitzgerald to George Jones and Tammy Wynette playing on the stereo. You have to figure this conflicted sort of influence from a father that picked out his military "do" in the evenings and put on pink Angel flights for a hard evening of partying! So, my influences have been a mixed bag from the beginning. Athletics were a big part of my life and I actually went to college to play football (American football). I ended up majoring in music for two seconds, switching that out to psychology when it became apparent that a life as music teacher was going to be like taking a vow of poverty. When I graduated from University in Arkansas, I moved to California with my now lesbian ex-wife and acquired a graduate degree in Social Welfare. I spent 14 years juggling music and a career as a Social Services supervisor, got divorced twice, filtered a lot of drama... and here I am.m[m] Your bio states you sang opera and church music, which suggests a conservatory training, but I take from your previous answer you didn't?
Percy No, I studied psychology. All my hardcore musical training was in high school. One of the deep regrets of my life was that I did not take music theory and piano seriously. I am a very intuitive writer, but it's sometimes difficult to communicate my musical vision to the people that have to play the music. It would be gratifying sometimes to just be able to pick up a guitar or sit down at the piano and accompany myself... so much easier and integrated. Not that I don't like working with other musicians, I do. But it requires levels of compromise, ego stroking and code breaking, which can be excruciating. My new vow is only to work with people that I have a deep understanding and trust with. Otherwise, what is the point? It can be like having bad sex with a stranger otherwise.m[m] Why did Nûs split up? Guitarist Steve Sullivan returns on the Meridiem CD.
Percy Nûs had a life of its own and that life ebbed out when we all wanted things from the music, from the performances that were intensely personal. We lost he ability and the desire to compromise and that was tough. But we've all made it through to be friends, we all respect each other. That says a lot. Nûs was an interesting band that did things that no other band has done in an ambient rock setting and I'll always be proud of what Steve, Greg, Rich and I accomplished.m[m] Do you feel a 'fixed' band is limiting?
Percy No, I'd love to have that situation again. But it's very difficult to gather musicians of the standard to which I have become accustomed to a "band" project due to al their other involvemenst and engagements. Difficult, but not impossible. I am working with the stellar guitarist Haroun Serang and bassplayer Victor Little, as well as Steve Sullivan to put together a Meridiem ensemble that can be consistent and that does not rely on "star quality" for its life. When I go on the road, it will be with this more stable line-up. I'm hoping to create opportunities to play some festivaldates in Europe this next year. This heavily depends on whether people can accept the music for what it is, or if they all want to see Bill Laswell or Vernon Reid, who will not be there. I have enjoyed working with the "big names" that I have, but I feel that their involvement has often overshadowed my direction and vision and that is too bad, because the albums are good in and of themselves. I'm hoping that A Pleasant Fiction can break through some of this legacy, as it were.m[m] Was the first Meridiem line-up, that consited of Charles Hayward, Fred Frith and Bill Laswell, an attempt at a stable line-up or was it more a coincidence that it was these 4 people?
Percy It was not quite coincidence, as I approached Bill Laswell in late 1997 about the possibility of doing a project with Charles Hayward. Charles and I had become friends at the Time Zones Festival in Bari, Italy in 1996, and wanted to work together. Bill agreed that it was a good idea and suggested Fred Frith for guitar. It was never meant to be a fixed line-up. I always had it in my head that it was going to be a collaborative project along the lines of Golden Palominos or Material. It's becoming a bit more fixed for the time being, but that could change at anytime. m[m] So what is Meridiem and what do you want to achieve with it?
Percy Meridiem is basically an ongoing sonic love-film. Sex and Love. What else is there? Really? You can boil everything down to some aspect of this. Meridiem is the harnessing of disparate talent to tell the ever-evolving story of the effect of sex and love on my life. The musicians are like characters, like actors in a play, and my role as director is to harness those talents to effectively tell the story. That's why I've started to use female vocalists. Bill Laswell's wife, the amazingly talented Ethiopian singer Gigi will be lending vocals to my next recording and I'm also trying to convince Jane Siberry and Mary Fahl (ex-October Project) to lend their talents…we'll see.m[m] You have a lot of people working on Meridiem, some from very different and sometimes surprising backgrounds, how do you make the selection and how do you get them to work with you?
Percy I just ask musicians to collaborate that move me. I ask people who I believe have singular, brilliant talents and significant musical voices. It's as simple as that really.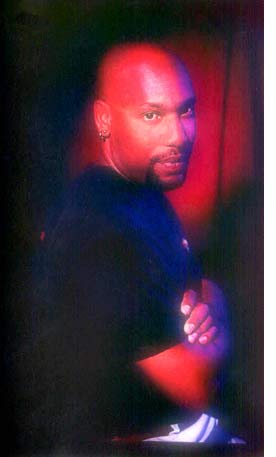 m[m] I assume this CD was assembled also by sending tapes to some musicians involved, or do you try to get everyone in the studio to work together?
Percy No sending of tapes was involved. I recorded the core tracks in New Jersey, with Laswell, Vernon Reid, Haroun, and Charles Hayward. Also recorded Happy Rhodes and DK Dyson's vocals there. The rest of the album was done in San Francisco at Pyramind studios with the help of the brilliant engineer Matt Donner. Jarboe and Jill Tracy were recorded in California. But…the next albums will have involve the method of sending tapes back and forth, or more accurately: sending files back and forth via CD or FTP. I will be working on a recording with Paul Schultz in the next few years and this is the method that we must adopt. Laswell and I are also discussing the possibility of more future work in this method. I'd like to collaborate with him and DXT in this manner.m[m] So, are you 'the boss' or is the creative process more democratic with each song and all involved?
Percy It's democratic within the musical moment. I give the musicians free reign over their voices within the context of the piece. A lot of what you hear on A Pleasant Fiction is heavily edited. I add a lot and leave a lot on the cutting room floor.m[m] Why did you choose to release this album on your own label A Necessary Angel and sell through your site? With all its names it should be possible to find someone to release it.
Percy Well…no one wanted to release it! A California label that shall remain unnamed that went out of business basically paid it for. It was a 4 year licensing deal and upon default of the conditions full rights reverted to me. I feel the album is strong and decided to just release it myself. So, here we find ourselves. My music does not fit tight genre categories, although it is increasingly melodic, and accessible. It's not avant, it's not weird jazz. It's romantic, cinematic; it's lovely and challenging. I believe that if I were a blonde-haired blue-eyed California boy it would have been packaged as some weird yet marketable phenomena, but I'm a muscular black guy that when everyone sees me expects me to be singing R&B. The industry is not beyond its stereotypes. I mean come on, my music is way more accessible and saleable than Devendra Banhart, but he is blowing up because it's been spun, been marketed. So. that's the next step for me: finding a smart, attentive audience that is ready for some cinematicsexyambientsoulmusikaboutloveandjoyandpainand death… Amen.




An ongoing sonic love-film
American singer and composer Percy Howard started a career in rockmusic in 1992 with Sway. Inspired by Swans, Dead Can Dance and Joy Division they released ...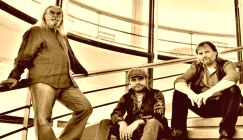 Peter Knight's Gigspanner - From...
Since leaving Steeleye Span in 2013, violinist Peter Knight has devoted all of his attention to his trio Gigspanner. The group have received a wealth of posi...