The Milligan Way [2020-07-20]Andy Milligan stands as one of the most distinctive & creatively lo-fi directors to appear from the American grind-house circuit of the '60s and '70s. When you're watching a Milligan film- you most certainly know it- with it's plots full bickering families, self-made often period costumes, awkward sex scenes, very crude/ bizarre effects, and moments of dizzying/ disorientating swirling camerawork. I first saw a Milligan film around ten or so years back- and became more & more fascinated by this true one-off. One of the things that helped to deepen my interest was The Ghastly One- a 2001 warts 'n' all biography of Milligan written by respected biographer and journalist Jimmy McDonough, who has also penned books on the likes of Russ Meyer, Neil Young, and Tammy Wynette. Out-of-print for a few years, The Ghastly One has just got a deluxe/ picture-packed reissue on Fab press, so I tracked down Jimmy for an email interview- talking about the new edition of the book, and of course Andy Milligan in general.

M[m]: Since you first released The Ghastly One back in 2001, the interest in Andy Milligan work has grown in leaps & bounds, with many new reissues of Andy's film, a Facebook group, another Milligan book has come out, and there is lots of chat in cult/ underground discussion groups about Andy's work. Why do you think this is, and what do you think people are intrigued by?
Jimmy Love him, hate him, Andy's an original. His films bear a very personal kind of stain, and I think that the people that spend the time to dig into it a bit find that intriguing. Everything these days is so slick and shiny. Anybody with an iPhone can create a professional-looking film. Milligan's films harken back to a prehistoric time when none of that existed (and he was forty years behind what did). I mean, name me something that resembles an Andy movie! They are certainly unique. Thus they are of value in this $1.98 world.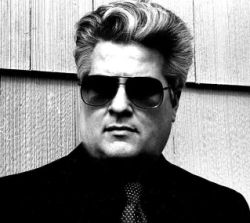 M[m]: Tell us a little bit about how the new edition of The Ghastly one came about & how did Fab Press get involved?
Jimmy Well, the guiding light in this project is Nicolas Winding Refn. We have been collaborating on projects for years now and I am the Editor-At-Large of his site byNWR.com, which incidentally has unveiled quite a bit of unseen Milligan lately with our online releases of House of Seven Belles and Compass Rose. Nicolas was the one who had the outrageous vision for the new edition of The Ghastly One. I kept trying to tone it down.
The first book Refn published – The Act of Seeing - was drawn largely from my poster collection. It was decided that the second book done with FAB Press would be this deluxe edition of The Ghastly One. That was four years ago. Putting it together was a real task, and publisher Harvey Fenton should be singled out for the unending work he did on the layout and production details. Things changed right up until the last minute, and he kept on top of every detail and contributed many great ideas in the process.
M[m]: The new edition is full of colorful content, rare paperwork, unseen photos, and much more extra material added in from the first edition. Please discuss how/ when you got hold of these elements? and I'm guessing they must have taken time to arrange/ short out- please discuss this process?
Jimmy I am a packrat. Andy gave me everything he owned. And I worked in Times Square for a motley group of exploitation directors, so I was always inheriting their things and filing them away for a purpose such as this (not that I knew it at the time). The aesthetic that attracted me is most prevalent in NWR's poster book, I'd say. One thing I regret: being at Donald Velde's, a supplier for promotional material sent out to exhibitors, and holding in my hand a 35mm trailer for Milligan's Kiss Me, Kiss Me, Kiss Me! which I just couldn't afford. I believe it was all of twenty-five bucks. Velde soon went out of business. It still pains me.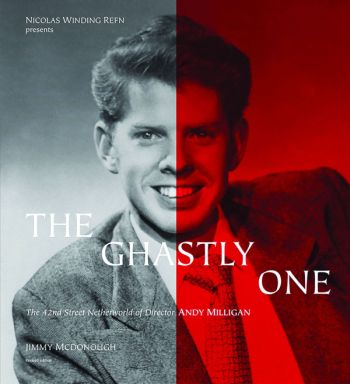 M[m]: You mention inheriting items from other exploitation directors- could you discuss some of these and the more interesting items in your collection?
Jimmy The items from Andy that were closest to my heart were two country-and-western shirts he made for me. They were outrageous, with loud patterns that looked like the famous Ghastly Ones wallpaper. Somehow I lost these, which drives me crazy. I still have the cowboy boots he gave me. I have a bunch of stuff from working for director Radley Metzger, but what I cherish most is the reference letter he wrote for me on Audubon Films stationery.
Yoko Ono was in Satan's Bed, so maybe this counts. I worked at a TV production place where they cut her video for "Walking on Thin Ice." I had to screen footage for Yoko, which included film of her and John naked together in a bathtub. I saved the empty cigarette box she left behind – Nat Shermans, if I remember correctly. Yoko had an old, stained couch delivered to the place so she'd feel comfortable working there. The people at the editing house were used to dealing with bland TV executives in suits and thought Yoko was nuts. She never spoke a word to me.
M[m]: Since you've been a Milligan fan for many years now- how have your feelings towards his output changed over the years? and are there any Milligan films you didn't initially enjoy, but have grown to love?
Jimmy Legacy of Blood is one I didn't appreciate back then because it came later and lacked the fury of his early work, but the more I see it, the more fond of it I become. Very entertaining in that dimestore Milligan way.
M[m]: Please discuss what you stand as your top favorite five Milligan films & why? And if you wanted to introduce some to Milligan what single film would you chose & why?
Jimmy Here's six, I couldn't possibly choose less:
Seeds
Andy's essential opus on the family dynamic. Poisonous and very funny. Many Milligan regulars strutting their stuff: Maggie Rogers, Neil Flanagan, Candy Hammond…

Torture Dungeon
Medieval pomp and circumstance on the polluted shores of Staten Island. To think that Andy made the cast ride the bus in those outlandish costumes...it still makes me laugh, this movie. Every minute of it. Utterly preposterous.

Man with Two Heads
Andy uses the Jekyll and Hyde story to exhibit his lust for sadism. Riveting at times, hilarious at others. He captures a certain British seediness. You can smell the vomit in the dance hall.

Bloodthirsty Butchers
Andy's frenzied retelling of Sweeney Todd, with some fabulous performances. John Miranda IS Sweeney Todd. No Oscar?

Guru the Mad Monk
Milligan skewers the church and throws in some romance with a hunchback. More fabulous costumes and an imperious and greatly amusing performance by Milligan regular Neil Flanagan as the lead.

Nightbirds
The sad dynamics of a relationship as it combusts in a squalid London flat. Wondrous performances by Berwick Kaler and Julie Shaw.

Fleshpot on 42nd Street
A wistful, moving portrayal of 42nd Street in all its pennyante glory. This is the one I'd show the novice. Classic Andy and a strangely heartfelt document of a world that no longer exists.
M[m]: As I mentioned early there has been more than a few Milligan reissue in recent years- what would you like to see get reissue next from his filmography?
Jimmy I believe the Mishkin horror pictures are getting restored for an upcoming boxed set. I'm certainly anxious to see those. Of course, I'd be thrilled if any of the lost sexploitation pictures turned up – Gutter Trash, Tricks of the Trade, The Naked Witch…
M[m]: most of Milligan film used library music- did any of his films feature written for scores? And was Andy a music fan?
Jimmy The score from Nightbirds may be original. I have a vague memory of Andy saying something to that effect, but I may be wrong. And both Monstrosity and The Weirdo have original scores, but they were done with little input from Milligan and only contribute to making both pictures seem painfully current to then-prevailing standards of VHS mediocrity.
Was Andy a music fan? Well, I didn't see any Led Zeppelin boxed sets lying around his hacienda. My sense was that he liked music in the context of a production – musicals, vaudeville numbers, etc. Although Andy did tell me he would've liked to have been a country singer.. Hank and Lefty and Dolly and Willie and…Andy?!?
M[m]: You cover another cult film auteur with your 2005 book Big Bosoms and Square Jaws, which was about Russ Meyer- have you thought of revisiting this book again? And do you feel there are any other comparisons between Milligan & Meyer?
Jimmy I have vowed to never revisit one of my books ever again after this. It's just too hard to come back to these projects as - at least for me - they are fixed in a moment of time. Having said that, I am contemplating revisiting the story of honky-tonk singer Gary Stewart, who was the subject of the first major article I ever had published in the Village Voice. Obviously, I should have my head examined.
Milligan and Meyer, what a combo.
Andy was Poverty Row, Meyer was Tinseltown.
Meyer was a meticulous craftsman who spent years tinkering with projects, Andy just vomited creations out of his system with barely any planning and forgot about them.
Meyer was a technical whiz, Andy couldn't have cared less.
Both possessed a dim view of humanity and both had rather unusual relationships with their mothers.
I suspect they might've attacked each other physically, but they had more in common than either would've cared to admit.
M[m]: Are there any other cult/ b-movie auteurs that need a book written about?
Jimmy Well, I am working on a book about the Ormonds, the Nashville filmmaking family responsible for such outrages as The Exotic Ones as well as Christian propaganda like The Burning Hell. I have been working on this project for decades and it will be the next book from Fab Press/byNWR, presented in an edition just as lavish as The Ghastly One. This will be the last thing I ever write on exploitation films. I have nothing further to say on the subject, I'm afraid.
I've heard someone was doing a book on S.F. Brownrigg. Now that I'd like to read. I'm on a personal mission to get my buddy Rudolph Grey to update his Ed Wood, Jr. book. That one cries out for a better presentation.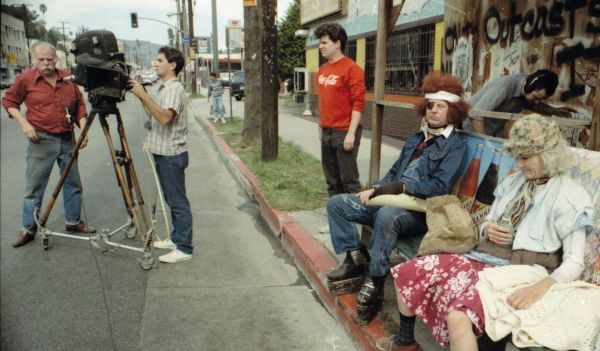 M[m]: Please select two memories from your time in Times Squares Grindhouses- one joyful/funny & one sad?
Jimmy My buddy Bill Landis worked at the Eros and Venus theaters, taking tickets for notorious theater owner/producer Chelly Wilson. I'd hang out and visit him there. Two hefty African-American twins used to sneak into one of the theaters and defecate in the hidden nooks and crannies for sexual pleasure. They were called "The Mad Shitters" and were always being chased away..
At the time I worked in the film business and had to take a bus home to Hoboken from the Port Authority, so I was always walking right down 42nd Street. My friends were always worried about me and kept telling me to take a different route home. The one time I ventured away to walk down 43rd, a dopefiend stuck a .45 in my face and robbed me. I never strayed from the Deuce again.
M[m]: Are you a fan of more modern cult movie fare, and if so any recent discoveries you think are worth a mention?
Jimmy Simply put, no. The pictures that interest me are from a time and place that no longer exist. You can't re-create that funkiness in the chilly, everybody-knows-everything world of today. I'm sure there are exceptions, but I can't think of any.
Oh wait, here's one that popped into my skull: Bad Seeds. Alex DiSanto started making films when he was 12 and started putting these low-budget one-kid-band films on Amazon. He really knows his Milligan and probably knows more about him than I do at this point. His films are heavily influenced by Andy, and it's amusing to see Milligan filtered through the eyes of a Canadian teenager.
Thanks to Andy for his time & effort with the interview. The recent deluxe new edition of The Ghastly One can be purchased directly here from Fab Press.
Photo credits/ detail: Andy Milligan on the set of lost 1968 film The Bitch (aka The Mongrel),Picture of Jimmy, The cover of the new edition of The Ghastly One, Poster art work from Miligan's most know infamous film 1968's The Ghastly Ones, and the Jimmy( in red top) on the set of 1987's Monstroisty- all pictures are used with kind permission & are © Jimmy McDonough
Roger Batty