"To express more joy, we need to express more violence" [2004-06-03]After a failed attempt at interviewing them in July 2003, I finally managed to do it last April in Brussels. Mono, the very interesting Japanese post-rock quartet was travelling with an interpreter… All of a sudden, everything made sense… The interview took place the day after the incredible live set they performed as Shellac's opening act. Check the reviews of the new album Walking cloud and deep red sky, flag fluttered and the sun shined and of the previous one, One step more and you die, in our archive. The interviewee is songwriter and guitarist Goto Takahira.

M[m]: You are quite renowned for your live shows and you do tour quite a lot. How important is it for Mono?

M : I love to tour. It's that easy…

M[m] : But are there differences between touring in Japan, the US or Europe?

M : US and European audiences are very similar. During the songs they are very quiet, and at the end of the songs, they scream. In Japan, it's very different. They are quiet from start to finish.

M[m] : What about communication problems, when you tour in the US or in Europe and don't necessarily speak English fluently?

M : It's not a big issue. Of course, touring is not only about playing music, you have the travel, you have to find a place to stay, you have to take care of a lot of small details… So the language can be a problem. But if you look at how long we've toured… It's not a big issue. And in Europe, we have a Tour Manager who can deal with the problems. And we don't have lyrics. The music is very important, and it's another way of talking to people.

M[m] : Since you've been touring so much, when did actually find the time to write the songs?

M : We made the songs during the tour. Sometimes in hotel rooms…

M[m] : A lot of bands say it's difficult to write while touring…

M : Usually we need a lot of time to write, but we didn't have much time, especially last year, so we had to do it while touring.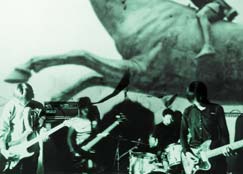 M[m] : Are you going to tour as much for the new album?
M : Yes. We will be in Europe over summer. And I think we will play in Japan in September. And in October, USA again.
M[m] : You recorded the album with Steve Albini. How did that happen?
M: He is such a cool guy to work with. Very clever, very nice. And I think he loves us. We phoned him, sent him CD's and he said "ok, we can do it in January". That simple… We love Steve's work. I've listened to a lot of stuff he produced, Neurosis, Pixies… I respect him a lot.
M[m] : The new album is much more positive, less dark…
M : Hopefully, we will be able to go to other countries and meet other people with no borders. In the future, I hope no more war will happen, because we were in new York when 09/11 happened, so One step more and you die has been influenced by this. We wanted to express the bad situation, the darkness, the sadness. For the new album, we decided to bring some joy and hope, praying about war.
M[m] : But the music remains quite sad. It's far from being happy music…
M: Happiness and hope can not be disconnected to the negative aspect of the world. In order to capture happiness in your life, you have to be ready to accept the negativity of this world. You can not separate happiness and sadness. Have you seen the movie Breaking the waves? I was very impressed by that movie. It's a very dark story but beautiful. It's a similar thing I wanted to express with my music. In order to express more joy, we need to express more violence.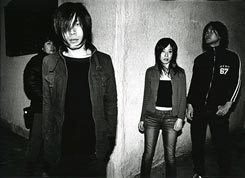 M[m] : How is the situation for Mono in Japan?
M : It has been going well recently., but it's always hard to originate something new in Japan. It's getting better though… We've been touring a lot abroad, which makes it difficult for us to make it in Japan, where you have to be exposed constantly
M[m] : Most of the Japanese music we get here is underground, psychedelic, experimental stuff. But are they other bands playing the kind of stuff you play in Japan?
M : I can only recommend one band… World's end girlfriend. They are friends of mine, very good music. I think they want to tour Europe next fall.
M[m] : What kind of stuff are you listening to in 2004?
M : Beethoven and Ennio Morricone.
M[m] : You have a remix album out, called New York Soundtracks since all remixers are from NY. How did that come about?
M : I met Aki Onda, who produced this album, when he came to one of our shows in New York. And Aki proposed to do a remix album. Since it has my favourite artists on, we said yes.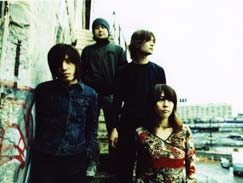 M[m] : What do you think of Aki Onda's own music?
M : I saw his shows in Japan. It's very interesting, like science classes experiments…
M[m] : You've worked with John Zorn, Steve Albini and Aki Onda… Who's next?
M: Well, except Albini who we wanted to work with, everything happened by chance. For this album, we wanted to work for the first time with a proper producer, someone outside the band. He gave us skill and ideas. He is so generous. We haven't talked to him yet, but we would like to work with him again on the next album.
M[m] : What's up next for you?
M: I'd like to do music for films. So if any director reads this, please get in touch…

François Monti