On The Celluloid Flipside [2020-06-15]Both William Fowler and Vic Pratt are seekers of strange, wonderful & bizarre Celluloid- in 2006 the pair started up the BFI Flipside imprint- this has seen both screenings of obscure TV and film fare, as well a series of DVD & Blu Ray releases of similar titles. Last year they got together to release their first joint publication The Bodies Beneath(on Strange Attractor Press) it saw the pair digging deep into the more bizarre, quirky, and strange side of British film & television. Both Will & Vic kindly took time out of their busy schedule to give us an email interview- discussing the Flipside imprint, The Bodies Beneath book, and more.

M[m]: Please discuss when you both started getting interested in film?. And are there any Films/ TV shows that impacted you in your formative years, which helped form your latter interest in lesser-seen/ quirky British film & TV?

VIC: My old man used to plonk mini-me in front of the TV and as I grew up we'd watch zillions of old films together. That's how I got started. I remember he let me stay up late to watch DRACULA AD 1972 one weekend. How dangerous and exciting that seemed when I was 11. Don't forget that in those days, things that seem well-known now were kind of obscure – in my teenage years, when there wasn't an internet and hardly anything was out on VHS, even cult-classics like THE WICKER MAN were barely spoken of. I had to make my own soundtrack album on cassette, by holding up my tape recorder to the TV and trying not to cough.

WILL: I grew up in a very religious family and we went to church every week, I think it gave me this weird and powerful interest in experiencing things that were part of everyday life but also transcendent. Like my brother and his friends, I wanted to be in the A-Team and got way too sucked into films like ET, the Sylvester Stalone film OVER THE TOP and even a re-release of Disney's THE SWORD AND THE STONE! Doctor Who was part of that and I also got to see revivals of old war films on TV which my mum would put on, along with Basil Rathbone Sherlock Holmes. They made the past seem as vivid as the present.




M[m]: I believe the whole Flipside imprint started with you both setting up a series of screenings of more quirky/ unseen British film/ TV. When/ where did these first start, and what were some of the early titles you showed?

VIC: Yes, we were both amazed that we got the chance to do that. Our first was PRIMITIVE LONDON, a bizarre exploitation-documentary film revealing the seedy underbelly of the Big Black Smoke in the mid-1960s, which featured beatniks, sumo wrestlers, and a chicken abattoir! Happy days.

WILL: PRIMITIVE LONDON showed in NFT1, BFI in 2006 and it remains an amazing, core film for us. We also did a big thing on Joe Meek but it got pulled because of a power cut! The cinema shows were very varied but very early on we got to put together a mini-season called 'Back From the Dead: Films from the Seedy Seventies' which may have set the tone a bit….



M[m]: Please talk about how you jumped from screenings to the setting of the Flipside sub-label? And what have been some of the titles you've been most proud of so far?

VIC: The label was set up by our colleagues who were at BFI Video at the time – Sam Dunn and Jane Giles. Both of them have gone on to do great things elsewhere! I love BEAT GIRL – an amazing Brit juvenile-delinquency shocker starring the incredible Gillian Hills and pop star Adam Faith – and MR TOPAZE – Peter Sellers' only directorial feature credit!

WILL: The Andy Milligan double: NIGHT BIRDS and THE BODY BENEATH, felt like a very special thing to do, all wrapped up in a little mystery and stretching our self-imposed boundaries, presenting films shot in the UK but made by an eccentric, visionary of sorts from the Grindhouse scene in New York.




M[m]: Could you talk about the size/ scope of the BFI active- and how do you both go about discovering some of the lesser-seen/ unknown sides of the archive?

VIC: It's enormous and sprawling, and wonderful. The biggest and best archive in the world. Often in the early days when we both worked in the Archive side of things, we'd be opening up old cans that had never been looked at before. Exciting film archaeology!

WILL: it was definitely through the Archive that we were able to discover a lot of this stuff, stumbling across things ourselves for the very first time. It's been educational!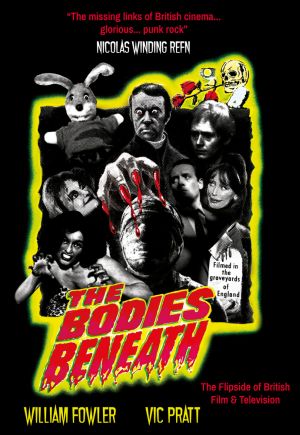 M[m]: Last year you collaborating on the book The Bodies Beneath- this saw you digging deep into the more bizarre, quirky, and strange side of British film & television. When did the idea for the book first come about? How long did it take to fully realize the book? and lastly, how did you come about putting the book out on Strange Attractor Press?
VIC: Ever since we started doing the shows around 2006 we talked of doing a book – but life got in the way a bit, we both had our ups and downs, and it ended up taking more than 10 years! And it could still do with a bit of polishing. We loved the whole ethos of Strange Attractor – the erudite diversity of their catalog, and the lovely design of their books.
WILL: It's been a hell of an undertaking and is very much a document of all the stuff we've been fortunate enough to see and discover. It's only the tip of the iceberg that is the history of British film and television; there's so much to uncover.



M[m]: The book takes its title from Andy Milligan's London based Vampire film of the same name. In recent years Milligan's work has brought more & more interest why do you think this is? and please discuss your choice of book title, and did you have any alternative titles that nearly got used instead?
VIC: Like Ed D Wood, Andy Milligan is one of those filmmakers who wouldn't let anything get in the way of his creative ambitions-whatever you think of the end product, you can't fault his industry! I admire his determination. And the title reflects the fact that we are forever doing the spadework looking beneath the surface of the British film 'canon' of classics to look for all the other bits and bobs that were just as important in their way – if you want to get a fuller picture of what was going on! And sometimes it wasn't pretty…
WILL: Andy's work is strange, overwrought and frequently heavily compromised by the circumstances in which he made it but it's great that more and more light is being shone in his alternative film universe – whatever you think of it! A couple of years ago, Thomas Beard even wrote about him for glossy international art mag 'Art Forum'. About alternative titles, the Flipside cinema program could have been called 'The Occasional Table.' There's a list of these other names somewhere.


M[m]: One of the more bizarre entries in the book is Cooking Price-wise, which was a six-episode cooking series aired on Thames television in 1971. Each found the US king of horror Vincent Price cooking up a series of dishes. Are you aware of any other horror star themed shows like this, or similar bizarre shows?
VIC: How I wish there were more shows like this. Imagine 'Baking With Bela Lugosi' or 'Karloff's Kitchen'.

WILL: Lee's Lasagne and Other Recipes? Cooking with Cushing?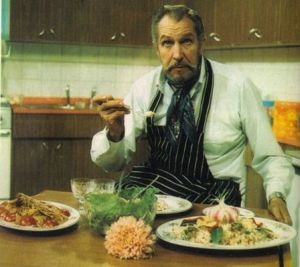 M[m]: one section of the book sees you focusing in on music & movement- does your love of the quirky & odd stretch into music? And if so what are some of the sonic projects you enjoy?
VIC: Yes, there was nearly a section on mad music producer Joe Meek included. I was listening to his outer space concept album 'I Hear a New World' the other day on vinyl, and I was halfway through the track before I realized I had it on the wrong speed. It still sounded brilliant, though.
WILL: I wouldn't say enjoy but I found my uncle's Argo steam train records the other day.


M[m]: The book features a prologue from Nicolas Winding Refn- how did he become involved in the project?
VIC: Nicolas loves strange films – and he's always been a staunch supporter of The Flipside – especially the Andy Milligan release NIGHTBIRDS, which couldn't have happened without him.
WILL: He's very involved with all sorts of projects and we really appreciate his help.

M[m]: What's planned next for release on Flipside, and do you still run the Flipside screenings & if so what/ when is on next?
VIC: The screenings are few and far between these days, but the discs are still a regular fixture of the release schedule. Hopefully, there'll be something spooky later in the year!
WILL: Can't wait….


M[m]: Are there any holy grail titles you've heard of, but yet to track down?
VIC: Yes, and we're on the trail! But we won't reveal them here! The walls have ears!


M[m]: I know each of you has involvement with releases outside of Flipside- so could you please discuss what you have upcoming shortly?
VIC: IT COULDN"T HAPPEN HERE, which is an astonishing and outstanding pop musical featuring the Pet Shop Boys on a surreal seaside road-trip! Not seen since the 1980s, it's making its Blu ray and DVD debut in June!
Thanks to William and Vic for their time with the interview. To pick up Flipside titles direct head to the BFI on-line shop here . And you can buy The Body Beneath here
Roger Batty