Frog-hopping [2020-05-15]Barry "Schwump" Schwam is a Californian based outsider musician/ DJ, who on & off since the 1960s has been creating his own brand of sonic oddness. He's most known for his great bizarre single 1976 Aphids In Hall, which was put out by The Residents label Ralph Records, and the track also featured members of the eyeballed ones playing on it too. Recently Barry has completed his Magnus opus The Frog Opera- a rather splendid example of sonic oddness/ audio playfulness- the CD's just shy of forty-minutes moves between warbling theatrical organ jaunt-ness & unhinged cartoon vocals, camp & soaring female operatics, jolly kids tunes slowly going wrong, weird vocoder jiving outs, & loads of frog sounds. I caught up for an email interview with Barry, who is sadly very ill with terminal cancer- and we discussed the beginnings of his career, moving onto his time on Ralph records, and the recent release of his Frog Opera album that appears on German label Psychofon Records.

M[m]: What are some of your earliest sonic memories, and what song/ release put your track for the more weird sonic fare?
Barry I listened mostly to traditional folk, rock, children's music when I was young. I think my brain just digested music differently than most people and the first song I ever wrote came out nothing like what went in. But I always had either a small battery-operated reel to reel recorder (like on the old Mission Impossible TV show) or a larger one. Always experimenting with it, recording everything, and anything. I did a lot of hidden mic stuff, recording my sister's slumber parties. I also played around a lot with 8mm films. There is an album of mine, a CD called "The Schwump Band/The Acid Indigestion Band," which was my first band back in the 1960s. We had a guy that played a bug sprayer, someone who played a basketball, someone else who played a bowl of Rice Krispies, etc. I sang, wrote the songs, and played the harmonica. So back then, I was doing odd things in music.
M[m]: what did your first project The Acid Indigestion Band sound like, how long were you together, and did you ever film or photographer the band, as it sounds like a bizarre set-up? Barry There is a recording available on Amazon of the Acid Indigestion and the Schwump Band. Hard to describe. I guess you'd have to hear it.

M[m]: When did you start creating your own music, what's the origin of your project name- and how has the way you create your sounds changed over the years?
Barry When I was 15 or so, I wrote my first song, "Creatures of the Night." It was about all the creatures living in our lawn of ivy. I had a nice Sony reel to reel then and could ping pong tracks back and forth, adding sounds each time. The machine had that capability. The 2nd song I wrote was "Titanic Toad." It appears briefly in the new Frog Opera, written over 50 years ago. As far as how I create sounds, I think the same process is still there. I either hear a tune in my head and write words to it, or have an idea for a song and write words around that idea, and add music later. Just the technology on how to record it all has changed.

M[m]: Your first release under the Schwump banner was the Aphids In The Hall 7" which appeared on The Residents run label Ralph Records in 1976- how did this release come about, and what are the origins of the tracks on it?
Barry Yes, "Aphids," was the very first release under the Schwump name, but I was also in a band called, "The Schwump Band," in Portland, OR around the mid-1970s. We played original music including lots of my own songs. When I was going to college in the late 60's I wrote "Aphids in the Hall." I was inspired because I found out all aphids are born pregnant and each aphid could have 100,000 little aphid babies and aphids could take over the world. That is what inspired the song.
Through Bill Reinhardt at KBOO FM in Portland, I was introduced to The Residents. I think we even talked live over the air on mine or Bill's show. They found out I wrote weird songs and such and invited me to San Fransisco to their home/studio on Sycamore St. for two weeks!! We recorded for a couple of days, I think. Lots of stuff going on there. The place was amazing. They also were shooting Villianese Fats in the basement. I was cast as some sort of dwarf but never made the cut. There is a still of me in the costume they provided.
The other tracks on the "Aphids," single was, "You're a Martian" and "Home." Songs I had written several years back. "Home" was actually a poem turned into a song.
We did a love ballad that didn't work, and a couple of other tracks that are still floating around somewhere. But the three songs on the Aphids single were the absolute best, and the Residents added everything but my vocals and drums. I played drums on all the tracks and sang. They did the rest.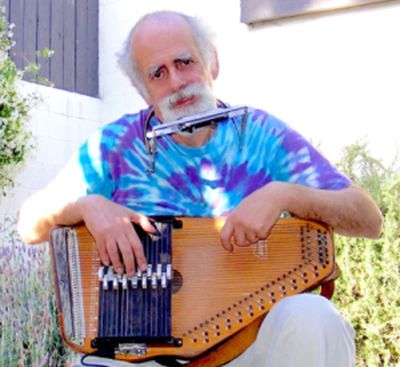 M[m]: Did you contribute to any of the Residents albums- and if so which, and what did you do?
Barry I did not do anything else besides my own songs with The Residents, as far as I know.

M[m]: Have you kept in contact with The Residents in the ensuing years?
Barry I was briefly in contact with Homer, I think, when we were deciding to re-issue Aphids in the Hall. But no real communication at all with them.
M[m]: since around the early 2000's you've put out around ten plus releases self-released- why was there such a gap between the '70s & then releasing material?
Barry I had a lot of life challenges. Personal issues. I didn't write much or play much music during that time. Went back to school to get a degree. Divorced, death in the family, etc. Had to spend a lot of time alone and healing. Though I think my comeback album/CD, "Kick in the Butt," was more toward the '90s. By 2000 I think I had released a couple more CDS. 2nd was "Schwump in the Big Green Sea," which was my children's album and helped me have a comeback to writing and recording the music I loved to make. Used very simple instrumentation: Autoharp, kazoo, harmonica, bongos, shakers, etc. I remember also releasing two cassette albums in the '90s: "Schwump, Plugged in," and "Live from My Apartment." Still have a copy or two around somewhere.
M[m]: Please could you discuss these early 2000's releases, what stand as your favorite, and are there any plans to re-release any of these- either digital or in a physical format?
Barry These are all currently available on Amazon: The Theremin Album, A Light Among the Bumps, Not for the Masses, Half-Weed!, Dare to be Happy, Schwump Gas, Negative/Positive. Also, Klanggalere Records put out a vinyl called "Schwump: Thank you Planet Earth.' Probably my favourite is" A Light among the Bumps." Mastered on cassette tape, the quality is not great but it has some of the most creative stuff I have ever done and is one continuous story. I loved making that album. But I love all my "children." On "Dare to be Happy," I do a song with my wife, who I love dearly. "The Theremin Album" was when I first started playing the Theremin. Some very interesting stuff on that one. As far as re-releasing them, Klanggalerie Records might take over all my recordings soon.
M[m]: Your most recent release has been The Frog Opera on German label Psychofon Records- I believe you've been working on the release for some time now- please fill us in on the history behind it?
Barry Back in the 80's I started writing the Frog Opera. It had a very different form then but basically was to use most of my songs around the same story.. that Tad, our frog hero, went off searching for the love of his life. But through several moves and re-locating, it got lost. Coming up to the present, Andy at Psychofon Records, who re-released the new Residents/Schwump of vinyl of Aphids last year, had heard about the lost frog opera and encouraged me to resurrect it. I did work on it for a long time, almost a year. Thanks to present-day technology I was able to capture the stuff I hear in my head and put it down digitally. Hundreds of hours went into the Opera, and for few tiny "imperfections" that only I would notice, I am very, very happy with it, and very grateful to Andy for the encouragement and the release of it to the world.
M[m]: The Frog Opera is a splendid example of sonic oddness/ playfulness. Please tell us a little bit about the writing & the construction of the track it's self?
Barry I wanted to start with a real opera! To build around that. I used La Traviata by Giuseppe Verdi. I used a public domain recording and electronically altered it to sound like an organ because I wanted a consistent sound, not a big orchestra sound. Then, I wrote several new songs and lyrics to fit around that sound. I also used real frog sounds and a real frog chorus (frogs do sing in choruses) to build and blend in everything. I had a story in mind as Tad travelled looking for his love, and Andy and I debated whether to use subtitles and name the various sections or not. But in the end, we decided to let the sounds and songs speak for themselves. The use of Mac Garageband played the biggest part in all of this. That program is pure genius in my opinion. I also used songs from my past which I thought would work because I wanted them to get the exposure the wouldn't have otherwise. "Crazy People," is the prime example of that. Some parts in the Opera are scary, some serene, some silly, some just fun and funny. Such as life. I really let myself go with this Opera, and had a lot of joy in doing it. Very proud of it. And of course, The Residents sound had a big influence on it. They sort of gave me the freedom to think way outside the box.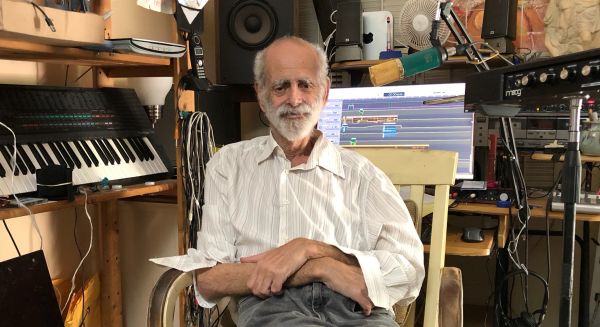 M[m]: I know there are some female operatic vocals on the album- who did these, and who else contributed to the track?
Barry I have a theatre friend, Alison Kalmus, who did the female vocal. She is classically trained in music theatre. She can really sing opera!! But I wanted this silly, over-the-top, and she rose to the occasion wonderfully!!! Toward the end of the opera, there is a piece called, "If your Memory Serves You Well." This is just a vocal and drums. This piece was actually recorded in 1968!! It was a friend of mine, Randy Huth, who sang the piece and created the lyrics as we went along. I was on the drums. This was edited down from about 20 minutes or so. I just loved the sound, the rawness of his voice, so I put it in the opera just for its unique quality and sentimental value to me.
M[m]: How did you come to put out The Frog Opera on Psychofon Records?
Barry It was all Andy's idea. As I said, he encouraged me all the way, gave me total freedom to do artistically what I wanted to do. Who could turn that down if you are a crazed mad artist with love in your heart, as myself. Thank you Andy!!!!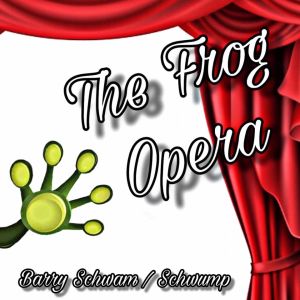 M[m]: Have you ever thought of doing video art & or a stage show for The Frog Opera?
Barry If I had the time and energy, I would consider it. But at this point, I probably don't have either. Not complaining.. it' been a great life!
M[m]: have you got anything new in the pipeline at present?
Barry Nothing in the works right now. But with me, you never know when inspiration might just hit again. And thanks to all the people who have been listening to my music all these years. You have no idea how that keeps us kind going. So, thanks, to everyone!

A big thank you to Barry for his time & effort with the interview, especially as he's been so unwell. The Frog Oprea can be purchased directly from here- but if you fancy a copy don't hang around long- as the release was ltd to just 150 copies.
Photo credits- first menu pic David Fair, first in interview pic Chuck Bowman, selfie, and Barry at the set-up he worked The Frog Oprea on Lydia Bangtson
Roger Batty