The Greek schlockmeister [2020-04-30]Nico Mastorakis, is a veteran of the B-movie circuit- since the late 70's he's produced thirty films, written twenty-four, and directed thirty- taking in the likes of taboo-breaking nasty Island Of Death, which at one point was banned in most countries around the world, 1980's slasher meets action blend The Zero Boys, and many others. In recent years labels like Arrow Video & Vinegar syndrome have reissued a growing list of his films- the most recent of these been his Greek island set moody thriller with slasher touches 1986 The Wind which has just been released by Arrow Video. We track down Nico for an email interview- discussing his beginnings in Greek TV, and his film work of the '70s, 80's, and 90's.

M[m]:When did you first start to become interested in film? and were there any early films that influenced your later interest in more cult & horror bound fare?
Nico At the age of five, right after the war, I first got interested on the makeshift marquees of local movie theatres. At the age of 10 my parents, under peer pressure, had already taken me to some movies and my fascination expanded to the interior of local theatres, namely the projection booth. Realizing that my life couldn't be spent on the audience side, I did my first performance of shadow theatre (called "Karagiozis" in Greek) at the age of 12. And at the age of 14, I secured a free season pass for me and my sister to the local open-air theatre in exchange for my services as an art director. It was the age of innocence and passion, with Brigitte Bardot and Italian sex bombs, haunting our dreams, but also with an eye on westerns. No horror-bound till much later, with the first "Dracula," when most of us skipped class to quietly slide in the movie theatre and watch the cursed vampire suck us into what would later become an obsession and a profession as well.


M[m]: How did you first get into working in film and how easy was it to get into the business in Greece?.
Nico I started off as a reporter, with front-page scoops and all, covering entertainment too. So the movie cameras soon became a norm for me, as I was constantly watching Greek directors and stars in action, vivid is still my memory of long night shoots where even a single spotlight at an empty street, spelled magic. For an 18-year-old kid who, at that young age had already become a household name in the country, going to the set was like going to church. In the late sixties, I attempted my first TV show and since the primitive makeshift station didn't have video but did have a 35mm camera bundle, in 1966, I directed my first music videos – on film. That's how I got into the business in Greece and it was a piece of cake.
M[m]: your early directorial credits were for TV shows in the early '70s...how did these come about & what type of shows were they?
Nico Being a pioneer in the broadcast business, I did practically everything, using my transatlantic influences. I wrote, produced, directed and hosted thousands of hours of live TV until the late entry of video machines in our lives – and our work. Between '66 and '73 I had done daytime series, primetime sci-fi series, talk shows, sitcoms, music shows, specials, documentaries becoming a one-man-show and virtually learning the craft on the battlefield. I eventually returned to TV in 1989 after having made a lot of films, tempted by the offer to create and build a new independent TV network -- which I did, out of the presidential suite of the Intercontinental Hotel! I built Antenna and ran it for almost three years on and behind the camera as well as behind the desk. Following my departure from that channel, I created and built from scratch The Star Channel and commuted back and forth to Los Angeles, back and forth between film and video. Tempestuous albeit fascinating years.
M[m]:Your first feature-length film was 1976's The Para Psychics-it's listed as a Sci-Fi Thriller on Imdb- do you think this is a good description of the film?. And has the film ever had a DVD or Blu Ray release, and if not is it something you'd like to see happen?
Nico Thank you for asking. That film, originally called "Death Has Blue Eyes" (The Para-psychics is a stupid title as is the sci-fi classification) was my entry in features and my excuse to leave TV for what I was fooled to believe was forever. No, it's no sci-fi (I have great respect for the term) but instead a paranormal-type of thriller, it's about a girl with beautiful eyes and deadly telekinetic abilities. I shot it with Greek, British and American actors and then had to dub the Greeks. It has never been on Bluray but, strangely enough, with my partners who have a terrific lab in Athen,s we recently decided to give the film a facelift, ending up with a stunning HD version which I believe will soon be on Bluray and hopefully from Arrow.
M[m]: Your second film was 1976 Island Of Death- and it stands as one of your most shocking & notorious films, going on to be landed up been banned in a few counties & getting on the Video Nasty list in the UK. Was it your intention from the off to make the film as shocking as possible?
Nico Yes, it was a formulaic movie, my decision to make it influenced by the box office success of "Texas Chainsaw Massacre" and my naiveté to believe that I could do more in gore, violence and perversion. I wrote the script over a weekend, gathering all my dark side elements, so to put on screen everything I had never done (and could never do) in my life. It was a shocking movie for its time, during the first trade screening at Cannes many distributors walked out sick to their stomach, however those who left the screening were the first to come by the office and sign a contract. The film had a plethora of theatrical, VHS, DVD and Bluray releases and is still in demand not so much for its violence and kinky shit (that has been outdated by television news) but as history, it's a cult movie, a curio item and we're still licensing it and guarding its copyright, as we recently did with a bootlegged version we shot down in Japan.
M[m]: As already mentioned there are more than a few shocking scenes in Island Of Death- when writing/ planning the film were there any more extreme ideas you wanted to do, but didn't end up in the finished project?
Nico That would have been overkill. My intentions making Island of Death, were so honest and straight forward, I was set on making an exploitation movie to turn some stomachs, however when I read the first review, on Screen International, I was shocked -- it had some much praise for the film, so for a few minutes I thought that the critic had reviewed the wrong movie.
M[m]:In the early 1980's you moved to more US focused production- please discuss how & why this came about? And what do you see as the positive & negatives of filming in Greece/ euro and the US?
Nico I've shot films in India, in the desert of Utah, on Hollywood Boulevard, Venice Beach, in orange fields and dense forests, the Greek islands, the Parthenon, and every single one of them was a special experience. Most of them fun, a few bitter and unpleasant, chewing razor blades, thanks to some insane morons I was stupid enough to cast. There are pros and cons shooting in Hollywood and around, also other pros and cons of shooting in Greece. For me, being a Greek, shooting in Greece was my comfort zone, my security blanket as I worked with friends, but making my first attempt at a Hollywood production with Zero Boys, was so rewarding that for a while I only wanted to make movies in Hollywood. Go figure.
M[m]: The first of your films I ever saw was The Zero Boys, I watched it when it came out on VHS back in the '80s, and it's a blend of slasher & action tropes made a big impact with me as a teen. How did the idea/ concept of this film come about? And did it originally start off from you wanting to blend sub-genres, or did it just develop that way?
Nico It was my intention, from the conceptual stage, to blend, and I did it so openly and honestly that I can't be accused for accidentally creating (perhaps) a new sub-genre. Remember that the eighties, in general, were an open range for shooting and being shot at, experimenting against the grain. With Zero Boys I wanted to make a scary movie but not a clean-cut horror splatter, popular at the time. I wanted to plug elements of surprise from the action genre and when I did, it paid off. I consider it, together with "The Wind" to be my best thriller.
M[m]: In recent years a fair few of your films have been reissued by the likes of Arrow & Vinegar Syndrome- what reissues are you most proud of & what would you like to see next come out from your filmography?
Nico I'm happy and proud to have worked with the best and the most passionate. While Vinegar did a terrific job with the 4K and have been impeccable in every sense of the word, licensing them three pictures was a diversion from my norm, Arrow being my norm. Working with Arrow is as much fun as making the movie itself. They're a bunch of film fanatics who take seriously even the almost invisible details, have respect for the creator and his work and come out with an optimum quality terrific package. My next film for release is "Death Has Blue Eyes" and, at the risk of repeating myself, there's a good chance this will also be from Arrow.

M[m]: You were involved in the film from the early 1970s up until the 2000's- how do you feel the business has changed over the years- for the positive and the negative?
Nico The seventies were a VHS heaven, anything put on film would sell at lightning speed. The demise of physical media and the growing demand of the markets for huge budget features and 20 million dollar stars, has shrunk indie features to a market of almost made-for-nothing movies, mainly boring horror, cabin in the woods style. Bluray, I hope, will stay as the last physical medium, the last frontier for releasing and exploiting smaller pictures, however, with the boom of the streaming storm, I very much doubt Bluray's endurance to the netflixian kind of onslaught.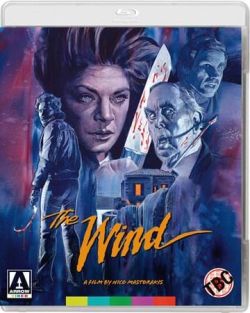 M[m]: Do you still watch & enjoy modern cult & horror film- and if so please discuss a few of your highlights?
Nico Nope, I'm a seeker of more satisfying thrillers, I'm sick and bored by brainless violence, predictable scenarios or extremely annoying bad acting. I may be able to still do those, but I'm not entertained by them. Besides, b-movies are not made the way we used to make them. In the eighties, we made movies with production qualities rivaling those of the big studios, hence the long shelf life and the repeated re-issues. Today's digital fair of no-budget flicks has a short lifespan, from birth to demise you blink it, you missed it. I'm lucky that I made most of my movies in the environment of the pre-digital era, where things were tougher, equipment costlier and our respect for every foot of film running in the camera, protected us from filling the screen with nonsense. Don't get me wrong, though. Cult and horror films will always be the prime vehicle for great new directors and writers as they were back in the seventies and eighties for John Carpenter and Sam Raimi. Without the vehicle, we can't expect new arrivals, can we?
List of the recent reissues of Nico Mastorakis films:
Island Of Death- 2015- Arrow Video
The Zero Boys-2016- Arrow Video
Double Exposure -2017- Vinegar Syndrome
Hired To Kill-2017-Arrow Video
Darkroom-2019- Vinegar Syndrome
Grandmother's House-2019- Vinegar Syndrome
The Wind-2020- Arrow Video
Thanks to Nico for his time & effort with the interview, and thanks for Tom over at Fetch for making the interview possible.
Roger Batty