War-Torn Noise [2020-02-12]One of the stand out noise releases of last year was Vietnamization by Oakland based Industrial/ Power Electronics project Striations. The release originally appeared back in 2018, but was reissued last year as a 2 CD that added in a whole disc of bonus material- the fascinating, engrossing and meaningful noise release blended elements of moody noise-scaping, harsh noise, and PE, with keen & cleverly placed weaves of news footage/samples based around the Vietnam war- all very much focusing on the how the American army both brutalized, maimed & destroyed both the landscape, the counties people, and their soldiers. I tracked down the man behind the project Mike Finklea for an email interview.

M[m]: When and where did your interest in noise as genre get triggered, and are there any albums or tracks that made you want to make your own noise?

Mike When I was young in high school I heard Wolf Eyes tapes from my adult friend who was my weed dealer. I really liked the atmosphere of the music as it sounded like some kind of haunted house. We would smoke this big water pipe and listen to wolf eyes a lot. At this time I also downloaded music on Soulseek and listened to Bastard Noise, Richard Ramirez and Merzbow. Venerology was the first noise album I purchased. Fast forward years later I would say that listening to Whitehouse and Brighter Death Now was what really made me want to create my own project.

M[m]: The Striations project began in 2010- please discuss how/ why the project came about?

Mike Itís a long personal story that I donít want to talk about anymore but I just do this for fun now.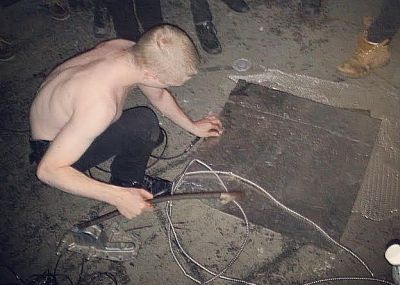 M[m]: What are the origins of the project's name, and do you think your sounds approach/ themes have changed since you first started?
Mike Striations is a forensics term about microscopic metal scarring left on bullets and gun barrels. Ballistics analysts can use striations patters to match a bullet with the gun that fired it. These themes of true crime, and metaphor as a vehicle for the project's expression Ė these havenít changed since the beginning, only evolved into deeper expressions.

M[m]: Has your set up changed/ altered over the years? And do you have/ use any pieces of kit from when you started making noise?
Mike My setup for my gear is simple and it's not really that important to me because I feel I can achieve the sounds I want with the gear I own. In a perfect world, I would have more gear and more gear knowledge but ultimately I don't think I can substitute a tool for a good idea. Elbow grease, will power,and a nice synth and audio mixer.
M[m]: I became aware of Striations last year with the expanded reissue of the projects 2018 album Vietnamization. The album is themed around the Vietnam war, and how the American army both brutalized, maimed & destroyed the landscape, the counties people, and their soldiers. Tell us a little bit about how/when you got intrigued by the subject?
Mike I was in college in 2008-2009 at UC Davis and I took a class where we watched the documentary Hearts and Minds. This film won the academy award for best documentary of 1974. After I saw this film it opened my eyes to the reality of the war that I was unaware of before that moment in time. It was a lot to take in the context of the post 9/11 world and being a young person who was unhappy about their life situation. Anyway, I never really stopped thinking about that subject and after a few years of Striations, I started thinking about making a Power Electronics album about Vietnam. My original idea was to have more vocals on the album but the final form you hear took its own shape, and I didnít want to force anything about it. Well, let me just say it was a long process and a lot of forcing went into finalizing everything.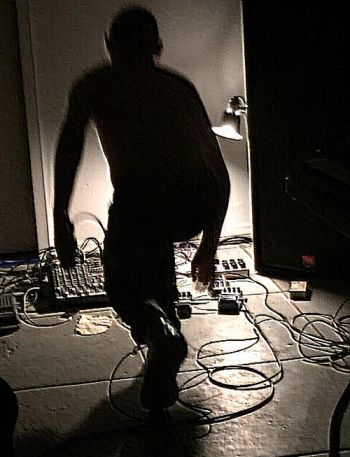 M[m]: How did the reissue of Vietnamization come about? Any plans for more reissues of older Striations material?
Mike Old Captain contacted me regarding a possible CD reissue of Vietnamization and it evolved into what you see as the final product. There will eventually be a double LP version of the album as well. Not working on any other reissues currently, but I am open to the idea of it for a couple of tapes. Also, there will be a CD version of Keepsakes released by Freak Animal.
M[m]: Vietnamization utilizers often harrowing weaves of samples regarding the war- can you tell us a little a bit where these are sourced from?
Mike Thanks for the compliment. I donít want to divulge sources for Vietnamization. Itís too broad a topic and I think it would cheapen things by revealing sources. I will say that if anyone wants to know more about it, I would love to talk one on one. Iím glad that people enjoy it.
M[m]: how long did it take for you to build Vietnamization often a detailed blend of noise/ samples? And do you have any interesting stories from the album's creation?
Mike It took about two years of work to make the music on Vietnamization and a lot of work on editing and compiling samples from different sources. I had a bigger vision I was going for than what I was able to achieve in the final work, however, I feel that because of that the final work has a special character that it otherwise would not have had. I plan to make two new songs for the LP version.

M[m]: The album lists a few collaborators- could you give us a rough idea of what part the collaborators took part in the albums making?
Mike The credits on the album explain who worked on which song. Mack from Koufar asked me to collaborate on a song for Lebanon For Lebanese and through the process of working together I came up with the concept for Vietnamization. I wanted to make a Power Electronics album about war and I already had the ideas about Vietnam in my head so I just kinda started thinking more and more about it until it became the focus of my creative efforts. Mack helped support my vision for the album from the start and we had two day-long sessions of improvisational jamming that resulted in the structure of the first couple songs and created the blueprint for the album. He and I used the Novation Bass Station to create synth lines used later on other songs. Sam Torres and I made the song about hovercrafts together in the studio as well. The rest of the collaborations are done via email and in some cases, the final composition of the song was done by the other person. But in all, it was my decision that would be used for what purpose on the final mix of the album. I wanted to have a long list of collaborators to simulate the dynamics of a group platoon unit, with each individual person contributing their separate and distinct capabilities to each song. It wasnít done for any other purpose other than to create a group dynamic.
M[m]: The recent reissue of Vietnamization adds in a second CD featuring two half an hour tracks- could you discuss this extra material, and how it connects into the original release?
Mike The second disc was originally given away with my artist copies of the cassette along with a zine of collage art not posted on the website. Itís trimmings from the release of stuff that I wasnít able to use due to time constraints, some unused samples, and sound tests.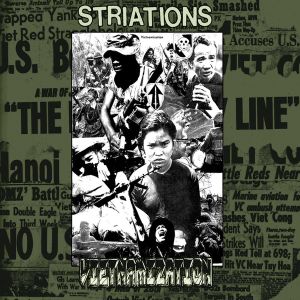 M[m]: I believe you're active in California Grindcore/ metal scene- could you please discuss the project in these scenes, and do you feel this type of sound influences your work with Striations?
Mike I used to play guitar in a band called Brutal Death and other bands. my last band was death metal. And when that band ended I wanted to do solo music. The grindcore scene is alive kinda but I've been out of touch for years from it. Some of my old videos from that era ended up on the recent Insect Warfare discography set as a bonus DVD. I filmed that on some old camcorder I used to make Jackass imitation videos with my friends from middle school. I have fond memories of going to Gilman Street in Berkeley and hanging out with Dan and Max from Spazz or Jeff from Capitalist Casualties. The bay area has a rich history of underground music that is being paved over. I would love to talk more about this subject. Ultimately I outgrew this scene. Striations is an expression of this, but the old albums I liked back then still influence me now mostly Old Power Violence albums from the southern California area specifically, and then old Earache albums like Napalm Death and Carcass.
M[m]: Since 2011 youíve released both your own work & others noise work on your label Nefarious Activities- could select say five or six of your favorite releases on the label & explain why?
Mike I donít want to go through a list like that of my favorite releases, because I try to be objective as possible about my label stuff and not inflict too much of my personality on the releases. I will say that I enjoy collaborating with the artists I work with on artwork. My favorite release I have done so far is probably the Crainiorachisis tape because itís just so out there aesthetically, itís a real mind-blower.

M[m] I've seen pictures of your performing live- how often do you do sets with Striations, and what do these entail? Do you recreate album material or do one-off performances?
Mike I try to play live as often as I can but in past years touring and playing larger profile shows has been a priority. I have ďsongsĒ from the tapes I play live and sometimes there are improv sections of the set mixed in, like an intro, or an interlude in the middle of the set. Sometimes in the early days, my sets would be completely improvised, but this would be after playing structured sets also. I like being in control of the sound on stage, in song, movements, or during improvisation.
M[m]: Whatís next for Striations?
Mike Not much really, I am trying to take a break and focus on my personal life.I want to finish up new recordings and play a few shows. Hopefully have a strong year in 2021. Iím Playing New York City in February, and also the Trauma Code 2 cassette has now been released on Gutterbloat- head here to hear samples/order here
Thanks to Mike for his time- Vietnamization is available as a joint release from Old Captain/ Eibon Records- head here to check out samples/ buy direct here Mikes Mail order/ vlog can be found here
Roger Batty