A Cut Above The Rest [2019-08-06]As any fan of the slasher sub-genre of horror knows- the key & golden age of the genre occurred in the early 1980s. Sure there where flurries of some effective enough slashers in & around of the release of Scream in 1996- but in reality the sub-genre has been very lackluster & mixed since the í80s. One of the more worthy & consistent series to appear in the genre since the golden is the Malevolence trilogy- taking in 2003ís Malevolence, 2011ís Bereavement- Malevolence II, and last years Malevolence 3: Killer- the films took classic slasher genre elements- focused & strengthened them, and added in elements of the serial killer thriller. Behind all three films is New York state-based writer/ director Stevan Mena- Stevan kindly agreed to give us an email interview, discussing the trilogy, his love of horror & his other work

M[m]: What was the first introduction to horror cinema? And what films do you see as impactful on you going to make the Malevolence trilogy?
Stevan The Texas Chainsaw Massacre, Alien and Halloween made big impressions on me. I wanted to make a film that was scary like Halloween, had the atmosphere of Texas Chainsaw, and the beautiful cinematography of Alien.

M[m]: Tell us a little bit about how & when you first got into film making, and what came before the first Malevolence- did you work on any personal shorts or other peopleís productions?
Stevan I had done many shorts before Malevolence, but Malevolence was my first film and first feature film. The crew hated me because I was so new and green and because I had figured out a way to make my own film I guess. But I always tried to understand the business end of it first, and I think thatís how I was able to succeed. It was the script that got Malevolence made, got people interested in investing.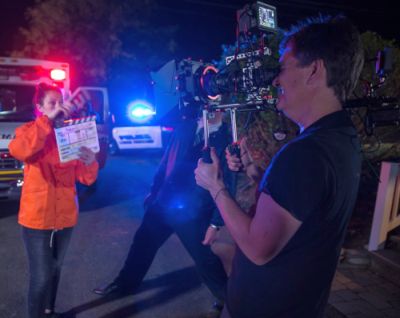 M[m]: I believe you had the story for the first film for sometime before you made- when & how did the ideas come about? And did you have in mind early on a trilogy?
Stevan It was always intended to be a trilogy. It was based on a book I wrote. Malevolence became the middle part of the trilogy for budget reasons because I knew that the Sutter part of the story would require name actors and a budget. So I had to go out and prove myself first. Also, I felt Martin was scarier if you didnít know his backstory first.
M[m]: You're pretty much do everything in all of your films- directing, writing, producing. Editing, scoring Ė it must be a very difficult balancing act. What facets of film making do you enjoy most/ least?
Stevan I enjoy writing and scoring the most. I love shooting, but I hate going through and choosing my selects for editing, that can be a laborious process on your own, especially if you're doing all the syncing, etc.
M[m]: I really enjoy the use of the sack mask in the first Malevolence- how did this come about and why didnít use it in the latter two films?
Stevan It was always designed to be simple, in fact, the idea from Malevolence was born out of the mask, I wanted an excuse for the killer to have one, not just because we donít want to see his face. So thatís how the bank robbery element was the eureka moment while writing. It gave the mask plausibility. He is able to wear it and confuse his victims through mistaken identity. And it hides his intentions, which make him scary. Itís hard to bargain with someone wearing a mask.
M[m]: Why didnít the sack the mask reappear in the second & third films?
Stevan The sack didnít appear till later in the story, which is Malevolence 1, after Bereavement, and he loses it at the end of that movie. So it wouldnít really make sense for him to still be wearing it. Also, his intention was to trick the bankrollers so he could get close to them and kill them with them mistaking him for Kurt. Again, wouldnít really make sense to wear it around people who had no idea who he was trying to be. And also, I wanted all three films to have a different feel. Also, Jay Cohen bears a striking resemblance to Norman Reedus from Walking Dead, so we tried to capitalize on that.
M[m]: Each film in the trilogy has its own leaning/ feel- the first is very much a classic rural slasher, the second a serial killer thriller, and the third a more classic stalking teenage venture. Was this debilitate, or did the films just form into these settings during script writing/ filming?
Stevan It was very deliberate. I always wanted each film to feel like its own thing. So I made each one very differently. Some have said that they donít feel similar and that that ďfeelingĒ of the original was lost. But that was the whole point. Who wants to revisit the same worn ground over and over. I didnít want it to feel like every other franchise. Each has its own reason for existing.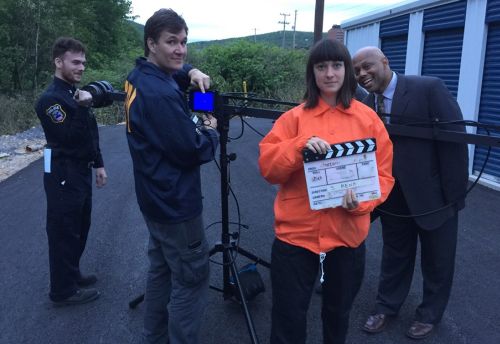 M[m]: You mention Malevolence trilogy been based on a book you wrote- have you released this to the public, and if not any plans to do so? And what are some of the main difference between the book, and the films?
Stevan Yes, they are based on my book, but no it was not released to the public. The book wasnít ready for mass consumption, if anything it would have to be broken up into 3 separate books, thereís just too much for 1 single volume.
The main difference from the books to the screen was in the book, Martin is rescued and returned to his mother. She slowly learns that he is not all right and eventually Martin turns on his mother and family and then sets out into the world to wreak havoc. He eventually makes it back to the slaughterhouse and stays there until Julian and the bankrollers show up.
M[m]: I know each of the Malevolence films had its issue- but in the last film you had a major issue- one of the lead actors died. Tell us a little bit about how you manage to re-edit/ shape the film after this- and if the actor had not passed, how different would the third film have been?
Stevan The original film was more of a buddy cop picture. When Scott Decker passed, I had to reimagine it as a singular detective driven film. This way I could use some of the work already done, and not have to start over. I think it would have been a more humorous film with Scott in it. For example, the cigarette joke with Adrienne Barbeau was part of a running gag throughout the film. Each time Scott went to light his cigarette, Perkins would find a clue or something would happen that he had to get moving or put it out. In that example, Adrienne was his foil. Eventually, Martin is caught, and he finally lights up outside, job well done. And Perkins comes out and says Martin escaped. It was really funny, but sadly we never will see that version. Out of respect, we wanted to keep the scenes we could use of Scott.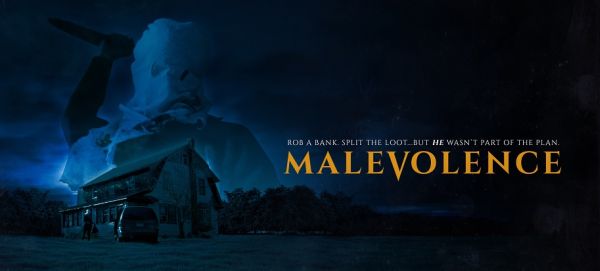 M[m]: you have left it semi-open for a fourth Malevolence- any present plans/ ideas for if/ when you do a fourth film?
Stevan There are currently no plans for any sequels. I can say for sure I will not be writing or directing another Malevolence film.
M[m]: Itís fair to say that the Malevolence films have been some of the most effective of modern slasher films- are there any other modern slasher films( ie after the golden age of the 80s) you enjoy?
Stevan I really loved scream, and I really liked Youíre Next and also It Follows. Still wondering why no one has remade The Burning. Still one of the best, and easily the scariest soundtrack ever, Rick Wakemanís score creeps under your skin.
M[m]: your second film 2007 Brutal Masscure was somewhat of departure- seeing you mocking/ sending up horror films, well at least there productions. What made you want to this film, and do you think youíll return to comedy again in the future?
Stevan I would love to do another comedy. In fact, there was a plan for a Brutal 2 before Gunnar passed. I wanted to laugh how difficult it was to shoot Malevolence. So it was a cathartic way to do that, by sending up everything that happened to us in real life and have those things happen to Harry. Itís hard to believe that everything that happened in Brutal Massacre was true, but it was. In fact, the truth was much worse. The only difference was up until then no one had died while I was making a film. But everything else actually happened. The only tweak was in real life, the lab was sued by another company and its assets frozen (including its vaults with our negative inside). We had to sneak in like spies and steal back our negative from their vaults rather than wait for them to get through litigation and reopen. We changed that to the lab just blowing up.
M[m]: Whatís next for you?...any script or ideas for new films?
Stevan I am currently working on a new novel.
M[m]: Can you tell us a little bit about your novel?
Stevan My novel Transience is about a nine year old girl who has visions of a murder, and her visions solve a cold case that had begun before she was born. The story is all about a police procedural that becomes something supernatural.

Thanks so much to Stevan for his time & effort with the interview- head to https://www.stevanmena.com/ for more info on Stevan, as well as buy direct the recent Blu Ray/ DVD reissues of all three Malevolence films
Photo Credits: Scott Krycia and Libby Chapman
Roger Batty