Walls For Charlotte [2018-10-12]Californian based She walks Crooked create a fairly original blend of walled-noise & drone. The project started in 2013 , and it has been slowly, but surely releasing a quality bound selection work, which is often themed/ focused around British/ French actress & singer Charlotte Gainsbourg. I caught up with the man behind the project Scott Kindberg- who also runs the Petite Soles, for an email interview- where we discuss She Walks Crooked, his label, and his other noise projects.

m[m]: What was your first introduction to the walled-noise genre, what were your initial feelings on the genre, and is there anyone track or album that lead you to create your own wall work?
Scott Some of the first stuff I heard was of course from The Rita and Richard Ramirez, And another around the same time was Hoggle by Joe The Stache. Sharing some of the same interests as The Rita definitely opened me up to exploring the genre. Specifically watching the amplified skate rail video that I came across on youtube. That kind of really blew my mind, I watched it a lot when I first found it.



m[m]: Your key & main project She Walked Crooked- Tell us a little bit about when/how the project started?

Scott It was pretty simple, I was getting into wall noise and at the same time really falling in love with Charlotte Gainsbourg. I had a release already dedicated to her with my Ginger Cortes project but when I decided to attempt to make HNW it wasn't so much a conscious choice to focus on her, it just seemed to happen.

m[m]: She walked Crooked sound is an original blending & blurring of walled noise & drone- how do you create this sound?

Scott I don't know, haha, the same way I assume anyone would. I do tend to like deep bassy sounds and kinda "airy" sounds as well super harsh noise. I never tried to make drones I guess they just kinda come out that way.
m[m]: How has your set-up changed/ developed since you started the project? And are there any bits of kit you still use from when you started the project?
Scott A lot of it's the same I'm sure. I still use my Grunge and Death Metal petal a lot, of course. I have recently been adding more pedals to my collection as I've been using a lot of the same ones forever. I'm attempting to collect old DOD 555 Distortions (I currently have 2) strictly because of the Charlotte Gainsbourg album "5:55" and a couple years ago I got an RMA Crustacean that I love. But I still try to find interesting source sounds to work with

m[m]: many of She walked Crooked releases are themed around British/ French actress & singer Charlotte Gainsbourg. Tell us a little bit about how & why your interest Ms. Gainsbourg started, and why you chose her as a main focus for the project?
Scott It could really have just been the right time for me to have found her. I was just kind of getting more into pop music. I had been listening to some 60's French Ye Ye Girl pop a bit but when I first listened to Charlotte Gainsbourg it kind of all clicked. I loved it from the first listen, It was only after I listened to her that I had remembered seeing her in some films in the past. She's an amazing actress but I'm definitely not gonna say all the films she's been in are good. All her music though is exceptional.


m[m]: Have you ever used Ms. Gainsbourg music or her dialogue as a source for wall creation? And in general what do you use of your source?
Scott I have tried. Maybe I will again in the future. I can't seem to completely destruct it and you can still hear the song or structure of it through my attempt. It has been a while since I've tried though. Maybe soon. When I saw her live in LA I did record some in slow motion with the thought that it would make a good sound source. I have not used it yet.
I have used a lot of different things in the past. Most frequently my RMA Crustacean, sound clips from movies, and a contact mic on various surfaces.
m[m]: two of my recent favorite from She walked Crooked is Pink Foot Bandage Volume 1 & 2- please discuss the themes of this release?
Scott I had been wanting to work with Babs for some time prior to these releases and we had talked about it before. Such cute pictures, commentary and really just a super sweet person, and I tend to love little things. Little details in pictures I see and I noticed in a picture they posted, a foot bandage and it was pink. The fact that it was pink kinda grabbed me right away and, I feel, says so much about them and their personality. So, that was the idea that clicked and I knew it was the one to be seen through. The sounds just came to me after that, beautiful and painful.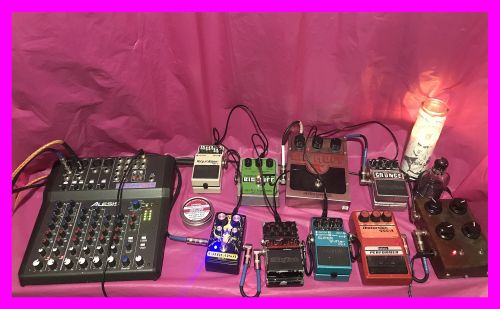 m[m]: For those not in the know who Babs Bordeaux,and how/when did you first come across them?
Scott Babs and I met a few years ago. Boring as any meeting story these days. Lots of mutual FB friends. They take wonderful pictures and after a lot of likes and nice comments, I finally got enough confidence to ask to work together. Their visual accompaniment to my audio. It's really been great and now I'd consider Babs one of my closest friends.
m[m]: Discogs lists you been involved with nine other projects- please discuss each of these, talking about the themes of each, the sound setting, etc?
Scott Ok, I'll touch on them briefly haha, Ginger Cortes was my first experimentation, it was a duo with a friend of mine and it was fun but it definitely feels like a starting point. Silver Moult was basically an extension of Ginger Cortes. My friend grew uninterested in harsh noise so It's basically GC as a solo project. Tales Of The Bloody Bloody Killer is wall and old cartoon samples. After pouring over Al Columbia's Pim & Francie book I wanted to work on something that made me feel similarly. Creepy and cartoony. Hollywood Sex Goddess is myself and another person, simply its noisecore with lots of stupid samples. Jane is a wall collab between myself and James Killick lovingly devoted to Jane Birkin. Chloe Stevens is a wall project between myself and Cory Strand lovingly devoted to Chloe Sevigny. Shelley Duvall is a harsh noise project between myself and Jesse Kling lovingly devoted to Shelley Duvall. Sock Swap is a power electronics collab between myself and Nora Egloff. I had a lot of fun with that one. She sent me a beautiful pair of sheer socks, which I made the sounds with and sent the recordings back to her which she did vocals over. Unusual Affairs is an HNW collab project with Quentin Rhys and a revolving door of other collaborators, most notably Sean Ramirez=Matzus and Nathan Harris. Mostly fixated on horror films and utilizing source material that seems fitting for each release.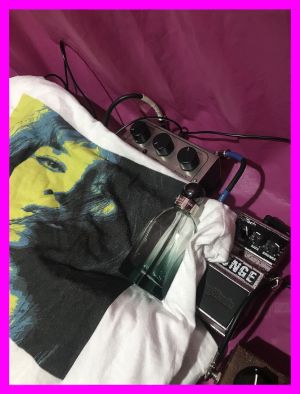 m[m]: In 2012 you started the Petite Soles label Petite Soles label- please tell us a little bit about how, and why this came about?. And what's the origin of the labels name?
Scott It was pretty much an evolution, I used to run a hardcore/grind label but was getting more into noise so I started another label. I had released a couple noise tapes on my other label before starting Petite Soles.
The name came to me quickly and worked with my idea to exclusively release 3" CDRs since they are petite. I ended up expanding to other formats but kept the name.
m[m]: so far you've released around 60 releases on Petite Soles- please select ten of your favorite releases, and explain why they are?
Scott Hmmm. Off the top of my head:
Black Leather Jesus "French Pissing"
I love BLJ and it was the first time working with Richard and Sean who I've also grown quite fond of over the years.
The Rita "Overdriven Stocking Worship: Women's Legs And Feet In Nylons"
The first time I worked with Sam and I thought the idea of a totally fixated collection of audio samples from him was a perfect idea for a release on this particular label.
Swollen Organs "Jealousy Fetish"
I've known Jimmy for years before this. I love Swollen Organs and I thought the packaging he sent me to use turned out amazing.
Unusual Affairs "Behind The Green Door" "Rabid" and "Insatiable"
I know, it's one of my own collabs, but I love working on this project with Quentin and a series devoted to Marilyn Chambers made it even more fun to work on.
The Flesh, Full Of Black Sand "Soft Haunt"
A more recent release that sounds amazingly moody, and like the title says, haunting. I have loved all of the stuff I've heard from Dakota's many projects.
The Rita "Bunions Greek Plantar"
More perfection from The Rita. And this time it came with an embroidered patch.
Black Leather Jesus & Smell & Quim "My Darling, Forever Dressed For Sex"
One of the best looking releases and as filthy as you would assume a collab between these two projects would be.
Love Katy "Every Promise Of Forever"
Great walls from James as always. And I too love Katy. So it's a perfect match.
m[m]: What have you got lined up release wise next- with any of your projects & the label?
Scott I'm not really a person that plans stuff out. I'm very impulsive but "Pink Foot Bandage Vol 3" is finished on my end and Ominous Recordings (who I love! Thanks so much Johan) is slated to release this final volume in this series soonish I think. I'm also working on a 5xC55. We'll see haha
For Petite Soles, I'm attempting to put together a large batch of releases all by female artists. I want to take my time with each one and make them a wider release and try to get as many copies as I can out there. I'm always especially fond of working with lesser known side projects or anonymous projects as well.

Thanks to Scott for his time & effort with the interview. Here's the projects Facebook page https://www.facebook.com/shewalkscrooked/
Roger Batty