June 18, 2018. Moscow, Culture Center DOM. [2018-07-04]On June 18, two magnificent Italian noise artists, Lorenzo Abattoir (Nascitari, Satanismo Calibro 9, Mare Di Dirac etc) and Cristiano Luciani (Cris X) performed to cerebrate the release of Viva Italia - a Russian language book by Dmitry Vasilyev dedicated to the experimental, industrial and noise music of Italy, covering the period from 1955 to present time. It was the last concert of planned three. Unfortunately, I could not get to the first two shows, which I very much regret.

I was invited to this concert by Lorenzo long before the date of the show, so the anticipation lasted a long time and grew with each passing day. I invited an old friend of mine. He is from a fan of noise and experimental music. The last time he had any connection with these genres was when he bought me a Brighter Death Now CD. But since we have not seen him for several years, he gladly accepted my invitation. Honestly, it was done just to see me.

So, June 18 was the second really warm day of this summer in Russia. For three weeks the weather had bee very rainy and cold. So I was expecting to dress warmer and take an umbrella, but the weather took pity and gave a good and warm day.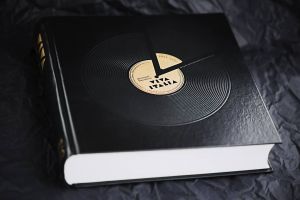 I was one of the first to get to the venue. There was still almost an hour before the show. Entering the club, I immediately drew attention to a cozy, almost homely atmosphere. Rows of wooden chairs, dim light ... shortly I met with Dmitry Vasiliev, the author of the book and the organizer of the event. We talked very warmly and made several presents to each other.
Since there was still a lot of time before the show, I decided to go out and smoke a cigarette. There I met Cristiano Luciani. We met and chatted. Cristiano seemed a very sociable and open person. I gave him a few presents, but it turned out that he does not have the ability to listen to tapes, so I had to give only CD's.
After a little while, a bearded man appeared out the building. This was Lorenzo Abattoir . We were already familiar correspondence through Facebook. We greeted each other. For a while the three of us chatted- Lorenzo, Cristiano and me. Meanwhile, the audience began to arrive. Everyone wanted to talk with these wonderful musicians, I decided not to interfere and stepped aside.
Next I met with Alexei Veselov, of project Wram- which is quite famous not only on the Russian, but also on the world noise scene. Credit must go to Alexei for dedication to noise form – as he spent two days on a train travelling to get to this show.

So, the time has come and, with a little delay, the concert started. There were quite a number people in the audience- so Dmitry was very pleased. My friend and I chose the seats in the first row.
The concert began with a welcome speech by Dmitry Vasilyev, who presented his book. He briefly described the Italian experimental scene and introduced us to the first artist - Cristiano Luciani with his project Cris X. The lights went out. The stage was almost completely dark, with only the dim light illuminated the table, on which was Cristiano equipment.
Cris X presented the audience with a real extravaganza of sounds! In his set, everything was intertwined, starting from Dark Ambient, ending with Harsh Noise! Listeners plunged into an infinite space, then into a noise piercing chaos! His manipulations with the contact microphone and cymbals fascinated. Cristiano was very emotional. He did not just make sound, he did a show! He worked for the listener. Until that moment, I've heard only his works done together with other artists, such as KK NULL, Merzbow, Mauricio Bianchi and so on. This performance surpassed all my expectations. As Cristiano later admitted, it was one of his best gigs. As Cristiano concluded his set. It was evident that he was a little tired, but was very pleased. The audience thanked him with stormy applause!.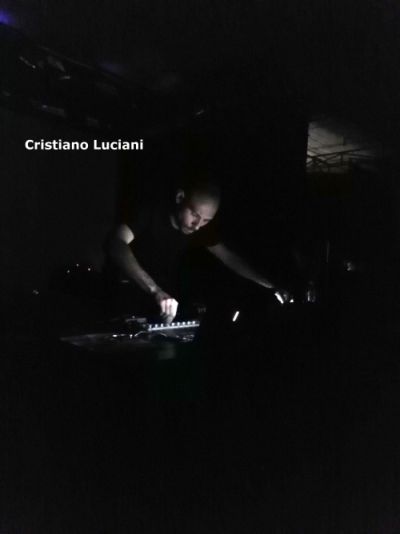 Then a small break followed. Everyone went outside, chatting and smoked. Cristiano was photographed with the audience, who where clearly impressed with his performance. I looked at my friend. There was delight on his face. As I said before, he is far from a fan of this type of art. To my question whether he liked the performance, he replied he was very impressed by the magnificent set!
The break was over, everyone returned to their seats. Dmitry introduced Lorenzo Abattoir, saying that he had no idea what Lorenzo would show us today.
On the stage stood a bottle of water and an empty glass, as well as contact microphones. Lorenzo climbed onto the stage, the lights turned off. There was complete silence and darkness. Lit only the laptop screen. Lorenzo took off his shoes and began his sorcery. He lit matches, took the sound of fire with a microphone and turned it into a stream of clicks and crackles, balancing on the verge of ghostly noises. Sometimes the speakers exploded from unexpected hard noise. The listeners trembled. All this was exciting and scary, like hypnosis. Lorenzo threw something burning into a glass and poured water into it. The sound has changed. Ghostly clicks disappeared and a roaring rumbling came from the speakers. As my friend later said, it was a premonition of a thunderstorm. The whole atmosphere of his set was imbued with something primitive and mystical. Quiet clicks, rumble, distant roar and the smell of fire intertwined into a single whole. I do not know how long the Lorenzo's set lasted. Maybe 15 minutes, and maybe more than an hour. It was magic.
Lorenzo stood up, thanked the audience and went downstairs. There was a flurry of applause! The concert was over. The time of communication began. Unfortunately, I could not stay longer. I had to leave. Having talked a little with artists and spectators, I said goodbye to Lorenzo, Cristiano, Alexei and Dmitry.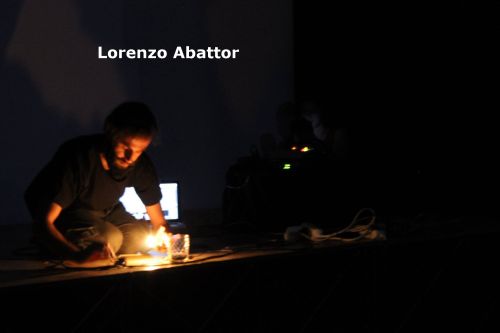 For me it was the best concert of experimental music that I ever attended. I was more than pleased to meet Cristiano Luciani and Lorenzo Abattoir. They were not only brilliant artists, but also very sociable, open and modest people. I really hope to meet them again!.

And finally, the words of my friend, far from the noise scene - "It was just great, I never thought that I could perceive such sound as music, but it was real music. And today I knew its new facets. It was a virtuoso performance!." So, perhaps, those who are wary of the different kinds of experimental music and art of noise, just have to see it live ...

Photos by Alexei Veselov and Sergey Pakhomov

For those wanting to find out more about the Viva Italia book, head here http://vivaitalia.xyz/

Sergey Pakhomov