Garish( yet informed) terror- We Belong Dead & related publications interview [2018-05-18]When it comes to books or magazines focusing in on the horror film form itís always great to have a blend of informative, yet never stuffy text and lots color stills. And thatís exactly what you get from We Belong Dead magazine, and itís related books. I first became of the output of the collective with 2016ís Unsung Horrors- a 448 page glossy & colorfully, yet informative book focusing in on lesser-known horrors films. And have since eagerly looked forward to each new release from them. Below is email interview I did with Eric Mcnaughton who is the editor/ one of the key figures behind the collectives releases.

M[m]: What was your first introduction to horror cinema? And what horror films really had an impact on you early on?
Eric My first introduction was threefold really. First was buying Denis Gifford's seminal Pictorial History of Horror Movies with my holiday pocket money while on a family holiday on the Isle of Wight! That amazing lurid green cover seduced me! I even remember the price £1.99...a fortune to a kid in those days! Secondly was buying the Aurora glow in the dark Phantom of the Opera which I stumbled upon in my local model shop (I went on to collect them all except King Kong and Godzilla which I could never find in the North East of England!). And thirdly was the discovery on a trip to the local newsagents with my mum, of the first issue of Monster Mag.


Eric As for films that had an early impact. Well, there were three, though I couldn't tell you which one I saw first! They were all viewed around the same time on the late night horror slot Tyne Tees TV ran every Friday night. Them!, Dracula Has Risen From The Grave and The Pit and the Pendulum. That started a lifelong love of horror.

M[m]: You mention picking up Pictorial History of Horror Movies- where there any other horror related books or mags you enjoyed from the 70ís/ 80ís era?
Eric Oh, tons! It seemed like every week in the 70s a new mag or book on horror films was coming out...and I collected them all! My favorite US publication of the 70s was Marvels Monsters of the Movies and my favorite UK mag was the short-lived World of Horror. But I loved them all...House of Hammer, Monster Mag, Quasimodos Monster Magazine, Movie Monsters, Monster Times etc.
Book-wise Gifford's Pictorial History was the first of course. But the Allan Frank books were not far behind. I loved David Pirie's Vampire Cinema and Heritage of Horror and John Brosnan's Horror People and collected all those softback Lorrimer books including Seal of Dracula and Cinema of Mystery. You have to remember back then there was NO access to the films themselves other than late-night TV showings, so we devoured these books and mags.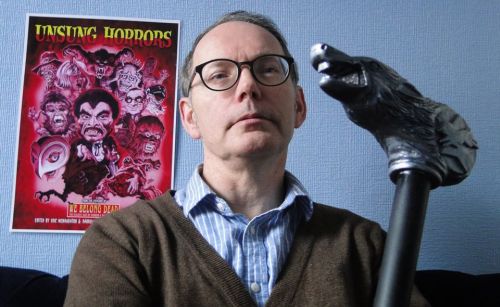 M[m]: Talking of horror related books- where you ever a fan of pulp horror novels- such as Dennis Wheatley, or the more gore bound likes of Guy N Smith or early Shaun Hutson?
Eric I tried to read The Devil Rides Out once and gave up! It was so stodgy. But in the 70s I read all those nature goes wild books such as Guy Smith's Crabs stories and James Herberts Rats trilogy. I tried the classics too, such as Frankenstein and Dr Jekyll and Mr Hyde. Stoker's Dracula remains my favorite novel of all time...I must have read it at least 20 times!
M[m]: Are there any sub-genres of horror films you donít like?
Eric I used to be very much of the opinion that no good horror films were made after 1979. But as I've got older I have revised that opinion as there are some wonderful films made since and indeed today as well. I have never watched any of the so-called torture porn, nor do I feel I need to. Likewise the cannibal films of the 80s. Things like Human Centipede or the works of Rob Zombie and Eli Roth just leave me cold I'm afraid.
M[m]: Tell us a little bit about how & when We Belong Dead? And were you involved from the beginning?
Eric WBD was launched in the mid-90s. At that time there was very little in the way of zines covering classic horror (with the exception of the superb Little Shoppe of Horrors). All the mags seemed to be interested in gore and splatter. So WBD was born. Looking back now it was a very amateurish start...all scissors, Pritt stick, and typewriters. I am amazed to see those early issues going for silly money at film fairs. We reached issue 8 then called it a day at the end of the 90s. Life intervened, I traveled the world and ended up living in Paris. In the interim, I started the WBD group on Facebook and realize there was still an audience for classic horror. When I moved back to England in 2013 it was my late friend Richard Gladman and my then wife Oxana who persuaded me to take a chance and relaunch the mag.
M[m]: Oh I never realized WBD had been running so long- what did the first few issues cover, and what was the page count?.
Eric The early issues were only about 30 odd pages. The first couple of issues I wrote pretty much the entire mags myself but then some very talented writers got involved, many of whom are still with us to this day. The articles I was most proud of from those early issues are Bride of Frankenstein, Chaney's Phantom of the Opera and Hammer on video. Perhaps the article which responded to most was Neil Ogley's listing of all the movies in the BBC2s famous double bills...this was the first time such a listing had ever been published.
M[m]: So what was the first WBD issue to go for the more glossy/ colorful look? And what made you take this move?
Eric With the relaunch of WBD after a 16-year gap, it was a lot easier to publish a more professional looking mag with the benefit of digital printing. It also meant we could have full-colour covers. But it was issue 17 which was our tribute to Christopher Lee where it was decided to go full color throughout. It was meant to be a one-off but we had such a great response that we decided full-colour issues was the way to go.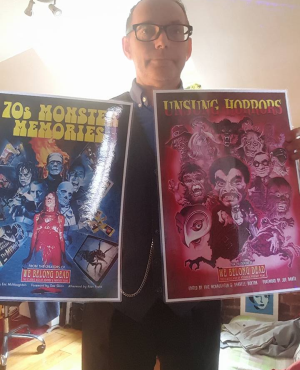 M[m]: so far We Belong Dead has seen 19 issues released- please discuss three or four of your favorite issues & explain why they stand out to you?
Eric That's tough as I am very proud of them all! I suppose issue 9 as it was our relaunch issue and put us on the road to success. Issue 15 I am very proud of as it was or Hammer special and our fastest selling issue. And I guess issue 17 which was our Christopher Lee special, the first issue we did in full color throughout.


M[m]: I first became aware of your work with the excellent Unsung Horrors book from last year- tell us a little bit about how & when the idea for the book came about?
Eric Our first attempt at a book, 70s Monster Memories had been a sell-out success. So for the second book I had to think of a good subject. Many people suggested an 80s Monster Memories but I wanted to do something completely different. Our second difficult album if you like :) At first I was going to do something along the lines of 101 greatest horror films. But that's kinda been done to death. So then the idea hit me of covering those films that are underappreciated, overlooked or just plain forgotten about.


M[m]: The great thing about Unsung Horrors is the mix & balance of horror films from different periods going from black & white campy chillers, though to swinging 60ís shockers, onto to more gore bound 70ís fare, creature features, haunted house movies, obscure Giallo ís and beyond. Did you find this difficult to balance when editing/ laying out that book?
Eric Editing is always a tough one. Trying to get the mix right and deciding what exactly was an Unsung Horror. That proved the most contentious part for some people. But ultimately it is a personal choice. The main criteria I used were no overly analytical articles, it was supposed to be fun after aal, no plot heavy pieces and finally, the author had to love the film he/she was writing about. In the end, we had far more films than we could include....hence Son of!


M[m]: All of the publications youíre connected with are often highly colorful, with stills & poster art- do you have a large collection of stills/ poster art personally? And if not how do you source them?
Eric I don't have that many myself but friends and collectors help out and our fantastic designer Steve Kirkham has a wonderful picture resource. I always try and choose images that are not that well known. Foreign posters and lobby cards are brilliant in that respect.


M[m]: Your previous publication before Son was Monsters?-Weíre British Yí Know!"-A Celebration of Peter Cushing- what was your first introduction to Mr. Cushing work? And what are some your favorite performances from him?
Eric I think the first Cushing film I saw was Hound of the Baskerville on the late night Friday TV horror spot. I remember being terribly disappointed at the time that it wasn't a 'proper' horror film! As for favorite performances, his role in Twins of Evil is a tour de force. I also love Horror Express, Island of Terror, Frankenstein Created Woman and Satanic Rites of Dracula.



M[m]: I know you did a Christopher Lee special for We Belong Dead- have you thought of doing any other horror stars like Vincent Price, Bella Lugosi, Boris Karloff? Or maybe even up & coming hammer stars like Ralph Bates? who for various reasons never became the star of the studio they wanted him to.
Eric Our Cushing special was our best selling publication, all gone within 6 weeks! So we are planning a Vincent Price one later this year and hope to have the involvement of his daughter Victoria. A future project I am mulling over is a Whos Who of the world of classic horror....actors, directors, makeup men ect


M[m]: you íve recently release the follow-up to Unsung Horrors, Son Of Unsung Horrors- can you tell us a little bit what to expect with this new title?
Eric Same format as Unsung, 400 pages featuring almost 200 films from the silents to the early 80s. That is a bit of a departure from the original where we had a cutoff point of 1979, but the second volume features some early 80s stuff like Alligator, The Island, and the Wolfe. We also widened the scope to include TV movies such as Moon of the Wolf, The Norliss Tapes, Lizzie Borden and The Night Strangler. Delighted to have a Foreword by John Landis too! (Joe Dante did the honors for the first volume).
M[m]:I notice that Son of Unsung Horrors sees you moving into the 80ís with a few films you covered in the book. What made you decided to exte¨nd the decades covered? And do you think further volumes of the series see you covering more decades, even the dreaded 90ís when horror was not at its greatest?
Eric Quite simply there were a few films like Alligator, The Island and The Wolfen that just missed our cut off date of 1979 and I thought they deserved to be included. I very much doubt we'd ever extend that to the 90s though! (Although that decade will get its own chapter in our upcoming Pictorial History book)
M[m]: Many of Son Of write-up/ reviews seem slightly more fact heavy and slightly less nostalgic- was this deliberate or did it just turn out that way?
Eric Just turned out that way. Once a title has been allocated I really just leave it up to the writer how they would like to approach it. I think it works very well having different approaches. It's very rare I would interfere in the writing process.
M[m]: Through-out Son Of you feature three films from the arty & erotic tinged horror of Jean Rollin- why so many films from him? And why do you think his work, in particular, was so unsung?
Eric I'm a big Rollin fan but I do think his work is not that accessible to the average horror fan. If you go in expecting a traditional horror with a linear storyline you will be disappointed. His films are so dreamlike and it's all about the visuals. I take any opportunity I can ti try and bring his films to a wider audience.
M[m]: Talking of erotically tinged euro-horror, you only feature one film from Jess Franco- can we expe¨ct more Franco in la¨ter Vols?
Eric Again I think Franco is an acquired taste. The man made so many movies. But I would most certainly like to cover more of his films.
I must say I was very impressed with the rare stills/ post¨er found through-out Son- was there any particular film post¨er/ artwork that was really difficult to source?
The hardest were the earliest films and very obscure British and European films from the 30s and 40s. I take a lot of time over choosing stills and posters that might not be that well known to fans. My designer Steve Kirkham is a great help too in that regard.
M[m]: What have you lined-up in the near future book wise or for We Belong Dead?
Eric We have an exciting year ahead. Next up will be A Pictorial History of the Cine Fantastique. We already have a wonderful cover painted by the talented Graham Humphreys. This one will be mammoth, around 500 pages covering horror films of the 20th century. After that, it will be our Vincent Price special and 80s Monster Memories. I am also discussing with a few writers ideas for other projects. And of course, we will still produce the mag. Issue 20 should be out in March with a fantastic Mark Maddox cover.
Thanks to Eric for his time & effort with the interview. For information on all the collectives, publications, and how to order them direct head here, and also We Belong Dead have a facebook group here
Roger Batty