Snuff Jazz [2017-11-09]For nearly forty years Borbetomagus has created a searing & distinctive sound that has really stood apart from any one genre label. The project is primarily a three-piece featuring Jim Sauter on Saxophone, Don Dietrich also on saxophone and Donald Miller on Guitar. The projects sound sits somewhere between dense avant jazz, noise, and intense improv- all to create a sound that is wholly their own. 2017 saw the DVD release of Borbetomagus-A Pollock Of Sound( on MVD Visual), the first every documentary about this most distinctive & extreme of sonic projects. Below is an email interview with Jim Sauter- discussing the projects career thus far, their unique sound, and the new documentary

M[m]: You have been playing together as (mainly) a trio for 37 years now-what do you think has kept you working together? And how do you feel your ways of creating your sound has changed/ developed since you started?
Jim We decided 37 years ago to make the music we wanted to hear and that's pretty much what's kept the three of us together.

When we first started playing together we tried improvising around loosely composed musical ideas, but that quickly stopped being fun—at which point we decided to just play and see where it led. That's still pretty much how we approach things we get together to play.

Don and I were playing acoustically but pushing the saxophone sound toward the guitar. Donald was pushing his sound toward the saxophone. I always loved him saying that his favorite guitarist was Albert Ayler.

We'd occasionally put amped microphones down the bells of our horns but it was around the time of NY Performances (Agaric 1986) that Don and I starting using amplification through the entire performance. Not long after that, the introduction of generic guitar pedals further changed the group sound.

It might be a lot to ask of anyone, but if you were to listen to our recordings chronologically, you'd hear the evolution of the group's sound and be able to identify some of the "musical milestones".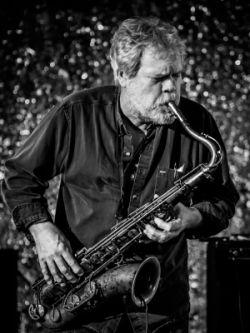 M[m]: You mention 'Musical Milestones'- what do you see as important milestones in the Borbetomagus discography, and why?
Jim Bringing amplification into the mix like on NY PERFORMANCES, Guitar pedals, on most releases after that. Also working with different people like the Shaking Ray Levis and Voice Crack could be considered musical milestones.
Whenever doors are kicked down things open up to new possibilities.

M[m]: Borbetomagus has recently been the subject of a documentary entitled Pollock Of Sound- tell me a little bit about how & why this came about?
Jim After Belgian filmmaker Jef Mertens attended our 30-year anniversary performance at Instants Chavirés in 2009 he approached us about doing a film. We were definitely open to the idea but not sure that anything would come of it. Jef was totally committed to the idea, and when we had several concerts lined up in the States and in Canada he flew over at his own expense and traveled with us to get some interviews and good live footage.

M[m]: Pollock Of Sound has quite a deliberately awkward feel to both its structure & it's telling of Borbetmagus story. With it's often none chronically flow, the way your faces are never shown in interview, and the heavy use of texts. Whose decision was it to construct it like this?
Jim It's been interesting to read different reviews of the film and comments like yours. One thing for sure—everybody's a critic. It's clear that different people want or expect different things from the film; more of this— less of that—but in the end, it's the filmmaker's call. I think Jef did a terrific job working with what little live footage existed and the archival photos I made available to him. The fact that such a film now exists is nothing short of amazing.
M[m]: One of the more interesting facets of the documentary was the others who have either joined or collaborated with you over the years. Are you still in contact with any of these, and do you think you'd ever work with any of them again?
Jim Seeing all the people that we've performed with over the years was a real trip down memory lane. It was sad but great to be able to acknowledge past collaborators and friends that have died.
I could be better at keeping in touch with people but work and life have a way of taking over at times. I haven't seen Zhamela in years and she definitely should have a DVD copy of the film. She may not even know it exists.
I have kept in contact with a number of friends/musicians over the years, but not with any great regularity. Milo, Sebastian Borgo, Gary Hassay and Norbert Moslang come to mind. Norbert and I did several duo gigs in the U.K. some years ago. That was a blast and would be fun to do again.
My outlook is pretty much the same with regard to future collaborations, if its meant to happen, it will.

M[m]: Throughout your career, you've really stood outside any one genre-do you personally have any labels for what you do?
Jim In part because of our instrumentation—saxophones, and guitar—our recordings have been reviewed in major jazz periodicals such as the WIRE, Jazz Forum, Cadence, and DownBeat. The "jazz" community never fully embraced our music but our recordings traveled in other circles and were regularly reviewed in fanzines and magazines like Unsound, Bananafish, Forced Exposure, and SPIN.
We adopted the name Borbetomagus because it in no way defined the music. I'm not sure this qualifies as a label but if so, my favorite one comes from friend, collaborator, and critic Milo Fine who in a review of one of our early albums wrote: "Their music can best be described as—Borbetomagus".

M[m]: Clearly you enjoy playing live- please selection some of your most memorable performances, and explain what made them special?
Jim That's tough but there are few that stand out for different reasons.
Our 3rd album Borbetomagus (Agaric 1982) documents a "special" performance at Bergen Community College. It was a Christmas, cabaret-themed affair with candles and checkered tablecloths. We immediately knew that things were not going to end well, so we huddled and decided to go easy, which for us was to start with an Ayler cover. We hadn't been playing more than 5-8 minutes when the Dean of Student Affairs came up to me and told us to stop. He grabbed my arm and told me "You can't do that. "The kids don't want to hear that". We took the stage again and ripped into a blood curdling, take no prisoners set—until we were shut down and told to pack up. You can hear students calling out "Take a break! What was that a tune up?"
Our performance at the Rote Fabrik during our first European tour can be heard in its entirety on ZURICH (Agaric 1984). I knew from the moment we started playing that we were in control and that the audience was with us 100%. We had arrived. Inspired playing and a great recording.
We've been known to blow out amps from time to time. Several have even caught on fire. During our first tour to Japan in 1997, we blew out La Mama's "magnificent" sound system. In the final minutes of our performance, you can hear the PA making a really strange rhythmic sound. None of us knew from whom, or where it was coming from, but we all started playing off it. Beautifully documented on Borbetomagus: Live in Tokyo on Alchemy Records (ARCD-095)

Our 2009 performance captured on Trente belles Années (Agaric 1998) is an amazing musical milestone. It was the final concert of our 30 year anniversary tour organized by J.F. Pichard of Instants Chavirés. Its one of our favorite places to play, the trio's in top form, and the music is as challenging as it gets.
M[m]: Borbetomagus has always had harsh noise elements in it's makeup. Do any of you actively follow the noise scene in general today? And if so are there any projects or releases you've recently enjoyed?
Jim I don't think any of us really follow the noise scene per se. I occasionally pull out recordings by friends and associates like Norbert Moslang, and perhaps more closely associated with the noise scene recordings by Hjokaidan, Junko, The Incapacitants, Solmania. I'm always interested to hear what they're doing.

M[m]: Your most recent release was 2016's The Eastcote Studios Session- can you tell us a little bit about this release?
Jim That was a terrific experience. We performed at the TUSK Festival in Newcastle upon Tyne, and at Café Oto in London in 2014. That's when we first met Anna Tjan of Dancing Wayang Records who invited us to do the session before we headed back to the States. We hadn't done a "session" in some years so it was great fun to be back in a studio. We were all really pleased with the music and the final product—a real labor of love.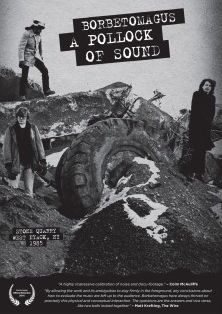 M[m]: How often do the three of you meet up & play together these days?
Jim Only when Borbetomagus is performing.

M[m]: It's been a little while since you've released anything on your own label Agaric Records- are there any plans to put out reissues or new releases on the label soon?
Jim Don't hold your breath, but we will reissue of our 2nd LP with Hugh Davies, Work On What Has Been Spoiled (Agaric 1981). It's long out of print and long overdue.

M[m]: When are you hoping to reissue Work On What Has Been Spoiled?
Jim No date set. That's why I said don't hold your breath.

M[m]: What kind of stuff do you listen to at home, and what's recently impressed you?
Jim I do a lot of listening in the car. Mostly WKCR, Columbia University's station, and WFMU, when I can get their signal.
Kid Millions (John Colpitts) and I recently performed at the amazing October Revolution Festival in Philadelphia where I got to hear the Art Ensemble of Chicago again. Roscoe Mitchell's solos were really something else. When I got home I dusted off and listened to several of his solo albums. Nonaah sounds just as good if not better in my car.
Jim Another person who recently impressed me is Bluesman CeDell Davis, who plays hs guitar with a knife. I read about him in the NY Times, heard him on WFMU and found his playing a real revelation.
M[m]: You mentioned you recently played a solo set at the Revolution Festival- do you often play solo, and tells us a little bit about your solo performances?
Jim No, it was a duo with Kid Millions (drums) at The October Revolution Festival. He and I have several releases out and a second LP coming out on Family Vineyard Records.
M[m]: Any more shows lined up in the near future?
Jim We frequently get e-mails from people interested in having us, but it takes real $upport to get the three of us there—and back. I've learned over the years not to count on anything. If it's meant to happen, it will.
The short answer to your question is no, none in the near future.

Thanks to Jim for his time & effort with the interview. Borbetomagus-A Pollock Of Sound is a region-free DVD and is available from MVD Visual. Borbetomagus website can be found here

Photo Credits: main front page pic L-R Don Dietrich, Donald Miller, Jim Sauter taken by Ken Weiss. 1st in text pic of Jim Saute taken by Peter Gannuskin. 2nd in text pic of the project live-photo by Seth Tisue. 3rd in text pic cover of Borbetomagus-A Pollock Of Sound- photo Kenn Michael

Roger Batty