Not Just Another Cog In The Machine [2017-06-16]Dosis Letalis is one of the up & coming names in the worldwide walled noise scene. This Serbian project started in 2015, and since has released around 50 releases. Sound-wise they moved from standard-though- entrancing wall craft, onto more creative textural compositions. And much of the project's output thus far has been themed around anti- capitalism/ anti- system rhetoric. I tracked down Nemanja Nikoliæ- the man behind the project for an email interview.

M[m]:When did you first become aware of noise as a form? What was the first noise track or release that made a real impact on you? And was there any track or album that made you want to start making your own HNW?
Nemanja Well, the beginning of my noise journey was back in 2007/2008 when I met Aleksandar Nenad, from legendary Dead Body Collection (back then he was just getting started with his HN project Creation Through Destruction). He gave me my first noise and power electronics discs. Back then I didn't know of noise as a form, I was mostly listening to metal in those days. I remember I was struck with the brutality of those sounds.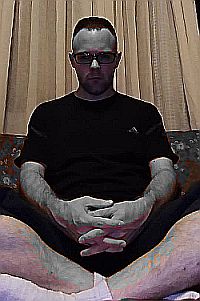 Nemanja First "noisy" release that made impact on me was Navicon Torture Technologies's "Dripping With The Power Of Her Flesh", the first track specially...
But it was a few years later when I randomly discovered DBC on Bandcamp. And was really surprised, not just by Alex's output (which was too insane for me to grip at the time), but also with those very loud unmoving unchanging walls of noise, which I hardly understood at that first time... But it awaken something in me, and I started coming back to it... Then I started discovering this beautiful genre more, and found other artist, first were, of course, Vomir and The Rita, with whom tracks I was blown! So, the tracks that made me want to make my own HNW were most probably Proanomie and Claustration from Vomir and Thousand of Dead Gods and Obsession from The Rita.

M[m]: You are most known for Dosis Letalis- your highly prolific walled noise project. Please tellus a little bit about how & when the project first came about?
Nemanja I think I already answered this question, the more I started listening to HNW, the more I was being sucked into the void, and I had the desire to create my own sound. Some first tries were not that successive, but I think that first "real" walls I made were around in August of 2015... God, they were awful, but I remember sending them to Alex, who was like: "this is great, real HNW, keep it going!" hahaha, that liar! But this braved me, even more, to continue, so many thanks to my old friend.

M[m]:What are the origins of Dosis Letalis name, and why did you select it?
Nemanja Hahaha, the origin of this name is funny, I was playing my early noise stuff to my friends, who called it "lethal dose", so I just picked Latin name for that. That's the only reason, so not much philosophy has gone into it...

M[m]:Is Dosis Letalis your first project?
Nemanja No, my first project was stupidly called Echo Noise and it was some strange mix of industrial, noise and dubstep. Damn, that shit was super weird! I don't think I saved any of those tracks, I wonder how I would like it now...

M[m]: seemingly a lot of your work with Dosis Letalis is themed around anti- capitalism/ anti- system rhetoric. What attracts you do these sort of themes? And what other themes do you cover, or would like to cover with the project?
Nemanja Yes, well, it took me a while to find, not just my sound, also the themes for my HNW. This anti-establishment focus seemed logical to me, given in what times we live in, and the political stuff we are surrounded and governed with. There are projects that are focused around "brutal" and "sick" themes, which I sometimes find just funny, because the sickest and most brutal stuff is happening in front of our eyes, and its not some movie gore, serial killer or fetish porn stuff, it's just common life stuff we (don't) see every day, people of power using greedy politicians and their corrupt system to exploit poor people, who in chase of their needs don't see or don't care what's going on, and even if they do, they can't change it. We are all economically enslaved, and nothing more than a disposable tools in the hands of the powerful, any freedom we think we have is nothing but an illusion, and "our" opinions are just result of long conducted manipulation, through mass and social media, this whole world is corrupt and it makes me sick, or sad, or both, I can't change it, and it makes me mad! And this is where I drew my inspiration from... And unfortunately, there is a lot of it.

Nemanja But the older I get, the more I see that the real enemy are not shady figures in the power, it is us, and our own demons and weaknesses, so in future Dosis Letalis might drift more on to those kinds of themes.
Back to brighter side, I sometimes stand out from these themes, specially when I do something different, like my Crackling Worship series, or Quiet Immersion (where I work on "lowercase noise walls", cos I think the lowercase and HNW are quite similar and connected genres, and they mix well together)
Also wanted to say, when I first started to cover social/anti-system themes I was thinking Dosis Letalis was the only HNW project to primary focus on this, but I was wrong, I had yet to find out mighty Condo Horro, so shout outs to my friend Peter Keller (who also works on lowercase walls under PTRKLLR, pretty damn good ones too!), I highly recommend all of his projects, I think they deserve far more attention, he even gone into making another alias primary for crackling walls, called Dirac Sea, those are some premium crackles, I must say!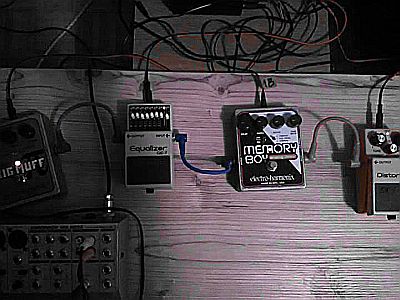 M[m]: Tell us a little about your set-up for Dosis Letalis , and how has it changed/ developed since you first started?
Nemanja Well, when I started with HNW I had absolutely no gear, so it was all digital. In time, I started gradually investing in analog gear, so by now, I have some set-up, which still needs a lot of things. Considering Serbian standards, this is going slower than I would like, but I'm patient. I don't consider digital wall craft "unholy", like some wallers, and I (sometimes) still do some kind of digital manipulation, whether is pre-digital, as I call it (using digital made tracks and shaped recordings as a sound source), or post-digital (manipulating or mixing analogue tracks with digital means). Work with what you got, that's my motto. Anyways, I'm constantly upgrading my set-up, so you can say it's always developing.

M[m]: what are some of your recent equipment upgrades? And is there a piece of kit you'd love to get your hands on?
Nemanja My recent pedal is Big Muff Bass Pi, and I am pretty satisfied with it! Versatile pedal, good for different sounds, both ANW and HNW.
Oh, I would love to grab so many pedals Roger!! The one I would like the most is the most expensive, ofc, that's E-H Sovtek Big Muff Green Russian, you can find those for around 350-400 euros, which is more than my monthly salary...

M[m]:You are extremely prolific- do you release everything you record?
Nemanja Hahaha, I am pretty prolific, what can I say... I love recording, I guess you can call me an addict, ha!, and I'm most certainly not the only one. Crafting walls is not just the way to calm down my creative unease, it's something more important to me, my therapy and my escape, and I think I can say the same for all wallers, our souls are so deeply immersed into the void, I don't think we could live without it.

Nemanja That being said, I most certainly don't release everything I record, only the stuff I think it's good enough to be shared. While I am highly prolific, (risking to be egoistic here) I think everything I released is pretty decent quality, ofc, some is more suitable for someone's ears than other, but I create many different wall sounds as Dosis Letalis, and my output varies a lot, which I think it's good, it prevents things from being stale, and what can we do, except to experiment and push the boundaries of sound even further, and be original as we can, in this times when everything seems to be already done.


M[m]: Like many HNW/ noise artists you've done your share of splits- do you have a favorite? And if so explain why it is?
Nemanja Well, I actually have way more collabs then splits, ha! But I already talked a lot about collabs, so:
My first split is maybe my favorite, it was with Peter (Condo Horro), Ben (See Through Buildings) and James ( A Rajas Mesh Men). This was the start of three beautiful friendships and probably the base for The Climate Refugees and Architectonicum.
Besides that, the split with Vomir is very dear to me, because it represents two different methods of wall craft and two different schools of thought. Old vs new, pure analog vs more experimental wall craft, nihilistic vs thematic approach.
But, my favorite splits are yet to be released. It will be with good friends and projects I admire the most (Uitgeschakeld, Train Cemetary, Black Matter Phantasm, Sumbru, Rien,...)
M[m]: Serbian most known wall-noise project is, of course, Dead Body Collection- are there any other wall-noise acts, or any kind of scene in your part of the country?
Nemanja Sure, DBC is first and most known Serbian HNW act. As far as I know, Dosis Letalis is second. Besides us, there is Filip ( who runs real nice Confusion Specialist Records label), with his interesting Lucy Jane Garcia project, tho he is not as prolific as Alex and me.
Besides our harsh noisers Raven and Nundata, who occasionally make walls, I know no one else, so I can't really say there is a scene here for wall noise.

M[m]: recently you have started a more ambient/ drone project entitled Eccentricity- what made you decided to start this project, and what do you see as this projects themes?
Nemanja With Eccentricity I wanted to create ambient in the spirit of HNW, I guess you can call it no progression, static ambient, with subtle touch of crackles. I feel that any other ambient, or even drone, is not totally suitable for meditation and immersive relaxation. I think I pretty much succeeded there, but it's still young project, and I'm guessing that it may sound strange to usual ambient lovers. My friend Sergey Pakhomov (from amazing Train Cemetery and Reason Art Records) is doing somehow similar thing with his S. Pakhomov project, so it's highly recommended.

M[m]: Another project you have is Relicuum- which is more experimental walled noise themed around Sci-fi. How did this project come about and are there any more releases lined-up?
Nemanja With Relicuum I wanted to cover themes different then with Dosis Letalis, and at the same time I wanted to create even more unusual and experimental sounding walls, I called it atmospheric wall noise hahaha. I rarely do these kinda walls, so not much is recorded, and I can't say there are any releases coming soon (which can change any day), but I'm sure there will be, once my inspiration builds up.
M[m]:Talking of Sci-fi…how are either some of your favorite writers or films?
Nemanja Actually, sci-fi isn't my favorite genre, tho i have enjoyed my modest share of books/movies. My favorite writer is Haruki Murakami, whose books i enjoyed greatly. And from movies, lately i have been fascinated with movies of Chan-wook Park, also like Darren Aronofsky's movies, and when i want to relax and just laugh, there are always Guy Ritchie and Tarantino.
M[m]: Are there any other themes you'd like to cover in the future?
Nemanja Like I said, Dosis Letalis may start to focus more on personal and psychological themes in the future.
But, to be honest, the more I make HNW, the more I see that themes are unnecessary, and even distractful. I wouldn't be surprised if one day I just start releasing Untitled albums with Untitled tracks, not because of nihilism or some similar reason, I just don't think that HNW needs to be thematic. It's not its purpose, good wall is a good wall, it just needs to be immersive, so I can sink in, and get lost in it.

M[m]: What is in the pipeline release wise for Dosis Letalis, and your other projects Nemanja Oh, too many to name...
Or should I?
I will have upcoming tape releases on Hallucination Tapes, Empty Shelters Records, Lurker Bias, Breaching Static, Home Poet Records, Recycled Tapes... All of this releases are special to me, and I think the sound is really decent, and pretty unique, and I think the sound is really decent, and on some pretty unique. ,On my big joy, Crackling Worship (previously self-released on my Bandcamp) will be mutually released on both Reason Art and Altar of Waste, on tape and on CD; also I will have new release on Reason Art on VHS.
Nemanja But, I am most proud of my collaborative projects, which I have many, with my favorite people. I will name few that will come out this year:
Naughty Angel Raptures [collab with Charlotte (Naughty) - "Delightfully Vulnerable" - tape coming on Deadline Recordings
The Climate Refugees [collab with Peter (Condo Horro) and Ben (See Through Buildings) - this is the second album, still in works, should be out on tape on Lurker Bias
Obliteration [collab with Casper (Uitgeschakeld)] - "Debris" - tape coming on Rapture Records
Architectonicum [collab with Clive Henry and James Shearman] - "Constructions vol 1" - tapes will come on one special label
Channel Zero [collab with Clive Henry] - ''Your'' Opinion - tape coming out on Kitsch Magik
Totenfeldt [collab with Jott (How I met Lauren)] - "Manipulated Death" - should come on tape on Big Pharma Records
There also will be new Cineris [collab with Zachary]
Cory Strand and myself are preparing new Crithley Letalis release, it will be massive!
There will also be Sound Research Center on tape [collab with Sergey], which will actually be all 3 parts previously only digitally released
Serg and myself have another project, which we are very proud of, called Stimuli Corrupti, its debut "Conferi" will be out on tape on Lorenzo Abbatoir's label.
A very special, extraordinary collab, Hayashi Yume tf Dosis letalis, will be released on tape, on ever amazing Geraeuschmanufaktur
Collabs with Shadowpiercer and RUBBISH are finished...
Also, splits with Uitgeschakeld, Train Cemetery, Rien, Bullshit Market, The Scalding House, Necrotik Fissure will be out on various labels this year.
Collabs in works and planned ones: with Drunna Jaguar, Methlab Explosion, Tissa Mawartyassari, Szymkowiak Joseph, Urban Decay, She Walks Crooked, Asleep In The Lake, Eric Jovet & Viktor Sabo,...
I am also planning on inviting my friends (ones who have multiple wall noise projects), for co-called HNW "battle",first in line is Dosis Letalis vs Sergey Pakhomov (it will be 4 my walls, vs 4, from his projects: Train Cemetery, Bitum, SP and Leichen)
We both finished our parts, it will be killer release, only thing left is to finish few details and find a label.
Next in line is Peter Keller, who also has more then few projects...
Really hyped about this idea, looking forward to unleashing it into the world.

Nemanja There are some surprises coming, and many more are planned. Many, many more.
Also, expect more from Eccentricity, Dosis Feralis (my drone, dark ambient alias), Relicuum and N.I.H.L. (harsh noise project).
Thanks to Nemanja for his time & effort with the interview. Dosis Letalis bandcamp is here and you'll also find links there to check out Nemanja's other projects
Roger Batty