Stocking lined- walls [2016-12-03]

Of the recent wave of sexual fetish themed walled noise projects Swiss based Anonymous Masturbaudioum is probably the most creative, interesting, and worthy.The project has been active since 2009, but itís only in the last year or so that itís sound has moved from harsh noise, to a more Ďwallí sound. So far of the more Ďwallí focused work the project has put around ten releases. I caught up Anto, the mind behind Anonymous Masturbaudioum- for a email interview.

M[m]: tell us a little bit about when & how the Anonymous Masturbaudioum came about?

Anto AM was born in 2009 Because of my morbid obsession for the audio and visual decomposition and my fetish for nylons. I also love making collages since my childhood. In the 80ís and 90ís I followed a soccer team around Italy and Europe as Supporter. During this time I started to create photo-collages with soccer-fan pictures that were mixed with pictures of porno actresses wearing nylons. Because of my job, for 20 years Iím dealing with customs operations for Fine Art, and since then I started to have closer contact with visual-art, the experimental sound of Jean Dubuffet and the futurism as a sound and art concept ÖI opened up my mind for a new sound world and Iím approaching different styles of experimental and mainly noise music. And this is how my own und label Antoninoise and all my other projects were born. But Iím also still creating collages/de-collages because Iím as passionate about them like making noise.. Many of my Covers are collages made by myself. And finally in 2009 I start to combine nylon-collages with my project AnonymousMasturbaudioum.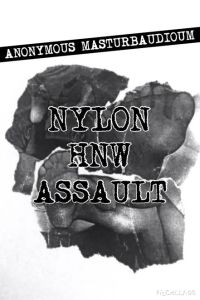 M[m]: You mention been a fan of soccer- have you ever thought of doing a project focus in on this passion?
Anto I never had a project focused in soccer. Years ago I tried to experiment with recordings of choirs made by fans during matches. but the result was not satisfactory I think I will try one day to work again with this soundsource. I have some recordings doing in the 90ís , this period was the culmination of the movement ultras in Italy, and the recordings are very fiery
M[m]: Is it your first noise/ experimental project, and how did the name come about?
Anto I simply invented the name. Audio masturbation is what Iím doing with AM. So the name is obviously perfect. Itís not my first project. I was always a fan of electronic music. The beginning of 2000 I started with playing the bass-guitar in different progressive- and noise-rock bands, mostly inspired by the sound of German Krautrock bands. After many years of playing in bands, I was done with making sound with other people. I started my first solo project named AutonomicModulation and I was playing with Guitar, Bass and Effect Pedals some noise/experimental sound. My second project was also my first Harsh Noise project and was called ANM Dyspnoea. I was inspired by the paintings of Per Kirkeby, Cy Twombly, Jackson Pollock, Francis Bacon and Adrian Ghenie during playing noise. An other artist whoís inspiring me is Lucio Fontana . I started with ANM Dyspnoea to elaborate different themes, not only the visual art. Also psychological illnesses, like anxiety and depression. I could elaborate my problems with making noise. This Projects are no more Active at this Moment. Now AnonymousMasturbaudioum is my primary project. I have a lot fun with this project and I donít need to elaborate problems anymore. With AM Iím express my perverse and fetish side.
M[m]: Please outline the sonic differences between each of your projects?
Anto
ANONYMOUS MASTURBAUDIOUM : Harsh Noise, Harsh Noise Wall, constant use of field recordings and samples
LE BAMBOLE DI VELLUTO : Strict HNW, without Sample, only White or Gray Noise Sound source concentrating on textural manipulation
LABBRA DI LURIDO BLU : Strict HNW only Blue Noise as sound source concentrating on textural manipulation
THE FOLKLORISTIK FORMULA : Harsh Noise / Harsh Noise Wall. Use of different Soundsource including samples of films, documentaries, etc. this project is becoming more a band. at the moment the projects members are me and Johan of the Label Ominous Recordings , Sweden. In the future we will have other people working with us. the sound will be always powerful and harsh but with different structures, attended by several people
KAZEMAT: Harsh Noise, Industrial, Techno. The must Crossover Project of mine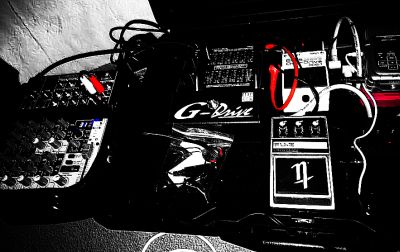 M[m]: You mentioned that you played bass in a few Prog/ noise rock bands- did you release anything with these projects?
Anto We have done various demo recordings, but never release something. one of the reasons why I stopped playing in a band was that we couldnít achieve anything; we were not able to finalize a recording.
Too many contrasts and different ideas were the reasons
M[m]: I believe the project started off as more of a hash noise venture- tells us a little bit about how/ why you moved into a more walled-noise sound? And are there any artists or releases that influenced this move?
Anto AM was born, together with ANM Dyspnoea, as a Harsh Noise project. Since 2013 Iím moving more in the HNW direction searching for new intensive, monolithic and abstract sounds. I was inspired by masters like THE RITA, Richard Ramirez and Vomir. Right now I prefer to make more WALL sound, but in any moment I can change my ideas and start making more variegated Harsh Noise againÖit depends of my mood. AM is not only HNW. AM is a perverse game, where Iím having fun to masturbate with sound☺. Iím giving this project enough musical liberty. I get excited when Iím producing as AMÖI can feel the vibrations of the sound that Iím producingÖits making me addicted.
M[m]: tell us a little bit about your present set-up, and how has this changed since the project started?
Anto Initially AM was composed by more than 10 effect-pedals, contact- microphone and a no-input mixer. From time to time Iíve also used vocals. That was at the beginning of the Project. But by now Iím only using few effect-pedals; a Loop, a FUZZ, a BASS DISTORTION, a DEATCH-METAL, an EQ-DISTORTION and a small mixer with a lot of effects built in.. More Important for me is the Audio Source.
M[m]: The project has been quite closely linked with Italian label Signora Ward Records- with you release a selection of releases on the label. How did you first come in contact with the label?
Anto Iíve met Adriano on Soundcloud. Discovering the Signora Ward label was like founding a treasure. I dreamed about this kind of sound and having some editions covered in nylon. Iíve never thought to find a label that is passionately making all these things. This is why AnonymousMasturbaudioum fits perfectly with Signora Ward Records. I have a great understanding with Adriano, about the sound and the artwork. He has the same obsessions like me. For that point, everything is easier and more natural.
At this point I want to thank Adriano for giving me the opportunity to work with him. AM has managed to do so many releases around the world primarily because of the Signora Ward.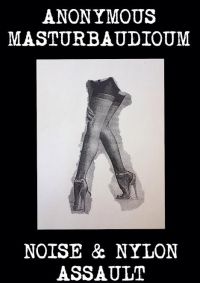 M[m]: Anonymous Masturbaudioum take on walled-noise is layered, often slowly shifting, with unsettling sounds/ field recordings underneath. Can you tell us a little more about these more buried sound elements- what do they consist of, and is their any sonic narrative to them, or are they just purely there to add that unsettling edges?
Anto It has many different hidden sounds inside. From the rubbing of my wifeís nylons to the roar of wild animals, water, insects and so on. And I like to destroy and rebuild the audio of nylon-fetish movies. Since many years I have this passion about nylon and nylon-fetish porn. The intent is to amplify the audio of these movies with different effects and distortions. Sometimes you can recognize pieces of dialogues, but in the most cases itís only a wave of bombastic and violent noise. These sound manipulations are sometimes supported by classic noise generators or field recordings that I'm doing everywhere. Sometimes they become more of a static and sometimes a more lively kind of sound. It depends on the mood. in the future I will concentrate to work with other and much more soundsource. Focus on Italian and American porn actress voices from the 80ís, then im still working with engine audio of mostly cult cars from the 80ís like Lamborghini Countach and especially with the engine sound of De Tommaso Pantera.
Although I use various Soundsource, the imagery of the project has almost always Nylon. Is an constant obsession in my mind.
M[m]: Since the project started in 2015-youíve released around 20 releases with the project. Please select five of your favourite releases, and explain why?
Anto As previously said, the project has already started before. But the first physical releases before 2015 were made for my closest friends. Some of them can be found on Bandcamp: AntoninoiseProductions.
Anyway, the most important releases, where the project became known started in 2015. Itís difficult to choose 5. Iím satisfied with every of my releases. But if you really want a list, here it is:
A Nylon Affair Ė Signora Ward Records
Exquisit Nylon - Craneal Fracture Records
Night.Nylon.Boudoir Ė Porn Noise Records (Split with Wehrmacht Lombardo and CHIER)
Amor Asfixiante - Marbre Negre Ė (Split with Power Electronics Project Gyakusatsu)
Submissionem Nylon - Ominous Recordings
They are 5, but I want to add a sixth. The tape was released recently for the Reason Art Records (RU). Itís called ďAsphyxiating Synthetic ObsessionĒ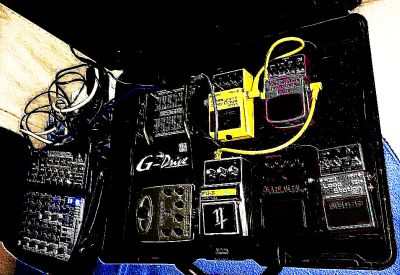 M[m]: Anonymous Masturbaudioum is one of the growing number of wall-noise projects themed around Feet and Legs/ Nylon Stockings fetish. Why do you think the wall-noise sound fits well into these themes? And do you have any favourite acts from with-in this growing sub-genre?
Anto I wouldnít know, everybody is having his own passion and Obsessions
I don't know about others but for me The Sound of AM has the same intensity like an Nylon Footjob.. Enjoyment, intensity, perversion and great excitement. Pure ecstasy. Consequently AnonymousMasturbadioum motto is Noise&Nylon Assault! I Enjoy the rumbling and crackling sound and feel the tissue
THE RITA. Itís one of my Favorite .Though THE RITA is not only NYLON, but many other obsessions and passions. If you see him live, you can feel that heís a fetishist of the sound heís making. Meticulous in the details. One of my Favorite Albums is THE VOYAGE OF THE DECIMA MAS. The sound on there has had an important impact on me.
Then I Liked Wehrmacht Lombardo and Gamiani too, I have collaborated with both and they are great addicted Artists and great friends
M[m]: Do you have any plans to play live with the project?
Anto I already had some request but at this time itís not possible, because of my work and the family. But in the future, if there would be other requests, I would love to. You can already imagine, what would happen on stage!
M[m]: Whatís lined up next for the project?
Anto Shortly Iím going to release:
a full album on Rapture Records and Required Rate of Return
a split with a French project; Corrupted Light on Porn Noise Records.
a presence on a compilation for the ten year jubilee of Marbre Negre from Barcelone.
A split with Werewolf Jerusalem is ready too. Very honoured to working with an other big Master, Richard Ramirez.
and next year, a super split for the Swedish Noise Label Ominous Recordings and I hope more works for the cult-label Signora Ward Records
Thank You Roger for this Interview and thanks to Musique Machine for the interest to Anonymous Masturbaudioum. It is a real pleasure for me.
Thanks Anto for his time & efforts with the interview. Anonymous Masturbaudioum soundcloud page is here https://soundcloud.com/an77ma

Roger Batty