The End of Aquarius Records [2016-11-04]It's fair to say that San Francisco based Aquarius Records was one most well known & respected experimental record shop/ mail order business's in the world. It sadly closed its doors in June of this year, after been open for over 40 years. I caught up with Andee Connors- one of the owners (along with Allan Horrocks) for an email chat about the end of Aquarius Records.

M[m]:Tell us a little bit about how & why aQuarius recOrds came to an end?
Andee I guess it was a lot of things. It's gotten tougher and tougher to survive in San Francisco, and sadly, it became more and more obvious that aQuarius just wasn't doing well enough to survive indefinitely. Allan and I had been barely paying ourselves for a long time, and eventually not paying ourselves at all. I had gotten another job, Allan had a baby, and was staying home while his (now) wife worked to pay their rent and bills. And we were constantly scrambling to pay rent, order records, lots of juggling and hustling, which is extremely exhausting and very frustrating.

Andee And to be honest, while in a perfect world, I would have happily worked at aQ forever, part of me was also itching to try something new. I'd been at aQ for 22 years, which is kind of a crazy long time. And trust me, I'm sad, and heartbroken, and bummed, I also feel guilty, aQ was a huge part of the scene here, and all over the world, for a lot of bands, and a lot of labels, aQ was the ONLY place that sold or wrote about their music. And for a lot of customers, aQ was their main place for discovering and hearing new music.

Andee So I definitely think the world is a less cool place with no aQ, but I am eternally grateful for the two decades of being a music nerd for a living, and for all the amazing folks I've met. So many important people in my life, and most of my closest friends, I know through aQuarius, and I still run into people all the time who love aQ, and I am humbled that I got to be a part of the store and of people's lives.

Andee We had a plan for our employees to take over, and keep aQ going, but at the last minute, things fell through, and we were sort of freaking out trying to figure out what to do, and Stranded stepped in and offered to buy the shop and take over. It's definitely a whole different beast, Stranded versus aQ, and while it may not be aQ, it's still a record store, run by folks who love music, and who are as obsessed and passionate about music as we are, and will no doubt always be.


M[m]:It's fair to say that aQuarius recOrds went beyond just a standard record shop, and became some what of institution for underground, odd & experimental music worldwide with its weekly email review mail-outs, and worldwide mail order service. Tell us a little but about how & when the reviews started? And are there any plans to put all of the reviewers into a book?
Andee The old owner Windy initially started the newsletter, in the early days of the internet, and back then the reviews were super short, just a sentence or two: 'new record by so-and-so'. And we had a tiny list of subscribers. We also printed out a copy that was in the store for people shopping in person to read. I'm not really sure when it blossomed into what it finally became, but those two sentence reviews grew into wildly gushing screeds, hundreds and hundreds of words, and while I know it may have been too much for some people to digest, it definitely resonated with weirdo music obsessives worldwide, who would look forward to the list and spend sometimes hours, reading, and listening, and in most cases, ordering a bunch of music.

Andee And a lot of those people lived in places without proper record stores, so we sort of became a virtual local record store for people all over the place. Mailorders were always answered in person, orders often turned into conversations which often turned into friendships. It wasn't uncommon for customers to send us music, books, stuff they thought we'd dig, and similarly, we were often making mixes for customers, tracking down stuff we couldn't get or them at other record stores, letting folks in foreign countries have orders from other stores get shipped to aQ to combine with their aQ orders. We had a handful of folks who would often order drunkenly at 2am Friday night, often not remembering they'd ordered at all. Folks would share everything with us, births, deaths, illnesses, promotions, we would do the same, it was a really special community of people, who not only loved music, but love to talk to other people who loved music as much as they did.

Andee And an extension of that is how often we would be travelling, and would meet up with customers who we had only interacted with via email. Often staying with them, being shown around their cities, and lots of friends and customers would come to visit us, and stay with me or Allan, we'd organize record shopping trips to aQ and other shops, dinners, touristy stuff. That stuff is definitely what I'll miss the most and what I'm working hardest to preserve, all of those friendships, and faraway friends, just because aQ is gone, I don't want to lose touch with any of the people who have meant so much to me and to us all these years.

Andee We do have plans to put together a book, we're working on it already, a big coffee table style book, with some of our favorite reviews, lots of photos, old ads, shirt designed, posters, somewhere between a giant aQ scrap book and a massive weirdo music encyclopaedia or primer.

M[m]:Please pick five of your most memorable/ proud moments from your time at aQ recOrds?
Andee That's a tough one. I could easily just pick 5 (or 10 or 20) in stores, that looking back kind of blow my mind. Neutral Milk Hotel, Souled American, Circle, Elliott Smith, Nada Surf, Olivia Tremor Control, Alec Empire, Philip Jeck… and the list goes on. There's every milestone/birthday, 30 years, 40 years 45 years, all the amazing parties we had to celebrate those milestones, and the crazy bands we got to play. All the crazy incredible bands we discovered, and the labels we helped spread the word about. Every bit of mind blowing music, every favorite record we ever discovered (and if you were a regular reader of the aQ list, you know how many 'favorites' and 'best evers' we had!).

Andee Every time we met a customer who had come from hundreds or thousands of miles away, was just kind of amazing. I think when people wrote nice things about aQ, or we made it on to 'best record stores in the world' lists, that just made us so unbelievably happy and humbled.

Andee For me personally, travelling all over the world, and meeting customers, and bands, and just experiencing this amazing network/community that we helped build, to me that's what this sort of stuff is all about, underground music, independent music, it all thrives on the people, and their passion, and aQ has been a big part of so many passionate people's lives, I'm not sure anything makes me prouder.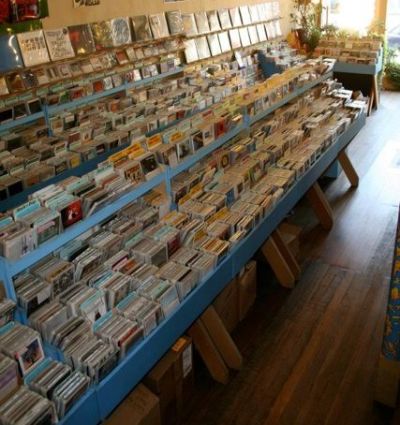 M[m]:How do you think the wider experimental scene has changed since you took over the shop?
Andee I feel like the experimental scene has always been incredibly vibrant, here in SF as well as all over the world. When we took over the shop, we simply did our best to try and be an integral part of that scene, and did everything within our power to spread the word about the music we loved, and to promote artists and labels we thought people needed to know about, especially the ones that generally did not get much love anywhere else.
Andee We've always had a reputation, not unfounded honestly, as purveyors of WEIRD music. And truly, our hearts have always belonged to more experimental music. We do all love crazy sounds. Which should be no surprise to long-time readers of the aQ list. Some all time aQ faves include recordings of rutting deer, of life support machines, of melting ice and of shortwave spy broadcasts, as well as all manner of far-out music, from twisted dungeon black metal to damaged art pop to creepy drones, and pretty much everything in between. But we also all just love MUSIC, from pop to country to dub to indie rock, so in the store you might hear something that sounded like a washing machine or a vacuum cleaner one second, but then Fall Out Boy or Iron & Wine the next. Or on the list, a Record Of The Week could be some crazy experimental math metal thing, some abstract ambient psychedelic drone trip-out, or a No Doubt record.
Andee I honestly don't think the experimental scene has changed that much. Perhaps locally the situation continues to be in flux, due in part to the cost of living here, and the migration of some many folks to other, cheaper places, and the difficulty in keeping music venues open under those same circumstances, but even with all that, it feels stronger than ever, and while much of that scene may be virtual, the music is no less compelling, the people who make it no less crazy and creative, and the scene(s) they foster, no less relevant.
M[m]:What are you & the other members of aQ staff now doing?
Andee Jim and Scott are working at Stranded (the store that took over aQ). Both Jim and Scott are incredible visual artists as well. Kirk now manages 1-2-3-4 Go, another cool local record store (right across the street from aQ) and has his own weirdo music distro. Harry sells vintage rock shirts, and he and Kirk play in a killer band called Cloak. Nick has been touring with Emily Jane White, Allan has been raising his daughter. I have been playing and touring with my band COMMON EIDER, KING EIDER (with Rob from Deerhoof) and I now work at Pandora, managing all things metal, and continue to help independent artists and labels specifically, kind of doing what I did at aQ, just on a bigger (and dramatically different) scale.

M[m]:Now that aQ has passed, will you be releasing more stuff on you label tUMULt?
Andee I kind of took a break from doing tUMULt, partially because for the last several years I was totally broke. There was so much stuff I wanted to put out, but just did not have the resources to do it. I also was trying to spend more time actually making and playing my own music, having spent almost my entire adult life selling, writing about, distributing and releasing other people's music.
Now I'm kind of re-inspired to start doing releases again, but I think I'm gonna refocus and try to do shorter runs, and handmade packaging, like handmade art editions, and hopefully release some of my own stuff as well. But there are some dream projects, that have been on deck FOREVER, that kind of well by the wayside, that I hope to maybe still make happen. We'll see.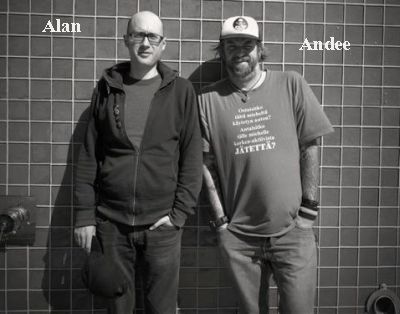 M[m]:There has been hints at up-coming projects related to aQ - can you give us any info on these?
Andee Well, there's the book, which we're hoping will be done next year. Also a friend of ours has been working on an aQ documentary for close to 5 years now. He's filmed every party, every in-store, every Record Store Day, he's interviewed tons of customers, and friends, and labels, and bands, and artists, he even went with me on tour in Europe this Summer, to interview bands, but also to just talk about aQ, which was especially timely, as the actual sale of the store happened while I was in Europe, so it was actually quite stressful, to try and deal with all that from gas station parking lots. He has thousands of hours of footage, and has already started editing, and hopefully that will be done next year too.
Allan and I are starting a new website, a sort of post aQ version of aQ, but minus the store. So just a place where we can continue to write about the music we love, share all the crazy music we discover, and hopefully stay connected to all the music and all the people we love. We'll soon hopefully have a weekly or monthly newsletter, and you can sign up and read more about that stuff here:
http://www.whydoyoulikeit.com/
https://www.facebook.com/WHYDOYOULIKEIT/
Andee I just really want to think everybody who supported aQ over the years, it was easily the most special and important part of my life, for more than half of my life. I'm sad that it's gone, but I like to think that there's more to come. Please send us music, emails, suggestions, anything. Keep in touch. We love you all. aQ forever!
Thanks to Andee for his time & efforts with the interview. There is going to a wake for Aquarius Records on the 4th of December in San Francisco- the facebook event page is here
Roger Batty