Walls Of The Noise Cabaret [2016-09-07]Chier is one of the most prolific, yet creative projects to appear from with-in the European walled noise scene in quite sometime. In it's just over years existence the Toulouse based project has put out around 60 releases, and while I can't say I've heard them all, what I have heard has always been impressive in both it's textural inventiveness, dark mood, and often searing intensity. So I felt we must secure an interview with the project, and this was done via email. The is interview was very much a collaborative venture between my self Roger, and Julien Skrobek- who also translated the interview between English & French( and back again), as well a coming up with his share of questions.

M[m]: What was your first introduction to the Wall Noise scene, and is there any one release that made you want to make your own walls ? Chier I have been making Industrial and Noise for a while. I first saw Vomir, then The Rita in 2014. The Rita really made me curious, I went to listen to his albums and gather information about Sam McKinlay. I gradually discovered a whole genre which I barely knew existed. I knew Vomir of course, whom I put in the Noise category, but I didn't know there was such a dense and active HNW scene.

Chier I have always liked static and minimal sounds. This is in connection with a project I had in 2001 called Cubist. I never released anything but there are still three tracks on MySpace (cubistrix). However, the sound was much less brutal, more ambient/electronica. It was also less static but I already had the same way of working : Provoking mistakes, crackle and looking for a cold and grey atmosphere. I had a range of analog synths at my disposal, in the same way I now have a range of pedals for Chier. Once I had obtained my sound, I had to improvise and never touch upon the recording once done.

Chier As for releases that made me want to make my own walls : The Rita ''Obsession'' ; GRIZ+ZLOR ''Black Summer'' ; some albums by Richard Ramirez and also Wallmaster, the first Bandcamp page I explored through and through and a valuable source of inspiration for me.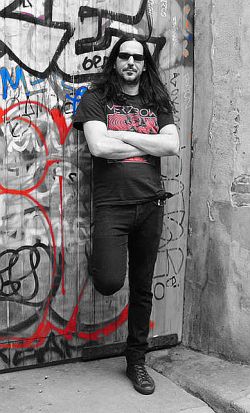 M[m]: Can you describe your set-up ? Has it changed / got bigger since you've started the project ? Chier With Chier I use little gear. It hasn't really changed since the start. The pedals that are a constant in my set-up are : Death Metal (sometimes two of them), Big Muff (I have various clones which gives me a great choice of sounds), Analog stereo delay, Zvex Fuzz Factory clone and Wolly Mammoth. As far as the source is concerned, most of the time it varies between a white-noise generator, Ipad applications and no-input. I then mix it all through a rather good quality mixing board. All in all, I rarely use more than five effects.
M[m]: I know you build your some gear elements. Can you describe what you do and tell us how and why you started ? Chier I have some technical knowledge which allows me to build my own effects and noise/drone boxes. After some time building clones of modular synth modules and effect pedals, I decided to create my own. I started with an analog white-noise generator, a splitter which allowed me to add three effect returns on my mixing board, a chaos box which is very efficient in a Harsh Noise set-up and recently I made a drone box that specializes in sub-basses. I have just finished the prototype and I'm very happy with it. These are elements I needed and that either didn't exist on the market or were much too expensive.
M[m]: Since Chier started, just a year ago, you've released around 60 releases. Do you have any releases you are particularly proud of from your first year with the project ?
Chier I have been very prolific this last year. It quickly turned into an obsession and rare where the days when I didn't record. I was the first surprised.
Chier The way I work, things are simple : If I'm not satisfied on the second listen (often on the next day), if I'm bored or if I find it lacks something, I don't keep it. I also never go back to a discarded piece to process it further or cut up some pieces. It must remain spontaneous, which explains why I'm rather satisfied with the albums I've released up until now.
Chier If I had to choose a few of my favorite ones I would say, in no particular order :
My first tape on Signora Ward Records. I never would have thought at the time I would release something on this cult label.
Pissing Fun on Craneal Fracture Records, which is my latest solo release. I'm very happy with both the artwork and the walls.
Necronymphomaniacs, a self-released Cdr, for the atmosphere it yields.

M[m]: Most of your releases seemingly mix together images of female porn, death & extreme fetishes. What attracts you to these themes ? Chier I don't over think about themes with Chier, or I do it very little. As for my walls, things must be visceral, spontaneous and I leave a large space to my subconscious. On the other hand, the artwork is very important to me. The image I work on must be the best illustration for the sound I have produced. Sometimes I start from a photo or a film, other times I look for an image that comes close to the wall I have just built. I can spend a long time looking for photos.
Chier The Chier aesthetics come straight from the 60's to 80's genre cinema I have so much love for. I am in awe of the films from this era. It has fed into my work and continues to do so, from Porn to Mondo through Horror, where sex and death are recurring themes. It allows me to have this trashy edge without falling into things that I find too degrading or vulgar. For instance, concerning the fetish aspect, I have no desire to use the contemporary Rape Porn or BDSM imagery.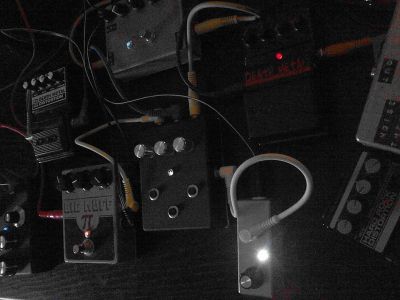 M[m]: You mention your love of 60's to 80's genre films - Please select ten of your favourites & explain why.
Chier It's a difficult choice, I'm bound to forget some... But off the top of my head, here's my list :
Maniac (Lustig), The movie that caused my first sleepless night when I was a kid. Maybe not the best serial killer movie but its sweaty and filthy atmosphere, as well as Joe Spinell's presence, make me revisit it on a regular basis.
Nosferatu (Herzog), I have a fetish for this vampire movie (I also have for Dryer's Vampyr). With its actors and its most dreary soundtrack, this movie never leaves me cold.
Cafe flesh (Sayadian), a one-of-a-kind porn movie. It is cold, weird and wild. I also love Nightdreams and Dr. Caligari by the same director.
Dawn Of The Dead (Romero), I mean the whole trilogy, but if I must chose only one it would be this one. I love everything about this movie. I wouldn't change a thing, whether in its American or European version.
Basket Case (Henenlotter), the dirty sound and image add a lot to this urban movie that comes straight out of the gutter. And anyway I'm a Henenlotter fan...
Black Christmas (Clarke), for its atmosphere and most of all for its mysterious psychopath... Billy !
Eraserhead (Lynch), I think this is the movie that made me enjoy parasitic sounds and noises. I often listen to the soundtrack. Some parts are HNW before the word. As for the movie, everybody knows it... It's simply cult.
Nekromantik (Buttgereit), a good necrophile story (although I was tempted to chose Blue Holocaust instead) which takes all its worth from its low budget, unhealthy, dreary and grey aspects. It makes one want to hang oneself after watching, just like any other Jörg Buttgereit movie.
Submit To Me Now (Kern), the ultimate post punk thrash movie, even though it's more of a long video clip than a movie.
The Texas Chainsaw Massacre (Hooper), No need for an introduction, this movie propelled the genre into another dimension.

M[m]: Both of your two CDR sets Nature Morte & Cabaret Du Néant feel very connected, both sonically & packaging-wise. Tell us a little bit about the creating of each, and do you plan do any other related releases ? Chier About the first one ''Nature Morte'', I was mostly trying to escape the SM / fetish porn imagery that was starting to pervade all kinds of releases at that time. It was the trigger to do something different and take a more morbid, dreary and cold direction, at least for this release. If I remember well, I made it on a December night when it was raining cats and dogs so that must have influenced the conception of that album in some way.
Chier Concerning ''Cabaret Du Néant'', many ideas came to me while reading articles about this mythical place in Paris. I thought it would make for a great theme for another double Cdr, without seeing it as a logical following to ''Nature Morte''.
I don't know about a following. Right now I'm focusing on my next self-release which will be a 6xCDr set tribute to a few French pornstars from the 70's and 80's.

M[m]: Still on the subject of ''Nature Morte'' & ''Cabaret Du Néant'' - I felt both reminded me a bit of long dead French wall act Bördel Noïr. Are you aware of this project & was it an influence on these releases ? Chier I am indeed aware of this project. I discovered it around 2015, it is one of the very few HNW projects that don't leave me cold. I rate it highly on my personal list, first because of its radical darkness and second because of the person that hides behind it. I only know him though a single interview and a few videos that speak volumes about his state of mind. This ''mystery man that nobody knows anything about'' aspect gives him a great aura.
Now, was I influenced or not by this project for ''Nature Morte'' and ''Cabaret Du Néant'' ? Not consciously in any case. His imagery is strong, his themes appeal to me of course but the same type of aesthetics can be found in many other genres such as Black Metal or Death Rock for instance, genres that are dear to my heart.
Concerning the walls themselves, I don't see that much similarity, apart from the fact it's also HNW. Bördel Noïr is much rawer, dirtier and haunted.
M[m]: You mentioned the up-coming 6xCDr set tribute to French pornstars from the 70's and 80's - When is this due out ?
Chier I have done 2 Cdrs up until now, so the remaining part can take very long or very little time. I don't pressurize myself. I have to feel the urge to work on it and above all the result has to be good. I have recently slowed down with Chier. I felt I needed to after a first year full of releases.

M[m]: Over the years the French HNW scene has given birth to some great projects, more so than any other European countries. Why do you think this is ?
Chier If we can talk about famous HNW projects in this world, they have to be The Rita and Vomir. The latter being French, it surely generates vocations and a form of emulation in our country. Most people within the Noise scene are aware of Vomir.
Chier Beyond that, maybe there is a French specificity or feeling that leads to good releases but in my opinion it's more a combination of circumstances. I know there is a good scene located in the North/North-East of France. There must be a form of energy that explains why HNW projects are born there more easily.
M[m]: I'm under the impression you have quite a Heavy-Metal background. Have you played or do you still play in bands ? Do you think Metal had an influence on your sound or maybe the gear you use ? Chier As for many other people, it is the first musical genre that really spoke to me, that I deeply got involved with. It goes back a long way (in 1988) but I would say I found myself more on the Death Metal/Grindcore/Black Metal side because it was very underground and quasi-impossible to find in France at the time.
All this led me to other genres such as Industrial, Death Rock, Punk, Crust, all the underground records I could get my hands on. Although I also listen to a lot of electronic music or 70's Jazz Rock, most of what I listen to and the concerts I attend nowadays tend to be Metal.
Chier As for bands, I have played the drums and the bass in many, but the only ones with a Metal touch, so to speak, were Habsyll, a very atmospheric Doom band in which I made an apparition and N.E. Which was more Noise-Punk in which I was the drummer. Apart from that, I have played, both on bass guitar and machines/pedals set-up, a lot of Free Improv which more on the Krautrock, Noise and Industrial side than Jazz.
Chier Concerning the influence there is undeniably one. One just has to see the type of logo I use to understand that there is a Metal touch. I see a tight connection between my walls and my other musical influences. HNW is a ''reduction'' of all these styles, a perfect mixture that I cannot find in any other genre.
M[m]: Given your background you must know many people from the Metal scene. What do they think of your static noise projects ? In general, how do the people around you react to your productions ?
Chier The people I know within the Metal scene are often people like me who are open to other styles such as Noise and so on... Someone who listens to Sunn O))) or to Drone music cannot be totally indifferent to static noise. These two styles connect, despite their formal differences, through minimalism.
Chier Of course there are people, even a great majority of them, who are completely closed to HNW or any other extreme genre, but I'm not fighting a battle here. I'm not trying to convince people and most of the time I don't talk about it, except when I feel that the person in front of me is curious or working in the same vein. It's a habit I took since I started making or listening to Noise. Feeling like I always have to justify myself or explain why I do this or that is really boring to me.
M[m]: So far you've done a few splits. What are some of your favourites and who would you like to do a split with in the future ? Chier I find it hard to name favourites but I would say the one with Sloth because it is crazy to do a split with the founder of a Sludge band I was listening to a few years before I found myself sharing this HNW release with him. Then I'd say the Wehrmacht Lombardo / Anonymous Masturbaudioum / Chier three-way split which I find very homogenous. I would also name the latest split with Visitation which has just came out on Palinopsia Recordings because the walls are well-balanced and the artwork is superb. Lastly, Absurde / Chier on RRRR, which my first split.
Chier I have some other splits in the works (Viscere, Mademoiselle Bistouri etc.). In general splits come spontaneously, it's a day to day thing.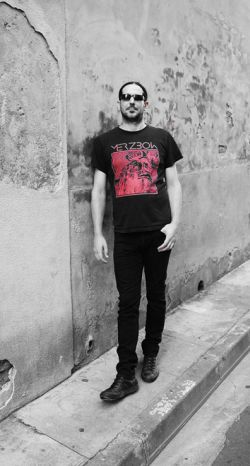 M[m]: You have another project called Volhnn and it is quite different from what you do with Chier, while remaining under the static noise umbrella. The impression I've got from this project is that it's more ''high-brow'' whereas Chier has a more pronunced ''trash culture'' aspect. It seems the influences for these two projects are not the same at all, whether it's sound or visual-wise. Can you tell us what you want to do with this project ? Chier I started this new project in order to explore different sonic fields, more ANW/DNW, using different gear. I use the same set-up for all the Volhnn albums, which consists of : my modular synth, a white-noise generator and a delay. The approach is different than with Chier, which must remain heavy, brutal and fantasmatic. I would say Volhnn is more down-to-earth, rooted in realism with a much more refined and precise sound.
Chier The idea behind this project is to create a long soundtrack which would illustrate an anticipation novel, about an apocalyptic world ravaged by a plague. It goes back to some thoughts I can have about current affairs, which I see as a long descent to hell where there are no winners. This is what one can find in the artworks for Volhnn, nuclear shelters turned into graves, ghostly hi-tech locations... A dead world where time doesn't exist anymore.
Chier This is what one can find in the array of sounds I use for Volhnn : aridity, coldness, minimalism... I put it all through multiple analog filters to keep what is interesting to me, with very little fuzz or distortion. I incorporate some more rythmical elements such as basses or modulations while taking care of not straying too far away from the static noise spirit.
M[m]: Do you have any plans to play live with either Chier or Volhnn ?
Chier Not for the time being, even though I have had offers to do so. I see no real interest in it and I don't feel the need to do it. Of course I might change my mind depending on what comes forward. However, I really see my HNW practice, whether with Chier or Volhnn, as a form of meditative expression which must materialize when I'm alone and peaceful in my studio.
Thanks to Chier for his time & efforts with the interview. Chier bandcamp can be found here, And here is Volhnn Bandcamp. Also here's the facebook page for his DIY set-up page here
Various