It's all about gameplay... and music [2003-06-17]Videogames have changed enormously in the last 20 years. But from Arkanoid to Zelda: The Wind Waker, it has always been about gameplay. It's not about graphics or sounds alone, without good gameplay the game is rubbish. In the last few years companies started to make interesting concepts in which sounds, gameplay and graphics are even more integrated with each other. A good example of this is UGA's REZ for the Dreamcast and Playstation 2.

The game can't be easily described, but has to be experienced since it's so unique. The backstory isn't very important to play the game, but it might give you some clues to what REZ is about. Basicly REZ is a shooter. But because of the graphics and sounds it's a little bit more than that. The game takes place in a future where computer network crimes have gone out of control. In order to take care of matters, a system called Project-K has been devised with an advanced artificial intelligence core named Eden. Because of the information overflow circulating in the network and an increase in viruses attacking it, Eden became confused and eventually shut itself down. Now, someone needs to hack in and re-awaken Eden by breaking through the viruses and firewalls that have turned the construct inside out.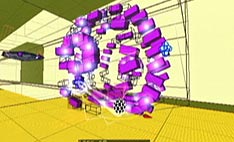 When you start the game you see yourself floating in a very empty space in Eden. The graphics are quite basic wire frames at first, but as you progress through a level everything becomes a lot more impressive. Backgrounds are added, layer upon layer. It has you fly through wire-framed Egypt or Paris for instance. But the cool thing is how graphics, sound and gameplay are combined. The game starts with a basic music beat. When you lock on enemies (you can lock on up till eight enemies) they have a particular sound when shot. Lock on to more enemies and you get a sound pattern. Lock on to different types of enemies and you get even more different sounds. Sounds who all easily fit with the background music. So you basicly make your own music while going through the game. The music also get's more layered and complicated the further you evolve through the levels. REZ is a game all about evolution since you're also able to pick up power-ups which, when you get enough, makes you evolve to a higher state of being. There are six of those states and everytime you get hit by an enemy you step back on the evolutional ladder.
It's an unique experience and it's great to see how graphics, gameplay and sounds are combined in REZ. There are five basic areas to explore in the game. You'll be done with them in a day or two. But there is tons of other stuff to unlock. At the end of each area you're confronted by a boss. They take some practice to beat, but they aren't very hard either. Especially the boss in the fourth area is very impressive. It's made out of hundreds of coloured cubes which shape into severals forms. Combined with the music it's very impressive to play through, even if you happen to die.
The music is based in the electronic field, made by a handfull of Japanese artists. You'll be hearing techno, trance and hardcore, but also more laidback stuff like trip-hop. Even if you usually don't listen to this kind of music it still is fun to go through the game since it really fits and adds to the gameplay and graphics. It's a different way to listen to music since you're a part of it.
So because this game puts so much focus on sounds I think readers of Musique Machine might be interested in it. It's actually a new way of experiencing sound and music. Much like a VJ is doing at clubs, only there is a lot more interactivity going on. Actually, I think REZ might even fit at parties, but you'll need the most experienced player going through it because when you die, the music stops. So if you happen to own a Playstation 2 or a Dreamcast, be sure to add this game to your collection.

Platform: Dreamcast and Playstation 2
Developer: United Game Artists (UGA)
Publisher: Sega
Niels van Rongen