Static Femininity [2016-06-15]

Naughty is one of the few female fronted walled noise projects, and behind it is Paris based Charlotte Skrobek. Since the project was launched in 2015 it has fast become one of the more popular Wall acts on the scene. Though Naughty is a relatively new venture Charlotte has been involved with more than a few walled noise & noise projects of the last few years. Most notable of these is Absurde with her husband Julien, as well as solo projects(The Girl with a Stanley Knife, Sleep Paralysis and Flux Nocturne) and a few other collaborations: Flesh Clocks(with Julien) and Cuttings ( with Clive Henry). Charlotte kindly agreed to give M[m] a email interview

M[m]:What was your first introduction to experimental music? What was the first Ďwallí release you heard, and is that any particular release that influenced you to start making your own noise?
Charlotte: My first introduction to experimental music was in 2006, when I met my husband Julien Skrobek. The first wall release I heard was either Pisar y Rebajar by Gluttoness or IV by [untitled], both on Breaching Static in 2011, Iím not sure anymore.
There is not one release in particular that made me start making walls because we were listening to harsh noise wall all the time. I started by drawing covers for releases, then gradually taught myself how to use the gear.




M[m]:What was your first impression of Walled noise when Julien played you it? And what type of music/sound had you been into before this?
Charlotte: I found it powerful, it really grabs you. I love the fact that there is no rythm in walls and the listenerís brain creates one, so everyone has his own interpretation of the wall.
Iíve always had eclectic tastes. I can listen to any genre with a ę dark Ľ edge, such as coldwave. My guilty pleasure is dancehall gun tunes, such as Psycho by Tommy Lee, or Daddy Devil by Vybz Kartel. Noise-wise I was already drawn to power electronics, especially Whitehouse and Sutcliffe JŁgend.
M[m]:What was you first ever noise project? And what was the set-up for this project?
Charlotte: My first ever project was Gyokusai, in collaboration with Julien, also in 2011. The set-up was quite simple : Flower Electronics Jealous Heart as source, Zvex Fuzz Factory, Digitech Grunge, Death Metal, EHX Bass Big Muff and Boss EQ.
My first solo project was The Girl With The Stanley Knife in 2013. Itís difficult to talk about a typical set-up for this project, because I only did two releases that are widely different. Cradle Of Blades was assembled in the audio editor from various recordings that were made with different set-ups. Dark Feed was a live contact-mic freak-out.
M[m]:You are one of a small number of women involved in creating walled noise- why do you think itís such a male dominated scene?
Charlotte: I think there are only a few women involved in this scene because women in general donít feel the need to be validated through extreme sounds or imagery. They already face actual difficulties in this society and probably donít want to burden themselves even more. That been said, much in the HNW imagery can be construed as misogynist : from the never-ending murders of women in giallo to the nylon fetishism theme, if you consider that this type of paraphilia is a form of objectification.
One of my favorite HNW artists is Tissa Mawartyassari. Her work doesnít try to conform to the typical image of the woman in HNW (hypersexualized, submissive, dead or being killedÖ). She just does her thing and itís great. She has just sent me, on my request, some extremely powerful tracks for a future tape release on Rapture Records.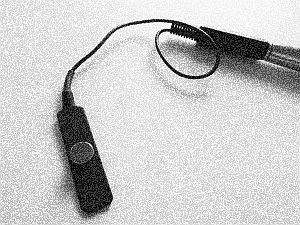 M[m]:One of your most known projects is Absurde( with your husband Julien). Tell us a little bit about how/ why the project came about?
Charlotte: We were watching a lot of Joe DíAmato movies at the time and Absurd really stuck with us. We decided to use the name for a collaborative project. We translated it into French to avoid any association with the NSBM band of the same name. The initial idea was to create brutal old school HNW like an assault on the senses. We stuck to that for a few releases but our sound became more varied over time.
M[m]:What do you see as the main themes behind the Absurde? And what is the projects set-up & who plays what?
Charlotte: With Absurde, we decided to use themes and visuals a bit different from the ę classic Ľ HNW imagery. Absurde isnít as dark as most of the HNW projects, itís influenced by things we like : cinema (from Asia, like Third Category Hong Kong movies), literature (Yukio Mishima), places (Olťron Island, in the South West of France). Our street art project Mental Links inspired us also, especially for some artworks.
As to who plays what, we take turns. Each transforms what the other has done until we decide that the wall is finished. This can last from 30 minutes to 2 hours. Iím usually the one who does the equalization.
The set-up is a mess ! We tend to use multiple distorsions and fuzzÖ However, there is one piece of gear that is emblematic of the Absurde sound for me and itís the EHX Bass Big Muff. I think itís on all our releases.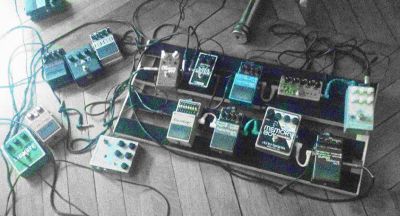 M[m]:Your most recent project is Naughty- tell us a bit about how/why this project came about? And what made you chose the projects name?
Charlotte: I had two solo HNW projects before Naughty, The Girl With The Stanley Knife and Flux Nocturne, but I was feeling I had not find yet my own identity with them. So I wanted to focus on a new solo project that would express my mood better.
Naughty is a name that is quite cute, but it hints at a part of my life that contradicts the ę nice girl Ľ image I sometimes project.
I also wanted to express through sound and artworks a darker feeling I was already exploring for myself through black and white drawings and photography. To me these three forms of art are intimately related.
M[m]:You mention your black and white drawings, which are feature on some of your releases, and other peoples releases. Your drawing work is most accomplished- did you go to art school? Or is it all self taught?
Charlotte: I never took classes or anythingÖ But Iíve always been drawing, since I was a little girl. Iíve always drawn women, and their oufits because I wanted to become a fashion designer. I still do it nowadays, but I tend to focus on details and certain parts of the body.
For the drawings I made for releases, I needed photos as models, and I think Iím learning more with every new artwork I do.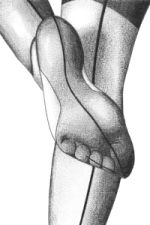 M[m]:What is your set-up for the Naughty project? And what do you use as source material?
Charlotte: With Naughty, I love creating deep basses, so I always need an octaver and a delay. I also need a good straight-up source like white noise with a bass boost. Distortion-wise I like the EHX Metal Zone because it can add a flexible layer of static without hurting the bass too much.
My first tape Nylon Insomnia was released by Signora Ward Records, I used a contact-mic and stockings to fit with the labelís theme.


M[m]:What do you see as the themes behind Naughtyís releases?
Charlotte: Basically, Naughty is everything I canít do with Absurde as Julien wants to focus on more abstract or positive things. I like dark stuff. I enjoy Power Electronics, BDSM imagery, etcÖ So I needed Naughty to express that.
M[m]:How often do you work on HNW? And tell us a bit about how you build & create walls?
Charlotte: My work-rate isnít very regular. I need to think a lot about what Iím going to do, so I can stay a long time without playing, just thinking of my feelings, letting them fill myself until I feel the need to explode and free them. I need to observe the world around me, I stock images and they end making sense to me.
I want to create powerful walls, with big basses, because itís what I like the most in HNW. However, Iím also starting to work with layers, contact-mics, and trying to add some new shades to my sound. Doing splits helps me to evolve, I have to adapt myself every time and I like that. Collaborations are also very enriching, Iím especially thinking of Nemanja Nikolić from Dosis Letalis, with whom I have a project named Naughty Angel Raptures, and also Ben Rehling from See Through Buildings.
M[m]:whatís upcoming from all of your projects release wise?
Charlotte: Many Naughty releases are on the way on the mighty Altar Of Waste label : a split with Misery Ritual, a c30 of Naughty Angel Raptures, and a solo 6 CD box set. Iím also working on splits with See Through Buildings, She Walks Crooked, Sloth Of Gulf Coast Florida, N0123NOISE also, and Iíll be part of a tape box set on Lost Light Records.
M[m]:Can you tell us a bit more about the up-coming 6 CDR box set? For example what are itís themes, and what can we expect sound wise?
This 6 CDR box set will be named My King. I wanted to work on the theme of mental domination / submission, and when I watched the movie Mon Roi by the French director MaÔwenn, it inspired me a lot, so I decided to base my release on this movie. Itís a devastating love story, about a woman who falls madly in love with a narcissistic pervert. He totally breaks her but she keeps on fighting for their love. Itís an explosion of emotions, all the feelings related to love are expressed, from the sweetest and the most delightful to the most destructive. There will be a regular edition, and a deluxe one, and Cory Strand from Altar of Waste chose very emotionally charged images from the movie to do the artwork.
Sound-wise, the tracks are very stripped-down, with the focus on the low end. There is always one or two layers of modulated static on top, but never a real ďcrunchĒ. I have seen mentions online about a new subgenre called Drone Noise Wall, Iím not sure what it is, but in my mind, My King could be called that.

M[m]:In 2015 you started the Ensemble Vide Records label with Julien- tell us a little bit about how this came about?
Charlotte: We had done a ę temporary Ľ label earlier called Textural Nightmares. We had some quite experimental recordings and we wanted to get them out ourselves. When that was done, the desire to have a label open to other people quickly came to us. We started Ensemble Vide with the idea to release multiple disc sets. The first batch went wonderfully for us as we were able to release sets and tapes by artists we admire very much, such as Black Matter Phantasm, Chier, Vomir and Shining Sex.
M[m]:So far Ensemble Vide Records has put out 7 release- do you have a favourite release of these?
Charlotte: I think my favourite one is Black Matter Phantasm Ė 6 …tudes Pour Bruit Blanc Dťgradť. I really love Joseph Szymkowiakís work. He is able to do very powerful walls, but not only. I find that there is an interesting sensibility in his works.
M[m]:What due out next on Ensemble Vide Records?
Charlotte: I donít think any new material will be released under Ensemble Vide Records. We are each about to start a tape label. Julien is going to have his Hallucination Tapes label, and Iím going to have my Rapture Records label.

Thanks to Charlotte for her time & efforts with the interview. Naughtyís facebook page can be found here, and Ensemble Vide Records webpage can be found here
Roger Batty