Dark Masters [2015-09-19]Itís fair to say that Yen Pox are one of the most respected & influential projects with-in the Dark ambient genre. The project started life in 1993, bringing together the joint dark sonic talents of Michael J.V.Hensley and Steven Hall. Over the projects twenty two year existence they have released a fairly minimal catalogue( three full lengths, one full length collaborations, and a few eps/ singles)- but each of these have been consistent & genre defining moments. Just a few months ago they released their latest full length release Between The Horizon And The Abyss on Malignant Records, and this has rightly received universal praise, and is yet another genre classic. Michael & Steven kindly agreed to give M[m] an email interview discussing their twenty plus year collaboration, the new album, and beyond.

M[m]:Youíve now been working together as a duo under the Yen Pox name for twenty two years- what do you think keeps you working together? And have your sonic roles changed over the years? Michael: Itís really our friendship thatís kept us coming back from time to time over the years. Isnít that what dark ambient is all about, friendship? Seriously though, that is it. As much as I love what weíve done, working alone on Blood Box is also satisfying and somewhat easier for an introvert like me that tends to put music together like a puzzle. But Steve is a great friend, heís easy to work with and he trusts my instincts, so the fact that he can contribute a dimension to the sound that I lack alone is just a nice bonus. Since weíre already hanging out, we might as well take advantage of that.


Michael: Though our approach and production tools have certainly changed, our roles have stayed fairly consistent; we both come up with sounds and tracks separately and together when we can, and then I work on the arranging and mixing. Weíve always used quite a bit of bass and vocals, but always with a fair amount of synths and other manipulated sounds, but for the new album we really focused on the bass and vocals for the majority of our sounds. Even most of the more rhythmic and sub orchestral sounds on there are actually heavily processed bass guitar.



M[m]:Yen Pox is one of the most respected names with-in the dark ambient genre, and each of your three albums( Blood Music, New Dark Age, and this years Between The Horizon And The Abyss) have been rightly hailed as genre masterpieces. What do you see as the key elements to making great dark ambient album? Steven: Thank you, you're too kind. First and foremost, you've got to have it in you, much like a blues man has to have the blues. That's not to say that we are dark souls, it's just what comes out; an exorcism of sorts. Like Leon Redbone said; ďThe blues ain't nothing but a good man feelin' badĒ. Or better yet: From the Coil "LSD" album "Out ov Light Cometh Darkness". It's like that. The key at first was just two friends with a desire to do something different musically than we had prior and that we had fun creating (usually aided by the effects of marijuana), the results of which we enjoyed listening to over and over. We made use of the minimal sounds sources that we had; a few acoustic instruments, voice and a few odds and ends that we had to create massive sounds. As our equipment has expanded a bit over the years, our goal has too; incorporating additional vocal contributions, collaborating with other artists and trying to drive the sound into more musical realms, although, with Michael and I both being musically trained early on, there have been hints of that from the beginning.

Michael: Universally, I think the most important element is a sense of dread or unease. You can still make a great ambient album without that, but not necessarily ďdarkĒ ambient. And for us personally Iíd also say itís important for there to be a heavy dose of melancholy, an emotional edge. Though on parts of the new album, some of that emotion comes in the form of pure despair. Not necessarily intentional, Iím just drawn to sounds and music that have emotional qualities, even if theyíre not overt. If Iím working on a track and it doesnít have that, it feels hollow and sterile to my ears. Vocal elements are a good way to add some sadness to a song, and one of the reasons we asked Dark Muse to contribute hers to the album.


M[m]:Thereís been four years between your last release Universal Emptiness, and your most recent release Between The Horizon And The Abyss- how long were you working on the new album for? Michael:Thanks for mentioning Universal Emptiness, a lot of the press weíve received hasnít, but we certainly consider it important, even if it wasnít full length. I put together a couple of songs and a few other bits over a couple of years following the release of the last Blood Box, using material Steve recorded alone and sent me, but it didnít feel as good as I wanted, and I wasnít as enthusiastic as I should have been. It was only after getting some vocal tracks from Dark Muse to work with, and recording over a weekend session together with Steve in 2013 that it all started coming together. With that batch of sounds I started work again, but trying some new techniques, and got excited again. At that point most of it was done over the next year, including going back to a couple of the early songs and reworking them a bit. It could have come out sooner, but I wanted to wait until it was mostly finished before looking at labels and artists for the cover; I didnít want to feel the pressure of a deadline or other expectations.


M[m]:The title of your new album seems most apt because one often feels like the tracks move between grey yet expansive horizons & the deepest/ darkest abyss- was this always going to be the album title, or did you chose it after the material was completed? Michael:The title actually did come before the album, I thought of it when putting together titles for the last Blood Box lp, and knew that was what it had to be. And though I didnít intentionally compose any music around that, the visual and psychological aspects that the title evokes perfectly aligned with our musical ambitions and the emotional landscape I hoped to envision with it.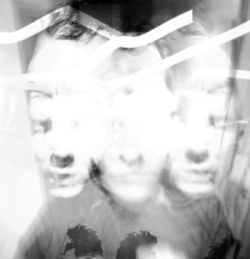 M[m]:The sound on this new album often seems a lot denser & detailed than your past work, with tracks often revealing new elements on each play through- tell us a little bit about how youíve achieved this layering of your sound & have you added new equipment or ways of recording to get this effect? Michael: I think that dense layered sound has always been an important part of my sound, both with Yen Pox and Blood Box. Most of my songs tend to have at least twice as many sounds as a lot of other ambient and drone music out there, and I bring elements in and out through mixing; an individual track might be 10 minutes long, but only heard for a couple of minutes here and there in a song. Itís probably a bit more obvious this time because the sounds have sharper, more definable edges. Thereís still a ton of processing going on, but not in a way that takes away from those edges; in the past there was more reverb, more diffusion. We also started out with better sounds than in the past, so there was less need to completely erode them and obscure their lesser qualities.

Michael: Our original sessions with bass & vocals were recorded using some of the same effects we used years ago, but the way I compose and process after that has certainly evolved over the years. Itís all on a computer, using Ableton Live and a handful of plugins, like a million techno producers out there, though with far different results. When talking to other musicians over the years, Iíve often realized that the way I record and mix isnít the way that most others do; that was the case when I was using a rack mount processor and a sampler, and itís still the case with the way I use Ableton. In truth I think that comes down to both my laziness and ignorance; Iím terrible at reading manuals and learning how to use these things properly, and Iím not naturally inclined to understand them like some people are. So like a kid, I just dive in and start turning knobs, pushing buttons, until something works in a way that I like, and develop my own process thatís lacking almost completely in actual knowledge. I think itís served me well enough, at least for ambient; Iíve always cared far more about the end results than how I get there. It has proved troublesome when trying to do something more complex though, like sequencing.


M[m]:from track to track, and even at times with-in tracks thereís often quite a shift with- in the tracks sound, as compared with some of your early work that was a lot slower in its shift & development- was this a deliberate decision or did the tracks just develop like this? Michael: One unfortunate result of not being very knowledgeable about the ďhowĒ part of the technical side of making music is that weíve never been much good at following through on deliberate intentions; thinking of a song or sound and actually making it real. For the most part, the songs did ďjust developĒ. When we started talking about the new album, I said that I didnít care if it was ambient or not, and I didnít care if it sounded like anything weíd done before, as long as it was great. My original intention was for it to be heavier and noisier, with more guitar & rhythmic elements, but beyond that we didnít have any specific plans. With our source recordings it could have ended up heavier than it did, but I have trouble resisting the urge to smooth sounds out a bit and lush them up. So it turned out somewhere in between our previous sound and what I was hearing in my head, and I think thatís for the best. I was deliberate in some of my production, trying to keep more detail in the sounds, more high and mid-range and less bottom heavy haze, as well as having the sounds fit together more purposefully. But beyond that, putting these songs together was a constant process of discovery, and that made it really enjoyable to work on. I even managed to not spend so much time on the mixing that I got sick of the music, which is whatís happened to me frequently in the past.
M[m]:You mention the idea of possible making the new album more noise bound- do you think youíd like to add more noise elements to your future work- either with Yen Pox or in your solo work? Michael: Not noise specifically, but more intensity definitely. More definition and clarity, sharper teeth, whatever form that might come in. I like to grow and change, and the only other direction is the opposite one, which would be to really strip away the layers an focus on a few simple, perfect sounds, which Iíve never been good at. Guys like Lustmord are great at that sort of ambient, where the silence between the sounds is part of the music, but Iíve never had the confidence in my sounds to let them stand alone like that; thereís usually something moving around in my tracks even if itís just haze or śther. Iíd like to continue to push in a more maximalist direction, but maybe when Iím older Iíll come back and try some minimalism.


M[m]:Still on the subject of noise, a question just for Michael- back in 1998 you put out the debut & so far only release from noise lined ambient project Hollow Earth which found you collaborating with Jonathan Canady. Have ever thought of doing any more work with this project? And are there any plans to reissue the debut album? Michael: I recall us briefly discussing doing something else a few years ago, but it didnít pan out, and itís not something Iíve really thought about since. Now that you mention it, a comp track or something easy like that might be nice, a good idea that Iíll keep it in mind. Collaborating with people I know is usually my preference, and he recently moved a few hours away so Iíll see him occasionally which is great; Canady is one of the good ones and I always enjoy hanging out with him. No plans on a re-issue, Jonathan may even still have copies left.
M[m]:Have you the things that scare or are fearful to you changed over the years? And do these influence your work with Yen Pox? Steven: I'm sure they have, but I don't think that fear was ever an inspiration for our music. Michael once mentioned being inspired by the vast empty blue sky of Indiana (where he was residing at the time) and I think things like that, our surroundings, had a much bigger impact on our sound than anything we may have been fearful of. For me, it's really more of a spiritual thing.

Michael: Though not a new fear for me in any way, the vulgarities of age and the constant and forceful march of time were a huge influence this album. Both in a personal and universal sense.


M[m]:You both have dark ambient solo projects that have been dormant for a few years- are there any plans for new work from either? Steven: Michael has definitely kept more active outside the realm of YEN POX than I have, so it's likely you'll see more from him in the near future. As for Veil of Secrecy, I do have some new music in the works, but I won't try to predict a completion date.

Michael: Thereís a new Kalpamantra Bandcamp compilation coming out soon with a newly recorded Blood Box track, along with a new Yen Pox in collaboration with Xiphoid Dementia: https://kalpamantra.bandcamp.com/album/the-earthen-siphon. Iíve got probably half an albumís worth of other new Blood Box in various states of composure, but reluctant to say when that might come to fruition; Iím also working on a new project, something more rhythmic, and neither one is getting my full attention. Iím also starting to work on remixing our ďNew Dark AgeĒ for potential reissue, and should soon be diving in to a sequel to our Mnemonic Induction collaboration with Troum, which was just reissued on cd, and will be out on vinyl in the next few months, along with a vinyl edition of ďBetween the Horizon and the AbyssĒ. And I hope that Steve gets his new solo project finished soon, I want to hear that.
M[m]:You talk about remixing ĎNew Dark Ageí- how far down the line of you got with this process? And do you think it we be similar to your remix of Blood Music? Michael: I havenít done much yet, just moved some tracks over to my computer in preparation. Similar to the Blood Music, but I donít think weíll have anything extra to add, what we did for the album is all there is as far as I remember. Even closer to the recent Mnemonic Induction re-issue, as I used some different processing tools on that to really bring out some details that were barely audible on the original. Actually, after the Blood Music remixing I was thinking there wasnít much point to doing the same with New Dark Age, but the Troum collaboration was recorded similarly, and remixing that made me realize there was room for improvement, reason to revisit it. Shouldnít take much time, Iíll probably do it over a few weeks this fall or winter.
M[m]:You mentioned a new collaboration with Troum Ė have you started work on this, or planning it yet? If so can you give us any more info about it? Michael: Only the song we did for the Kalpamantra comp ďThe Black PlagueĒ a couple of years ago. We might add a bit to that one, flesh it out, and include it. And we have a couple of half-done Yen Pox tracks from the recent album sessions that I set aside, thinking they would be perfect, so as soon as I get some tracks from Troum Iíll dive into it. I also donít expect that to take long once I get to work. No real vision for the album outside of that; weíll let the music lead us, and hope that itís someplace lovely and strange and new.

M[m]:Do you hope to do some live work with the new album? Or is it not practical to recreate the album in a live format? Michael: I wouldnít count on that happening, it would just be too difficult since we live across the country from one another, and too much potential for disappointment. And it would indeed be impossible to recreate live; if we did ever manage to play live, it would be like my rare Blood Box performances, and contain elements of our recorded work, along with semi-improvisational new sounds in the Yen Pox style. It could end up sounding great, but with ambient Iíve found that the sound system and venue atmosphere really make a huge difference, even more than a lot of other types of music.
M[m]:Do you have an interest in the modern dark ambient scene? And if so do you have any favourite projects/ releases? Steven: As far as modern dark "ambient" is concerned, I haven't listened to a whole lot lately, however, I have enjoyed Sphare Sechs "Enceladus". As for other forms of dark music are concerned, the new Sewer Goddess "Painlust" is really good. Bongripper's "Hippie Killer", Morbid Angel's "Gateways to Annihilation", Plague Bringer's "Life Songs in a Land of Death", Twilight's "III: Beneath Trident's Tomb" are all dark death/doom metal albums that I've embraced lately. Another really dark album I've enjoyed is the Scott Walker / Sunn O))) collaboration, "Soused". I'm sure I'm missing some things, but these have all been in heavy rotation.

Michael: I certainly like a lot of atmospheric, dark and sometimes ambient music, but rarely really seek out dark ambient as a particular genre. I prefer it as an element to music rather than the driving vision; artists like The Haxan Cloak, Tim Hecker, Ben Frost, Killing Sound and Dalhous get a lot of listening time from me. I like to drift off to sleep to the epic celestial drones of Steve Roach. The musical score on the Hannibal tv show is some of the best and darkest soundtrack work Iíve heard in years, amazing stuff, especially for network tv. And if I feel like listening to pure dark ambient I head to Atrium Carceriís ďCryo ChamberĒ label, thereís always something new and great there.
Thanks to Michael & Steven for their time & efforts with the interview. Between The Horizon And The Abyss is now available on Malignant Records, and the bands Facebook & Bandcamp pages can be found here & here
Roger Batty