Grindhouse Walls [2015-06-01]Ecco is a French project that creates searing 'n' sleazed walled noise based around the weird, perverse & violent grindhouse movies of the 60's & 70's. It's one of the more recent projects from the highly prolific & multi project linked Julien Skrobek (The Killer Came From The Bronx ,Ghost, The Sandman Wears A Mask, Ruine, Butch Bag, Gasp, Ruine, etc)- it also stands as one of my favourite of his many projects, as it managers to capture the sleaze, violent, and often tongue-in-cheek vibe of the best grind house movies. The project started off around late summer 2014, & Julien kindly agreed to give us a email interview.

m[m]:Tell us a little bit about how the Ecco project came about & what's the origin of the name? Julien I wanted a vehicle for two connected obsessions: rough static textures and the exploitation movies that made a name for themselves on New York's 42nd street in those days.
The name ecco came from the fanzine created by Charles Kilgore in 1988 that mostly covered Mondo movies but also sleazy movies in general. Kilgore himself had borrowed the name from a 1964 Mondo movie from Italy, also known as World By Night 3.


In Italian, ''ecco'' means ''here (it) is'' and I thought it suited my intention to present raw blocks of textures.




m[m]:I believe you use radio static as a source for Ecco's recordings- what else do you use kit wise? Julien For ecco, I always use radio static as source and a Proco Rat for distortion. These are essential to my ecco set-up. I also use a pitch-shifter to attenuate the ''pops'' in the radio's signal, and an octaver at the end of the line. There are no ''embellishments'' such as delay or reverb. The theme for ecco is mostly low-budget movies so I try to use a minimum of gear in order to stay coherent with it.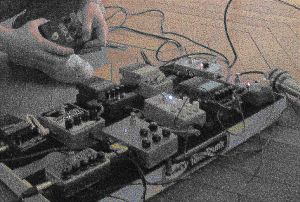 m[m]:All of Ecco's releases are themed around grind house movies of the 60's/70's- tell us a little bit about how you go about selecting which film you want to theme a release around? And how do you go about creating the 'walls'- i.e. do you base them a certain scene from the film, or just the whole movie? Julien The main thing is the atmosphere of the movie. This is what I like the most. I don't really care for plot or ''shocking'' scenes. I like the mood of these movies. I think mood is lacking in most movies nowadays. I watch some more recent movies thanks to my wife Charlotte who follows new releases and although I like some, I feel it lacks the roughness, the moodiness of the original. I went a bit off track here, sorry...
To sum it up, I guess I use the whole movie. To be honest I found out about most of these through another fanzine called Sleazoid Express by Bill and Michelle Landis. Michele made a book about the most important films reviewed by Sleazoid Express which is the main source and inspiration for my ecco project. Michelle also did a fanzine called Metasex which dealt more exclusively with the sexploitation side of things.

m[m]:With all of ecco's releases thus far you've managed to perfectly capture that sleazy, violent & down-grade vibe of the great grind house movies- how long it to take creating & be fully satisfy with each 'wall' you put out? Julien For ecco I usually re-watch the movie, sample some bits of dialogue and take a few screenshots... Then I let it sink in for a couple days, think about what sound could translate the mood I got from the movie, then I record. A recording session can last 6 hours before I press ''rec''. When I've got the track, I wait until the next day to hear it with fresh ears, and if I'm still satisfied, I'll release it. So, I record the track with a specific movie in mind, it's never the other way around.
m[m]:Have you thought of sound tracking the full length of a film with ecco soundtrack? And if so any ideas which?
Julien Yes I'm thinking about it but it would probably be my own movie. I'd love to write a movie and then shoot it however I can. As for soundtracking an existing movie with ecco, not really. The sound I do with ecco is not varied enought to soundtrack a movie, in my opinion, it's too limited in its scope. My music was used once in a documentary about a street-artist called BMX, that was broadcasted on French television a couple weeks ago, but it was rhythmic music, not textures.

m[m]:please select ten of your favourite grindhouse movies & explain why you like them? Julien Ilsa, The Wicked Warden – Jess Franco
I love Jess Franco and this is the first movie of his I saw. It was also the first WIP film and the first time I saw Lina Romay. Charlotte and I have got pictures of Lina Romay on the walls in our bedroom.

Barbed Wire Dolls – Jess Franco
Another Franco WIP film, not as crazy as The Wicked Warden but one of his best nonetheless.

Slaughter Hotel – Fernando Di Leo
I chose this one because it is one of these movies that are often put in the Giallo category because they were made by Italian directors, but which to me do not really belong to the genre, mainly because their eroticism is of a different nature. It is rougher, more pronunced and has none of the naivety of the 60's in it. Other exemples could include The Sister Of Ursula (Enzo Milioni), Evil Eye (Mario Siciliano) or Murder Obsession (Riccardo Freda) to name a few.

The ''Flesh'' trilogy - Michael Findlay
These movies are a lot of fun, and the situations are quite extreme given the time they were made. I could do without the endless scenes in the clubs, but they remind me of how Jess Franco would include lots of theatrical scenes in his movies that went on for some time without making it explicit that they were being acted by the characters in front of an audience within his movie.

The ''Olga'' trilogy - Joseph P. Mawra
For the mix of 60's naivety and the S&M thematic. For the absence of plot that borders on abstraction. Watching these movies is a bit like reading an old fetishistic magazine you found in the attic.

The Candy Snatchers - Guerdon Trueblood
This is a rare instance of an exploitation movie where the plot is everything. Very clever and gripping story. I can't say much more without giving away spoilers.

The Ghastly Ones – Andy Milligan
I had to pick a movie by Milligan. Everything about his directing choices shows that he was a bit crazy. Insane colors and camera movements, extremely rough editing. Milligan's aesthetics cannot be explained solely by budget restrictions.

The Toolbox Murders - Dennis Donnelly
A very good and twisted slasher movie. Not as perfect as The New York Ripper or Maniac in any ways, but definetly more fun and I think that's why it was a hit on 42nd street when it came out. I think this particular audience was looking for shock value but also for a lighter touch because the movie wasn't everything. The theatre, the people, the atmosphere was part of the experience and the movie had to be easily followed by people who weren't always focused on what was going on on the screen, at least that's what I gathered from reading Bill Landis' reviews in Sleazoid Express. Exploitation doesn't have to be 100% gripping all the time to work.

Night Train Murders - Aldo Lado
Another fine story. Some aspects remind me a bit of A Clockwork Orange.

Bare Behind Bars - Oswaldo de Oliveira
Another WIP film, but the craziest of all as far as I'm concerned. The movie is the epitome of exploitation, to the point that it doesn't make any sense and becomes hypnotising.

Let Me Die A Woman – Doris Wishman
A very exploitative and thus fascinating documentary about transsexualism, directed by one of the few women in this industry, at least on this side of the camera.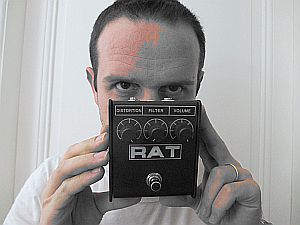 m[m]:You've already themed one release around an Andy Milligan movie- have you thought of doing any others?
Julien Not at the moment. My favorite Andy Milligan movie is The Ghastly Ones and it's the one you mention I already did. I might do a release about Andy Milligan himself, though. He seems to have been one hell of a character
m[m]:As a genre HNW has often used exploitation movies as a theme, and in particular Giallo films were themes for some of the early releases in the genre, but of course other forms of exploitation movies have also been themes too. why do you think walls go so well with these types of films? Julien The obvious reason is that HNW practitioners have a tendency to like what is marginal and obscure. However I think there is a deeper reason. Walls and such movies have a lot in common. The plot is not really important in an exploitation movie, there is no reason for a beginning or an end, the focus is on presenting one thing the director believes to be of interest to the viewer. It can be sex, violence, just as in HNW the waller presents a texture of interest to the listener with no reason for beginning or end, it is not narrative or inscribed in a duration other than the capacity of the format. What decides when a wall should end ? What decides when a sexploitation movie should end ? If you take a movie like El Sexo Esta Loco by Jess Franco, there is no plot, no beginning and no end. It just comes full cycle, just like a texture study by a waller would...

As for Giallo, well it's always more or less the same thing. Girls, villas, blades, masked murderer, childhood traumas, cheating couples and so on... Sometimes the solving of the mystery is not surprising at all, but it doesn't matter. Most of the time it is impossible to guess who the murderer is or why he kills, because the clues lead nowhere, and it doesn't matter a single bit, because the plot is not so important, especially when you watch dozens and dozens of Giallo movies. What really matters are the tiny details, the setting, the color of a dress, the way the killings are staged... Everything is static like a wall of static noise, the interest resides in the very slight changes that might occur and that are best appreciated by the initiated viewer/listener. I believe it is these aspects of exploitation movies that appeal to HNW aficicionados.
m[m]:The heyday & centre of grind house cinema took place in & times square NYC between the 1920's & 1980's- did Paris ever have any grindhouse cinemas? Julien There used to be ''sexy'' cinemas in Pigalle and one dedicated to horror / exploitation called Midi-Minuit on the Grands Boulevards. However, porn eventually took over. Then porn itself receded to home video and then the internet and most of these theatres closed down. I guess the closest we had to 42nd street was probably the Pigalle neighborhood but it was more of a red light district.
m[m]:What have you got lined up next for the project? Julien Not sure right now because I have finished the first batch of movies I wanted to do with ecco. I have another batch coming, including the ''Sexo'' trilogy by Jess Franco, Cry Uncle, Pets, The Punishment Of Anne, Vampyres and LOTS more...
I'm also starting a new label for physical releases. I'm preparing a 3xCDr collaboration with Charlotte's project Sleep Paralysis, so that's taking us a lot of time right now. But ecco will last as long as I'm excited by the 42nd street mystique...
m[m]:You've recently started a new project themed around exploitation/ grind house movies called Oscuro- how will this project differ from ecco work & what is the sonic set-up for this project? Julien First of all, Oscuro, as all the other projects connected to the Textural Nightmares label, is not HNW at all. It is static sound but uses very little elements of wall noise and is perhaps more connected to Onkyo, the extremely minimal Japanese movement typified by Otomo Yoshihide, Sachiko M and Toshimaru Nakamura.
It is thematically linked to exploitation movies because I try to produce sounds that could be used as soundtracks for these movies in general. I'm not really working with a particular movie in mind and I don't mention any movie in association with the release. Now, to reveal a little secret and give an example, Oscuro I was thought out as a potential alternative soundtrack for a scene in A Virgin Among The Living Dead by Jess Franco in which Carmancé is seen drinking blood. Of course if I don't tell you that there's no way to guess I suppose so that's a difference.

The set-up is also different. I use a Bit Commander as source which basically turns the source sound into a synthesizer sound. I work that material with gain, reverb, delay and pitch-shifting and then isolate new layers of sound through an Electro-Harmonix Freeze pedal. To sum it up, I work with tools that are more keyboard-orientated than noise I guess.
Thanks to Julien for his time & effort with the interview- you can check out some of Ecco's releases here(along with a whole host of other Julien related projects). Info on Julien's new label Textural Nightmares can be found here
Roger Batty