A 'fiuczion' of colours and sounds [2003-04-21]Guitarist David 'Fuze' Fiuczynski has been playing on about 65 albums since his debut with organist John Medeski (Medeski, Martin & Wood) called Lunar Crush and collaborated with many well- and unknown artists, mainly in the jazz and fusion section. To his own projects like The Screaming Headless Torsos, Jazzpunk and the recently released KiF the term 'jazz' would be too limiting and 'fusion' would only apply in the sense of 'fusing' various genres of music together.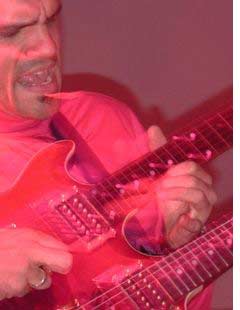 Order and con-Fiuczion
With so many projects and bands going on I get the feeling David is the bandleader in most of his projects, was that a conscious choice or something that just happened? "Well, I do the music that I'm making, because it's the kind of music I want to hear and don't see anywhere else. I have music in my head first and then get the players. but I'm constantly playing with new people and sometimes certain players suggest certain things. I mostly have a definite idea about the sound of a project, but things can get a little mixed up or con-fiuczed." Although Fuze might be the leader of the band his choice of musicians, individualists like John Medeski and Rufus Cappadocia, prevents the projects to become solo-trips. What kind of goals does Fuze set for himself and his bands? "Blending of sounds/styles, original point of view on acover/standard/classic, using new grooves... stuff like that". These goals are not very strict because the project might veer in a different direction like the announced Tao: "I'm changing this to KiF. I was using this name, because Rufus Cappadocia on cello wasn't available, but we seemed to end up playing KiF material anyway. I'm starting to add in more east Asian sounds besides the Indian and Middle Eastern melodies that I'm experimenting with."Eastern Exotica – Western Extatica
What's your affinity with Eastern music? "I've always been interested in it. Once I finished college I was a bit 'schooled out', so everything you hear is very gradual and 'organic'. I play the way i play thru listening, a gig in Morocco, an oud lesson here and an Indian sarod lesson there, playing and recording with Hasidic New Wave, learning melodies and inflections from Rufus Cappadocia (cello) and Matt Darriau (both in Paradox Trio and also in KiF). So it's very mixed up. Everything's then mixed and interpreted in my own way. I have been doing the above process over the last 10 years (before that i took classes in college) but it's only now that i'm releasing a cd." It indeed took quite a while for the KiF cd to be released: "My ears are bigger that my technical ability. I may hear that a ravel piece would work well with Indian inflections and different grooves. This might take me a few weeks to arrange, but years to apply. These sounds are brand new and fresh, but also extremely hard to play!" So does Fuze keep an eye out on everything going on in Eastern Europe and the Middle and Far East? "Well i made up that term 'Eastern Exotica – Western Extatica', but the best things I've heard are by DJ Cheb I Sabbah and Karsh Kale, maybe you can hip me to some other artists?" Sure, Fuze!Life as a 'Fuiczician'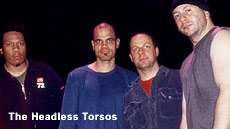 One of the things that makes Fuze' guitarplaying unique is his fretless guitar, how did that come about? "I was looking for new things to do. Joe Maneri at the New England Conservatory was teaching microtones and this was the only way to do them on guitar. Unfortunately, I never got to study with him though. Randy Roos, another teacher in Boston had a doubleneck with one fretless and was using thatfor Indian sounds. I didn't really get into it until i had a doubleneck guitar, because that way i could still play the gig and then try to incorporate new things that I heard or picked up from people". I wonder how Fuze ended up playing guitar in the first place: "My mother forced me!!" That didn't prevent him to make a living out of music since he left school in 1989. "It's not easy, but i'm very fortunate to be able to play the music i want to do. Things keep growing and getting better and better". Playing the music that you want seems to drive most musicians into starting their own label these days: "I did JazzPunk for a small label and they HATED it! So we settled out of court and all of a sudden I had this cd on my hands... luckily my wife Lian Amber knew what to do and has been running the label since". So is he still signed to Warner with The Screaming Headless Torsos? "No, again: my wife is a genius! She got us the rights back from the label!"
New colours and sounds
So what are the plans for the future? Will there be a new Lunar Crush album and what about other projects? "Medeski is hard to pin down. He's really busy, but that would be great! The Screaming Headless Torsos will be on tour in Europe this fall with Dean singing again and I have new KiF material almost ready". New collaborations are also in the works like with his wife and CEO Lian Amber: "She's a fantastic singer. One really does not get a feel for her unless you listen to her music. Generally, there aren't specific people, but i'm looking for Indian, Middle Eastern and East Asian musicians to jam with!" Will he always try to do new things or would he like to play something really traditional too? "I love all sorts of music but I often play the music that I play because it's music I don't hear anywhere else. I guess it's just my nature. I'm hooked on trying to create new colors and sounds!"


All photographs by Lian Amber except 'Fuze & Lian', by Silvia Vassão




A 'fiuczion' of colours and sounds
Guitarist David 'Fuze' Fiuczynski has been playing on about 65 albums since his debut with organist John Medeski (Medeski, Martin & Wood) called Lunar Crush ...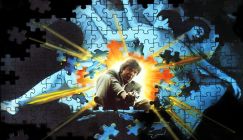 Primal Scream - Primal Scream( Bl...
Primal Scream is a decidedly haphazard & at times conventionally bad cinematic stew of noir tipped sci-fi, horror melt action, and fairly standard cop th...