Live Report - John Wiese, Sebastian Lexer / Steve Noble Cafe Oto 25th Feb 2015 [2015-03-19]Prolific American noise auteur John Wiese makes a timely appearance in London ahead of his major new record Deviate from Balance. Wiese's arsenal of cut-ups, distortion and screaming metal is paired alongside frequent London improvisers Steve Noble on drums and Sebastian Lexer on piano and electronics.

I wasn't familiar with Lexer's playing and looking at his set-up of amplified inside piano run through his laptop and an effect box I half expected a panoramic soundscape to emanate from the speakers, stretching, looping and drawing out the sonorities of the instrument. In fact Lexer's contribution was far more subtle and involved little tweaks and interventions inside the piano which were sometimes modulated by the electronics in a discernable way and at other times the natural sound of scraped strings and hammers was allowed to come though more or less untreated. Throughout their thirty minutes or so it seemed to me that Noble was doing most of the pace setting. He began slowly with a few brushes or sharp strikes of his snare or tom. But as Lexer began coaxing stranger sounds from the inside of the piano Noble's focus moved on to using his cymbals in innovative ways, dragging the wooden end of his stick across them, turning them upside down beating them with spatulas. Most interesting was the range of sonorities his achieved by adding metal bowls to his kit, placing them directly on to his floor tom and combining the two in addition to the cymbals.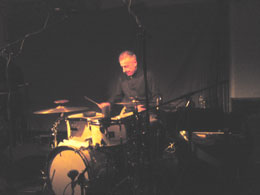 The set didn't ride on a particularly rough sea and it was only near the end when Lexer's coaxing turned to cajoling and Noble began crashing his kit with an ever quicker interchange of metal, drum and bowl that they reached anything like a crescendo or at least a significant density of sound. Even then it was the percussionist who led the way.It seems an irony that despite the possibilities available with the piano and laptop the greatest variety of sound was being created by Noble with his bag of sticks, brushes, bows and bowls! With the heavily augmented sound of Wiese to come Noble certainly gave the noise fans something to think about.
John Wiese's new record, described by the Wire as a pop-art masterpiece of superhero proportions features a host of collaborators including Ikue Mori, Oren Ambarchi, and Evan Parker who Wiese collaborated with on 2010's C-Section. Tonight however it's just the man himself with a laptop and a mixing desk. A surprisingly full mixing desk given his only input seemed to be the laptop. There may have been some other pre-recorded material being fed in but the appearance suggested a fair amount of sound re-cycling and feedback generation. Wiese's output varies considerably. He is just as comfortable cutting and slicing electro-acoustic noise as he is constructing vast walls of impenetrable screech or thrashing metal. Tonight however is something of a curve ball very much in keeping with his new record.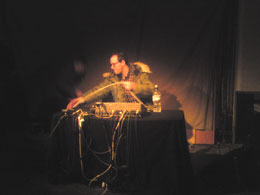 The set begins with a bright undistorted synth drone, nothing complicated or underhand about it at all; just a nice airy sound. After a couple of minutes however waves of clanking machinery seems to well up from the corner of the room, flung side to side by Wiese's spaciodynamics. The sources are unidentifiable, a combination of metal, field recordings, overdriven concrete edits and cut-ups. It's a sound as complex as it is exhilarating and which benefits greatly from the rich production and 3D treatment Wiese brings to it. While the man himself seems unperturbed as he ramps up the density and aggression, the audience begins to feel the grip that this form of music can have when done well. Just as the sound begins to reach a critical mass all of a sudden there's a cut and we're back with the glacial drone which started proceedings. After another couple of minutes we're left in silence. Wiese gives a routine "thanks for coming" before packing up and exiting stage right. The whole set lasted around twenty minutes and you could forgive the noise fans of hipsterville for feeling a little unsatisfied.
The new material is clearly impressive and the execution highlights the artistry and skill that Wiese brings to the field, but if it is the case that his anti-gentrification of noise is taking on the modus-operandi of pop-art let's hope that he doesn't also imbibe that movement's capacity to disappoint.
Duncan Simpson