Head-Screwing & Brain-Frying Sonics [2014-08-28]

Static Goat are a Southern California based two piece who summon-up an often dense & extremely overloaded, hellish & psychedelic take on harsh noise. I tracked down the projects founding member Izedis for an email interview.

m[m]:Tell us a little bit about how the Static Goat project first came about, and whatís the origin of the projects name?
Izedis: Around 2009 I wanted to try something different from my main band, Enbilulugugal. I wanted to do an "electronic" project. And still use the wall of noise I'm used to. The recordings at the start were just me learning how to do the shit. It wasn't until last year that I started to like any of the shit. As for the name... Really basic. Static cause it's noise and Goat cause Goat's are awesome. Really fucking stupid. Something better could have been used, but I don't really give a fuck.


m[m]:The projects sound is a very dense & extremely overloaded, hellish & psychedelic take on harsh noise- tell us a little bit about what set-up you use to create the projects sound?
Izedis: Nothin' special. Just a computer and some programs and a troubled mind. It's all pretty much an audial journey through the fucked up labyrinth of my brain. You can call it SchizoNoize if you want. Yes. But I don't use pedals or samplers or any shit like that. I wish I could afford all that.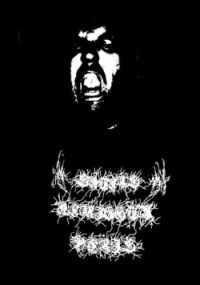 m[m]:Is a two piece or a solo project, as Iíve read conflicting statements in various places?
Izedis: In 2013 Christian Molenaar joined Static Goat. He is certainly better at creating beats and shit like that so I said "you should make stuff in Static Goat" and he was all "ok". And that's how that went down.
m[m]:How Christian did become involved with the project? And does he have an other projects(past or present)?
Izedis: That little Molenaar shit held a switchblade to my eye one day and demanded I allow him into Static Goat. So naturally I told him to eat shit and he punched me in the lung and that convinced me enough to say ok, but not before I kung fu karate chop kicked his face in with a strong punch to the throat. I wish It was as exciting and action packed as that, but in reality... We were just bullshitting on that terrible facebook thing one day and somehow ended working on something. Then we worked on more and now it's just the way of the Static Goat. I can't imagine this shit without him anymore. He's a rockin dude. Some other projects he's involved in, include: Those Darn Gnomes, Stars of Christian, Mortal Bicycle, CŽmetricity, City of Brass and of course, The Gay Vest Experience. He does some solo shit too which I have released on my label, Dipsomaniac Records.

m[m]:A lot of your work has only been released in digital form- do you hope to put on more full physical releases?, and any plans to reissue your digital back catalogue in physical form ?
Izedis: I will probably re-release most of the old shit myself on CDR for my label, Dipsomaniac Records. But there is literally nobody that wants any of this shit, so it would be kinda pointless. I'd just be doing it for myself and a few friends. Look for it soon! Or don't! SPAM: the split with Rei Rea is newly available on CDR through Crater Records.
m[m]:Can you tell us what to expect from static Goats side of the SPAM: split?
Izedis: The stuff on the Split with Rei Rea is kind of Jazzy Loungish Electro Mariachi Noise with elements of Flamenco, Harsh DSBM and little bit of the Born to Rock Alf flexi disc from Burger King influence. Remember that? It came with a fuckin puppet.
m[m]:one of your few physical releases is the truly mind melting & brain fucking double CDR disc album Mental Castration- Iím guessing from this releases original artwork(a female head screaming surrounded by various prescription anti- depressants and food additives) that this release is trying to recreate the sonic equivalent of a breakdown created by modern western society- Iím I correct in my assumption? And could you going into more detail behind this releases concept?
Izedis: You are correct sir! The concept is merely apart of the artwork though. All the tracks were collected from previous splits before the idea even came to me. You pretty much hit the nail on the head. You know more about this shit than me, man. Jeesh. By the way, that Mental Castration double CDR is out on Altar of Waste. I'm sure he still has copies.
m[m]:You use a fair bit of managed & deranged movie/ dialogue samples in the project- tell us a little bit how you go about selecting these elements?
Izedis: I have favorite movies that I always pick apart for samples. There's no theme or reason behind any of the samples. If something happens to stand out while I'm watching a movie, I steal it. Samples were a bit more important and used during the early releases. I still use them on the longer harsh noise tracks, but we've been focusing on the "electronic" stuff more than anything else. I don't know, fuck it.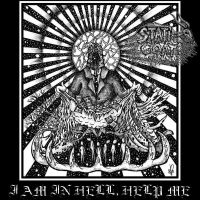 m[m]:You mention having favourite movies you like to sample- please list a few of your favourite movie( not necessarily ones you sample off), and explain why you like them?
Izedis: I like Hard Rock Zombies but I can relate with Cheesy Hard Rock Spandex wearing posers that happen to be Zombies. I like Threads because it's a bleak experience into the aftermath of a nuclear war. This is something I dream of and I am determined to make it true before I die. I don't know how but, yeah. I like Between the Cheeks 2 because it was my first wank movie. I like A Boy and His Dog because it's a killer journey into the post apocalyptic future with weird twists and turns and a bunch of sterile underground dwellers harvesting sperm to keep their population going. I like the Phantasm series because it's the fuckin Phantasm series. I like Cannibal! the Musical because it's a bunch of idiots singing and dancing and eating eachother. I sampled some of those and need to sample others. Oh yeah, and Backside to the Future.

m[m]:still talking about your use of samples on the track Invocation II off Nighthymns (your split CDR release with Gnashing Of Teeth- fellow Southern Californian project, who summon up a lo-fi mix of blacked metal & noise), you use a very lengthy hardly untreated dialogue sample of a northern English man tell a story about Norse gods- whatís the origin of this sample? And what made you want to put in the track in such a untreated form?
Izedis: That was Abattoir from Gnashing of Teeth / Black Sheet Servitude's idea. It's actually a story about Cthulhu or some shit. I honestly can't remember what the sample is from, but it was ripped off from youtube. The sound was so clean because Abattoir wanted the story to be heard if I remember correctly. And it turned out to be mixed shitty and can't really be heard anyway. I'm very unhappy with all of the remixes I did for that split. I rushed it all and I wish they would disappear outta this fucking existence. But, they wont.
m[m]:Static Goatís sound very much mixers together a whole host of elements from different sonic genres, taking in influences from harsh noise, black metal, power electronics, deranged psychedelic, weird sound tracking & beyond- clearly you enjoy all manner of music & sound. Please pick ten of your favourite albums (from different genres if poss), and explain why they had a impact on you? Izedis: In no particular order, just as I think of them...
Mercyful Fate / King Diamond "A Dangerous Meeting" Compilation CD
I got this CD on my 13th birthday and it was so different from anything I had heard at the time. It kinda got me on the path to always check out different styles of music.
V/A "Grind Crusher" Compilation CD
My first "Death Metal" album. I guess it's not all death metal and that's why I liked it so much. Probably the biggest reason I like experimental and noise music now, with Sore Throat and Naked City being on there.
Those Poor Bastards "Hellfire Hymns" CD
The album that got me into Death Country back in 2006. Now I run a label dedicated to the genre called Death Roots Syndicate.
Skinny Puppy "Last Rights" CD
My first "electronic" album.
Tjolgtjar "Ave Tjolgtjari" 2CDr
The first Tjolgtjar thing I released on Dipsomaniac Records. One of my favorite bands now and a great friend.
Gonkulator "Satan's Burial Ground" CD
My first exposure to "Black Noise" with a lot of noisecore infused. This helped shape my other project, Enbilulugugal in 2000.
Howlin' Wolf "Howlin' Wolf/Moanin' in the Moonlight" CD
First "real" blues I ever heard. Helped me get into Country shortly after, so I'll be forever grateful.
Waylon Jennings "Honky Tonk Heroes" CD
One of my favorite Outlaw Country albums ever. Waylon has become one of my all time favorite artists.
Vond "Selvmord" CD
When my head first started getting dark at around 16. I picked up this suicidal dark ambient masterpiece randomly. It's another album Static Goat wouldn't exist without along with the other Vond records.
Vondur "The Galactic Rock'n'Roll Empire" MCD
One of Enbilulugugal's biggest inspirations. Helped me realize music could have humor!
m[m]:Whatís next for Static Goat?
Izedis:Never know with this fuckin shit. Probably just those physical cds of a few things. Probably some splits. Things just happen so I go with it and then releases come out at some point in some form. Nothing exciting though and I hope everyone had fun reading my boring fuckin answers.

Thanks to Izedis for his time & effort with the interview. Here are a few links connected with the project to download releases-
Bandcamp: https://staticgoat.bandcamp.com/
Internet Archive:
https://archive.org/search.php?query=static%20goat%20AND%20collection%3Anetlabels
Also as of writing the double CDR version of Mental Castration, and the Gnashing of Teeth / Static Goat split Nighthymns are is still available from Altar Of Waste: here
Roger Batty