Iris Light Resurrected & Aube Remembered [2014-07-06]In March 2014 respected British dark ambient/ noise label Iris Light resurrected it's self after four years dormancy. In it's original existence (between 1996 and 2008) the label released thirty seven releases, putting out work by acts such as German drone trio Maeror Tri, EMB innovators Front 242, noise & glitch bound drum 'n' bass merchants Ashfelt, & chilling English dark ambient project Band Of Pain- but the label is most known for their releases by celebrated Japanese noise-meets-ambient project Aube( aka Nakajima Akifumi, who sadly pasted away in September 2013). I caught-up with the labels owner Adam Sykes for an email interview discussing Iris Light past & future, his own sonic work, and to remember the unequal talent that Aube was.

m[m]:Tell us a little bit about how the Iris Light label first came about?
Adam:I began Iris Light in 1996. I'd been running a mail order service for three years and got to know several label owners over those years. Justin Mitchell of Cold Spring mentioned Steve at Dirter was looking for a label to release an album he'd written as Band Of Pain. I knew Steve already so I contacted him, listened to the album and went for it! After that the label released music by Szeki Kurva (digital hardcore w/ Hungarian folk music!), Aube, Maeror Tri, Blue and Hoodlum Priest amongst others.

Adam:I released music I liked and tried not to stay in one camp. I don't just like Dark ambient or noise and I wanted the label to reflect my taste across electronic music.

Adam:The label also diversified into other media. We did a DVD of short films called Critical Mass with Threshold Studios, the Totality G2V CDRom and live internet stream of the 1999 Solar Eclipse (the very first live internet stream of an Eclipse). And we had two sub-labels reLIGHT (for reissues) and [retinal scan] for Industrial tinged Rock music.

Adam:However, with the increased use of CDR's, distributors going to the wall (owing money) and / or putting other labels releases at higher priority than Iris Lights, magazines showing less and less interest in the labels releases and finally the tax man demanding an exorbitant amount of money it became prohibitive to carry on. In August 2007, after 2-3 years of enforced inactivity, I decided to shut the doors.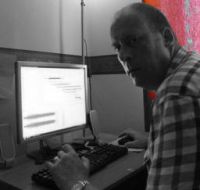 m[m]:You've recently re-launched the label, tell us a little why you decided to this? And what have you got planned release wise for the next few months?
Adam:The label was something I enjoyed doing. It wasn't a job, it was a vocation. I've been involved with "sound" since 1989 from working in a recording studio, to recording sound on TV programs and Films, writing music and releasing music. When the label closed it left a hole.
I began writing my own music again and was fortunate to release it over the past 6 years. However I like releasing other artists music. The idea began to ferment about re-starting the label to showcase Aube's long deleted releases last year and then I discovered CDR's, Mini discs and DAT tapes of unreleased and rare music Akifumi had sent to me years ago. I decided to make these releases available.

m[m]:You mention you make sound yourself- what can of thing do you do? And could give us links to some of your work?
Adam:I record under them names irislight, Ferrum Astrum and Generic. The music is industrial / dark ambient. I use found sound, foley tracks and sound effects as source materials and then take micro-second samples from them to create the foundations of a track.
Adam:As irislight I have a 55 minute single track album coming out on Anodize in January entitled "Primordial Soleus Beam. As Generic I have released 5 albums (2 CD, 1 CDR and 2 Download) all are available digitally at: http://irislight.bandcamp.com as well as 2 freely downloadable EP's on Electronik Musik ("Distress Call" (https://archive.org/details/DistressCallem084) and "Exit Sanction Resolve" https://archive.org/details/ExitSanctionResolveem086). Distress Call was, the last time I looked, still the second most popular release the label has ever had.
As Ferrum Astrum I am yet to release anything, although I do have one album ready to release.
m[m]: Your first release on the re-launched label was a digital reissue of Aube's 'Stared Gleam'- what made you chose this title?
Adam:Stared Gleam was the first release Akifumi did for Iris Light, it's a beautiful album and, I think, was the first one he did that mixed ambience and noise together. It seemed fitting to start there.
m[m]:Some of the labels most known & popular releases are from Aube- sadly this great Japanese noise/ambient legend passed away in September 2013. Could you tell us a bit about how you first came into contact with Aube, and how the releases came about?
Adam:Oddly, it was Justin Mitchell (again!) who put me in contact with Aube, he had Akifumi's fax number so I sent a fax, he replied, I sent him the releases we'd done (all two of them!) and he replied with a wealth of material! As we communicated we decided on an album that mixed both his styles.
Adam:The more we communicated the more ideas got thrown around, consequently the double album of collected compilation appearances and the re-issues.
Adam: We also did the John Peel Meltdown on Japanoise, which was fantastic.
m[m]:Did you ever get to meet Aube in person, and if so what was your impression of him?Adam:I did meet Akifumi in person, when we did John Peels Japanese Noise Meltdown. He was a quiet man who smoked incessantly! He didn't speak English, so we had to through an interpreter, but we got on very well.

m[m]:Please select five (or so ) of your favourite Aube releases (on Iris Light or other wise), and explain why?Adam:Metal De Metal it is a beautiful noise. Akifumi was gentle in his crafting of
noise/ambience.
Aqua-syndrome Water was a good sound source, and he sculpted it perfectly
on this album.
Embers for a man who smoked like a chimney I'm amazed he didn't create this album sooner than he did!
Pages From The Book Gorgeous album, on a label run by two great brothers, and fantastic use of a sacred book, that I think does the tome justice!
Stared Gleam This is album will always be in a top 5 releases list. It's just stunning, hypnotic and holds so many memories for me.
Comet I wish we'd come up with this idea, when I got the flyer for this albums release I was jealous it wasn't coming out on Iris Light.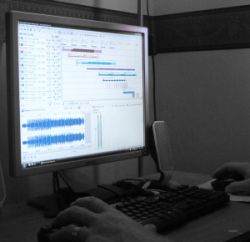 m[m]:Are you going to purely go down the digital route with new releases on the label? And if so why?
Adam:At the moment the label will remain digital. However, I do have plans to finally release the 4 reissues that we never finished. Flush and Flare came out, Fling and Float did not. The plan is to do a boxset.
Adam:I have unearthed the artwork Mac disk for the two that didn't, and have hunted out the graphic designer who put the first two together!
m[m]:What are the source materials used on Fling & Float? And what are they like sound-wise?
Adam:Fling uses Steel wire, Float uses Voltage Control Oscillators. Sound-wise…patience :o)'
m[m]:Are there any other Aube titles you'd like to reissue, or like to see get reissued? Adam:We are going to be doing the three titles Aube did using the human body, and we will also be putting out the unreleased Sian album he recorded for Iris Light.

m[m]: Iris Light originally existed between 1996 & 2004- please select ten of your favourite release from the labels 30 or so releases & explain why they are?
Adam:Band Of Pain -You're Miss Fortune
The debut for the label, and I think Band Of Pains' best release. I am biased though!
Aube-Stared Gleam
The perfect blend of noise and ambience.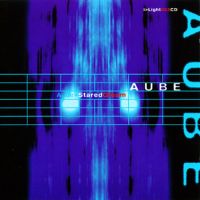 Blue-Nightwork
This album was a darker path than Blue's previous releases, and I think it better because of this route. After this came "Corrosion" which was dark, but with a tinge of big beat. Corrosion would've been called Dark Disnee but Disney wouldn't let us use the name.
Hoodlum Priest -S/T
Hoodlum Priest was introduced to me via an actor I worked with, Pete Lee Wilson. Hoodlum and Pete had done a video – "Pete and Deadly" (which is the ultimate surf movie!). Hoodlum sent this over and it blew me away. It is so much better than the debut.
Ashfelt -Unziplog 7"
The best song Ashfelt ever did! We released it as a one-sided clear vinyl single in a cardboard mailer with a sticker. It was also the only vinyl release the label ever did.
Fire Escape-Abandon Head
Jonny from MBM's solo project. Originally we tried to get the lyric sheet done in Braille, but the Society for the Blind informed us the sheet would need to be a rather large book to accommodate the words.
Jonny proved himself a superb songsmith on this album with a wicked sense of humour. MBM's Subliminal Sandwich had just been released, this album is ten times better than it!

Crackletone-Journey To The Sea Of Sparks
This was incidental music from an episode of the TV show Taggart. Scottish TV and their legal team thought I wanted to license the theme tune! They couldn't understand that I wanted this instead. It took over a year of legal wranglings and a change in Crackletones' management before we got anywhere.
Crackletone was Aberfelyds' producer, Jim Sutherland.
Disinformation- Sense, Data and Perception
I met Joe at the Critical Mass launch in Nottingham. We got very nicely drunk together. And then a week later a CD turned up, and it was excellent. It's better than the R&D releases on Touch!
Sykes -I Witness
I had to release this. Martin Stovey from Elixir called me and asked if I'd be interested in a project he'd written under the name Sykes. He didn't know my surname was Sykes and I thought he was taking the piss! When I got the demo from him it was some of the most enjoyable lounge-style electronica I'd ever heard. It had to be released by Iris Light.

Penumbra -Skandinavien
Penumbra is one half of Zoviet France. This is huge monolithic ambience with beats I think encapsulated the label perfectly.
Sonic Subjunkies-Molotov Lounge
DHR turned this down as there weren't enough lyrics. But neither the project nor the album were trying to be Atari Teenage Riot. I think this album is far more impressive than anything DHR or ATR did. We did a Mary Anne Hobbs DJ Set and there was a Peel Session in the offing. It was the first and only album from Iris Light to get listed in any of John Peels Festive 50's!

m[m]:How do you think the noise/experimental scene has changed since you first started Iris Light? And are there any more modern noise/experimental projects you enjoy?
Adam:The scene seems to be lot more fragmented. There are a lot more labels putting out lot of small runs of releases physically and a prevelance of Netlabels (which I have now joined!). I have to say though very few labels seem to release a high calibre of music – for example Cold Spring, Dirter, Lumberton, Anodize, Touch, Autarkeia and Ant-Zen keep the quality at high standard.
Adam:As for more modern projects, Tunnels Of Ah's debut is stunning and The [Law-Rah] Collective "Field Of View" are current favourites. And I do like Joachim Nordwall and Mika Vainos album "Monstrance".

m[m]: The labels first release was 'You're Miss Fortune' from underrated Uk dark ambient project Band Of Pain- any thoughts about reissuing this?
Adam:I believe Steve has already, and in his words, almost done this on the Band Of Pain compilation "Now and Forever".
Thanks to Adam for his time & efforts with the interview. Iris Light's bandcamp can be found here ,where you can download the three recent Aube reissues
Roger Batty