Blacked Symphonic Horror [2013-12-16]

Carach Angren are one of the more interesting & rewarding Symphonic black metal project to appear in the recent years. The Dutch three piece started in 2003, and so far have released three albums: 2008's Lammendam, 2010's Death Came Through a Phantom Ship, & 2012's Where the Corpses Sink Forever – the first two albums ghost themed concept albums, and the last album saw them expand out into ghost & horror fed story telling based around World War I & II, and the Vietnam War.
Their sound mixers together symphonic textures with memorable yet dramatic black metal, with elements of horror metal,horror fed prog rock, and darkly theatrical or musical like hints. The project kindly agreed to give M[m] a email interview, and the questions were answered by Ardek (keyboards, arrangements, backing vocals, Orchestra) & Seregor (vocals & guitar

m[m]: Seemingly your first project together was Death/ Black Metal band Vaultage. Tell us a little bit about how this project came to it's end, and how Carach Angren came about? Ardek During the existence of Vaultage, Seregor and I discovered our appreciation for Horror Movies and Music and would get together to create some new black metal tunes. So we started CA as a project. Once Vaultage stopped we immediately built CA out to a full blown band. Namtar was already part of it to at that point. Vaultage stopped because somehow we felt it was too hard to continue the way we were working I think. We were all enthusiastic but maybe our ideas were too different from each other.

m[m]: The bands name means "Iron Jaws" in Sindarin, an Elvish language from J.R.R. Tolkien's Middle Earth. What made you chose this name & why did you decided to use such a obscure language for the name? Ardek Once we got together we started thinking about the bandname. Seregor told Namtar and me that he had some suggestions literary laying in a drawer in his house from the time he had to think of black metal names for his first band. He presented 'Carach Angren' as a name and we instantly liked it because of the way it is pronounced. This was in fact the main reason to chose this name!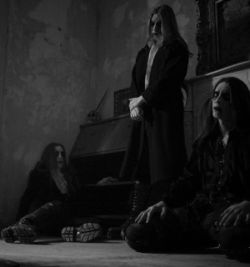 m[m]: Your first two albums 2008's Lammendam & 2010's Death Came Through a Phantom Ship are ghost story based concept albums. Lammendam tells of a cheating wife who is murder by her husband, and then returns as a ghost. And Death Came Through a Phantom Ship is about a ships encounters with a ghost ship, and the ghost ships back story. What attracts you to ghost stories?,
Ardek We are fascinated in different ways by the concept of Ghost and horror stories and lately we have found ourselves shifting more and more into the general horror spectrum. That doesn't mean we will leave the subject of ghosts but we feel there is more to explore. The core of Carach Angren is to tell dark brutal horror stories through a sonic/ musical journey so that is what we will be doing.

m[m]: can you tell us a little bit about the concept, writing & sonic execution of each of your first two albums? Seregor 'Lammendam' was always a very personal ghost-story to me. It's about a haunted place a few miles from where I live. For some centuries ago there used to be a farmstead that looked like a castle. The moat is still visible in the middle of the forest. There used to live a beautiful daughter who seemed to have a relation with 2 different men. She saw the German son during the day and the Dutch farmer's son during evening times, because she simply could not choose who she loved the most. Both men didn't knew about each other. Then, on one night, the castle burned down to the ground and the mistress died within it. No one knew how it happened. Since that day her ghost can still be seen wandering the fields. French farmers came here to work on our fields because of the war. They saw a spectral lady hovering along the edge of the forest.. calling her; La Madame Blanche. The white lady. The Dutch people of the village turned 'La Madame Blanche' into 'De Lammendam'

Seregor 'Death came through a phantom ship' is powered by a much more famous legend; 'The flying Dutchman' About Captain Van Der Decken who is doomed to sail the oceans for all eternity. We just took the best parts and wrote the story with a Carach twist. So you see? Both dramatic stories where people/objects become haunted. Only the environment changed more or less. We have our way of writing. Ardek mostly comes up with a whole piece of music. Here I start to compose my guitar riffs on them. This way we keep writing and sending it back to each other. When there's a clear musical structure, Namtar starts to compose his final drums underneath all that. This way we pretty much write all our stuff!. When the entire writing process is done we go to our great friend in the 'Tidalwave studio' Patrick Damiani. He's our sound sorcerer when it comes to the recordings.
m[m]: You say your fans of horror movies- are there any classic horror movies you'd like to re-sound track?
Seregor Hehe Not particularity. I think to me the movies already exist with their music how they are. But yes! it would be great to have our music in some good horror movie in the future!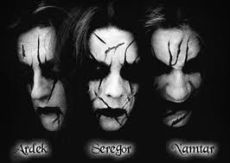 m[m]: Your third album 2012's Where the Corpses Sink Forever was some what of a departure from the ghost concept theme, and instead it's an album featuring a collection of war themed horror tales put into song form. What made you decided to change concept tact & what in particular intrigued you about war in genreal? Ardek As I mentioned before, we feel we should always develop and move on into new terrain because else we would keep repeating ourselves which in my opinion would not be such a good idea. The ghost concept is still a very important part of this story, maybe you want to dive into it more to find out but indeed we allowed ourselves to explore the personal horror surrounding war situations and that is what we did on our latest album.
m[m]: Do you write together as a band, or do you each develop ideas/ tracks on your own. Or is there only one key song writer? Ardek Usually I start composing classical/ orchestral ideas at home combined with basic computer drum tracks. The next step is to send it to Seregor and Namtar so that they are able to add their ideas. Meanwhile Seregor already thinks of the conceptual storyline so we develop both lyrical ideas and music at the same time. In the end we start working more and more together as the ideas reach their final stage.
m[m]: When people try & describe your sound they often say it's a mixture of Cradle Of Filth & Dimmu Borgir, but I can hear other influences in your sound such as King Diamond, & Italian-Slovenian experimental/ prog rock collective Devil Doll. Are you a fan of either of these projects? And what do you sonically see as your influences? Ardek When we were younger we used to listen to CoF and Dimmu. King Diamond is a bit before 'our time' but I myself really appreciate it too. We tend to get influenced a lot by horror stories, movies, classical music and as a matter of fact certain death metal bands more than black metal bands.
m[m]: Tell us a little bit about the recent reissues of 2008's Lammendam & 2010's Death Came Through a Phantom Ship- how do they vary from the original releases & how much input did to you have to any redesign/ extra elements? Ardek We are very excited about the re-releases and glad that we finally got the opportunity by Season of Mist to do this. We have put a lot of energy into re-designing and presenting them that is why they come in many different forms (CD's/ LP's). Erik from Negakinu Photography did an amazing job again in adjusting the artworks and overall design of the pieces. Furthermore we decided to add some bonus tracks; Three songs from our second EP 'Ethereal Veiled Existence' and three re-recorded demo songs.

m[m]: Please list 10 of your favorite horror movies, horror books or horror stories & explain why you enjoy them?( a mix of books, movies, stories is fine)
Seregor Well, that keeps changing. Nowadays I'm more into movies so here's a quick list;
Insidious
Halloween
The Dark Knight (The Jokers act)
The Evil Dead (also remake)
Hellraiser
The Blair Witch project
Rec 1+2
The Mist
Paranormal Activity
Mirrors
These are just the type of movies with the right ingredients for my taste. They quite inspire me when it comes to writing concepts. I always liked Halloween. They're not all good movies but the character Michael Myers always was a strong symbol to me. I have a mask collection myself. When it comes to good horror today I like 'Insidious' a lot! Part 2 just came out and for me it's damn fascinating how they describe this ghostly dimension (The further) and the parasites (demons/ghost) who try to get back into our world.. to kill. I could think of many more movies that have something inspiring.
m[m]: Could you tell us a little bit about what you do for live shows? And do you have a lot of theatrical elements in play?
Seregor For live shows we make sure we have the right outfits and equipment/instruments. Before we go on tour we rehearse our show and the theatrical elements come out pretty naturally during the live shows. We use corpsepaint and we make sure of many movements and facial expressions. For me personally it's not just playing an instrument. It's becoming one with this theatrical thing. And expressing emotions in theatrical ways have become an essential part of Carach Angren.

m[m]: What's next for the band, and have your started writing your next album yet? Ardek This year we did a lot of touring (EU/ Japan) so right now we are focussing on writing our next album. It is really going well and I can't wait to finish and present this next horror story. It will be very very very dark this time and there is still a lot of work to be done but we'll promise you that this one will be a horrific shocker.

m[m]: Have you got a concept or title for the new album yet? And can you tell us anything else about it? And when do you hope to put it out?
Seregor Yes! We have a new concept! It's strong, shocking and absolutely horrible!! It will maybe come out somewhere in the end of next year (not sure about that). I can't say anything! That's would decrease the power of the concept! Hmmm.. One thing …
A fairytale

Thanks to Ardek & Seregor for their time 'n' efforts with the interview. Both Lammendam & Death Came Through a Phantom Ship have recently been reissued on Season of Mist.
Roger Batty