The Joy That Never Ends [2013-11-25]Dutch born, but now New York City based Jozef van Wissem is one of the most respected & known modern exponents of the lute. Over the last five or so years he has released a series of albums on the respected mixed genre/ experimental US label Important records, and each release has seen him playing this most ancient of instruments in a highly skilled manner to create enchanting pieces of music which embraces both modern & time-less melodies. Jozef kindly agreed to give M[m] a email interview, discussing his career thus far & up-coming soundtrack work, etc.

m[m]:What was your first introduction to the sound of the Lute?. And is there any one piece of Music or album that made you want start making your own music? Jozef My guitar teacher had a lute which fascinated me, I started to learn classical guitar when I was 11. She made me play lute pieces on classical guitar. The book I learnt the music from was called ' music from shakespeare's time" . I really liked the tune' sick, sick and very sick,' which I later put under John Hurt's role of Marlowe ( Shakespeare) in ' Only Lovers Left Alive". The piece that made me want to start composing my own music was 'Dark Is The Night' by blind Willie Johnson, as played by Ry Cooder on his first album. That piece would later show up in Paris, Texas, by Wim Wenders. To me the slide guitar in there sounds a lot like Neil Young's soundtrack in Dead Man.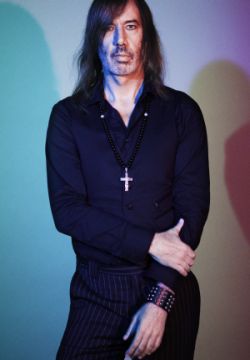 m[m]:Iíve always felt youíve managed to often bring contemporary & dramatic melodies into your work, is this something you do deliberately or does it just happen natural?Jozef It's more like channelling. I have to open myself up to the melodies which are floating around me. They come natural but not all the time. but they are there already. I have to be in a state of total concentration and nothingness in order to be able to receive those melodies.

m[m]:Tell us a little bit about how you go about composing tracks?
Jozef I compose in mirror images, in palindromes. So when I find a melody I play it backwards at the end. I compose layers of mirrored lute melodies that way. I also work with low end feedback coming from the lute in a small room through subwoofers, more like heavy metal. It's more like architecture because it depends mostly on the sound of the room.
m[m]:Do you purely compose your tracks on the Lute?Jozef No, I also compose for voice, on electric guitar, electronics, drum computer. I use field recordings too.
m[m]:You mention that composing with the lute is much like architecture because it depends mostly on the sound of the room. Tell us a little bit about how you going about selecting where you record tracks? Jozef That is more a live situation. See I am interested in the trance of repeating the same chords for an elongated period of time in a space . The only difference is the room. Itís a dialogue between the status quo of mirror imaged lute minimalism and the diversity of the different buildings I perform in, enhanced by a p.a. system. I record mostly at home.

m[m]:What have been some of your favourite locations to record in? Jozef I would say at home in Brooklyn.
m[m]:How many Lutes do you now own & do you have a favourite?Jozef I have two 10 course renaissance lutes and three baroque lutes so 5 in total :, one 11 course baroque lute, one 13 course swan neck lute and one 14 course baroque lute. the 14 course is all black. They are all build by one lute maker, Michel Schreiner in Toronto. It took years to convince him to make a black lute for me. He finally agreed after seeing a picture of a historical ebonised lute. My preference depends on my mood but I must say the bigger lutes are easier to play in concert because I walk around with them in the audience, that feels better.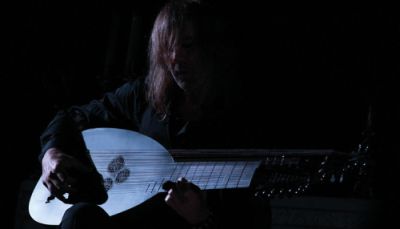 m[m]:Tell us a little bit about why you selected Michel Schreiner to be the only person to make your lutes?Jozef He had a connection to my teacher Pat OíBrien and I was introduced by him. Pat was taught guitar by Reverend Gary Davis. I am deeply proud of this lineage.
m[m]: Are lutes something one could buy in a regular music instrument shop, or do they have to be custom made? Jozef No you cant buy them in a regular store, at least not a good one. A lute is build according to the size of your hand and body. With the first lute the builder made because I played under spotlights in clubs the lacquer started to melt so with the second lute he had to use a different finish. Also he builds the neck so its arched so I can play slide.

m[m]:In 2009 you sighed to Important records, and have gone on to release five albums with the label. How did it come about you signing to them? Jozef John from Important came to a concert of mine at Swedenborg chapel in Boston, then I got signed after he saw the concert. His label catalogue is impressive. He sometimes comes to visit me in Brooklyn- the last time he did his survivalist friend was demonstrating how to make fire with just a piece of wood in his garage and a huge rat appeared.
m[m]:Over the years youíve done a few collaborations, but one of the more surprising unusual was with cult film director Jim Jarmusch. Could you tell us a little bit about how you first met & how you landed up collaborating together? Jozef We met on the streets of soho in New York and I asked him if he was interested in the lute. he said he was. We started sending each other music which each would add to and the return to each other. Later on we would record together, play live, rehearse and discuss music, art, literature, life. I told him a lot about lute history and repertoire too.
m[m]:One of the more bizarre & unlikely things you were connected with was scoring video game The Sims Medieval. How did this come about & would you like to do some more game scoring in the future? Jozef I was asked by the Sims people so they flew me over to San Francisco to record the lute and vocal pieces in their studio. I could score more games, I wouldn't mind, but Iíve never played a video game myself.
m[m]:How did you go about composing the soundtrack for the Sims game- did they describe what they wanted, or were you literal playing along to game footage? Jozef With the Sims game they only gave me instructions about the difficulty level of the piece. So I had a lot of freedom. I send them the pieces and then we recorded them at the Sims studio in San Francisco
m[m]:What are you working on next? Jozef Iím composed group of recordings for electric 12 string guitar and lute, with guests as well. Iím also working on a graphic novel with Jim Jarmusch & a singer. Also scoring two feature films, Partir to Live by my friend domingo who is in the band follakzoid, this will premiere at the All Tomorrow's Parties festival in Camber Sands. The other film is Red Right Return by George Manatos. in which I also have a small role. I was asked to score a crime film/action movie too, that's next.
m[m]:Can you tell us a bit more about the graphic novel you are work on, themes etc? Jozef "SUM: 40 tales from the afterlives" by David Eagleman is a combination of these 40 separated short-shorts (rarely more than two pages each) that portray what happens after you die. The portrayed afterlives reflect on peopleís fears, desires and ways of existing life only. It explores the temporality of time and space, pushing the reader to imagine modes of existence beyond the simple chronologies humans are taught to embrace.
m[m]:What is this project about? Jozef "Soundtrack & Graphic Novel" project contains a volume of themed songs to each of every 40 stories, and a series of 40 graphic comics based on the narration of 40 stories and the mood of the music produced. The Soundtrack consists of 40 different theme songs by 40 invited musicians or artists. While the Graphic Comics will be also produced by 40 industrial comics illustrators in reference of the mood of music produced and the narration from each of 40 stories from SUM
m[m]:You mentioned a singer connected with the graphic novel- who is it & I take it your also doing a soundtrack for the graphic novel too? Jozef Can't say yet

m[m]:Can you tell us a bit more about the two films you are soundtracking? And will these soundtrack get released? Jozef Both soundtracks will be released yes. 'Red Right Return' is a film by George Manatos, my friend and neighbour. It's got Leo Fitzpatrick( Kids, The Wire & Kill Point) and Chris Lankenau. I love George's work. I also did the soundtrack for 'Partier to live' by Domingo Garcia- Huidobro. He plays in Follakzoid, a krautrock/ kosmische trance/ bleak psych-rock band that's on Sacred Bones label. there's no dialogue, it's more of a supernatural film, sort of occult. I am premiering it at the ATP festival end of this month.
m[m]:What is your acting role in the film Red Right Return? And is this the first time youíve done any acting? Jozef I play an ex junkie, itís a small role I wouldn't call it acting.

Thanks to Jozef for his time & efforts with the interview. His website can be found here, and his most recent release on Important ďNihil ObstatĒ is available direct here
Roger Batty