Erratic Positivity [2013-10-22]Polish jazz/ prog metal band Disperse blend the ethereal expanded consonance and existential bent of fusion with the precisely frenetic rhythmic structures of chunky guitar tones of technical metal. They debuted on the scene in 2010 with a more loungey and subdued record called "Journey Through The Hidden Gardens", and have now returned with a vast, sparkling emotional epic for their second album "Living Mirrors". Guitarist Jakub İytecki was gracious enough to do an email interview:

m[m]:You have cited Cynic and Devin Townsend as influences. What is it about this music that inspires you?
Jakub: Those bands are just one of many other names that inspire us. What is it about Devin and Cynic that's touching us? Their own musical language I guess, their independence in the art they're creating, those beautiful vibes.. It's hard to even describe it. There's just something.


m[m]:Your music is complex with many interlocking parts, and there are as many brief experiments of 1 to 2 minutes as full length songs on your latest album. It there any consistency in how you begin to compose a track? How are these complex constructions formed? Is music theory a part of the process?
Jakub Music theory is definitely not a part of the process mainly because we don't really know it. Everything is based on our ears. Well, about the composing process, most of the songs were created just right after our first album was released.
We had the backbone of the songs, but the thing we were changing a lot was the final arrangement. Preparing some cool keyboard sounds, making good sounding loops and beats, arranging the guitar parts, etc. That took us the most time to get it in the way we wanted.


m[m]:When you say that do not use music theory, and that you organize the music solely with your ears, does this also apply to the rhythms and time signatures?
How do you keep track of or talk about the odd meters in your music as a band? Do you ever write the ideas down in order to make them more legible? Other technical bands, for instance Meshuggah, have specific devices they use in order to keep track of their complex music, such as the 'revolving polymeter', in which different band members' parts may diverge into separate meters,
but always resolve after 16 beats. Do you have any such devices?
Jakub To be honest, no, but I believe those devices can be very helpful in really complex rhythm patterns. In our riffs, there are usually no logical rhythm patterns. It's usually something complex and syncopated that you just have to remember. And yeah, that's pretty much the answer for the first question : no music theory involved, no logic involved haha!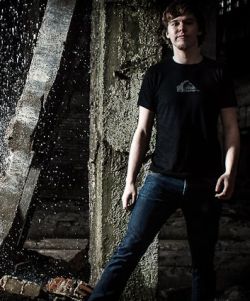 m[m]:I hear as much Allan Holdsworth on your latest album as I do 'metal'.
What are the musical backgrounds of the members of the band?
Jakub For me, Allan Holdsworth is just beyond anything. I was listening to him a lot when I was a bit younger. Right now, I'm kinda getting more into some brutal music I think. Maciek, the drummer is basically listening to everything haha!
He likes to find the music which no one heard about, the music that is original and weird which is pretty awesome. Wojtek is kinda vintage guy haha! He likes old music, old instruments, and old productions. He's really into pop music -him and Rafaù ( keyboardist) as well.

m[m]:What do you think technicality and/or complexity contributes to music?
Jakub It's just another way of expression. It allows you to say more. If you think that your visions could be more expressed through 10 millions notes per second,
then go for it! There's also another cool thing about technicality. It requires being focused, prepared and disciplined. I'm not super disciplined kind of guy, but I love when we have to warm up before rehearsals and practice a lot before we nail all the parts as we should. Then, when finally we're getting it right, we know that all of the effort and energy we put into practicing was worth doing.
m[m]:Your music strikes an unusual contrast by coupling simple legato vocal lines with jagged, asymmetrical polyrhythmic accompaniment. What are your thoughts on this combination?
Jakub We didn't really analyze it. Everything just happened naturally!
m[m]:Your music strikes me as quite existential and spiritual in nature, and has an incredibly empowering positive energy behind it. Do you care to elaborate upon your spiritual beliefs or worldview?
Jakub Thank you for noticing that! Yes, nature has a huge impact on our music.
I personally always try to find the inspiration in Mother Earth's language.
We just want to expand our interiors, constantly learn about ourselves and what's the most important for us during this life. I think that Disperse music is a great manifestation of that!

m[m]:What is the goal or intent of the Disperse project?
Jakub Just making music, spreading some positive vibes to others, inspire and getting the inspiration back, and with a bit of luck - travel as much as it's possible.
m[m]:"Enigma of Abode" is one of the greatest progressive metal songs I have heard in recent years. Is there a meaning or thought process behind the song?
Jakub Oh thank you! Meaningfully, it's not that much different from the other songs. It's just about exploring, finding, questioning, falling, raising and finally, becoming the child again. :)
m[m]:I must commend the work you put into the final arrangement, the album sounds like a labour of love. You do a particularly good job of integrating electronic elements into your music, in the form of ambiences, guitar processing and the occasional electronic beat. Who in the band creates these sounds, and do they have any entirely electronic projects? How is this aspect of your sound handled live?
Jakub I create them. Those electronic parts require a lot of work and I usually tweaking them for different recording session/ project.
We just use a laptop during live shows and Maciek, our drummer play those samples!
m[m]:Your latest album sounds to me like a step in a more complex, nonlinear and unpredictable direction compared to your first, which was more straightforward and atmospheric. What lies in the future for Disperse?
Jakub We have no idea hehe! I don't really know what's gonna come out from my head and in addition to that, we really want to write music together as a band now so it makes everything even more mysterious and unpredictable.
Anyways, from my point of view, I know it's gonna be heavier and probably even more complex, that's just the only thing I feel about it now.
m[m]:Who do you dream of collaborating with / touring with?
Jakub Oh, there is so many bands we'd like to tour with... Dream Theater, Periphery, Opeth, Cynic, Born of Osiris, Veil of Maya...Pretty much a lot of Sumerian bands, because I personally love the music and vibes they share through their art and I'm sure we'd have a great time with any of those bands!
As far as collaboration thing goes, I'd love to collaborate with Brian Trifon from Trifonic. He had so much impact on
every of those especially ambient sections on Living Mirrors. Having him as a producer for example, would be just epic!

m[m]:Where did the "Living Mirrors" artwork come from?
Jakub Our friend Les³aw Miksza draw the cover art.
He's an incredible artist who lives where our previous bass player lived - in a small city called Bi³goraj in easter part of Poland.Marcin Kicyk, the previous bass player, took a big part in creating the artwork too.
I mean he didn't draw it, but a lot of his ideas are now in the artwork. We're really grateful for that!
m[m]:What is your opinion of psychedelic substances like DMT, LSD and Psilocybin, or drugs in general?
Jakub Woah! I'd love to try DMT!
I never tried any of psychedelic drugs, but I'd really love to do it one day! If it comes to other drugs, tried weed from time to time but it doesn't work for me usually. Especially when there's a lot of people around haha! So as you can see, there's nothing I can say from my experience. But yeah, I'm really into Terrence McKenna teachings and everything he says about psychedelic drugs is so interesting. Makes me want to sit surrounded by nature during a starry night and try that shit haha! I'll definitely do that sooner or later

m[m]:I'm glad you mentioned Terrence McKenna.
His worldview has been very comforting and influential to me. What are a couple of other thinkers you would say have been influential to you,
or books you read that you thought were important?
Jakub Yeah!! Terrence is so amazing!
There's that guy called Bashar, he's also seriously interesting. He calls himself an incarnation of a higher dimensional soul that just took a random body of a random guy here in Earth.
It sounds funny until you listen to that guy. An incredibly intelligent creature. Also scientists like Greg Braden, John Hagelin and of course, incredibly deep thinker - Ben Stewart. It's funny because when you listen to all of those guys - everything seems to be connected, but it just have a different form of words. If it comes to books, an autobiography of Paramahansa Yogananda is great.
Jakub I'm reading more kind of psychological literature right now like ''Interpersonal Intelligence'' by Dr. Mel Silberman and Dr. Freda Hansburg and the awesome one ''The Inner Game Of Tennis'' by Timothy Gallwey. That last one is especially interesting because it's about reaching the present moment from psychological point of view and it says about great tips to get that state. Not to mention that the book was recommended by the god, John Petrucci himself haha!
Wow, I'll have to get to reading some of those. Thanks again to Jakub İytecki and Disperse for their enthusiastic attitude and thorough answers whilst doing this interview, and for the refreshing inventiveness and positivity they bring to the music world. The band's latest spiritual jazz metal epic, "Living Mirrors", is now available from Season of Mist.
Josh Landry