Apocalyptic Genre Mixing- A Allerseelen Primer [2013-09-20]Allerseelen are one of the true innovators & constantly creative forces existing with- in the European experimental & industrial scene. Each new album is a careful made & creative sonic statement that mixers together elements of: industrial, electronica, neo-folk, Metal, traditional Germanic folk, world music influences, avant garde pop, and all manner of other musical genres.

The project has been in existence since the late 1980's with Austrian born Gerhard Hallstatt being the main songwriter/ singer for the project. The following primer is by no means a full, or complete review /listing of all their work- but it covers pretty much all of their main full length releases, & gives an interesting and informative look at one of the true innovative, challenging & rewarding bands in existence with-in today's European experimental music scene.


Archaische Arbeiten
Archaishe Arbeiten (Archaic work) is a double vinyl reissue of early works dating from 1989- it was remastered & beautiful repackaged in 2003 by the Ahnstern label. This was the first collection of early cassette works from 1989 to appear on vinyl, and it certainly sounds a lot more rudimentary and avant-grade than later disks in this series. So I'm guessing these are the earliest Allerseelen recordings ever released. All of the tracks creep 'n' crawl along with a mix of bass tones, lo-fi electronics, organic percussion and various stringed instruments. The tracks are best described as doomy improvising, meets slowed industrial Goth music and bleak ambience. All the tracks do have a tendency to wonder along with little focus or theme, through some do manage to paint quite an effectively lo-fi & grim ritual atmosphere.
2 out of 5


Heimliche Welt
Heimliche Welt (Secret world) is second of the double vinyl reissue by the Ahnstern label, and it appeared in 2004. It once again takes in early cassette only material from 1989, but the material here is lot more focused and listenable than the material on Archaishe Arbeiten. The double vinyl set offers up 16 untitled tracks that sound surprisingly un-dated and haunting- they utilize cassette recorders, kettle-drums, Violin and an Yamaha VSS 22o synth; also though not mentioned in the linear notes I can detect the odd traces of guitar and bass too. All the tracks except the last one on side four are vocal-less, and they are all best described as doomy and eerier repetitive synth atmosphere's with lo-fi electronic and organic percussion. The tracks fit perfectly the covers picture of black vines over ancient stone tomb or walls, as the collection as a whole brings to mind walks though over grown graveyards and half collapsed castles. Each track here is heavy with gloom, death and despair, but they are also very hypnotic and creepy too.
3 out of 5

Cruor
Cruor is the third double vinyl reissue on Ahnstern and it appeared in 2006. The reissue features some of the most haunting and beautiful artwork of all five double vinyl sets released by Ahnstern label ,with red & orange tinged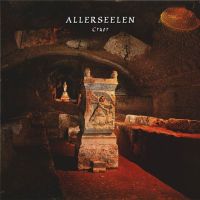 pictures taken from inside various Mithas temples around Europe. The material here is taken from the bands first & now out of print album from 1993, and also features one side of cassette material from 1989. The tracks like "Heimliche Welt" are once more vocal-less; but there's a real feeling of growing variation and mixing of different musical genres with-in most of the tracks featured here. There are new sonic elements too such as more marching like percussion, sampled Germanic horn playing, noise elements and guitar textures are added in. Cruor feels a lot more angry and bitter than the early work , though it still has an hell of a atmosphere when it wants to. This is truly a great early release, which is topped off with great artwork that you could easily frame.
3 out of 5
Stirb Und Werde
Stirb Und Werde is a CD album that appeared in 1999, and it takes material from over the ten year period between the years 1989 & 1999. The tracks move between: quite sophisticated, atmospheric ( though little dated) beat scapes that licked by orchestral/ string samples and synth melodies. Onto more crude and avant-grade tinged industrial ambient worlds, that are often jagged with bass guitar work or feed back elements. Though the tracks are taken from such a wide date range there are attempts to make this feel album like instead of a compilation of tracks- there's an air decayed splendour hanging through many of the early tracks as the orchestral/ string loop roll on wearily as the electronic textures are mixed in with them; and at times these bringing to mind a colder /more simplistic take of William Basinski work. As the album goes on there's a more pressing angered is presence taking shape as if there's real rage at the decaying past and the bleak future; as the tracks textures become a bit more noisy, twisted and dirty. There's also a greater sense of sonic dynamics with-in these tracks showing Gerhard moving towards the master sound manipulator and genre mixer he is today, as he mixers in surprising and quirky elements into many of the pieces here. The tracks also here often have a lot more conventional song structure to them, using vocal elements more regularly than on the early albums; also there are hints at the more melodic and pop like elements too that which are found later on in their career. Really Stirb Und Werde feels like the gateway between old and more modern Allerseeleen.
2 out of 5

Gotos=Kalanda
This album was original released in 1994 on cd, then later in 2005 in plush double vinyl form. Gotos=Kalanda is one of Allerseelen most dramatic, & at times strangely damned psychedelic records- it's also one of the most controversial albums of their career . As all of the lyrics for the album are based on a poem by Karl Maria Wiligut, controversial paganist, poet and 3rd Reich adviser of occult matters. The Poem pays tribute to 12 pagan months of the year, hence the original album featured 12 tracks, the vinyl version adds on another four unreleased tracks. The album moves from stern martial industrial tracks, which have tight & often coarse electro marching rhythms that cleverly yet strangely layered with sample rhythmic cut-ups & cold Germanic vocals. Onto grim, atmospheric & at times metallic guitar chugging textures over cold jack-knife electro rhythms that are underplayed by murky classic string samples & sleazed synth lines. Onto muffled medieval string saws 'n' jigs, which flit over beat lines that are often buried in noise sheens. Through to malevolent & brooding brass samples over dammed march rhythms & grimy slight out of focus bleak psychedelic hazes of samples, radio matter & barren drone. All told Gotos=Kalanda is another classic Allerseelen album, and yet more proof as to why they stand head & shoulders above any other European industrial or Martial industrial project.
4 out of 5
Sturmlieder
This album originally appeared back in 1996 in CD form, but it's most recently appeared in the 2004 as another plush double vinyl reissue on Ahstern . And as with the other vinly reissues we it featured a selection of new tracks recorded especially for it's release-. The three 'new' tracks took up the first side of vinyl and go from "Wir Tragen Ein Licht"(a tribute to Jhonn Balance who had just passed away at the time the tracks were recorded)- which was a rather dramatic meeting of jacked-up electro beats, string saw & spaghetti western guitar twang. The other four 'new' tracks fell between up-beat idustro-folk composition, and sort of sensual dark and lush beat making, which rather brought a slowed 'n' dusk like take on Princes work with The Revolution around the time of Purple Rain, Parade and Around The World In A Day albums. The tracks from the original Sturlieder album return for the other three sides of vinyl, and these are mostly best described as a noisy & droning meeting of roaring Goth rock guitar, wondering dark bass lines, cold mechanical beats, dark looped sampled string textures, black synth loops, and stern Germanic vocals. A few tracks dart into darkly stripped pop electroncia, and more dramatic /stern cinmatic atmospheres. On the whole it's an effective enough slice of droning industrial meets electronica; but to me it often seemed to lack that distinct Allerseelen flavour and vision, it also feels rather dated too. So ultimately it just feels like another stepping stone, rather than a consistent and inventive Allerseelen album.
3 out of 5

Neuschwabenland
Neuschwabenland was originally releasehed in 2000 in CD form. The album has a really slick, dramatic and quite cold feel to it, just like the excellent icy blue artwork of the albums cover. It feels like an album in the true sense of the word- the atmosphere is kept focused and centred on this cold dramatic vibe, with the albums sound utilizing string and orchestral samples, sound textures, stern electronics and male Germanic vocals that are whisper, layered and coldly spoken. Yet there is also a harmonic and tuneful side running through many of the songs with elements of funk, synth pop, pop rock, buoyant folk, playful world music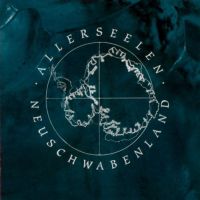 surfacing too- it's this interesting contrast between the colder and more tuneful elements that makes this such a compelling and classic album. It showed Gerhard really coming into his own as a sonic artists/producer, with the layering and mixing of each and every song alive with sonic detail & textures; such as shifting ice like sounds, grating wind elements, electronic whistlers/ebbs, vocal layers and instrumental textures. The songs have been worked on long and hard to be mutil layered, genre bending and atmospheric slices of wonder that all fit perfectly into the concept and feel like a true album based project. This is the first truly great Allerseeleen album, which works on so many different levels, bringing together so many different sonic flavours & emotions.
4 out 5

Neuschwabenland (2009 double vinyl reissue)
This is the most recent double vinyl reissue from Ahstern label, and it makes a great album even better(see my above review for a full overview of Neuschwabenland). The vinyl version adds in four great unreleased tracks that are great slices of creative martial Folk Pop song writing, which feature the usual meshing 'n' editing together of creative instrumental textures and sound elements with memorable tunes, and atmospheric flavour and depth. The album also has being fully remixed which makes each element of each song more clear, sharper and divined in their own right.
5 out of 5

Venezia
Where "Neuschwabenland" was very cold and blue in it's feel, 2001's "Venezia" is more vibrate red & fiery with it's use of nice 'n' raw guitar sound, jazzy and world music touches, all tied to the familiar yet even more textured and detailed Allerseelen electronic and organic rhythms. Through like "Neuschwabenland" there is still a water based theme running through this releases artwork, with the use of moody pictures taken in Venice , and oil on water colleges inside the plush CD booklet. The sound here has become even more complex textural, with different organic/older forms moving against more technology based elements and sound manipulation, but it never sounds awkward or wrong. Through-out the album Gerhard is really performing an amazing balancing act with the albums production, so every element and sound is heard and placed perfectly. The string and orchestra samples return once more, but they take more of a back ground or counterbalance feel, and in some tracks there not present at all. The guitar takes a bigger role here then ever before & is used for texture, atmospheric folds, and as a main raw sound instrument. Once more there's all manner of genres mixed into the 'Allerseelen' sound- we have elements of: jazz, world music, pop, folk, classical music, soundtrack sweeps and dramatics- the list goes on. This is another classic Allerseeleen album, and it really an ideal enter point into the wonderful and total distinctive sonic world of this project.
4 out of 5

Abenteuerliches Herz
After to the very brief intro 2002's Abenteuerliches Her (Adventurous Heart) opens up all guns blazing with the track "Feuersalamander" with it's noisy chugging surf meets spaghetti western electrified guitar element, sampled dramatic darkened string swoons, chanted vocals, bounding percussion and layers of noise. From then on the album rarely lets you catch your breath with it's noisy mix of guitars, beats, sampled elements etc. But that's not to say it's not with out it's more mellow moments like the track "Nest" with it's melodic yet stern acoustic strum, shimmering distorted guitar belly, bird song field recordings & organic percussive elements.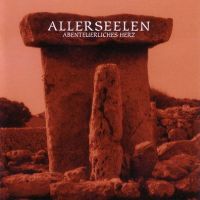 It just for the most part the album keeps you on your toes with its switch of pace & texture. Once again there's a whole new bunch of world music and other genre influences on display through out the album- we have Spanish flamenco tones running against electronica beats and funked bass lines. Jazzy trip-hop overrunning by bouncing techno throb, discordant almost black metal clean guitar tones running into 80's wondering bass lines, 80's expansive and melodic guitar tone, dark-hop beats meeting eastern turned tones before going up beat bassy and electro prodding with quite a post punk feel. At times the albums quite jerky and messy, but it's wonderfully with it. Abenteuerliches Her is real rollercoaster ride of an album- from start to finish your really don't know what to expect next.
4 out of 5

Flamme
2003's Flamme opens up quite grimly with "Sonne Golthi-Ade (Eltho)", and it's barren post punk guitar strum 'n' stern Germanic vocals. Then as a contrast we have another version of the same track direct after, and this is a sort of Austrian folk/ meets the latter day Residents/ meets electronica vibe; but there's still quite a grim undertone running through the track, as has most of the album. Once more with Flamme we're stylistic and genre wise jumping all over the place going from the stuck blues meets dark and sleazy string swoons and industrialized beats of "Kehrst Zurück Nicht Merhr", to Spanish guitar pop meets electro military beats of "Sturmlied" with guest vocals by Josef K ( ofVon Thronstahl). To the slow, sleazy, darkened and murky cabaret groove of "Alle Lust Will Ewigkeit", with it's doomy horn work, sinister violin saws, slow stomping beats and Germanic female vocals. Once more it's a consistent and varied album; though it often feels like a collection of tracks instead of a focused album, & also it has some quite unpleasant undertones running through many of the albums tracks, that at times feels a bit to oppressive for it's own good.
3 out of 5
Allerseelen/ Sangre Cavallum - Barco Do Vinho
2006's Barco do Vinho is rather a bizarre concept album with songs about boat driven wine production in Northern Portugal 100's of years ago. The album saw Allerseelen collaborating with Portuguese project Sangre Cavallum, and the album together brought together elements of Neo folk, industrial electronics, almost Resident's like avant-grade moments, and prog/soundtrack traces.
The album opened with four Allerseelen tracks , and these went from "Ó Coração Meu" which is a wonderful weird 'n' groovy mix of Residents like sampled horn stabs, accordion, and violin- all to make a strange bouncing mix of world music and industrial edged sounds. Onto the equreal impressive "Zauberblut", which mixes an edgy and slighty playful new wave feel, with chopping industrial air and folky sawing volin undertones.
Next there were four tracks from Sangre Cavallum, and they followed on with the atmosphere from the Allerseelen tracks, yet managed to carve out their own very distinctive sound which mixed together; neo folk, prog rock, a surreal almost Eurovision vibe , magic mushroom fairground tinged air, and soundtrack elements. Often some of the musical moments/ themes could easily have come from an 80's a horror or Gallio prog/ synth soundtrack by the likes of Goblin , with of course more than a little leaning towards odd folk mixed in with the often very strange Germanic vocals.
This was an really excellent collaboration where projects complement and enhance each others sounds to make a bizarre and fascinating concept album, and it original came in either standard Digipak form, or in a carved winebox version?!.
4 out of 5
Hallstatt 2007's Hallstatt saw Allerseelen dipping it's toes in electronic beat craft & organic percussion; with a mix of neo-folk/ traditional Germanic folk/world music influences, cinematics, krautrock, neo-classical, dark electroinca, inventive avant-garde pop touches that the likes of the Residents would be proud of & metallic elements that wander towards black metal.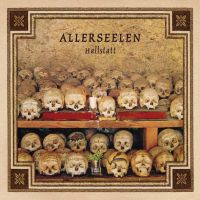 The album is named after and influence by the village of the same name in Upper Austrian, & the villages amazing collection of painted skulls, which illustrate the wonderful cd cover and package.
The album consisted of 13 tracks in all with a nice running time of 73 minutes. It took you through a myriad of musically landscapes and emotions, from playful and edgy, to dark and atmospheric, to war like and ominous.
It's a epic, magical, dark and atmospheric album- with each song bristling with sound invention and clever texturing and vivid atmospherics. For me this is the project most rewarding and replayable albums, and one of the great records of the 2000's.
5 out of 5
Rauhe Schale
Like it's murky & misty mountain -scape artwork, 2010's Rauhe Schale(rough shell) saw the band focus in more on a darker, grey & rough sonic feel, with at times an almost live feel running though the album.
Most of the albums sixteen tracks are a mixture of harsh electrionca, industrial textures & beats. With a stronger focus on guitar & bass textures too; and both these elements have very much a metallic/ or course rock setting to them. String & other sampled elements are still present, but they are often over-run by the loud guitar & bass elements.
On the whole the album is a lot more noisy & stark compared with the last few releases from the project, and as a result it often sounds rather one dimensional. Also a lot of the tracks rather lacked the clever & varied musical genre elements of their past work. For me the production was rather rough, noisy & dense though-out, making the whole thing come off as a bit bland/ shallow in places.
I can certainly appreciate what the band is trying to do here, and their attempts at trying something different can only be commended, but I'm afraid for me the whole thing sounded rather one dimensional & more that a little flat.
2 out of 5

The wonderful & classy vinyl reissues are still available direct from Ahnstern/ Steinklang industries website here, but the complete set the also comes with extras in a plush wooden hand made books here . Allerseelen facebook page can be found here & the bands soundloud page is here. Thanks to Gerhard Hallstatt for the use of pictures & of course his wonderful & distinct records too.

(This piece was originally published on M[m] back in early 2009- but sadly it got lost when we had a sever crash. The piece has now been up-dated, expanded & re-written)
Roger Batty