Blind-Sided [2013-09-03]Blame it on the heat, the South has been a breeding ground for dark heavy music as far back as I can remember. It's in this environment that Dead in the Dirt has been toiling since 2008. The perfect marriage of ultra-fast grindcore and the sludgiest of sludgey metal, DITD just released "The Blind Hole" on the always reliably heavy, Southern Lord Records. Vocalist , Blake Connelly kindly took time to answer some questions regarding DITD's politics and the new album.

m[m]: Let's start with a little history of the band. How did you all meet? How has the band evolved from it's inception to where we are today?
Blake We all met in high school. I didn't start the band until 2008. We all wanted to create a vegan straightedge band. The only evolution that has occurred is our sound has become much more focused and punishing.


m[m]: The band formed in 08' and is just releasing it's first full-length. Why so little output from the band over the years? Was that a conscious decision?
Blake We have been asked this before; we give a lot of thought to our releases, each one has a very specific theme and purging aspect to it. We have done multiple tours on our previous releases, and while we are on the road, that lengthens the writing time. We don't want to put out garbage, and we enjoy and are compelled to tour, so it will be quite awhile until we put out another release.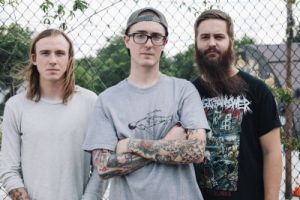 m[m]: Dead in the Dirt espouses veganism and drug free living. It seems like during the early/mid 2000's there was a real vacuum in xvx hc, which I'm sure was in no small way a reaction to the hyper-politicized 90's. However, it seems like there's been a resurgence over the past few years.
Blake Honestly, I haven't heard of too many vegan straightedge bands in recent years. I feel like there are quite a few more people claiming it on the internet, but they are taking from the heavily PC aspect of that movement, and they rarely come to shows. The few bands I have heard are not my cup of tea. Most of the time, a vegan straightedge just regurgitates whatever their predecessors said, and it comes out just as emotionless. I would rather listen to a band that gives a shit about what there saying, even if I disagree with it.

m[m]: How much does straightedge and animal rights factor into the band? Either individually or collectively, what brought Dead in the Dirt to the xvx perspective?
Blake Many people who have written reviews or write ups about us, really latch on to that aspect of our group. We are a vegan straightedge band. However, we all have different views and goals. It's important that people realize where we are coming from as individuals, but also realize it's not everything. We all have our own path, this happens to be ours.


m[m]: In terms of influence, what is your favorite era of sxe hc? Early Dischord? 88' Youth Crew? 90's Victory, New Age?
Blake We all have our favorites, but we can all agree on Unbroken, Trial, Chain of Strength to name a few. Any straightedge band that has logic and something to say.

m[m]: I noticed you sell "Euthanize People Not Pit Bulls" stickers through your website. Does the band have a contemptuous outlook towards humanity or do you guys try to keep it posi?
Blake I think its pretty difficult not have a contemptuous view of humanity, there is never a shortage of ugliness in this world, but it is important to work and see beauty in between. I think negativity can only take you so far, its important to realize what you're fighting and screaming for. I'd rather hear what someone is enthusiastic or excited about than how awful they think everything is. I don't need a reminder, but when it comes to music, you should be able to purge what you feel no matter what it is.

m[m]: Southern Lord has been producing some of the heaviest music for more than a decade now. How did you get involved with the label?
Blake We just got an email out of nowhere upon returning home from tour. We have worked hard since our initial affiliation with the label, and its only strengthened our working relationship.

m[m]: The new record, The Blind Hole, is a really powerful combination of sludgy metal influenced hc and hyper-paced grindcore. I especially detect a His Hero is Gone vibe going on. How did you approach the new album sonically? Through journey from the EPs to the LP, do you feel that your sound has become fully realized?
Blake We draw influences from all across the board, we approached this record like most, our only aim to create the most aggressive music we can. I think we are still pushing ourselves, and we are already thinking of ideas to put towards our next release.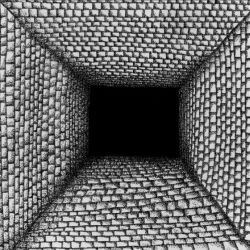 m[m]: The new record was produced by Andy Nelson of Weekend Nachos fame. How was the recording process been similar and different between the the EPs and the new album?
Blake We really enjoyed working with Andy on this record, we have grown close of the years. It was really simple and easy. He created an excellent environment to record, it was our first time recording away from home. He was also thoroughly familiar with our sound and live performance. We owe him a lot for his work on the album.

m[m]: Thematically the album is very dark and aggressive. Going into the new record, what were some of the issues/themes you wanted to convey? What is The Blind Hole?
Blake This is a pretty difficult question to answer. In the making of this record, we were pushing ourselves to create something that we had to dig for within ourselves. Many of the themes center around thing we experience in our everyday lives, things that humble us and show our vulnerability as people. We have no interest in writing songs that have no emotion or stance. The Blind Hole is mining term in which a drill goes dig into an unspecified depth without crossing the threshold. This title relates directly to the threshold of everything that makes up a person, and the fact that the depth within us and between is unknown. This is something that we all feel and fear.

m[m]: You finished a tour in May, are currently touring Texas, and have a European tour in the works. How has touring been? Any memorable moments that particularly come to mind?
Blake Each tour always has ups and downs. Luckily, we have experienced more ups, and we are excited about all our future plans. The most fulfilling thing is playing to new people and sharing some sort connection with them. That is huge part of what keeps us going.

m[m]: It seems like it's been a whirlwind year for the band. Looking forward, what would you like to accomplish that you may not have already with the band? Do you already have some ideas percolating for 2014 in terms of recording or places you'd like to tour?
Blake Right now, our main goal is to tour as much as possible and to as many new places as possible. We love experiencing different cultures, and connecting with people from all over. We are hoping to make it to Japan and Australia in 2014, but we will see. I'm sure we will begin writing for something new soon.


m[m]: Thanks for your time! Any final words?
Blake Thank you for asking thought provoking questions, and to anyone who may read this. It means the world to us.

Thanks again to Blake for taking some time to answer my questions.

Dead in the Dirt Discography:
The Blind Hole (2013) CD/LP - Southern Lord Records
Fear (2011) 7" - Southern Lord Records
Void (2010) CDEP - Self-Released
Hal Harmon