Odd Prophets [2013-08-02]Kuusumun Profeetta are a six piece project from Pori Finland. They create a very distinctive & original mixture of: classic rock, moody retro pop rock, jazz rock, 1970's theatrical rock, coral music, avant classical, and beyond. The bands lead singer & key song writer is Mika Rättö( who is also the lead singer in Finish kraut rock/ multi genre mixing legends Circle). Mika kindly agreed to give M[m] a email interview discussing the band in genreal & their most recent release Huutoja Hiljaisesta Huoneesta.

m[m]: What are some of your earliest musical memoires, and did any of these help decide you to start creating music yourself?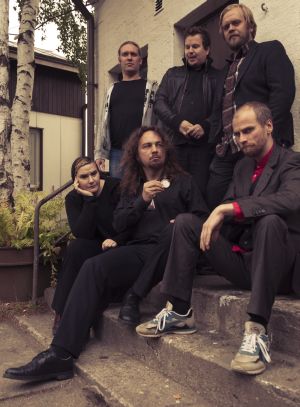 Mika The father of my cousin used to lend me his old blues-records, so that was my first experience with music. Both of my uncles from mothers side used to jam at the chamber of our sauna building. Me and my cousin [Teemu Majaluoma] took part in that also. My father played drums and accordion as well, and with him we played some old fashion dance music in the summer fest of our small village we lived by that time. I was playing drums at that event. That was my first gig, I was maybe ten years old. Playing music has been a self-evident joy in my family
m[m]: Tell us a little bit about how Kuusumun Profeetta first came about? And how do you think the bands sound has changed over the years? & What's the origin of the bands name & what does it mean to you?
Mika I founded Kuusumun Profeetta [Moon Fog Prophet in english] with my friend Mikko Elo in a bar in Pori called Cats after a couple of double Campari's, maybe in the year 1994. It was only a one off project at first, the name was Moon Fog Project then. The plan was to play only one gig, but here we are still here today. We continued to do music with the name Moon Fog Prophet later with four albums, lyrics were in English. I was also writing some novels back then in my native language, so to change to write in Finnish became very naturally. The name was also translated to Kuusumun Profeetta then. Our first Finnish record was jazz based( 2001's Kukin Kaappiaan Selässään Kantaa), and the second was more folk based( 2002's Jatkuvasti Maailmaa Pelastamaan Kyllästynyt), and our third one had more heavy sounds(2006's Hymyilevien Laivojen Satama). All the albums were born really naturally, spontaneously, like they already existed somewhere just waiting to be recorded. Maybe they are some kind of trilogy. I think that there has always been, from the beginning, a same klang at the undertone of the band's music. The name originally comes from the world of science fiction: it signified us some kind of surrealistic horror sci-fi that happen in moon. When "project" was changed to "prophet", then there was also a character, that was speaking philosophically looking about the world. Every kind of philosophy and psychology has always been very close to my heart.

m[m]: Last year saw you put out your most recent release Huutoja Hiljaisesta Huoneesta, can you tell us a bit about the themes behind this release & what's the title (Screams from a Silent Room) meaning?
Mika The albums name is a metaphor for that how many lonely people are screaming without any one hearing. For example the last song called Pavut [= Beans] tells about lonely gardener, that is dancing with his plants and in the song Sataa lumi maahan hiljaa ja varhain [= Snow is Falling on the Ground Silently and Early] there is a man avoiding to go to his empty home, hanging on the streets. These kinds of themes are the basic building blocks for the record.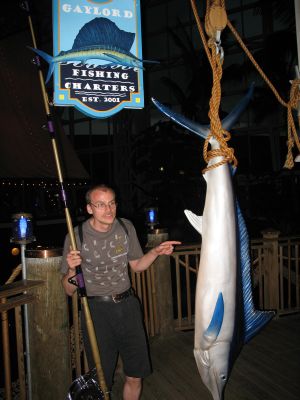 m[m]: Huutoja Hiljaisesta Huoneesta has certainly a more laid back/ hazy vibe compared with some of your other work I've heard. Can you tell us why you decided to go down a more mellow route?
Mika We did this record in two sessions. Band members being busy with other work there was a long pause in between the two sessions, maybe one and a half year. At the second session we got a new member to group, Harri Sippola, and of course he did bring some new ideas along with him. Still for me the sound has not really changed that much - we have always been crossing between heavy and folk and everything between. The next record we'll try to approach again with more raw and experimental sound. Still you never know, it can as well be some easy listening. New songs Hehkulamppu [= Light Bulb] and Vesilaitoksen varjonkantaja [= The Carrier of the Shadows of the Waterworks] are the starting points to the new album.
m[m]: Once again like your other releases, Huutoja Hiljaisesta Huoneesta has a fairly vaired musical pallet taking in classic rock, moody retro pop rock, low- key 80's tinged euro pop, pared down mellow prog rock tendencies & euro folk rock- so you clearly listen to lots of different types of music. Please could you select ten releases from different genres that mean something to you & explain why?
Mika Nowadays I really do not listen to music that much. Actually I have never been a big listener. In my whole life I have maybe bought three full price records. Of course I hear a lot of music from the friends and lovers, who are more attached to listening and know a lot of music. But anyway, here are some records, that have affected me.
Scott Walker: Tilt & The Drift
Experimental stuff in the point of courier where most musicians stop doing music. I get inspired by his chaotic boxes of sound that have no spine to keep everything together.
Brian Eno: Music for Airports
Endless music for writing and painting, so to say thinking.
Kate Bush: Never for Ever
Perfect example for me of how a genious can create geniousity with studio musicians.
John Carpenter
It's beautiful, how a childish dream of a boy can be a whole iceberg. b=A.
Ennio Morricone
Classic, that fills your mind with pictures even without the screen.
КИНО
Slavic melancholic hope coloured with suspicious synthesizers.
Leonard Cohen: Various Positions
Like master himself has said during a performance: "God has given me this Golden Voice."
Uriah Heep: Salisbury
When I was young I bought this record from the second hand store. And after I first heard it, I never forgot it.
Iron Maiden: Powerslave
For an early teen aged boy it was simply the best c-cassette in the world.
Goblin: Profondo Rosso
Dario Argento's horror films showed me how 70 % of the picture can be amazing music. Goblins progressive and somewhat bluesy sound and style was magic.


m[m]: How do you go about writing songs with Kuusumun Profeetta? Is it jamming as a band, or does each member write their own songs, or is there only one or two song writers with-in the band?
Mika It varies. Mostly there are two ways: somebody brings an idea or few to the practice, and jamming with these parts we start to compose a song. The other way is, that someone has made almost a whole song, and then we adapt this piece together. So, the band together always make the final decision on songs. Lyrics are made only afterwards.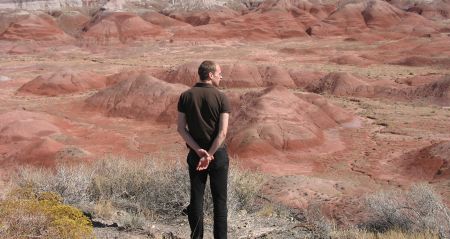 m[m]: How did you first meet up with the guys from Circle, and how/ why did you join the band?
Mika We have all lived our lives in this small town in Finland called Pori. I had a band with Teemu Elo, called Three Elves. When Teemu broke this band, he started to play in Circle. Jussi Lehtisalo & I got to know each other some years later. But even then all of the music enthusiasts made music together in the different groups. It was natural that some day we would make music also with Jussi, and we have already to this day had almost ten different common compositions. In the late '90s I was visiting in vocals and keyboards in some Circle recording, and before I knew I was part of the band. Nowadays the band is formed mostly from the people outside of Pori, so the natural metamorphosis is continuing. Jussi becomes friends with people easily and starts to make music together with them, it is his way of being.

Thanks to Mika for his time & efforts with the interview. Huutoja Hiljaisesta Huoneesta is out now on Ektro Records, and can be purchase it direct, along with the other Kuusumun Profeetta, from here
Roger Batty