mini fest review [2013-06-26]June 21st, 2013 marked the final day of the International Noise Conference U.S.A. Tour. The finale took place at the Venture Compound in Saint Petersburg, Florida; the premiere D.I.Y. venue and (anti) art gallery on Florida's west coast. On any day of the week you're likely to find an experimental/noise show, art gallery opening, and so much more. For those unfamiliar, The International Noise Conference is an annual festival of noise/experimental/avant garde music in Miami, FL, organized by noise legend Rat Bastard.The Laundry Room Squelchers took the festival on the road for the better part of May and June to perform with other experimental artists all over the United States. The I.N.C. rules are simple: must play noise, no laptops allowed, and no sets longer than 15 minutes.

Sound was run by Todd Novasad, the man behind Novasak, the Denver Noise Fest, and now co-organizer of the Saint Petersburg Noise Fest. The Novasak sound system is now the thing of legend. 10,000 watts of thigh-slapping, blood-pumping, nuclear brain damage! It produces earth shattering lows and makes your innards shake.

The mini-festival started off with Kathleen Robert's shit noise project, the appropriately named, Norse Shit Band. Based out of Lakeland, FL, NSB took to the floor and used her two minute set to demolish a vintage turntable, smashing it to pieces. Her set was about as stripped down and basic as you can get. She only used a mic to belt out vocal shrieks and a chain that she whipped about: smacking the floor, what was left of the turntable, and often times herself. The brief spectacle was a good intro of things to come.

Originally from Austin, but now a local, Sammy Static followed. His set was an amalgamation of hard techno beats and noisier tones. He started off with a song about how he hates noise. He sang, "I fucking hate noise...it's sound like shit!" His heavily reverbed vocals continued this chant till he exclaimed he was just kidding. He launched into set of heavy beats, harsh static flourishes, and vocals that alternated between: singing, screaming, and quasi beat-boxing. At the end of his set, he dragged out his amp into the back lot and, as legend has it, poured gasoline on himself. I missed out on that, but I did pick up a CD-r with roadkill attached to the cover. Looking forward to giving it a spin!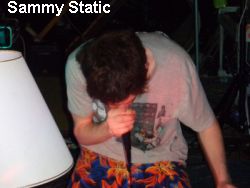 Next up were sets by husband and wife noise artists Sisto and Mariela Rossi. Sisto Rossi performed first. Known for his many projects including: Wallkeeper, Forecast, and Houses Texas, Sisto performed under his name this evening and offered a shifting harsh noise set. For his set he utilized a couple equalizers, a mixer, a circuit-bent DOD thrashmaster, and an improvised computer part for a sound source. During his set he manipulated waves of static, using his equalizers to great avail. Towards the end of his set the intensity was palpable with Sisto slowly pushing his table towards the crowd as his sound swelled in crescendo.
Mariela Rossi followed with a wall noise set utilizing: a miniature modular synthesizer, an eq, and another pedal I didn't recognize. Her wall produced really distinct crackles and rumble. The wall itself was not fixed with shifting waves of static amongst the crackle and crunch. Midway through her set she incorporated a noise can. These noise cans are a creation by noise artist Daniel Greenwood (Diagram A) and are noise synths housed inside a tin can. Each one is said to be unique and produce their own unique sounds. The addition of the noise can brought another layer of rumble into the wall. The set was simultaneously pulverizing, yet meditative.
Durastatic, the project of Josh Boutwell (Steele Grinder Music), worked some equalizers housed in a box of his own creation. The eqs produced some really interesting hi's and low's, as well as some nice synthy stuttering sounds. He also utilized some additional electronics from a briefcase I couldn't discern.
Hell Garbage, Central Florida's one man shit noise attack unit was up next. The project of Dylan Houser (Blood Ponies, Lady Anthropophagus Unincorporated) laid waste to onlookers with a barrage of demented wolfman howls. In addition to his vocal spewage and drum machine, Houser also beat around a cracked cymbal. In between bouts of throat shreddage and nasty feedback, he swung his mic around producing further high-pitched squeals. God damn, I'm happy to live in a world where Hell Garbage exists!
I'm a firm believer that a thick ass chain should be a part of every noise artist's toolbox and Trotsky's Watercooler can wield one with the best of them. Hailing from Orlando, Trotsky's Watercooler is the noise project of Dan Reaves; He also keeps busy playing bass in the noise punk band the Rot Guts and as a noise/experimental show organizer in Central Florida. His set was a harmonious (or disharmonious if you prefer) combo of synth and junk metal abuse. He played on the floor working a Kaos Pad and mixer in front of him with sheet metal to his sides. The bang and clang of the sheet metal added a primal element to the discordant electronics. Towards the end of his set, Dan made his way through the crowd attacking a piece of sheet metal with a heavy chain. After his set he looked rather spent and rightfully so.
Unfortunately, I didn't get an opportunity to watch Whitey Alabastard's set as I was setting up myself, but it sounded darn good from a distance. A lot of processed vocal and flute work. Luckily, he's local so I'll have the opportunity to see him again (hopefully in the not too distant future). I also missed some of Black Beast of Arrrghhh's set as I was breaking down my gear after finishing my set. However, I was able to catch the last few minutes of his set. BBOA worked a chain of pedals (a reverb, fuzz, eq, and others) channelled through the effects section of a gutted amp. The arrangement produced a flurry of sonic nebulas and pulsars echoing through a space vortex. Tripped out, spacey noise explorations!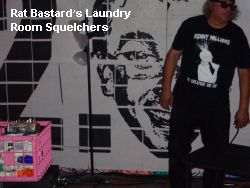 Rat Bastard's Laundry Room Squelchers was up next. The project is a revolving door of different collaborators, with a live show that often ends with a dog pile of bodies. On this outing Rat went solo, pumping out a constant stream of blasting noise and radio static through a duo of speakers. The centerpiece of his setup was a pink milkcrate filled with light bulbs that intermittently glowed a variety of colors while Rat paced back and forth holding some kind of noise generator I couldn't identify. It was an impenetrable raw wall of sound...vicious and pummeling.
Electronica/noise duo BLK/MAS mixed it up with digital noise and metal junk sounds. BLK/MAS is project of Lakeland's Wayne Mason and Shawn Blackburn. It was about this same time last year that I saw them live for the first time. It was an awesomely cacophonous set of digital noise that was harsh, yet toe-tapping at times. The last few times I've seen them live, they've veered in a more electronica direction. I wasn't sure what direction they'd be going tonight, but I heard rumblings of a harsher set and, I'll be damned, they brought the goods! Shawn worked an iPad while Wayne used a duo of Korg Kaossilators and some metal parts amplified by a contact mic. It was a great balance between digital and analog noise.
Generique Dior, is the noisier alter-ego of Craow. He performed a dark set punctuated by repetitive deep beats with an effectively used metal chain to complement the deep thuds. A couple minutes into his set he utilized a trumpet blown through a mic and effects that sounded more like garbled spoken word rather than a traditional horn. A monotron brought in towards the end further developed the set. It was a great set with a very eerie vibe.
The second to last act was Oblongata. Oblongata is the project of local Mike Berchou, most infamously known for his work with noise terrorist duo The Uh.... I really enjoyed his self-titled full-length CD released last year on Saint Petersburg Institute of Noise label and was very much looking forward to his set. His arsenal was a bass guitar, effects, and a mic'ed mask resembling a Star Wars storm trooper. It was a noisy maelstrom of heavily processed bass guitar. While I couldn't discern any vocals emanating from the concealed mic, it did create an added layer of garbled noise to the dense wall of sound. He finished his set utilizing a buddha machine. It's a handheld device used for meditating, but put into a noiscians hands can create strange palette of sounds. An interesting addition to end the set.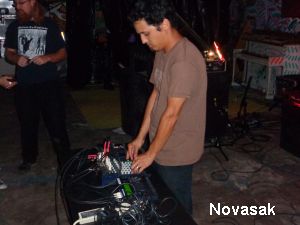 The evening's final performance was Novasak. It was his first local show since returning from Colorado after curating another successful Denver Noise Fest. Todd's live shows are always a surprise. The 6 or 7 times I've seen him perform live, he has run the gamut from harsh to meditative, from synth driven to metal abuse. His set started with a slow dense buildup bordering on drone. The measured sounds were intermittently broken up by crackles and static washes. The noise swells to a swirling pool of synth sounds ¾ of the way through his set and then slowly recedes into a quiet slumber. The set was powerful and meditative. It was hard not to become transfixed by the hypnotic experience. A great end to the show and the I.N.C. tour.
While the tour has ended, the International Noise Conference will be happening again for the 11th year - February 4th-8th, 2014 in Miami, FL. For information visit the I.N.C. website: http://www.squelchers.com/
For International Noise Conference documentation, past and present, visit the I.N.C. Archive: http://www.internationalnoiseconference.com/
All pictures by Hal Harmon, front page pic of Oblongata
Hal Harmon