Dark & Brutal London Fields [2013-05-21]Voices are a recently formed London based avant black metal band, who twist their complex, brutal & atmospheric sound into many places beyond the black metal form. The band conists of past & present members of bands like: Akercocke, My Dying Bride, Dark Veil and The Order of Apollyon. I caught up with Sam Loynes(guitarist) & Peter Benjamin (guitarist & lead singer) for an email interview to discuss the bands formation, and their great debut album the cryptically entitled From The Human Forest Create A Fugue Of Imaginary.

m[m]: First off can you tell us a little bit about how the band started?
Samuel: Voices formed from working with each other on different projects, Akercocke was one of those bands. We would want to play more regularly… And of course you start to create as you play. Before we really realised we were a band.


m[m]:Where does the name come from & what does it mean to you?
Samuel: It was tricky, as it always is, to come up with a name that was fitting and not obvious or clichéd or laughable. I think I came up with an alternative early on which was to call the band 'Wife'! I still kind of like that. I think Peter said the word Voices in one of his weird mid-practice monologues about jealousy and I then suggested 'VOICES'! And we all agreed right away that was the name of the band. I think that's how it happened.

Peter: Voices means what you want it to mean. The main thing to think about is whether the Voices relate to the internal or external. I am not even sure myself.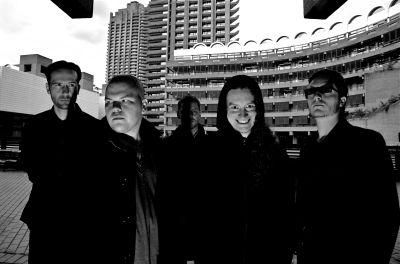 m[m]:Voices sound rather defies simple classification mixing together complex & speedy avant black metal, with all manner of other metal craft, and even delving outside the metal genre into genres such as: dark rock, moody piano music, dark 80's male fronted pop & beyond. How important is it for you to make your sound varied & multi layered? And what other elements would you like to work into future songs?
Peter: It is vital to remain open minded during the composing phrase. As we rely on improvisation a lot of the time, it's this open-mindedness that allows a song to be formed. We don't actively seek to compose a particular style of song that could be coin black metal or avant metal or pop but we just allow for every motif to be considered.
Samuel: It's mostly just about being as open as possible to all influences and use that which chimes in our own personal perception of what sounds interesting and hope that we can create something that may evoke the same reaction. We are certainly not limited in the manner. We as a collective have a spectrum of influences that is truly vast. I can be seen listening to Scott Walker most days whilst Peter, Dave or Dan can be seen listening to David Sylvian or Killing Joke or Portal or Deicide. I certainly hope that our future music become even less routed within the motifs of extreme metal, whilst still having that element when appropriate but embracing these other more unconventional traits as I hope this might set us apart from the prosaic, from the down right predictable.
m[m]:Do you all write songs together or is there only one or two songwriters in the band?
Samuel: We all write together, mainly through intensive improvisation, in a rehearsal space in West London that we've all played in for years now and for David, even before Akercocke started. David has been mastering his artistry in this space for a very long time. Decades of blasting!

m[m]:You've recently put out your debut album From The Human Forest Create A Fugue Of Imaginary- can tell us a little bit about how long this took to write/record?
Samuel: The writing process was extremely quick. At one point we would get into the studio and play for two or three hours, most of which was improvising and at those special moments of musical clarity we'd hope to revisit once we've all calmed down abit...! Then taking these key moments and splicing them together. This then formed the songs you hear on this first record.
Peter: The recording and mixing process was quite long. Although this is inevitable for a band debut as, although we have in part worked together in Akercocke and other projects, we are still finding our feet along the way with this new and very much prosperous venture. Its mainly trying to find a sound that we consider to be unique and in touch with our sensibilities for production styles. Through working with Dan Abela and Joseph Symth at Legacy London studios we were afforded the time we needed in order to get a finished product that could fairly represent Voices at that early stage. From here we hope to refine our sound and expand the realms of aural possibility.
m[m]:Can you explain the albums rather cryptic title? And why is there a picture of rain on the front cover ?
Samuel: David came up with the title. We wanted a long and difficult title. A prolix that was memorable but tricky and indulgent. In this way the title reflects the music! Over indulgent and difficult! We rely on visuals, in the sense that when we piece together a song we usually speak of scenes or ideas that conjure up in our minds. And so the front cover and title is just an extension of this.
m[m]:The band has quite a urban gritty & rather un-metal look to it. Why have you decided on this look & was it a deliberate ploy to shy away from the more clichéd long hair/ leather jacket/ corpse paint of black metal?
Samuel: The moment your direction, musical or otherwise, becomes too conscious I think it can inherently fail more often that not. Naturally we have come to this 'urban' and 'gritty' iconography. London is the main influence here. We are not concerned with clichéd elements of how extreme metal act should look. We are more concerned with representing the endless oppressive surrounding that is London, amongst other more personal and internal struggles. People have really responded well to this I feel. They can understand it, particularly Londoners but anyone as the sickness is mostly from within, it's then simply amplified by a persons surroundings.
Peter: Its not to say that we don't listen to or understand why there are many other bands that dress the way they do or play the way they play as we are all fans of many genre specific bands. There is nothing wrong with that. But Voices, the four of us, are detached from human nature on a day to day basis and that run into the heavy metal community. We just don't follow. We lead
m[m]:The albums booklet features lots of moody & grim pictures of tower blocks, concrete corridors & genreal bleak looking inner city architecture- can you tell us the how these fit into the bands concept?
Samuel: London and its harsh and unforgiving housing estates and often-garish architecture is around every corner you turn. Whilst these more oppressive and bleak arenas are not without their own individual beauty, we as a band are greatly affected by them in both an outwardly creative and inwardly temperamental manner. A friend of Voices, Benjamin Butler, took those pictures of the infamous Barbican and the Barbican is as close to a physical representation of the emotive context within this first record. Bleak, jagged, repetitive and somehow darkly beautiful.
Peter: We all live in various sides of London. It is what often defines our mood, our lives and our sense of constant confusion. It is difficult to put into words but the gritty and harsher landscapes of London are the visual embodiment of the music. I think if we didn't live in London, struggle with its cut throat and relentless atmosphere then we'd be making very different sounding music.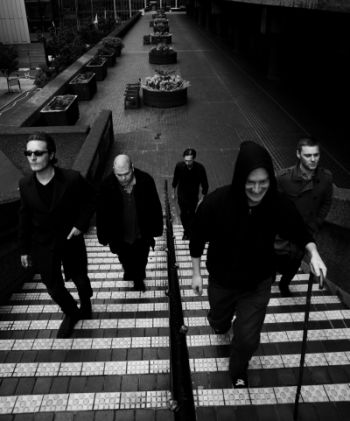 m[m]:What do you see as major influences on Voices lyrical themes?
Peter: The basis of the lyrical content is mainly based within the darkest corners of emotional trauma. They try to communicate the almost unexplainable sense of detachment, distaste and sickness that surrounds us. However they're observational. That sense of being apart and aside to the chaos that surrounds is a theme we've tried to explore.

m[m]:I wanted to keep away from Akercock related questions; as clearly Voices is a whole new chapter for you. But is Akercock complete dead now? & will we ever see the release of the DVD release that was mentioned a few years back?
Samuel: I know that DVD footage does exist and I hope that it materialises in the near future. In terms of Akercocke, as far as I did work with the band for a while, I'm in no authority to say what will or wont happen in the future.
Peter: Who knows!

m[m]:What's next for Voices? And have you started working on new material yet?
Samuel: The second record is largely written already. Needless to say, like every band says, its far more advanced, interesting, weird, abstract and indescribable than this first set of songs. Honestly, we recently demoed the material we have for the next record, placed it all together and I simply cannot stop listening to it. Its more punky in moments, it's more twisted yet the moments of melancholy and beauty are shinning through even brighter than before making the darkness even darker. I just hope when the time comes we can record it quickly, in the moment whilst retaining the atmosphere and almost cinematic quality that it inspired when writing it.
Peter: Its brought by on intense Obsession and Jealousy.

m[m]:Can you tell us anything more about the second album?? Album title, track names etc? And when do you hope to put it out?
Samuel: I am weary to say anything about the titles, track names or themes of the next record as I think its best for the fans and anyone who might be interested, to be surprised and hopefully shocked! I can tell you that it is entirely different musically, thematically and aesthetically. I think the areas that we explored with first record were a platform then to reach the more refined and clear, visual and aural realm we have arrived at with the material preceding it. Its definitely more punky in moments, more jagged and riff-based. However, these riffs are exactly riffs allot of the time! Just an approach that's complete free form so riffs that could just as easily be in a Emperor song are juxtaposed with moments that you might find in Bauhaus or Sonic Youth or Converge. Its going to be strange, horrific yet superlative.
Peter: It's too early to talk about anything official for dates of recording or releases but we as a band are not far off being able to record the raw material. So we'd love to get something out within the first third of next year. We are going to try our best to make this happen.

Thanks to Samuel & Peter for their time & efforts with the interview. The pictures used through out the interview are by Ester Segarra and Benjamin Butler, and are used with kind permission. The bands facebook page can be found here, and From The Human Forest Create A Fugue Of Imaginary is out now on Candlelight Records.
Roger Batty