Festival report [2013-03-25]March 17th was the 3rd Annual Sux by Suxwest Festival in Austin, TX; curated by Jonathan Cash and Austin Noise. Not to be confused with the festival of the same acronym where thousands of hipsters descend upon Austin, but a single day event where noise and power electronics take center stage.

The fest took place at Club 1808 in Austin, Texas. The club is located in what's probably considered one of the seedier areas of town, but just perfect for the aural grime of the day's events. As my friends and I pulled into the gated parking lot we were greeted by the voice of Alex Jones (radio personality and conspiracy theorist) blaring on a speaker, which seemed to play all day. The bar itself was divided into 2 sections: the main stage and the annex stage. Strangely the main stage was the smaller of the two "stages". The two sections truly were night and day. The annex stage was a large room with huge windows allowing the sun in to bathe the space, whereas the main stage was in the back of the bar and cloaked in darkness. While acts were going on simultaneously throughout the day, they were staggered enough for me to catch just about everyone's set. *Note - If I didn't mention a particular artist in this review, it should be in no way taken as a reflection of whether I liked them or not, but rather the limitations of my own receding memory.

The first performance of the day was Gentleman Ringworm. GR is the weirdo experimental project of local Clint Payne. If Austin is predominantly a harsh noise community, then GR must be their black sheep. His performance reminded me of a bastardized version of Asian folk music and kabuki theatre. He even wore a geisha style mask for his performance.

Postule, the harsh noise project of Zack Guttowsky (Folter, Glasgow Smile, Black Leather Jesus) performed a couple sets later. His set was proof positive that it isn't necessary to have a table full of electronics to make good noise. Utilizing only 2 contact mics, a single pedal, and a regular mic for some additional feedback, he managed to deliver the goods. His set was a display of piercing feedback and crushing static. He intensely manipulated his only pedal, creating shifting waves of harsh noise till the point that it fell apart.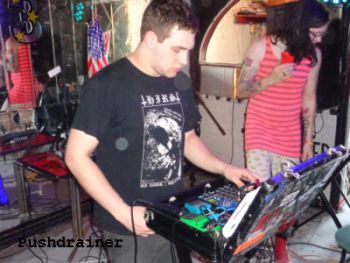 Florida's Whitey Alabastard has been making quite a name for himself lately, with high profile shows at home and abroad. On this outing, he gave his vocal chords a workout utilizing a mic run through a shifter and other pedals as the basis for his sound. That coupled with a sputtering synth housed in a briefcase made one hell of a cacophonous racket. He also managed to work into his performance a duo of flutes/recorders. He played a second 2 minute set later in the day where he practically swallowed his mic and spun around on a table till it collapsed.
Dromez, the harsh noise project of Liz Gomez, gave a performance that was painful...in all the best possible ways. Ear-piercing high end screeching and lots of low end crackling. She utilized a vocal mic and what looked like an oversized contact mic, run through 3-4 pedals. Her whole set lasted only 5-6 minutes, but left me feeling like I'd been socked by a sonic gut punch. Just fucking great! I picked up her split tape with Dogs on Inferior Meat Records, which is one of the more memorable pieces of loot I acquired from the fest.
After a very brief respite, D.C.'s Stress Orphan took to the annex stage to deliver his own brand of ear damage. I had the pleasure of doing a collab set with him at a house show the previous day, so I was really looking forward to his performance. He started off with some heavy droning synth and shortly after brought down the hammers. He worked a table full of pedals along with some harsh vocal spewage. Fuzz, low-end, high-end, crush, crash, were just some of the elements of the panoply of sounds he produced. At one point he worked a hand-held, light-activated synth that he repeatedly slammed to the table. These repeated sonic dive bombs were bliss to my ears, though they must've been hell on his gear.
Chicago's Justin Marc Lloyd has made quite a name for himself, performing/recording under a number of monikers, including: Pregnant Spore and False Flag. He's known for producing experimental noise that runs the gamut from harsh noise to power electronics to straight up weirdo noise. Reminding me of a younger Weird Al, but with better fashion sensibilities (not just anyone can pull off a neon tank top with smiley face stretch pants), JML worked a turntable, guitar, dual mixers, and a number of pedals. His set hoovered in the realm of harsh noise, yet was very nuanced, and even delicate at times. While his guitar made a noisy racket, he also utilized the mixers to great avail creating some quiet drops and subtle shifts. It might be a strange adjective to describe noise, but it truly was a beautiful set.
Ohio's Pusdrainer delivered some no bullshit power electronics. He performed some really stripped down repetitive industrial noise, with vocals that had an interesting reverb effect to them. It almost sounded as if he was shouting through water. Sometimes I get fed up with the gimmicks and arty pretentiousness of music (and noise) and need to listen to something fucking primal and aggressive to set me straight. When I get in that mood, I can imagine throwing on some Pusdrainer to lift my spirits.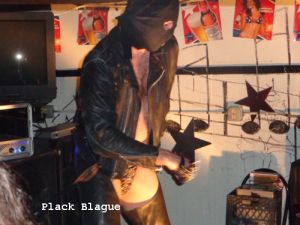 Plack Blague from Nebraska got the closest thing to a dance party going that evening. I've heard PB described as Satanic Disco Noise. I'd say that's a pretty accurate assessment. Dressed in leather, with a hood, assless chaps and a spiked codpiece; PB got up on a makeshift stage to dance to some noisy synth beats and a strobe light. He also ran his vocals through a couple pedals that gave it a reverby carry while singing in almost grindcore style. Eventually, he took off his hood to expose his sweat drenched hair which he whipped back forth showering the front crowd.
Despite the constant maelstrom of harsh noise emanating from Club 1808, there were some definitely non-noise performers that brought the oddities. Early in the day, Coz the Shroom played perhaps one of the strangest sets of the day. Hailing from New Mexico, CtS performed some 60's influenced psychedelic garage rock, that at times reminded me ever so slightly of the Dead Milkmen. Lisa Carver of the infamous Suckdog performed early in the evening. She did a spoken word/stand up comedy routine that was punctuated by a reenactment of Michael Richards' (Seinfeld) famous meltdown at the Laugh Factory, telling the audience to go fucking die, and a deep seeded hatred of Philadelphia sports teams. When I described the performance to a friend, he said it reminded him of the time he saw Lydia Lunch, if you need a basis for comparison. Later that night were performances by James Quall and David Liebe Hart from Adult Swim's Tim and Eric Awesome Show, Great Job!. Truth be told, I've never seen the show so I wasn't sure what to expect. We were treated to songs about the Irish, beautiful women, and some silly impressions. My friend, more familiar with the show than myself, said that their schtick is awkward humor. That sounds about right.
Being an fan of both Richard Ramirez and Sam McKinlay, I was highly anticipating Vice Wears Black Hose and they did not disappoint. Like a couple of wise noise sages they quietly stood manipulating their hardware to create some thick static crackle and crunch. The setup was very minimal with Mr. Ramirez utilizing only a mic and two pedals and Mr. Mckinlay utilizing a noise generator and 2 (maybe 3) pedals linked together in a small mixer. It was very interesting to watch the dynamics of the two work together in sync. Mr. Ramirez would tweak the knobs ever so slightly on his pedals, while Mr. McKinlay stepped back to absorb the sounds.Then they would reverse roles, with Mr. McKinlay tweaking pedals while Mr. Ramirez stood in contemplation. It was simultaneously a meditative, yet intense spectacle. I challenge anyone who thinks HNW would be a boring live affair to witness these two masters at work and leave with the same opinion.
A couple sets later, Mr. McKinlay's solo project The Rita was up. His setup was fairly minimal, 4 pedals, a switcher, a small mixer, a handheld cassette player, and a small pouch mic'ed and filled with something. As soon as he started I was hit with some loud static crackle. It was intense, yet felt very controlled. The set itself was not fixed and Mr. McKinlay worked the pedals to create subtle shifts and larger static washes. At times he would use the switcher to let the cassette line through, which delivered some porn sounding samples before returning back to the crunch and crackle. Midway through the roughly 10 minute set, he grabbed a small pouch that he had mic'ed and proceeded to shake and squeeze it. I have no idea what the pouches' contents were, but they further added a different type of crunch and crackle. Throughout the set Mr. McKinlay seemed to be in complete control of all his tools. Without a doubt one of the best harsh noise/HNW performances I've ever had the pleasure of witnessing.
Developer played some really good cut up style noise. His set started out fairly mellow with various field recordings playing in sync. However, quite deceptively, once you're lulled into a trance he shocks you back into existence with some sick cut ups. Despite operating out of a small suitcase he had a lot going. Sputtering synths, static crunch and drones, all being controlled by the mute switches from his mixer. I'm very happy that I picked up his split tape with Pusdrainer.
Christian power electronics artist Baptizer from North Carolina assaulted the audience with waves of static wash and meat. As he set up, it was impossible to miss the American flag laid on the floor with meat chunks on top of it. He started out by blanketing the audience with waves of static and some samples that I couldn't quite make out. Some synth rumblings and feedback followed. Then all fucking hell broke lose. Baptizer jumped off the stage and rolled on top the flag and meat. Next he pelted the crowd with the meat chunks....meat that had been sitting out all day mind you. Of course, I ran for cover. P.E. wouldn't be P.E. without vocals and while everyone was still recovering from the beef onslaught, Baptizer hit us with some grim vocals. After he finished, you can only imagine how gnarly that floor was looking.
Power Electronics by nature is a very primal and aggressive artform. However, there's something about Chicago that just adds an extra layer of attitude. I got a taste of this last year when Sharp Tooth came down to Florida to play at the ST. Pete Noise Fest. Straight up mean and aggressive music. Chicago's Machismo further confirmed this. While I'm sure they're nice guys, in performance mode, they'd probably give you a black if you looked at them the wrong way. The vicious duo alternated between electronics and vocal duties. While on vocal duties, one member took off his belt and started to violently whip the floor. He started to get close, so I stepped back, only to get hit with a ¼ full beer can moments later. Machismo, the perfect moniker to macho, no coast, scum electronics.
Black Leather Jesus played towards the end of the night. I was aware that they were a collective of sorts, what I didn't realize is how large this collective is. I entered the room as they were already underway and there must've been 10-12 people involved the cacophony. From the stage, Richard Ramirez manipulated pieces of sheet metal, with two members on either side of him working some smaller noise makers that I couldn't make out. On the floor members were beating junk metal, working suspension wires, garbage lids, and chains. Another member worked a table full of synths. The whole spectacle was like watching some bizarre ritual. You would think a gathering like this would create uncontrollable chaos, yet there was a strange sort of synchronicity going on between each member. The sound was practically beyond aural and almost needed to be felt. Then it ended, the noise immediately evaporated and I felt spent.
Eugenics Council closed out the early morning, with what is hands down my most terrifying live performance I've ever experienced. The set started out rather calmly with some rumbling synth drones. A little into the set, a member drags in an enormous piece of sheet metal. I knew where this was heading. The synths and vocals kicked into full effect. Next, one member grabs a large power tool (a belt sander or electric saw) and swung it back and forth over the sheet metal showering the club in sparks. Anyone in close vicinity ran to the back of the room. I firmly stationed myself behind a trash bin the moment the sparks began to fly. After more power tool action, the same member sprinkled a mystery powder on the floor. Moments later, another shower of sparks ignites the powder on the floor. A flash of fire erupts on the club floor and dies nearly as quickly as it surged. The set ended with the club filled with smoke. That was as good an ending of a fest as I've ever seen.
Review/pictures by: Hal Harmon
Vasectomy Party (HN/HNW)
Zone Tripper (Sci-Fi Noise)
Forever Escaping Boredom Records
Hal Harmon