Festival report [2013-02-25]February 6th-9th was the 10th anniversary of the annual International Noise Conference, A 4-day festival of weird sounds and characters, curated by noise legend Rat Bastard. With over 100 scheduled performers in the main venue along with many others playing on the back patio, during open mic nights, it is impossible to include but a small fraction of what I witnessed during the 3 days I attended. As my first I.N.C. (as either a performer or observer) I wanted to make sure to document some of my experiences. The rules for I.N.C. are pretty straightforward, no laptops and play 15 minutes or less. I've attended a few marathon noise shows now, but nothing on this scale. The short sets often gave little respite between aural pummelings, but definitely kept things moving and interesting.

The festival took place at Churchill's Pub, located in Miami's Little Haiti district. Churchill's is a British pub that has become one of Miami's staple venues for punk, noise, experimental, and (fill in the blank) shows.I was warned about the "sketchy" area surrounding the club prior to the fest, but my friend and I walked to and from our motel each day and survived just fine. We were approached on more than one occasion by a guy selling drugs. He said he could get us anything, "oxy, weed...." My friend mused, I wonder if he could get us a burrito?


Day 2 @ Churchill's, Miami

The first full set I had a chance to see was Human Fluid Rot. A solo artist from Pompano Beach, FL; HFR struck the perfect chord for me with his harsh noise attack. A fairly simple setup of a contact mic run through some pedals, channeled through a double stack of amps. It was dense, feedback drenched and you could tell the artist was really into what he was doing. He went pretty nuts and at one point jumped into his stack of amps. A great intro, to my first I.N.C.

The performances throughout the evening were quite diverse. Jonathan Handcock aka Electric Inertia performed an improvisational saxaphone set along with visuals provided by 16mm film reels. No Milk, a solo female artist, crafted beautifully sung, minimalist synth pop songs. Whitey Alabastard, who experienced some technical difficulties with a delay pedal, rose to the occasion and created a cacophonous set utilizing vocals and a stuttering synth, all housed in a briefcase. He also utilized two flutes which he used in tandem over the synths. The Zamfir of noise?

I'm not sure if this is true for other areas around the globe, but Florida has a really great noise/jazz fusion thing going. It's not uncommon to see noise artists commingling with jazz performers at shows, and often times collaborating together. It actually kind of makes sense that many noise artists are informed by jazz. That said, I had the pleasure of seeing experimental soprano sax player, Jamison Williams and drummer Steve Bristol. I played a small private show with Mr. Williams late last year and was just mesmerized by his sax abilities. This time was no different. The drums and sax made for an interesting interplay, simultaneously discordant and harmonious. During their set, Jamison gave a shout out to local musician Dan Hosker, who unfortunately passed away last year.

Drowning the Virgin Silence, was well...an interesting set to say the least. The set consisted of a guy spanking a woman bent over his lap. The spanks were mic'ed and run through what looked like a dual echo pedal. Uh....yeah.

Jesse Vance aka DC9V started by donning a remote mic'ed gas mask, creating a garbled mix of screams and other vocal sounds. At one point he jumped up on the bar to rile up the crowd. Once the music started, he delivered a beats driven, experimental set with some interesting sax work thrown into the mix.

Dot Dot Dot Orchestra dropped some harsh noise utilizing keys, a bass guitar, a theremin and a food processor? While I couldn't get a close look, it appeared the thereminist utilized the vibrations from the food processor to manipulate the sound waves. She loaded it with (what appeared to be) coffee beans and in concert with the theremin created some thick, rude sounds.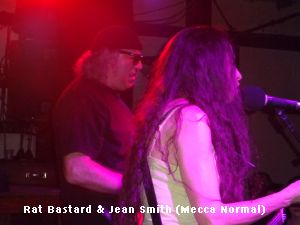 Su Sous Toulouse en Rouge played shortly after and put a smile on the rowdy crowds' faces. Shrouded in secrecy, this husband/wife 2-piece introducing themselves and Sterling Trombone and Noni Holloway, worked the room with a feedback soaked guitar attack and vocals. Mrs. Holloway draped in a red gown, a "huge" wig and propeller hat, hit the audience with confetti and haunting vocals. When they ended the crowd was once again hit with poppers, confetti, and other party favors. While they didn't actually have fireworks, it certainly felt like things were blowing up and the end of their performance.
Clang Quartet, Scotty Irving's Christian Noise project, was one of the night's closers. His set was a great combination of performance art and harsh noise. I saw CQ back in November, and while the set was quite similar, it was just as enthralling. Improvised toys, coupled with pedals and other noisemakers created costumes, totems, and other props to recreate a representation of the New Testament. One thing I did notice about this performance, that I overlooked the previous time I saw him was what an great percussionist he is. He started off the set with series of drumming before dropping the noise. An intense set....one which I hope to see again soon.
As Day 2 was approaching its end Holly Hunt crushed the audience with thick as molasses drone metal. They are a female/male two-piece featuring one member of Floor. It was hard not to get entranced by the doomy repetitiveness of the guitar and drums. Mid-way through their set a guy on a motorcycle drives through the club, stops, and burns rubber for a minute, engulfing the venue with exhaust fumes. It was quite a spectacle to see HH continue their set amidst the smoke plumes.
The Laundry Room Squelchers closed the night (err....early morning) in what can only be described as utter fucking chaos. Rat Bastard pumped noise through the soundboard that sounded like garbled radio static, while the Squelcher ladies took to the floor throwing speakers, chairs, and whatever else wasn't nailed to the floor. Most of the audience jumped to the stage to observe the riot taking place, while a few brave (possibly crazy) souls tangled with the Squelchers. I won't lie, I'm a 6'3", 300 lb. male and was pretty frightened by the experience. After the chaos subsided, the floor was a disgusting slop of beer, sweat, broken bottles, turned over chairs and tables, and bodies. It's was about 4AM and time to crash.
Day 3 @ Churchill's, Miami
After sleeping most the day, II strolled into Churchill's for day 3. As I was told, Fridays at I.N.C. can often turn into a rave, as many of the performers on day 3 could fall under the description of technoise. Noisey electronic music, but with a definite attention to beats. In addition to the main stage(s), concurrently the "Ocean Meets the Sky" open mic hosted by Alex Diaz was happening on the back patio. So if beats aren't your bag, there was likely something going on in back to strike your fancy.
While the beats were definitely present Friday, there was still a lot of variety to be found. The second act of the day was Suncoast noise legend Lovebrrd, who is known for his melding low-fi casio jams with harsh noise elements. On this outing he went very minimal utilizing a chain of pedals and a microphone. As a surprise move, he starts out singing New Order's "Loveless" a capella. This goes on for about 2 minutes, then the harsh noise attack ensues. He continues to sing, but his vocals are crushed and mangled through a series of effects. At one point he grabs a random beer can from the stage and sings through it in tandem with the mic creating a dirty reverb effect. That was definitely one of the strangest Lovebrrd performances I've had the pleasure of witnessing.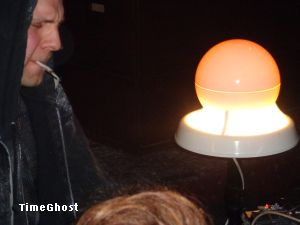 A couple sets later I caught i_like_dog_face. A solo audio/visual act, she performed her whole set within the confines of a large plastic tarp being blown up (like a large bubble) by a fan encircled by lights. Soundwise her setup was fairly minimal, though satisfying to my aural palette. A combination of effects driven vocals and a Kaossilator gave the performance a glitchy, robotic sound, almost in a D.I.Y. Kraftwerk sort of way. Quite interesting.
There was some harsh noise to be found through the glitches and beats of the night. Orlando's Gem of Skin started off with some haunting chants before bringing some crushing synth driven harsh noise. A little later, was Oubliette. I've been familiar with Seth Oubliette's work for years now, but never had the opportunity to see him live. Known as a harsh noise monger, I was taken back a bit when his set started off with an accomplice playing a fiddle and singing a folk tune. After 2 minutes or so, the fiddler walked off and Oubliette began to manipulate her output (which he recorded) through some pedals. It was muddy and harsh, almost wallish. This went on for a few minutes, then he got up and picked up a bundled cloth. He raised the cloth above his head and proceeded to dump out it's contents: broken cymbals, barbed wire, a chain, and other debris. He began to wrap himself with the barbed wire strand and drag the rest of the debris with his chain. He finished by shrouding himself with the cloth before cutting the sound off. It was a short set (5-7 minutes), but created a disturbing atmosphere I won't soon forget.
For the rest of the evening I left the main area and spent most my time on the back patio to check out the open mic. There was an interesting mix of performers, everything from punk, to noise, to lo-fi indie, to synth pop. Many of the artists who had already played (or were playing) the main stage(s) took the opportunity to get in an extra set and do something different than what they may have done on their primary sets. Some notable acts were: Altus Noumena, a female/male duo who played some really interesting synth driven outerspace music and Justin Waters who manipulated a shortwave radio using the flashes of a disposable camera.
Day 4 @ Churchill's, Miami
The final day of I.N.C. started early, so I didn't have much time to recuperate from the previous night's events. Plus I was performing this day so I wanted to show up early to make sure my gear was all prepped and ready to go.
Trotsky's Watercooler, the noise project of Dan Reaves, played early in the day. I've had the pleasure of performing with Dan on a number of occasions, he himself being an organizer of experimental/noise shows in the Orlando area under the name B.L.U.R.T.. Dan performed utilizing both synth and electro acoustic instruments handmade in his workshop, while wearing a pair of glasses with one lense blacked out. Suspension wires stretched over wood, sheet metal, and chain were amplified and melded well with his synths. He brought along a collaborator who to appeared to manipulate a cassette player during their set. As soon as his set ended he hoped to the floor, picked up a bass and joined the Rot Guts. The Rot Guts are a noise/punk "supergroup" made up of members with prominent pedigrees in the Florida underground music scene, including: local noise/folk/punk legend Jiblit Dupree. They banged and clanged a noisy racket with Jiblit's unmistakable southern drawl.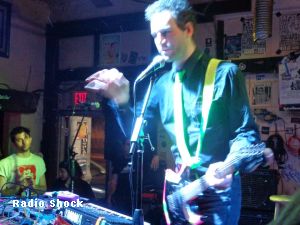 As the night went on and the crowd really started filling the bar, Embarker did a mixed media set. A modular synth and distorted vocals, became the soundtrack to video projections depicting people with downs syndrome and a high school riot. TimeGhost, doused himself with talcum powder before and during his set giving off the image of a ghostly figure moving to technoise beats. Simultaneously he had two glowing orbs that would flicker to the music. Timeghost indeed is a fitting moniker.
North Carolina's Secret Boyfriend started out singing a capella, before dropping some crushing harsh noise. Utilizing, what appeared to be both mics and contacts, he manipulated metal junk and aluminum foil. At one point he wraps his head in foil giving an eerie, metallic effect to his vocals. The crowd went nuts, and moshing ensued. Noise DJ, Ironing took stage shortly after and mangled dancehall records atop two ironing boards. He mixed and scratched vinyl, manipulated cassette, and brought in some radio static.
As the night wound on, I had no concept of time at this point, the trio of Kramer (legendary record producer), Rat Bastard, and Jean Smith (Mecca Normal) took stage. Produced a jangly and discordant set, punctuated by plenty of feedback and Smith's powerful vocals. At one point, Rat scurried across the stage (no pun intended) to induce feedback drenched eruptions from a small amp and then pick it up to further spew mangled fuzz upon the audience.
Radio Shock played his infectious (and danceable) glitch music. He utilizes guitar, keys, a gameboy, and an array of improvised toys. It's virtually impossible not to suffer from perma-grin seeing Mr. Lockwood jump around the stage in his neon shoes and tie. At times, he reminds me of a noise version of the Dischord band Black Eyes, if Black Eyes played with instruments ransacked from their local toy store. Though I've been accused of making odd comparisons, so what do I know?
After Radio Shock's upbeat performance, the atmosphere quickly changed as Burak started his set. A noise artist from Philly, Burak's set was largely static, crushing HNW. However, he did stray from the wall noise formula by incorporating some vocal work. Doomy and abrasive, his set seemed to fit in just perfectly at this time of the fest. He was followed shortly by Page 27, a Colorado duo who crafted their own brand of harsh noise utilizing a monotron and samples run through a mess of cords and pedals. I couldn't really tell what they were doing, only that it was pleasant to my corrupted ears.
Yohimbe's set was probably the most talked about performance of the conference and unfortunately, the one that I really couldn't really view since the crowd was so densely packed. From what I could make out from, the female vocalist/guitarist was on her back for most of the performance, goading the encircling crowd to spit in her mouth and confessing she had daddy issues. I'm sure some video will surface one of these days.
The performance/noise artist Nequam Sonitus was up next. I've seen him perform on a number of occasions, but this time he had far more interaction with the crowd. Nequam dons a painted suit along with a scrap metal helmet and other improvised accoutrements. His outfit is mic'ed remotely and amplifies everything he touches, scrapes, and breaks. On this outing, his partner handed out ceramic plates and cups which the audience would smash on his helmet to make a cacophonous racket. He also beat a metal drum and other junk metal. This was hands down the best performance I've seen of his.
As the witching hours descended into the early morning and the closers were setting up, I witnessed male/female duo Os Ovni perform an audio/visual set. A television was placed on stage showing an episode(s) of Twin Peaks which was being manipulated by one member, while the female member focused on keys, creating an interesting soundtrack of spaced out synth sounds to the trippy videos displayed. Following their performance was technoise artist Unicorn Hard-On. Credited as a major contributor to the marriage of techno and noise, Val Martino created some minimal, repetitive beats which got the crowd dancing and swaying. I enjoyed her set a lot, one of the best artists in the sub-genre.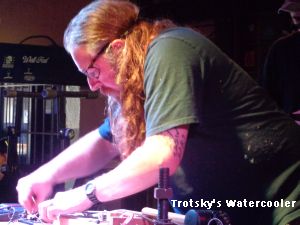 As 2AM arrived, the crowd was presented with three harsh noise artists back to back to back. First up was Novasak, the harsh noise project of Todd Novasad, who beyond being an amazing noiser is also an organizer of the annual Denver Noise Fest. His setup was extremely minimal: a synth, 1 pedal, and a channel switcher; but his sound was huge. Sputtering oscillators, crushing low ends, and piercing highs were unrelenting. Occasionally, Todd would step away from his gear to let it churn on its own before returning to change up the maelstrom of crushing noise. Almost immediately following Novasak, Tinnitustimulus kicked his churning harsh noise into full gear. Honestly, I was so spent at this point that I had to enjoy his set from a distance. A lot of tape and pedal manipulation, and a contact mic were at his disposal as he leveled alternating low and high end sound waves into the audience. Though playing from the floor, he jump to the stage to contact mic some speaker output. To close out the harsh noise triumvirate was Philly noise artist Newton. His performance was a bit more subdued than I've seen him on previous outings, but no less interesting. He started off doing some microphone heavy breathing before going full throttle on a variety of cassette players, sounding like noisy collage of field recordings mixed with other harsh sounds.
While Newton was originally scheduled to close out the night, last but not least was Right Arm Severed. A duo made up of Loop Retard (who performed earlier) and a female collaborator. They stripped off their pants, donned masks, and provided comedic banter and on stage antics to the backdrop of cassette loops. At about 3:30, another I.N.C. was in the bag.
While the Conference is over, I.N.C. activities are going on year round, all over the world. Coming up there are I.N.C.s in Japan and Australia, as well as tours in the U.S. and Europe. All info can be found at: http://squelchers.net/inc.htm
Review & Photos by:Hal Harmon
Vasectomy Party (HN/HNW)
Zone Tripper (Sci-Fi Noise)
Forever Escaping Boredom Records
Hal Harmon