Dusk Till Dawn [2013-01-28]

One of the my most surprising & unexpected sonic discoveries of last year was the work of Idaho based Blake Green, and his two projects Aelter(solo project) & Wolvserpent( with Brittany McConnell). The two projects mix together droney & mellow doom, moody analogue synth scaping, subtle dark wave/ shoe gazing elements, stark acoustic guitar drifts & the odd heavy doom moments- all to create a very distinctive & original sound that is often highly cinematic & atmospheric. Blake kindly agreed to give me an email interview.

m[m]: Tell us a bit about your earliest musical memories, and is there any one particular album or artists that made you want to start making your own music? Blake This is going to date me a bit but when I was 10 or 11 Nirvana was on the radio. This was the first band I heard that really resonated with me. My discovery of Nirvana lead VERY quickly to bands like Black Flag, CRASS, Discharge and Christian Death. I spent the next few years exploring that side of the underground, this also lead me to Venom. My biggest [primary] introduction to experimental metal was an EARTH 2 CD a buddy gave me when I was 15....followed by an early black metal compilation ( which I received from fellow Boisean by Chad Remains of Uzala! Highlights for me being Necrolust and Forhekset) then Mayhem's De Mysteriis Dom Sathanas These releases completely destroyed my mind and furthered my interest into the extreme possibilities of music. There was also a local band at the time called Blood Party who still remains a big influence for me today. They were the heaviest/weirdest band in Boise. Not to mention Caustic Resin who basically were the psychedelic scene in the grunge era . As I started getting more into experimental metal and metal in general I was being introduced to things like Harry Partch, Lou Harrison, John Zorn, Phillip Glass, Steven Reich etc. I had a lot of older friends who had killer record collections that spanned across genres. This was back before any of us had the internet. Music was harder to find and every new mind blowing thing I heard made a huge impact. I made friends with a lot of record nerds.

m[m]: Tell us a bit about how your first band Pussygutt came about & why did you decided to change the name to Wolvserpent in 2010?
Blake Well that was definitely not my first band! Like most musicians I was in many bands that had short life spans. Mostly I made bedroom recordings on 4/8 tracks by myself. Brittany(fellow Pussygutt member) was able to bring me out of my cave. We started playing on acoustic guitar and violin learning Bob Wills covers or chopping up sheet music and mixing it in a hat and recomposing. We eventually moved to bass and drums and something clicked. Neither of us knew how to play those instruments at the time! Our previous band was an insane noise project that focused on never playing together but always playing the same. We had a blast in that project it was very youthful and aggressive. After playing together for so many years we came to a point where we realized that we were taking our music more seriously than we had planned. The old name came with all sorts of problems and misunderstandings, this no longer suited our ideas or musical direction. To put it plainly, it was time for a change.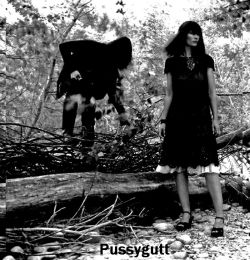 m[m]: Most of your early Pussygutt work is now out of print- what did this early work sound like & have you any plans to reissue it in the future? Blake It sounded very much like a primitive version of what we are doing now. It is not likely that this material will be re-released. "She hid behind her veil" is still available on 20 Buck Spin and is worth a listen if you are a fan.
m[m]: Your first more widely available & non ltd release was "Gathering Strengths / Blood Seed" on which featured your last album under Pussygutt banner, and first album under the Wolvserpent. The sound of offer here was a building mixture of instrumental dark folk, grim strings & flecks on more doom bound guitar work- how did you come to settle on this sound? Blake I consider Gathering Strengths to be a Wolvserpent album. Something significant happened to us at that time, there was an important change. That is why we decided to re-release it with Blood Seed. We felt it was important in scope to have those two albums together. This idea was originally proposed by Dave Adelson of 20 Buck Spin and Adam over at Crucial Blast. Our newest material can be summed up as an evolved combination of those two albums. Those albums belong together, they end and begin the same way. I don't feel we have settled on anything….we have grown into this sound and we do our best to make our music a pure artistic expression. We are working to connect with something that is beyond us but is also something that is a deep-seated part of us.
m[m]: In 2009 you formed Aelter - a solo off-shoot from what you'd done with Pussygutt & Wolvserpent. This new project expanded on the sound of the first two projects & added in analogue synth scaping, droney yet mainly mellow & stripped doom, and odd forays into dark wave/ shoe gazing male/female vocalizing. The projects first release was "Dusk-Dawn", and it consisted of two lengthy vinyl long side epic tracks. Tell us a little bit about how long it took you write & put together this release? Blake I love dark wave and emotionally dark introspective music. Aelter allows me to pursue this love in an almost selfish manner. Similar to Wolvserpent, Aelter provides a world that the listener can safely delve into. Dark or light as it may be. It also gives me a chance to explore musical ideas that might not fit in the other projects. Dusk-Dawn was written and recorded in 2 days. I went through a period of not being able to write or record any solo work for maybe four or five years. Which was a struggle for me. Dusk-Dawn just happened out of nowhere and it happened very quickly. I felt very fortunate to have that burst of inspiration. I also felt like it was risky for me to release that album emotionally and financially. But I decide to jump of the cliff so to speak. The neat thing to me about a lo-fi scenario is the ability to capture a vulnerable or pure representation of a time and place. So I am glad I decided to make Dusk Dawn available. I feel that a time and place was accurately captured and I have received a good amount of support for the project. Which I am very thankful for.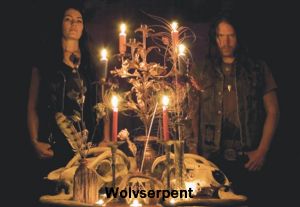 m[m]: Still on the subject of "Dusk-Dawn"- there seems a real feeling of grim cinematic story telling about both tracks. Did you have a story or concept in mind when you were writing the release? Blake Thank you for that compliment! Aelter is a very honest project. I have so far only been trying to express what I feel, observe, or desire to feel. The albums deal with the darker aspects of love , devotion and depression. Romantic pains and struggles. I did have a concept but I prefer for the listener to create their own story. I am really into the idea of taking a journey in music. Listening to a record , closing your eyes and letting your mind and heart wander. Also I am a fan of the dramatic in art. So I can express this in Aelter without restraint.
m[m]: The next release to appear from Aelter was 2010's "Follow You Beloved", which once again saw you offering up two more lengthy & cinematic grim tracks. To me this release had a more dusty doomed western Americana feel to it, was this a deliberate move in the sound or did it just turn out that way? Blake In Idaho there is still a depressing old west feel for me. This is something I love and dislike equally. The desert here in southern Idaho is a beautiful, desolate and extreme terrain (for example as I write this it is -20 C this summer it was 41 C). In my experience sometimes it is difficult to find the beauty in this environment. Everything looks the same…until you look closely, then a whole new world opens before you. It is amazing how unforgiving the desert is and the strength of the plants and root systems required to live in this environment is astounding. There are many colors buried underneath the beige. The majority of southern Idaho is still country, vast open spaces with farmland interspersed. I grew up surrounded by farm land and cowboys. La monte Young was from Idaho. When you see some of the landscape and hear the wind blowing through the farmland in context with the realities that come with that way of life, drone & minimalist music make a new kind of sense. I am also very fascinated by the romantic history and settlement in this part of the west. It too was desolate and full of pain and death. Similar to the desert it takes a closer look to find the beauty in that history. Aelter II is the evolution of Dusk-Dawn. They do have a different atmosphere. Aelter II is more lush. But these two records are very similar.
m[m]: The last release put out under the Aelter banner was 2011's "Aelter III", once again it featured vinyl two side long tracks. The first sides track saw you go for a surprising almost up-beat & dreamy purely synth based track, while the second side saw you moving from dirge bound metal onto an doomed pop/ shoe gazy vibe. You always seem to be striving to add in new musical genre elements into each new release you put out- is this done knowingly or does it happen more organically?
Blake The generally idea that Clarity I is upbeat is always a bit funny for me (you are not the first to mention that). When it was recorded I was at an emotional bottom. The kind you get after a severe nervous breakdown. I was having some serious doubts about my path in this life….and well, existence in general. I was sitting in a chair….staring at a wall in a half lit room for a very long period of time. I plugged a keyboard into a 4 track and hit record. Clarity I was the first take and was also done long after Clarity II. Maybe a year later. I feel like there is something pure about that piece and maybe that is why it is perceived as upbeat…for me it was the sound of giving up.
I was definitely making a conscious effort to push myself and try something different with Clarity II. I didn't want to make another Dusk-Dawn or Follow You Beloved. It was a much more difficult record to make. I had no idea where I was going with it and I almost scrapped it completely. I really do like where it ended up. I think the common element is still the use of repetition and a lush hypnotic romantic/depressive vibe. But a different emotional territory is explored. There is more focus on the pain that accompanies the absence of emotion. I like to create and explore musical possibilities. The path is organic but the choice to journey and seek something new is intentional.
m[m]:with all your projects there's very cinematic feeling, why is this & would you ever like to score a moive yourself? Blake Well I am a fan of movies and a huge fan of the power that comes from the merging of audio and visual. I would love to score a film someday. But I would like to step out of that box. I want to focus on the cinematic feel of the music itself….with out the idea that it is inspired by movies. Because my music is inspired by life. Music is very similar to a novel. The visuals are created by the readers imagination and the emotions felt are purely unique to each individual. We can share the feelings of a novel or a piece to an extent but I love the unique purity that sound and word can have on the individual imagination. So many parts of us and our personal history direct the understanding and the story.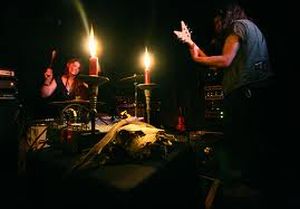 m[m]: You seem to tour quite a bit with Wolvserpent- can you give us a little insight to what the band is like in a live setting, and how many people create your sound in a live setting?
Blake Recently we have been told that our set makes people feel like they are on another planet. Which is absolutely wonderful! We have been concentrating on presenting visual aspects along with our music, creating a more well rounded experience for the audience. We like to host an event rather than a show (if that makes sense?) and do it in a way that bypasses a listeners preconceived ideas of genre if at all possible. This approach is still in it's infancy and we are limited by our position in a given lineup. But the response to our last few shows has been better than ever and we hope to continue to grow and improve in the live scenario. Wolvserpent on stage is currently me and Brittany.
m[m]: What's next for Wolvserpent & Aelter?
Blake Wolvserpent has a demo of new material available at no cost HERE http://wolvserpent.com/downloads/ and we are currently working on a full length album for Relapse Records. Aelter: I am just hoping I can get a fourth album done!! I have several ideas I am trying to follow through with, It's been 3 years since I recorded Clarity II..woh!
Thanks so much for the questions, interest and support. PEACE in war and truth over lies. -blake

Thanks to Blake for his time & efforts with the interview. Information & audio samples for all of Blake's projects can be found here
Roger Batty