Everybody's Unconscious [2012-10-09]Pumpkin Buzzard are a Missouri based multi- genre project that create a very one-off, wonky & weird sound. The project has been in existence since around 2003, and they have released 14 albums that brew-up an off-kilter mix of all manner of musical fair from wonky metal to unhinged pop and beyond. The band are extremely secretive, and always appear behind bizarre masks ect, it's even unclear how many people are really involved with the project. I caught up with one ( or maybe more?) of the members for a rare interview. After my interview you'll find a primer of the bands past back catalogue, with new reviews & links back to PB titles we've already reviewed here at M[m].

m[m]: Was the bands focus from the beginning to offer up a wonky/ unwell mixed musical genres, or did it start off as one set style?
PB We never had a specific genre in mind. We occasionally try to imitate a certain style or band but we usually fail, instead creating something uncomfortable and strange. Sometimes this happens even when we try to imitate our own songs. This failure is a major component of the Pumpkin Buzzard sound.

m[m]: Are there any types of music you've not tried your hand at yet, that you'd like to give a go?
PB Reggae, ska, shoegaze


m[m]: You like to keeping the members of the project secret, but can you give us an idea of how many people are involved with the project? And who does what in the band?…obviously fake names can be used
PB The number of people involved differs from album to album, and sometimes from song to song. Some songs have up to seven people, a few songs have only one. Members rotate instruments - a person will drum on one song, play guitar on the next, then play keyboards on a third song. Most members also sing and contribute to the lyrics.


m[m]: Why did you decide to go down the mask/ hidden identity route with the band?
PB The photo shoots are more interesting.

m[m]: Your most recent full length 'Neuron Beast' seem to sees you moving towards a more approachable sound( or maybe I've just got more accustomed to your sound )…..are you going to carry on down this route, & do you think you'd ever do a completely straight odd 'pop' album?
PB Our soon-to-be-released next album, Love, has songs that are even more accessible than the catchy songs on Neuron Beast. Some of the music in the works after that album is very strange, some is more accessible. We don't set out to make songs that are "accessible" or "inaccessible" - we just make songs.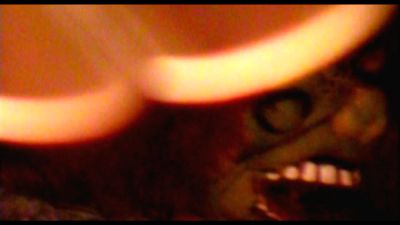 m[m]: Can you tell us a little bit more about the soon to be released "Love" release? And does this title indicate that the albums going to be full of Love songs or ballads?
PB For Love we used a basic rock setup: guitars, bass, piano, drums. Some songs are acoustic, some are piano-based. There are elements of punk, stoner metal, free improv, folk, pop, classic rock, and balladry, and there are unclassifiable songs that can only be called Pumpkin Buzzard.

m[m]: The new album Love seems to use a lot of wonky sounding singer-songwriter type piano elements. Who are some of your favourite singer/ song writers?, & could you ever imagine you doing a cover of a love song?
PB Neil Young, Bruce Springsteen, Leonard Cohen, Joan Baez, Van Morrison, Joni Mitchell, Tom Waits, Cat Stevens, Nick Drake. There is no reason we wouldn't cover a love song.
m[m]: Your new album love features a picture of a dead racoon on the front cover; can you tell us how this picture relates to the albums theme of love?
PB It's actually an opossum that was found dead in front of a bandmate's house. We cannot tell you how this picture relates to the album's theme of love.
m[m]: Your first album 2005's 'Perfect dragon' features a few live tracks. What where your early live shows like?. Do you ever play live now, & if not is it something you'd like to do ?
PB Those recording are live in-studio to an audience of no one (our most dedicated audience). We do not play live and have turned down a few opportunities to do so due to logistical reasons (some band members are geographically distant).

m[m]: You mention that your live tracks were played live in the studio. Does this mean you don't often get to record together? And if this is the case how does it work recording albums?
PB It can be hard to schedule recording times. We meet to record music sporadically. Sometimes some members meet but not others. Sometimes we record solo and e-mail parts to each other. It can take a while to put all this together into a finished album. For instance right now we have some guitar tracks one member recorded three years ago that other members will hopefully record bass and drum parts for sometime next year.
m[m]: The only photos to ever appear of the band are of people dressed in bizarre fancy dress masks & what looks like thrift shop clothes. Do you see these costumed as characters, and if so do they have names?... for example what's the name of the wolf man in orange sports top on the front cover of 'horse machine' & whose the canine buddy he's holding?
PB The costumed models are characters in some sense, but it's more a generic theme reserved for our albums that are recorded using predominantly organic instrumentation. The characters in the "warrior-and-weapon" theme could relate to some recurring lyrical elements in the Pumpkin Buzzard universe, but that connection isn't premeditated. The canine weapon being held on the cover of Horse Machine belongs to one of the band members.
m[m]: Can you tell us a little bit about the Album-a-Day concept that your second release 'ADD Compilation' was built around & is this something you'd like to do again?
PB The Album-a-Day Compilation is material we recorded according the rules of the Album-a-Day project which include restrictions such as no outtakes and no ideas developed from a previous time. Each "album" in the compilation was conceived and recorded completely within a 24-hour period as per the project's rules. Though the songs on the compilation were produced specifically with the AAD project in mind, some Pumpkin Buzzard full-lengths have been recorded in a similar fashion with slightly more lax restrictions.
m[m]: You've come up with some great 'n' weird album sound concepts, such as 2007's 'Mantis Antler' which saw you speeding up each track on the album by 10 beats per minute, going from 70 BMP up to 300 BMP. Or 2006 'underneath Rotting' that saw you tried to recreate the dark vibe of metal with out using guitars. Tell us a bit about how these concepts came about & have you got any more sound concept ideas you'd like to use on future releases?
PB Many of our sound concepts are ideas that came well before the recording of any specific album. It could be something interesting a band member came up with on their own, or an idea thought up during a brainstorming session. The concepts are one way of encouraging us to achieve a new sound for each album.
m[m]: On the subject of concepts 'Mantis Antler' also had a lyric/ musical concept behind it. You list the albums story as been about apocalyptic return of the extradimensional "goat kings" to Earth as observed by a heart-broken, suicidal alcoholic in California. How did this idea come about & have fancied doing another straight concept album again?
PB The concept for Mantis Antler arose during songwriting for the album. We recognized a recurring idea and connected the dots during production. While there aren't any concrete plans for other concept albums, it's not out of the question. We tend to focus on album concepts musically more than lyrically.

m[m]: In October 2011 you decided to cover the whole of Nine Inch Nails Pretty Hate Merchine in your own distinctively deranged style. Tell us a little bit about how this came about, and which cover were you most proud of on this album?
PB We discussed covering PHM for several years. When the album's recent re-release was announced we were inspired to actually do it. "Kinda I Want To" is inspired by the early demo version of the song found on the Purest Feeling bootleg and is a favorite.

m[m]: Are there any other tracks or full albums you'd like to cover?
PB We would like to do more Nine Inch Nails covers. We've discussed covering Darkthrone's Transilvanian Hunger (the whole album).
m[m]: How far did you get into planning the Transilvanian Hunger cover album, and had you worked out how you were going to do each track? and would your versions have been similar to your 'black metal played with none metal instrument' album Underneath Rotting? Or had you thought of another route?
PB We discussed doing a fairly traditional take on the album, maybe performing it live in studio. Because we aren't very good performers and can't tremolo pick or play blastbeats for 40 minutes straight, our versions would/will differ from the originals regardless of our intentions
m[m]: How often do you record/ write new Pumpkin Buzzard stuff? And do you release everything you record?
PB The frequency of recording for Pumpkin Buzzard is somewhat sporadic, but often when we have recording sessions, they involve producing material for more than one album. Due to the distance of the band members, sessions aren't usually on a regular schedule. We try to release most everything we record. We record music with the intent of releasing it, so if something doesn't fit for one album, it may work for a "Pumpkin Buzzard Presents" release or a compilation
m[m]: List a few of your key influences on the projects work?
PB 90s alternative and industrial rock. Straight-to-VHS sci-fi, action, fantasy, horror, and children's movies.
m[m]: You mention straight to video movies as one of your influences- please list ten of your favourites & explain why?
PB Cybernator, Death Kick, Combat Shock, Troll 2, Wizard of Gore (though it predates video).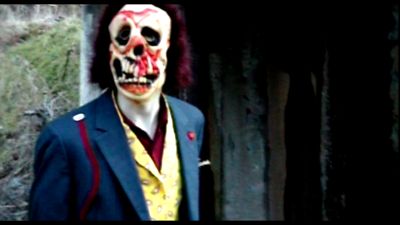 m[m]: Have you ever thought of doing a video to one of your tracks or maybe even a Pumpkin Buzzard movie?
PB We haven't put much consideration into creating music videos in the traditional sense. The Pumpkin Buzzard videos that do exist are merely collages of low-budget, straight-to-video movies that influence our style. Pumpkin Buzzard created the soundtrack for a Jeshimoth-produced movie during the Perfect Dragon era of recording. While there are some songs, the soundtrack features mostly soundscapes and effects
m[m]: Still on the subject movies- are there any movies you'd like to re-sountrack?
PB Creating movie soundtracks isn't something we have discussed for the future, so it's not a priority for the band.
m[m]: following on from the question about soundtracks, I was asking you which movie you'd like to resound track, not if you wanted to do movie soundtracks….so what movie would you like to re-soundtrack?
PB Woodstock.

m[m]: You mentioned sound tracking a Jeshimoth-produced movie during the Perfect Dragon era of recording. Can you tell us a bit more about this & will the soundtrack ever surface?
PB It is an experimental film, arguably not very good. The soundtrack will probably be released sometime in the next year or two
m[m]: You mentioned about releasing your soundtrack work to Jeshimoth-produced movie- how many other unreleased albums/ tracks do you have in the PB vault?
PB The numbers are distressingly high. A rough count is around 150 finished, not-yet-released tracks (not counting the movie soundtrack) and around 50 tracks in progress. We plan to start releasing albums more frequently.

m[m]: Wow 150 songs!....are these laid into album form yet? And have you ever considered release double or triple album releases?
PB Most of our unreleased music is already in album form. We typically record songs with a concept or idea with the intent of a complete album. This means our unreleased songs are actually unreleased albums. We have definitely discussed double or triple albums, but so far have not recorded for that purpose.

m[m]: What's next for Pumpkin Buzzard?
PB We have several albums in the pipeline yet to be released. Many are complete, others are works in progress.
Thanks to Pumpkin Buzzard for their time & efforts with the interview. Pumpkin Bazzard blog can be found here, & all of Pumpkin Buzzard's backcatalogue can be brought at Jeshimoth Entertainment website here
--------------------------------------------
A wonder into the Buzzardian past

Perfect Dragon (2005)
Pumpkin Buzzard's first madding sonic steps started with 05's "Perfect Dragon". The CD album featured forty tracks in all, and these lasted between just under thirty seconds to just under eleven & a half minutes. And really the album jumps, throws & vomits it self all over the place, we move from buoyant 'n' wonky day-glow Spanish techno pop, to 80's lift music melt downs with manic vocals on top, onto bass guitar 'n' wonky electro beat odd funk that's askew with crazy man vocals. Over to drunken/ wavering pop punk guitar chugs splattered with surreal lyrics, onto badly recording/ wavering odd cappella work-outs, through to off-kilter modern classical piano wonderings, down to brooding 'n' sinister dense sc-fi synth fogs, onto jittering electro fired hardcore punk mad man rant with children's vibe playing on top, over to juddering 'n' throbbing techno work-outs with deranged & effect altered male vocals on top. It really is a very strange & unhinged ride of a debut album, where you really don't know what's around the next sonic corner.
Album-a-Day Compilation(2005)
The bands second release brought together three mini albums recorded under the ADD concept, which means the songs are written & recorded in one day session with no post over dubbing…so I guess you'd say this is nearest the band gets to a live jam. The first album is entitled "American Jellyfish", and this offers up ten tracks that conists of mainly junk percussion, de-tuned guitar playing & often deranged/ comic vocals. The tracks I guess are best describe as rudimentary takes at wavering 'n' wonky grunge rock, playful 'n' sinister off-kilter sparse rock/geek punk, bent & deformed trash metal, weedy 'n' wavering attempts at doom, and wonky guitar/ sing-song child like guitar pop.
The second album is entitled "Vampire Rainbow", and this offers up six tracks which mix off-kilter auto-tuner textures, unhinged synth textures, & electro beat bound grunge/ rock pop. It's a release that seesaws between tuneful-ness & wonky 'n' haphazard electro treated voice manipulation.
Lastly we have "Sunshine Synthesizer", and this takes in the last seven tracks of the release. This album mixes together groovy yet slightly wonky guitar bass-lines, wiry 'n' deformed electric guitar strums, deranged 'n' comic off key male vocals, a few darts of wondering 'n' wonky vibe sounding keyboards textures, and smashers/darts of wacky/ loud percussion. Along the way too the band try their hand at: white rap rock, and skittering/ wonky vibe fed electronica meets off-kilter geek rock, and beyond.
True Shift (2005)
True Shift sees the band moves from & mix together: wiry guitar wrapped white boy rap rock. Sinister jazz drifts with croaking vocals. Prolonged 'n' sombre psychedelic jamming mixing together wordless vocals & bleak world music drifts. Punchy rap over popping beats 'n' ethic guitar loops. Sped-up & noise guitar ribbed nursery rhyme with blurred 'n' ranted vocals. Slurred 'n' wonky industrialized indie rock work-outs, and beyond. Over it's 15 tracks the album seems to effortless slip from the quirky 'n' comic, to the sinister & trip-out, to noisy & odd, onto punchy & almost pop like. For me this is the first classic Pumpkin Buzzard album, as every track here seems to work well on their own right, yet all 15 tracks together create a strange, unhinged & distinctive ride of a album.
Horse Machine(2006)
After the often approachable & fairly well produced odd-ness of True Shift, Pumpkin Buzzard came back with one of their most lo-fi, wonky & messy albums- Horse Machine. The albums 16 tracks have mostly a guitar/bass & minimal live drum backing(floor tom, snare, and crash cymbal) base, though there are often subtle yet wonky additions of mandolin, violin, piano, lap-harp & synths. The tracks go from unwell 'n' truly bent brews of noise rock/ demented doom, that mixing-in wiry comic vocals & death grunts. Stripped/wonky horror punk. Discordant mixes of runaway one man junk-band bash 'n' crash. Skittering 'n' rapid guitar work-outs & layers of ranted/ screamed vocals. Off-kilter brews of off tune grange-rock & clunking piano banks. To rudimentary 'n' stripped live drum work-outs mixed with discordant guitar strum & off-key fire sing long's. Horse Machine is not an album to start your way into the world of Pumpkin Buzzard, but certainly it's worth coming back to when you come more accustomed to the bands distinct brand of sonic madness.
Underneath Rotting(2006)
Pumpkin Buzzard's 5th album finds the band trying recreate the dark atmosphere of metal with-out the use of real guitars, or really an of your standard metal sonic tools. And it's a hell of a deranged & off-kilter ride, which finds PB going from jabbering & manic mixture of warped easy listening, bent jaunting pop techno elements, electro carnival synth jaunts, and a mixed of barked/ comic horror vocals. Onto grim meshes of distorted drum machine pound & churning 16 bit sped-up synth bleakness, which are brutally a swim with moans & black metal like barks. Onto Smeared day-glow mixtures of warbling new wave edginess, hip-hop beats, 80's pop jaunting synth, and sing-song white boy rap. Over to music box pitter-patter meets 80's horror movie synth wonky-ness 'n dramatics, which are splattered with meaty/ crusty hip-hop beats. Through to clunky gamelan meets chirping 'n' melting vocal textures that sound like a slowed & wonky mixture of GGFH & The Residents. Each of the albums 24 tracks are quirky, wonky, darkly unwell yet often memorable- this is another very distinctive & rewarding Pumpkin Buzzard album, and it stands another one of my favourites of the bands back catalogue

Mantis Antler (2007)
Mantis Antler is a concept album both with a sonic theme & a story theme- sonically each of the albums 24 tracks are 10 beats per minute faster than the last, starting at 70 bpm and climaxing at 300 bpm. Story wise the album chronicles the apocalyptic return of the extra-dimensional "goat kings" to Earth as observed by a heart-broken, suicidal alcoholic in California. The album's tracks go from doomy, drowsy & wonky Grunge rock with electro beats. Onto wavering US punk pop guitar strum 'n' synth beat. Through to American indie rock strum & comic-ness swim with spacey electronic textures. Pump-ed up/ theatrical 1990's Resident like synth based orchestration banks mixed with noise rock guitar chug. Steaming 'n' chugging synth, beats & vocal mixers. Nursery rhyme like guitar runs, ect. Again it's another fairly wacky and enjoyable Pumpkin Buzzard album, through there was a bit too much American indie/pop punk quirkiness for my liking, and the sound map in genreal is certainly not as varied or clever as other PB releases. Also the tracks often feel too focused on locking into the sonic concept with not enough focus on song craft or the album's story concept.

Potborski Zastavka (2009)
The bands 7th album is one of their most ugly, lo-fi and stripped. Most of the songs here could be classified as wonky psychedelic metal/ doom that's littered with scrabbling string textures, off-kilter bells 'n vibes, and a selection of three vocalist that go from death grunts, to warbling punky chatter, onto wavering off-tone shouts. The tracks are mainly based around persistent guitar, bass & drum mix, though there are subtle & wonky dabs of mandolin, bells, lap harp, recorder & synth- but for the most part this is very much a guitar/drums album. One track after another seems to pound, smash, crash & chug on & on…. A few of the middle tracks have a stab at discordant folky with growled / waver vocals, but pretty soon we're back wonky psychedelic metal/ doom setting. This is very much have-to-be-in-the-right mood type record, and it's certainly not a great starting point for PB virgins.
Everybody's Unconscious(2009)
Everybody's Unconscious is the depressive counterpart to the Mantis Antler sonic concept. Instead of speeding up the BPM's with each track this album slows its speed down by 10 BPM with each track- we start at 90 BPM, going down to 10 BPM by the albums end. Sound-wise it's a wonderful 'n' wonky sonic journey that takes in: melted & bent snyth/ beats, wavering out of tune vocals, discordant piano runs, creepy electro vibe/ music box trails. Brooding string dwells with chanted off-tune vocals on top, weird moaning/ slurred textures, discordant mixes of bleak acoustic guitar strums & slowed piano darts. Warbling & bent Christmas carol's renditions. Slurred 80's bass synth throbs over slowing/unwell hip-hop beats, and slurred synthetic jazz honks. The album seems to get more unsettling, drowsy & unwell the further it goes on- as if PB are slowly but surely dragging you deeper & deeper into a half-lit & deformed other world. It's another PB masterpiece, and pretty much unlike anything you'll have heard before
Knowledge Zombie(2010) Reviewed here
Avalon Burning(2010) Reviewed here

Identity Undeclared(2011) Reviewed here

Pretty Hate Machine(2011)
Pumpkin Buzzard's take on Nine Inch Nails classic 1989 debut album is as unhinged, bent & off-kilter as you'd expect. PB bend & warp the tracks in all manner of ways, yet they still retain their original NIN edger's just with added PB bizarreness. This is a download, or play on-line PB release.

Neuron Beast (2011) Reviewed here
Happy Hoildays (2011)
This a fairly straight yet very cheesy collection of plodding ambient synth renditions of Christmas holiday carols & songs. There are a few warbling/ off-key edger's here & there through-out this ten song collection, but really it's a bit too un-weird or not unhinged enough to make you want to replay it more than once or twice. This is another download or listen on-line PB release

Roger Batty