In Search Of Metal Mayhem [2012-10-01]Pharaoh Overlord is one of the more known off-shoot bands of Circle -the Finish genre shifting krautrock inspired rock band. Since 2001 Pharaoh Overlord have put out 10 full length releases, which have seen the band focus in on a mixture of metallic, stoner, or space rock sonic craft. In 2011 they put out 'Out Of The Darkness' the bands tribute to 80's metal, NWOBM, & cheesy stadium rock. I caught up with Jussi Lehtisalo ( bass player & one of the main minds behind both Circle & Pharaoh Overlord) for an email interview.

m[m]:Tell us a bit about how Pharaoh Overlord first came about & what the name meant to you?
Jussi Pharaoh Overlord picked up where my band Circle left off. Circle was known for its monotonic, overpowering expression, and at the turn of the 2000s started to move towards improvisation, hard rock and no wave. We decided to leave Pharaoh Overlord behind to have Circle's back, to maintain these important values, when our mother band Circle wanders into unknown territory. Later in the 2000s, after quite similar phases, Pharaoh Overlord started to change into more heavy metal -style Pharaoh Overlörd, and the band's expression started to remind of more traditional hard rock and improvisation. This means that, in the next few years, Circle will probably move back towards monotonic guitar monster. Someone might call this alternation leave..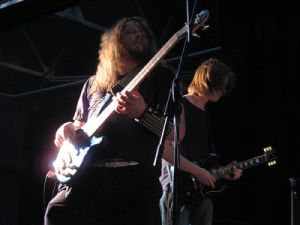 m[m]:What did you see as the bands sonic mission statement, and how did it vary from circles sonic mission statement?
Jussi When Circle is at the highest point of a wave, Pharaoh Overlord is at the lowest point of the wave, and vice versa.
m[m]: Where does the bands name come from?
Jussi Our music is much more imaginative than the names of our bands
m[m]:Does the way you write vary with Pharaoh Overlord & Circle?
Jussi Pharaoh Overlord and Circle will resemble each other more and more, and once they reach the point where they are alike, they will start drifting away from each other again
m[m]:Your most recent album Out Of The Darkness has seen the bands change name change to Pharaoh Overlörd- what's the meaning of this?
Jussi It is Pharaoh Overlord's Dr Jekyll and Mr Hyde syndrome. The left hand doesn't know what the right hand is doing. Both bands flounder forward, and think that they are the one and only Pharaoh Overlo(ö)rd. It is like two Saxons, two Fausts, two LA Guns...
m[m]:Still on the subject of your new album 'Out Of The Darkness'- it sees you going for a more straight forward though still twisted take on 80's metal, NWOBM, & cheesy stadium rock. What made you decide to go down this route?
Jussi I am a huge fan of AOR, hair metal and 80's heavy metal. I wandered in the mists of experimental music the whole 90's and the beginning of 2000's, and started to notice charming details in music (hair metal, AOR) that I didn't fully understand in the 80's. There are also underground bands in the AOR genre, for example, who recorded for small labels and made awesome music, like Alcyone (Alcyone: S/T LP (1987)), or Leviticus, who play christian heavy metal (Leviticus: The Strongest Power LP (1985)). Of course I also like bands that were big names in their time, like Night Ranger and Y&T.

m[m]: 'Out Of The Darkness' features a few guest vocalist in the form of Sam Velde from LA based hard rock band Night Horse & Frank Meyer from LA rock band Angus Khan. How did these two come involved with the project & how did you meet them both?
Jussi Bruce Duff, from the legendary Jesters of Destiny, is also a guest vocalist on Out of Darkness. He suggested that we ask Frank Meyer and Sam Velde to join us. This turned out to be a brilliant idea, as the album got a whole new dimension with the LA musicians aboard. We have worked together with Bruce Duff on Circle's album Hollywood, so Out of Darkness closes the circle in an interesting way.
m[m]:Sam Velde has a very Glen Danzig type sounding voice- have you ever attempted to ask Mr Danzig or other 80's/90's star metal singers to work with you? And if you could what classic rock/ metal vocalists would you like to work with?
Jussi My favourite vocalists from the 80's and 90's are Bruce Duff, Mark Shelton from Manilla Road, Mark Lanegan from Screaming Trees, Snake from Voivod, Mike Lezala from Legend (UK) and Perry Farrell from Jane´s Addiction. They all have their own, unique and strong style, and I like their voices and the vocal melodies they use very much. I am in a great position here as I have had the pleasure to work with Bruce Duff, so my dream has already come true.
m[m]:List your top ten favourite 80's metal/ NWOBHM & explain why they are?
Jussi Jesters of Destiny: Fun at the Funeral LP (1986) = utterly unique, the atmosphere is in its own league altogether
Manilla Road: Crystal Logic LP (1983) = epic, great compositions
Iron Maiden: Powerslave LP (1984) = the first heavy metal album that hit me hard in 1984
Voivod: Nothingface LP (1989) = a futuristic masterpiece that was released at the right time in the late 80's
Legend (UK): S/T LP (1980) = great songs, wonderful vocals, rough riffs
Metallica: Kill 'Em All LP (1983) = perfect swing, great riffs and unique rock'n'roll
Brocas Helm: Black Death LP (1988) = awesome, lively playing
Slauter Xstroyes: Winter Kill LP (1985) = strange, intriguing compositions and arrangements
Messiah: Final Warning LP (1984) = great, rough christian metal
Possessed: Seven Churches LP (1985) = I ordered the album in 1985 but did not dare listen to it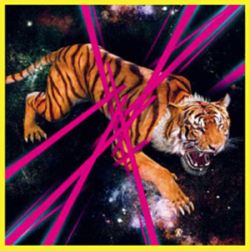 m[m]:Has the band ever consider doing a video for one of their tracks?, as I feel they'd more a few of the tracks 'Out Of The Darkness' that would work great with a video.
Jussi We did do music videos with Circle back in the 90's, but it has kind of passed out of mind. I'll let the idea mature a bit, and we might think about making a music video when Out of Darkness gets a successor. Sunny Los Angeles might do good fos us Finnish rednecks. My latest band Arkhamin Kirjasto made a
music video just a short while ago: http://www.youtube.com/watch?v=BjlLMCSZ_kk
m[m]:What are your thoughts on more modern/ mainstream metal?
Jussi Most of it is too clean and synthetic pro tools-metal, where production has taken over things that artist himself or herself should take care of, namely leave their own hand print in the art. More sound engineers than producers into heavy metal circles, please!

m[m]:What's next for the band?
Jussi We are planning new Pharaoh Overlord and Pharaoh Overlörd albums, and I hope they see the light of day sometime early next year.
m[m]:Can you tell us anything about the new Pharaoh Overlord and Pharaoh Overlörd albums?
Jussi The next Pharaoh Overlord album will be more acoustic and it will have more vocals. The music will still be meditative and reflective with crushing riffs. The next Pharaoh Overlörd album will be even more cheesy hard rock for stadiums than Out of Darkness
Thanks to Jussi for his time/efforts with the interview. The bands in-print back catalogue can be brought direct from here.
Roger Batty