The Masters Of Noise [2012-08-15]I don't really know where to start with the introduction of Incapacitants. This Japanese duo, comprised of Toshiji Mikawa and Fumio Kosakai, has been riding the noise scene for more than 30 years, I believe becoming the most widely and sincerely loved noise act in the world. Their sound is pure and brilliant, and it has been a big influence on pretty much everybody who plays any facet of this genre, from power electronics to straight noise. It's safe to say that noise would not be the same without Incapacitants. Roger and myself got together to pose some questions to Toshiji Mikawa via email

m[m]:I know Incapacitants started as Mikawa's solo project - Why did you start to play noise and what were your main influences at the time?
Did your motivation change over the years?
Toshiji Why did I start to play noise? It's quite difficult question to answer.
At that time, early punk movements prevailed in Japan.
It was late 70's and I was a high school student. I loved various kinds of progressive rock, free jazz, free music etc etc. Punk culture told me even I could do something
by myself. I was so strongly impressed by these three albums. "Blorp Essette "(L.A.F.M.S. compilation), "Musical Experiences" by Jean Dubuffet and Fred Frith's contribution to "Guitar Solos 3", "Alienated Industrial Seagulls Etc."
By listening these recordings, I noticed everything is OK, nothing can be deni ed. That's a trigger why I started playing Noise.


m[m]:How did the collaboration with Kosakai happen?
Toshiji Incapacitants is originally my solo recording unit. When I was in Osaka,I was asked to play live as Incapacitants and I couldn't reject it, but I didn't want to perform solo live, so I asked my friend to perform live with me. The first guy I performed with under the name of Incapacitants was Takahiro Kuramoto. Then, I performed together with Eye Yamatsuka from Hanatarash. In 1986, I moved to Tokyo and after a few years of calmness, again I was asked to perform live as Incapacitants. Then the idea to play with Fumio suddenly came into my mind. At first, our combination wasn't so good, I thought, but now, I can't think of Incapacitants without him.


m[m]:What is it about noise that you like the most? Is it special for you?
Toshiji Quite difficult to explain. I love noise anyway, especially if it's loud and of course it's quite special to me.


m[m]:I remember reading that you think noise should be separated from music. I kind of agree. Can you explain why?
Toshiji Because noise can be pure and can stand as it is, but (especially commercial) music tends to use noise as its part. I can't stand. Noise is noise and I think it shouldn't be taken use of by commercial music.

m[m]:How has the way you create noise changed over your thirty years existence?
Toshiji The progress of instruments changed my both live and recording circumstances. However, the sounds haven't changed so much. It's my honour.


m[m]:Another incredible thing about Incapacitants is your constancy. Your sound is always strong, coherent and "true" since the first albums. As you mentioned, you're proud that your sound hasn't changed much. Do you think change is bad?
Toshiji I don't think change is bad. Frankly speaking, Incapacitants' sound itself has changed in the long run. What hasn't changed is the spirit behind the sound.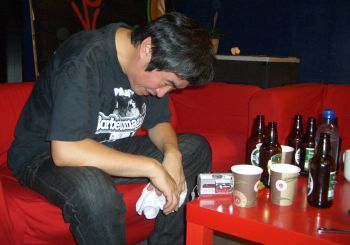 m[m]:Do you have a favorite effect pedal, instrument or sound source, something that you can't play without?
Toshiji My favorites now are Air Synth and Tetrazzi, though I can play without them.
m[m]:Your shows are always highly energetic, and provoke a wild and extremely happy reaction in the audience. In fact, I don't think I ever saw so many smiling faces at a noise show as at your London/LAFMS gig last year. It was a great feeling. Why do you think this happens? Where does all this energy come from?
Toshiji I'm not sure. In Incapacitants' lives, we always perform with our all physical powers and mental concentration, and I guess audience's naturally feel sympathized and happy with our frankly speaking funny actions.

m[m]:Your noise sounds indeed "happy" to me. When I listen to Incapacitants I don't feel aggression or brutality like with some other noise. It just makes me feel good and happy. Is this only my impression or do you try to convey some kind of positive emotion through your noise?
Toshiji We have no special intention to make listeners happy, but if they feel so, we are very happy too.
m[m]:Is extreme loudness of sound important to you in live setting? If yes, which was the loudest show you ever played?
Toshiji It's quite important. So, we did experience a very difficult time when Incapacitants performed live in London. At that time, stupid PA guy required to reduce the guitar amplifier volume level between 0-1!!!!!
He said we had two choices. One was to accept his words. The other was high volume level for the guitar amplifier without PA. Our choice was the latter. It was still a disgusting memory to me. By the way, the loudest show I experienced was probably the first Hijokaidan appearance at Glasgow.
m[m]:What have been some of your favourite Incapacitants shows over the years?
And explain why they have been?
Toshiji One of my favorite shows is Live at Chop, Ikebukuro, Tokyo 20060422. You can tell why by watching this http://www.youtube.com/watch?v=9mxmfYnDoS4
I also like Live at Wels, Austrial 19991105 and Live at No Fun 2007.
m[m]:What's your typical recording session like and how do you proceed when you want to make a full length album? You don't have to reveal any composition "secrets" if you don't want to of course.Toshiji Going to recording studio is very rare for us. Sometimes we go to studio, record the performance there with 2 track deck or some other handy recording instruments. I usually use the recorded sounds as sources to make materials
for the release.

m[m]: How often do you make noise as Incapacitants & do you release everything you record?
Toshiji Not so often, especially recently. This year we performed live only twice and have no future plan. We don't release all we record.

m[m]:One thing I've always loved about Incapacitants is the titles. They're taken from work and every day life thematics, clashing with the explosion of sound and creating a good atmosphere. Why do you like
to implement this kind of titles? Silly question I know, but I'm just curious. Toshiji Just because it's interesting to me. Sometimes, I can show my CD to my colleagues and they usually laugh, I feel happy then.
m[m]:Are you and Kosakai still working day jobs in offices? And if so, did you ever play your fellow workers your noise & if so what do they think to it?
Toshiji Yes, still Fumio is a public servant and I'm a deputy general manager of one of the biggest securities broker in Japan. Long time ago, one of my colleagues came to see us play live and he stayed from the start till the end of our performance. Recently, some of my colleagues watch our performance at YouTube and basically they admire us.
m[m]:Do you follow new noise? If yes, what bands you like from the last few years?
Toshiji Not so much. Recent findings are Hal Hutchinson and Jaakko Vanhala. Wasteland Jazz Unit and Astreinte were great. However there are too many to mention.
m[m]:Besides being an influence for pretty much all noise musicians, you're often quoted as an influence on the HNW (Harsh Noise Wall) sound & scene - what are your feelings about this & do you know and enjoy any HNW projects?
Toshiji Recent Incapacitants' sounds don't match the word "HNW", I think, though there might be time when it was suitable for us. For that word, RITA is the most suitable artist among I know.

m[m]:In 2009 Pica Disk released the "Box Is Stupid" boxset, which brought together a selection of your tape releases from the 1990's in a cd box set. Earlier "Pariah Tapes" box set, including the earliest Incapacitants recordings was released by Freak Animal. How did these come about & how long did it take to put together?
Toshiji Just because of the passions to re-release of Incapacitants' "lost" works by Mikko Aspa and Lasse Marhaug.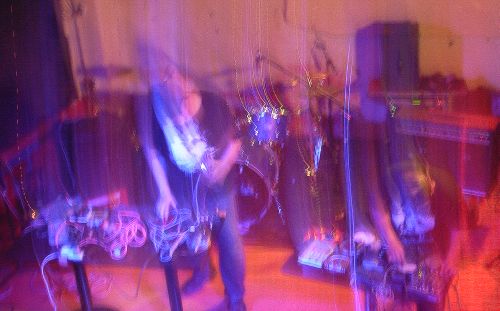 m[m]:Would you like to put out another box set of old material if the opportunity rises ? And if so what would you liked to see featured on it?
Toshiji Actually, all Alchemy releases will be reissued together with 2 new live CDs and 2 DVDs as a box titled "Alchemy Box Is Stupid" in August.
m[m]:Can you give us a bit more detail about the "Alchemy Box Is Stupid" set? Will the albums still have original artwork & will you be adding anything new to them, like unreleased tracks? Can you anticipate where are the live recordings & live dvd recordings coming from?
Toshiji "Alchemy Box Is Stupid" includes 9 original CDs reissue ("Repo", "Feedback of N.M.S.", "Fabrication", "Quietus", "No Progress", "New Movements in CMPD", "Default Standard", "Live Incapacitants" and "73"), 2 new Live CD (one is "Kazuo Imai & Incapacitants", which contains "Live at Doors 20040908" and "Live at Super Deluxe 20070429", and the other is "Live Incapacitants 2", which contains "Bears Overcrowded Live at Bears 20120211" and "Taste of the Soup Live at Soup 20120225") and 2 DVD (one is "Live in Cabaret Freak Out", originally released as DVD-R by Alchemy, and the other is "Random Live Sampler", which contains "Live at Yaneura II 19931031", "Live at Zenei Koi Ongaku Sai, Toyama City Citizen Plaza, Multi Studio 19940827", "Live at Studio 80 19980802" and "Live at Gospel, 1993 Extreme Gospel Noise 2". "Extreme Gospel Noise 2" was originally released as VHS by Vanilla Records. Other three are unreleased". The original CDs include no special tracks. Their artworks are the same as originals, though they are paper-sleeved.
m[m]:What are your next plans for solo and Incapacitants activity?
Toshiji For solo, the C-10 cassette "Physical" has just released. Regarding Incapacitants' live appearances, due to Kosakai's family reason, number of the live performance will be reduced until the mid of next year. Other than "Alchemy Box Is Stupid", Cold Spring has just released a one- sided 12 inches by Incapacitants, "A child who watched the sky and so on", limited edition of 100 copies, Industrial Masoquista, south America label will release our new CD in Sept.

m[m]:Thanks a lot for doing this interview! If you have anything particular you want to say to our readers please do.
Toshiji Thank you for reading this interview. We strongly hope that you start what you can do now. Continuing it for a long time without losing early day's passion may be difficult but quite important. I saw so many talented persons went away from the scene. There are of course various reasons for that matter but anyway, continuing is quite important. Don't stop making noise!!!

Interview questions by Nicola Vinciguerra & Roger Batty.
Various