A Label For Many Sonic Seasons [2012-07-25]In the last 8 years, Wisconsin based Utech Records has made a name for itself bringing recognition to avant garde musicians, veterans and new-comers in equal parts. The albums on their roster are daring hybrid of styles which have only rarely seemed so at home together before. One senses the disparate realms of metal, jazz, classical and noise drawing ever closer together. With high quality, distinctive packaging and a commitment to consistency and out-of-the-box thinking in their releases, Utech Records dispels all previous notions of what a small label should be capable of. Label owner/founder Keith Utech was kind enough to grant M[m] an email interview.

m[m]: The music found on Utech is difficult to classify as any particular type of sound, as you release artists from a great many musical styles and backgrounds, though it is typically edgy or challenging in some way, and texturally focused. How would you describe the Utech aesthetic?
Utech: The Utech aesthetic is hard to describe as the label isn't built around a certain style or genre. The label is built around an idea which makes it a little more difficult to manage. You're on the right track with your question. Regardless of the kind of music, I feel like Utech releases can all live together under the same roof. And there's no reason they shouldn't. What I look for is music that I connect with in some way. It is always an emotional connection. The music needs to be passionate, dynamic and have a mysterious quality about it. What I mean by mysterious is the music should not reveal itself right away and it should light up your imagination. I am also a fan of sound for sound's sake. I love noise, crackles and feedback.


m[m]: What gave you the idea to start Utech? Is this the first time you've tried to start a label?
Utech:Utech was born from my love for music and visual art. I figured out a way to combine the two and release music I want to listen to with cover art I want to look at. I am a graphic artist and I do all of the design for the label. I work with many other visual artists that give the releases their specific look, but the overall identity is mine. Again, it's about managing an idea. I spend most of my time curating and putting it all together. This is my only label and have been running it for eight years. It's extremely hands on.


m[m]: What is your personal musical background? Do you have current musical projects?
Utech:Theres that old joke that goes "I can't play anything except the radio." The radio is a viable instrument, though. You can play the dial, the circuitry or you can tape a contact mic to the damn thing and throw if off a building. To answer your question directly, no, I do not create music myself.

m[m]: What do you look for in an artist? Are you currently open to submissions? Who have you dreamed of releasing?
Utech:I touched on this a little bit in the first answer. The music has to be captivating. That's the bottom line. That's where it starts. Based on the that cornerstone you can build trust and relationships with artists and things can go anywhere. I am open to submissions. You wouldn't believe some of the amazing projects that have just walked through my front door. If you have something you want me to hear, please email me first. Tell me about your project, who you are and what you do. And if you can link to the music online it's always easier for me to listen that way. Even if it's just a track or two, I can get an immediate feel for the project. I will always try to listen and reply, but keep in mind my schedule is busy and I usually work on projects 12-18 months out.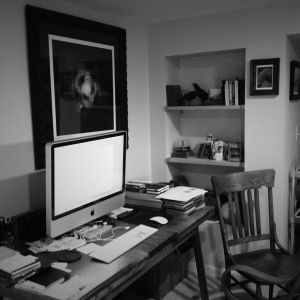 Utech:I've worked with a lot of people who have influenced me or have been musical heros to me. A band I would have loved to work with is Khanate. I love those guys and I think they were the most important band to come out in the last ten to twelve years.

m[m]: I've been impressed by the packaging on all your releases, from the classy ash black sleeve that each release comes in, to the variety of thought provoking images found on the covers. Is there any ideology behind your unique style of packaging? Do the artists create the packaging or does the label?
Utech:Thanks a lot. I take care of the visual/packaging end of things, so that's important to me. It's what I contribute to the process and it defines the label. The idea is to take A and B and create something much greater than C. It's hard enough to ask people to buy music in a physical format. Why would you spend time and money to make something that is mediocre. I guess that's my ideology.

Utech:It's a fine line. One of the hardest things to do well in design or any medium is simplicity. Look at Miles Davis. He was the master of playing with economy and thoughtfulness. I try to do things in aclean, straightforward and impactful manner. I also work on a shoestring. That limits what I can do but I use that to my advantage.
I've blundered and done things that I felt didn't live up to what they could have design wise, but that's to be expected. Overall, I'm thrilled with the body of work the label has produced and I feel lucky to have had the opportunity to work with so many excellent people.

m[m]: I'm a longtime fan of Justin Broadrick's work, and am very happy to see new releases by projects like Final and White Static Demon on Utech. How did you come to work with Justin Broadrick?
Utech:I like Justin. He's a nice guy. We met through Stephen Kasner. Justin reached out to Stephen and at the time Stephen and I were working on the URSK series. The project was in the development stages and we were talking about who we wanted to participate musically. I asked Justin and he agreed. I believe that once people see what the label does and understand a little about my work ethic they want to participate. I'd certainly like to do more with Justin but he is a busy person.

m[m]: The doom/noise opus "Surface of the Earth" is a re-issue of a nearlyunknown 15 year old defunct project. How did this rerelease come about?
Utech:Surface of the Earth is an incredible project and their out of print releases have become legendary in their own right. I was fortunate enough to contact Paul Toohey via Andrew Moon (RST). Paul was open to the reissue and over the course of a year or two we completed the Utech release. It was a fairly simple project it just took some time. Paul sent me the Corpus Hermeticum cd and we used the audio straight from that along with the scans of the radio equipment. I reworked the design and that was that. I think people overlook this release as one of the truly important recordings of drone music. There was a lot of amazing stuff happening in Australia/New Zealand at the time. Paul mentioned that there are one or two recording made after this one that have never seen the light of day.
m[m]: What are your personal favorite Utech releases, and why?
Utech:My favorite releases are the ones that other people really "get." I am personally invested in every release and I feel they all have merit but when there's a project that ends up being a special one and other people see that too, that's what is most rewarding.

m[m]: What are you thoughts on limited editions? Do you plan to re-issue out of stock items?
Utech:I think the idea of limited editions was more relevant when peoplewere actually buying music physically. I like the idea of limited editions but I also like the idea of people being able to get the music and releases they want. It's kind of a collector vs. label owner mindset. A limited edition implies there is some sort of inherent value. Does reissuing the item take away from that? Perhaps. I don't really know for sure. What I do know is that I've become less of a collector and more a of a listener over the years. Those don't have to be mutually exclusive things but you can separate them in certain instances. Take, for example, the rash of Boris releases that were coming out a while back. It just got to the point of absurdity. Seven different versions of one album. People were worked up into a frenzy by this and were snatching everything up voraciously. People talked about the music, but they talked more about the color of the vinyl they got and which tracks appeared on which versions. I like Boris and I really like some of their albums but I just quit paying attention after a while. To take this to its logical end, Utech Records released Locrian "Drenched Lands" on 8-track in an edition of thirteen copies. I was taking the piss and I think people were amused. I have no time for vinyl snobs or format snobs. In the end it's about listening to music. That's all.

Utech:To answer the second part of your question, yes, I will be releasing a second pressing of the Horseback/Locrian "New Dominions" LP in August. Same cover art, same music, same black vinyl. It's just an opportunity for people to pick this up on vinyl if they missed it the first time around.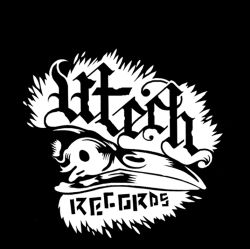 m[m]: The three "Fine Art Series" are truly something special, with a tremendous amount of thought and work put into their philosophy and thematic presentation. I have not seen such projects from other labels, and I would like to see this happen more often: true collaboration between artists and a label to make a beautiful themed product. However, your site states that the 3rd series may be the last. Why are you considering ending the series?
Utech:Thank you. The series have been amazing projects to work on. My aim with those was to just take an idea to a level that no one else has. Again, I feel lucky to work with people who make these kind of things possible. As you stated, true collaboration was the goal. Collaboration of artists and art forms. The first two series (Arc and URSK) were an unbelievable amount of work. They came together nicely but I put them on a timeframe that was way too aggressive. That's why the third series (Shokyo Ontei) is taking so long. I figure it will be done when it's time. There will be nine entries like the others and a box set at the end. Ideally, the finished product will be out in 2013.
I would love to see more of this kind of thing from other labels but knowing the amount of time, work and dedication involved, I understand why there's not more of it.

My intent with the series from the outset was to do three. Each combining another art form with music. The first was photography, the second illustration/painting and the third, the written word.
The Arc box is sold out but I do have a couple of URSK boxes left.Email me if interested.

m[m]: What is next for Utech records?
Utech:As always, I have some special projects up my sleeve. Some things I'm really excited about. My closest comrade in arms Steven Hess knows all. I won't reveal anything, but I bet if you bought Steven a couple beers he might talk.
Utech:I'm also counting down to Utech's ten-year anniversary in 2014. There will be some special releases to celebrate and probably a few surprises along the way.

Thanks to Keith Utech for his thoughtful and thorough answers!.The Utech records website can be found here
Josh Landry