Good Bye Sweet Solitude, Hello Vagary [2012-05-29]UK based Sweet solitude was one of the most consistent, influentially and progressive HNW labels to appear in recent years on the world wide scene, over the last year or so the prolific label has racked up an astonishing sixty one releases. So it was a great surprise/ disappointment when it was announced that the label was to be no more. I caught up with the man behind the label-James Killick( also of HNW projects: Love Katy, Small Hours, Fan Service, Carrie, The Monochrome Man, and Blank Depths) to find out why he's decided to end this respected & popular label, and to discuss his new label Vagary Records.

m[m]: Tell us why you've decided to end the Sweet Solitude label, and was it a difficult decision to make?

JK There are a number of reasons for why I chose to put an end to Sweet Solitude. Firstly and most importantly, I did not feel comfortable releasing material under this banner anymore. When I started the label, I tried to emulate the aesthetic and concept which a lot of other HNW labels use (e.g. dark ominous name, releasing dark and disturbing material etc.). In other words, I copied other labels (something I'm not proud of!). I've since decided I wanted to go in a new direction that reflects my interests more, and to do this I have had to say goodbye to Sweet Solitude.


JK Also on a more practical level, I could not keep up with all the material I was releasing. In the past I have found it very difficult to say no to people when they asked me to release their tracks. This resulted in large batches, which ultimately became a chore rather than something I enjoyed. This had to change, and in future I will be a lot more selective with the material I release.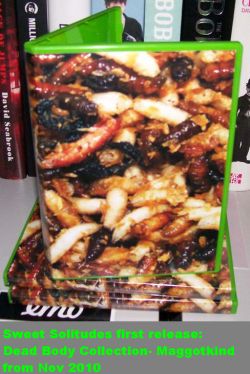 m[m]: Please can you pick ten favourite releases out of the sixty releases the label put out, and explain why you've chosen each?
JK Wow, that is a tough question! In no particular order then (I hope I don't offend anyone if I miss them out):
Dead Body Collection – 'Maggotkind' – My first release, so it holds a special place in my heart. Also, who could resist a 6 hour wall!!
Fatale – 'Pour Vous' – A beautiful release from a very talented noise artist. I hope to release more of her material one day.
A View From Nihil – 'The Eternal Present' – Although we have very differing views about what direction HNW should go in, I absolutely adore this release. Probably the most bass heavy ANW track I have ever heard.
Vomir – 'Untitled' – Very proud of this one, as I think I got the great Vomir to alter his formula a bit for this one, and the results were fantastic!
Love Katy – 'The Queen Of Figuring Out' – Shameless plug for my own material, but I'm really pleased with how the tracks turned out, and for the fab knitted packaging.
Dead Body Collection – 'Catoptrophobia' – This was one of my first 'pro-done' releases. The end result looked brilliant (if a little gruesome for sensitive old me!), and I think that it was one of Alex's greatest walls.
Tromba – 'Torrential' – I put this one on when I want to sit back and forget my troubles. A perfect example of how ANW can be used to settle the troubled mind.
Anonymous – 'Auschwitz' – This was a massive undertaking, but I am really proud of the results. I would like to re-issue this one day so that more people can hear the material.
Lungwash – 'Wounded Oak' – Another beautiful release from one of the most underrated artists in the HNW scene.
Nundata – 'Walnut wall' – How could any label say no to a release which was composed using Walnuts. Absolutely ridiculous, and a perfect way to end my label!!
m[m]: Were you surprised by the amount of releases you managed to put out in just over a year? And where there any other release you wish you'd put out?
JK Yes I was very surprised with how much material I put out (it was hard work!). Like I said before though, I have found it very difficult to say no in the past, and truth be told I was not enjoying running the label anymore (after all it is a hobby that I am supposed to enjoy!) by having such a busy release schedule. The new label will hopefully allow me to enjoy making and releasing noise again!
Towards the end of its life I did turn down some material I would have liked to release. There was a planned 'Static Mantra' box, which I hope one day finds a home on a new label.
m[m]: One of your most respected sub series on the label was Infinity Project- which was a series to Ambient, Minimal and Experimental HNW. Do you plan to reissue the eighteen volumes in this series at a later date in either a box set or DVDR form?
JK I'm immensely proud of the Infinity Series. It helped to birth what is now referred to as ANW (Ambient Noise Walls). I have two more releases for this that are awaiting release. Hopefully they will receive a digital release soon on the 'HNW Graveyard'.


JK I also think that with 20 releases the IS will have reached its natural conclusion. ANW now has a life of its own, and does not require me to champion it anymore. I'm also aware of the fact that other labels are starting similar series' so I think that ANW is only just beginning!
Also, I have no plans to re-release the material sorry. Most of it is available in the digital sphere, but if any other label wants to re-issue the lot, they can get in touch.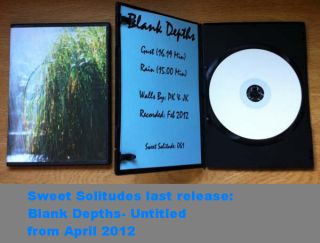 m[m]: Still on the subject of the Infinity Project- the later few release in this series saw you change the covers from the a large black monolith to two lines of dots, what's the reason for this change?
JK I'd like to have some really clever and profound answer to this question, but the truth is, I had some art from the great Jorge Castro, which I wanted to feature on a release. I thought that they would look good on an IS release, so I made the change.
m[m]: As you put to bed the Sweet Solitude label, you announced a new label called Vagary records- how will this new label differ from Sweet Solitude?
JK Vagary Records is my new baby. I have already outlined my reasons for shutting down Sweet Solitude, so I will explain why I started Vagary.
Firstly (and I am not getting at anyone in particular here), I have become a bit dis-illusioned by HNW releases that dwell on negative ideas and concepts. Personally I don't enjoy violence or feeling isolated/depressed etc., so why would I want to spend my free time listening to such things? The same applies to the whole void worship concept. I often really like the tracks that artists who use these themes make, but I wish they could show a bit more imagination, and not focus on the bad things in life.

JK Secondly, I don't actually think that HNW is that 'heavy' to listen to. In fact I find it very relaxing and calming. When I listen to a release that is themed around death and destruction, the track does not drive me into a homicidal rage, in fact most of the time it makes me feel sleepy (and strangely nostalgic, which is a topic informing much of my current material).

JK With Sweet Solitude, I released material that used the above mentioned concepts. In particular with the 'Shades Of Grey' series I think I plunged it into even more unpleasant depths. I decided that enough was enough, so I chose to end sweet Solitude and move onto pastures new.
Also, I don't like the idea of calling HNW obsessive. This is not 'cool', and demonstrates that a lot of people are very mis-informed about the true nature of obsession. In my day job (I'm a teacher who works with young adults with Autism), I see how destructive true obsession can be. It can dominate somebodies life to their utter detriment (I'm not sure why people would want to associate this idea with their music?). I think that for the most part, people who use the obsession motif should replace it with 'hobby' or 'interest'. I know this is not as 'edgy', but obsession is not a word that should be used as lightly as it is

JK With the above in mind, 'Vagary' will be a platform for HNW (and other genres of music) that is a bit different. I want to release material that does not focus on dark things. Instead they can focus on the absurd, the ridiculous and what ultimately makes them happy. My current material focuses on nostalgia, pretty girls (yes I know this is become a bit cliché, but it is still fun) and my ambition to create an easy listening noise record.
m[m]: You mention your dislike of HNW that has negative ideas and
concepts - does this mean you won't be release any material on either the label or under one of your project names, that is dark, negative or disturbing in nature?
JK I don't dislike this sort of HNW, as the tracks are often very good. What I dislike are the themes and concepts. For the foreseeable future, I will not release this type of material on my label no. If however, I get something that is really exceptional, I may consider putting it out as a not on label release (much like I did with my 'Fan Service' material, even if that was far from exceptional!).

JK Also, 'Anonymous' has sent me some new material recently. It does not really fit with the concept of my new label, so I may release it as not on label, or I have been toying with the idea of creating a sub-label (called 'Maniacal Laugh') to release such material
.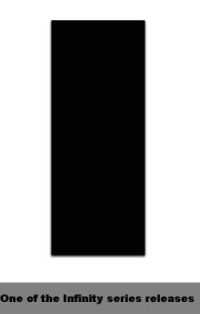 m[m]: Tell us a bit about why you chose Vagary as a name for the new label?
JK The word Vagary means 'a whimsical, wild or unusual idea, desire or action'. I think this perfectly encapsulates the reasoning behind my new label. This quote can be found on the websites banner: http://vagaryrecords.tumblr.com/.
m[m]: Can you give us a bit of insight into what you want release in the next six to so months on the new label?
JK I've been working hard on the first batch, and hopefully it should be out soon. The first batch will have some of my own material, including releases dedicated to; The Muppets, The Kingdom Hearts Series and the TV show Glee. Also I will be releasing the long awaited 'Immaculate Affection' tapes, which I can assure you will be worth the wait!

JK In the future I am working on a release inspired by 'The Clangers', and I will be releasing material from Missing Girls as well as a box set from a very well known HNW artist. Watch this space for more news!!!
m[m]: I believe you hope to release other genres of sound/ music on the new label - have you got any idea of what type of genres you'd like to put out yet?

JK I'm open to releasing any or all types of music on my new label. I have plans to release some Ambient material in the near future. Also, I would love to release Harsh Noise, Noisecore (e.g. like 'Sissy Spacek'), Grindcore and even Jazz. I'm open to demo submissions, so if folk are interested, send me a message!
m[m]: Any plans for change of release format for the new label & do you have any series plan for the new label?
JK I plan to release most of my material on tape. There will be some CDr's and one day (if I can afford it) Vinyl. Also I plan to release some material on minidisc. I also hope to make some of my releases quite special by including extra's. For example with my upcoming 'Muppets' tribute I have included a hand knitted Kermit. Some may label this as 'hipsterism', but I think it is fun, and hope that a lot of people will appreciate it.
I may start a new series in the future, but at the moment have no concrete plans.

JKThanks for the interview Roger, and the continued support of your website over this past year!!
Thanks to James for his time with the interview. Sweet Solitudes blog can be found here & Vagary Records blog can be found here
Roger Batty