There's Something In The Woods.. [2012-05-28]Splinterskin is a one-man project from Ohio that offers up macabre, horror fuelled, autumnal simmered 'n' strummed dark folk. Thus far the project has only released one full lenght album in the form of 2009's "Wayward Souls", on Uk's Cold Spring records. I managed to track down the mysterious figure behind the project, and bellow you'll find a email interview with him.

m[m]:Tell Us a bit how the Spinterskin project first came about & what's the origin of the name?
SS Splinterskin describes the emotion, imagery, and soul of the message and music. It is a name that encapsulates aspects of a certain inspiration and expression.
It is the spirit of the music.
I dont know if I would call this a project, as that word implies something that is not Splinterskin. that is a quick and simple answer for this question.

m[m]:Is Spinterskin your first musical project?, and if not tell us a little bit about your past projects?
SS yes, the 'wayward souls' cd was the first officially released music. After years of searching for a sound that represented the essence of the message, it finally formed when the classical guitar became the main instrument.
the idea was to keep a pure relation to the inspiration and intentions above other elements of music and storytelling.
now, the sound, along with the message, was similar enough to what I felt inside to record and then share with everyone. so, in all, it had been many years of seeking to slowly unearth what you hear now.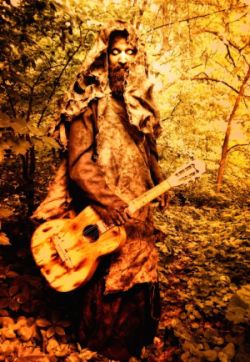 m[m]: Your song lyrics often have a very horror story/ grim legend type leaning to them- are there any writers you particular take influences from?
SS The lyrics, on the surface, have elements of horror, hauntings, and maybe some type of good and evil too, but all of these themes can mean something other than what appears obvious.
SS Allegory is a powerful form of expression, especially in music, and this is where i feel most natural. If you are interpreting songs literally rather than symbolically, you maybe hear writers like Edgar Allan Poe, or Lovecraft, as they are some of the first influences as a youth, but I also read Hesse, Hemmingway, Machen, Stephen king,
Dr Suess and the three little pigs.
SS You may hear mythology, biblical allegory, mystical symbolism, apocalypse, native american beliefs, and influencing spirits, which some may interpret as demonic persuasions, or possession. There are secrets and hidden things with no form, and whatever else you could ever want. People believe all sorts of peculiar things, or claim to. In the end, it is about what the lyrics actually mean within their context. Sometimes the words are to be taken very literal, yet the overall meaning of the song is not. I hope this is at least sometimes understood. each song has its own secret.
m[m]: Have you ever seen a ghost or experienced any form of paranormal activity?
SS I save these kind of subjects for song-writing. It is the skeleton of splinterskin...it is all in the music

m[m]: Tell us a bit about how long it took to write & put together your first album "Wayward Souls" from 2009?
SS 'Wayward Souls' was written over the span of four to five years i would say. I don't remember exact dates on everything, but a couple songs were written on piano much earlier... maybe 2002. 'Wayward Souls' is a collection of songs recorded from 2006-2008. they were recorded in different ways. some near wooded areas, or a stream, some inside a large isolated room with tall ceilings, but all songs were recorded using one microphone.
'Man on the porch' was recorded outside, under the trees on my back porch, as was 'Black bird sorrow song'. There are other songs recorded during that time that were not included on the 'Wayward Souls' cd.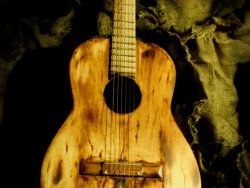 m[m]:You mention there are some other songs that were recorded around the time of 'Wayward Souls'- how many where they? Why did you decided not to included them on the album? And will they ever be released?
SS There are 15-20 completed recordings not on 'Wayward Souls' that could have been. It would have been a double cd as they could not fit onto one. More than anything, it was about a flow I wanted with the music. some of the songs felt right together at the time, for whatever reason,
and I had to select the songs in a way that presented the overall emotion, energy and presence of the first splinterskin album. The other songs may be released at another time, but there are no plans on doing this soon.
m[m]:how did you managed to appear on 2010's "Oakfolk" compilation on the great Ahnstern label?
SS Gerhard Hallstatt of Ahnstern records and Allerseelen asked if Splinterskin would contribute. He is a kind, respectful guy and Ahnstern has a strong nature/mythical theme that fits in with the music comfortably. Much of the song titled 'A Bed of Burning Leaves' was recorded outside, under the trees during a windy day. The approach to the recording and mixing was different for this song compared to 'Wayward Souls'.
m[m]:You mention that you like recording your songs often out side, have you ever thought of doing a purely field recording record?
SS The goal for splinterskin is much different. If I am compelled to do something, it is due to inspiration.
I have a strong and strict purpose for what I am doing with the music, regardless of those who hear it.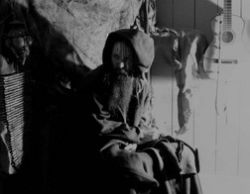 m[m]:Can you tell us a bit about your song writing process? And do the lyrics or the music come first?
SS I try to 'capture' the song how it has come to me and choose not to make up a song in another way.
I wait until inspired to work with any ideas at all, and only feel an urge to record it after it has formed completely. It depends on the inspiration as to what happens first. if it is words, I write those first. Most of the time I would say it is the music and then the words. Certain notes will come in waves of repetitious tones and often the lyrics come as I play the song a few times. They come in short sentences, and often with a sense of urgency. I may adjust the song to fit timing, phrasing, or rhyming if it is needed and things like that. A wavering tempo and rhythm in the music expresses emotional nuances as well.
m[m]:Have you started work on your second album yet & if so can you give us any details?
SS Everything is written and recorded. the album cover and title is set as I feel now. It is just that I am not ready to share it yet. I may record it again, a bit different, or not. I don't know. I am waiting for something.
all updates will be on the websites as soon as I have anything to say.( http://www.splinterskin.com/ )
I apologize, but I have no specific dates to mention here, and no other reason why.
m[m]:Can you tell us anything more about your new album?? Themes??, title??, will the sound change?
SS There is not much I can say just yet.
There is the main webpage and facebook pages, etc. that will have updates when there is any news. There will be an online preview before any official cd release.
SS As for differences, there will not be much of a change overall. You could say the newer music is a bit more intense perhaps, at times anyway, and certainly there are songs more demanding technically. The sound will not change too much, although I am doing things a bit different as far as recording. I have added another mic, different production perspectives such as volume, tone, tunings, and things like this. Yet, it is all being recorded in the same places as 'wayward souls' with the exception of one song. This song is recorded in a unique place which should add some additional atmosphere I hope.
people will feel an influence from these songs.
m[m]:When was the last time you were truly scared or freaked-out?
SS I don't know. its a good question, but I must save these type of stories for songs.
m[m]:List the ten most important albums or songs in your life, & explain why they mean so much to you?
SS Overall, on average, I guess I prefer older music; some classical, romantic period music, Some spanish guitar works, some blues from 1900s-1930s, and film soundtracks.
I feel one of the most powerful piano works is Rachmaninov's prelude in c sharp minor.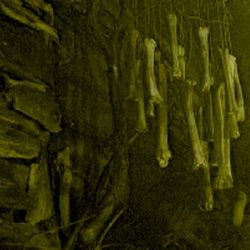 I like some soundtracks of Krzysztof Komeda and Ennio Morricone. What I appreciate more than anything is mood and atmosphere, along with something else that I cannot properly explain...maybe it is inspiration.
I am not sure what else to call this, but some artists open themselves up to allow something inside. I appreciate and have heard many different kinds of music from everywhere, but cannot say they are extremely important to me.
Thanks to Splinterskin for his time & effort with the interview. You'll find the project's web pages here: http://www.splinterskin.com/
www.facebook.com/pages/SPLINTERSKIN/123805700979207
"Wayward Souls" is still available to buy direct from Cold spring Records here, and Oakfolk can be brought direct here from Ahnstern here
Roger Batty