Inner Peace [2012-05-21]Vidinė Ramybėis a little known Lithuanian one-man harsh noise/power electronics project, and in my humble opinion he's been releasing some of the best Euro-zone noise in the last couple of years. I hope this interview will spread the word a bit.

m[m]: Ciao Karolis, and sorry in advance for the dumb questions I'll ask. Let's start with a brief introduction to your band Vidinė Ramybė. When did you start it? Why? And out of personal curiosity, what do the words "Vidinė Ramybė" mean?
VR - Ok here, goes. I made the 1st demo in 2008, shortly after that played a live show with my friend Lukas helping me out. Playing a live noise show was something new to me, as usually I am just doing vocals in a grindcore band.
In 2005 or so, I started a dark ambient / drone / experimental noise project called 'Seagull Overseas' (made many recordings that are available online, check it!).
Anyway, with time I started to feel there is something else I need to say in terms of sound and that something does not fit within dark ambient frame.
I was always into various noise and noisecore acts, but the 1st really influential power electronics records I've heard was a great 'Unti731' EP by a project called Men Behind The Sun and also a short two song recording 'One Man's War/No Surrender' by 'Survival Unit'. These two were a real push into a whole new journey to the rich and magnificent fields of NOISE. I felt an urge to do something like this myself, I wanted sound to be dirty, harsh and careless, so you would feel it has that raw, incomplete structure. I did not see that under Seagull Overseas, so I decided to open a fresh, more aggressive approach: Vidinė Ramybė.
It was also meant to be live, when S.O. was only for recording. V.R. later became a push to do S.O. live as well.
'Vidinė Ramybė' means 'Inner Peace' in Lithuanian. Its a feeling when you feel happy, calm, complete and in tune with the universe.

m[m]: Your style fluctuates between power electronics and straight harsh noise, always with a nasty and mean vibe. What are you trying to obtain/express with your music?
VR - No sole idea really, its a bunch of personal experiences that I want to clean myself of. It feels good to play a loud, nasty show and feel so light and tired in a good way afterwards, its sort of an exorcism.
The topic can be anything on my mind at that time: social criticism, horror stories, hate towards certain people or something that has touched me personally. In example, last show I have played was for my dog, I grew up with.
We had to put her to sleep as she was old and sick. Its painful to talk about, but you can make that emotion into a sound, which not only helps you psychologically, but also transfers the emotion into other people.
I don't know if that's good but it helps me and I need it sometimes. The lyrics are rather metaphoric and less often - straight forward, so sometimes it might be difficult to grip what was the idea in the first place.
m[m]:What are the biggest inspirations for Vidine Ramybe? Not only music but also places, movies, life, booze, literature or whatever. What generated your interest in noise/power electronics ?
VR - The first most influential PE records I have already mentioned. I was always into hard stuff, metal, grind, hc/punk etc, but into PE only the last couple of years.
Now I don't even listen to noise records that much, though I never miss a good live noise show.
I guess I love most of the artists everyone listens to. I also love what Lithuanian guys are doing. Also you are right to say music might not be the biggest influence. Alcoholic abyss, horror films are always a great influence.
Maybe some literature from my Philosophy studies as well, but not so much recently. Places have a huge impact. I lived in London for almost a year, that city gave me a lot to think about and many of that was transferred into V.R.
When I do artwork or write some lyrics I often try to depict the grim post sovietic areas we live in. Huge pale blocks of flats, everything looks the same. In every little box there is a life going on, sometimes not so happy.
You have to hate it and love it at the same time.
I find the city more influential to my noise than nature. Places filled with various people and tall buildings. The never ending movement and the stream of transport is a perfect wall of noise in itself. Big cities are like the wounds on earth. I hate them, but feel some strange attraction to them. I made a HWN track called 'dangoiražis', which means 'skyscraper' in Lithuanian. I plan to do a recording, which would depict every area in Vilnius, the capital of Lithuania. Separate track for every shitty neighborhood. If I had more money I would love to go and see Dubai or New York, just to spend a week there, to see how it feels being surrounded by the tallest buildings in the world. Travelling far is a luxury many cant afford here in Lithuania as many people don't earn much, but I'm planning to save money patiently and maybe in a year or two go see these superlative megacities!
m[m]:A rather retarded question: what is your personal favorite, if any, Vidinė Ramybėrelease, or what would you suggest as introduction to your project and why?
VR - I'd say "Aš esu meilė" album, but it was only limited to 23 cdr copies so many people might have missed it. However its free online now, check the bandcamp site. I also love the split with Vomir, I feel it sounds complete and moody.
When you make something new, older stuff seems lame. I am looking forward to make something much better in the future, because I'm not so happy with some of the older records, as I have mentioned, feel more self-criticism lately, which is good. However, all what's done is good, any noise is better than silence! So its important to do what you feel at the time.
m[m]:Lithuania spawned a few good noise and power electronics acts lately. How's the scene there? Is there a close bond between Lithuanian artists? Are there many active labels and/or many gigs going on?
VR - The scene is small, but nice. Only few people do noise and most of them has various projects, which is sometimes funny but also so natural. You would always see the same faces on the stage, rarely someone new step in, but the quality of sounds and shows is very good, I'd say better than in some bigger countries. Only a few are really into it, but they are into it with all their heart, which would spawn really extreme acts you wouldn't see in some other country. I'd say we have enough good noise shows, maybe not every weekend, but enough to keep the small audience satisfied. Sometimes it would take place in abandoned factories and shit, almost impossible to find, the atmosphere is unique and magnificent with only like 10 people showing up.
Sometimes we get bigger shows, like 'NordicAaudio Modern' festival organized by Auterkeia label, with great big artists from other countries as well.
You can expect to see some blood and even get hurt in a Lithuanian noise show, which always makes it exciting to visit, but the people behind it are actually very nice and intelligent. There is indeed a warm relationship between us all, sometimes we drink together, laugh at same stupid things around us and share many common feelings about the same topics. I love those guys. Names I personally want to mention are Levas from 'Terror' Label and his extreme PE outfit 'Pogrom', also numerous other projects. Arma, aka 'Bruzgynai', who just toured half of fucking Russia and is responsible for most strange shows taking place in Lithuania today. Lukas you might know from his experimental act called 'Surdr', also a young man with a number of projects and bands I cant even count, responsible for the first live Lithuanian HNW act called NIEKIS, as well.
Mykolas from formerly 'Clo Goelach', now known as 'Body Cargo', also making some nice dark sounds. Other names worth mentioning are Terralienus, Stellardrone, Girnu Giesmes, Orrchach... few known better than others. Anyway, I'd say Lithuania has developed more subtle post industrial scene, ambient etc, less harsh, raw, brutal noise, so there is much to improve. Again, the scene is small, but worth the attention. Very real and sincere. Releases are rare, only few active labels, but I'm happy with the quality. Better to have a few amazing releases a year than a bunch of crap every month.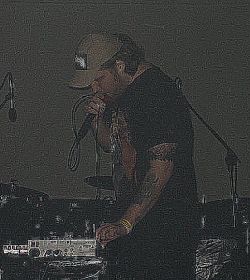 m[m]:What's your standard set-up? Do you prefer to keep it simple or do you like to have tons of pedals, cables and synths in front of you?
VR - Simple and cheap, I cant afford many expensive synths and I don't really need them. Too much different sounds is no good for an aggressive noise show. Few pedals, a feedback, grunting wall in a background, maybe some samples, all I really need.
I'd say that about other acts as well, 'Pogrom' in example is usually a noise generator, few pedals, some piece of metal junk and aggressive vocals. Keeping it simple is keeping it brutal and raw.
Its interesting to see how other noisers use a lot of gear, but I don't want to do that for now. Less variety takes it further from the real music, makes sound mean, vile and uncompromising, the way I think V.R. should be.
I usually use a microphone, distortion, pitch shifter and delay. Maybe some tapes to sample in the background and maybe some objects that shouldn't be there, for example a watering can or a piece of fence haha.
m[m]:Do you have any musical "guilty pleasures"? Like a secret stash of Spice Girls records or something..
VR - Of course I do, everyone does, but I feel no guilt about it. I think listening to one genre only all the time is completely dumb. It locks away your creativity and imagination. Only a complete idiot can say 'I listen to black metal only and nothing else!'.
My favourite band is Deftones.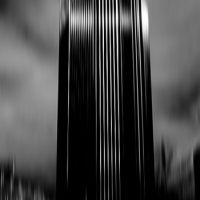 m[m]:Classic question: future plans/next releases?
VR - A full length and maybe a split with someone by Seagull Overseas. Always trying to record something with V.R. but I feel very self-critical these days so many recordings end up in a trash bin. V.R. is very instant, when I will make a good record, I will know it, even if its done in five minutes, but for now V.R. is more about live shows. So no certain release planned at the moment. A various artist compilation 'Kad Te Moje Čakija Ubode' just came out on 'Terror' label and it contains one V.R. track as well, its a six minute hard-to-listen harsh noise wall track called 'Griūvis' ('Fall').
Gonna record a new album with my grindcore band FARŠAS soon. I work hard full time, also learning to drive a car and getting my license soon, planning to go and see some Russia with my wife in July and as I mentioned maybe somewhere much further next year so my mind is rather occupied with those things.
Fight for what you love every day and always have big dreams! Even if something seems not possible today, just wish bad enough, work hard towards every single moment it and it might be very real tomorrow.
Thanks to Karolis' for his time & efforts with the interview. The project band camp can be found here:http://vidineramybe.bandcamp.com/. Also here are a few live recordings of the projects work http://www.youtube.com/watch?v=37uVZpJ6ZCA
http://www.youtube.com/watch?v=gCJ676LSvfg
Nicola Vinciguerra