Lunar Soaked Grimness [2011-10-27]

Moon is an Australian one man ambient black metal project who darkly brew up a blurred, musty and grim mixture of muffled and sinister guitars, smudged & swirled blacked keyboard ambience, and processed growls/ choral drifts. The project was formed in 2007 as a solo outlet for Brisbane based Miasmyr, who has been on the Brisbane black metal scene since 1999 and played with acts like cult Catacomb, Urgrund and Forn Valdyrheim. So far the Moon project has put out six releases taking in various splits, tapes and most recently an full length cd entitled "Caduceus Chalice"(which is an reissue of an early & out of print tape) on the infamous Moribund records.
Miasmyr kindly agreed to give M[M] an email interview.

m[m]Tell us a bit about how the Moon project first came about?
Miasmyr This was a basement studio project based on atmosphere and the occult. The early demos were varied exploring different sounds and more recently it has come into a more distinct direction still emphasizing the occult and obscurity.

m[m] Is Moon your first project & what made you chose the name Moon?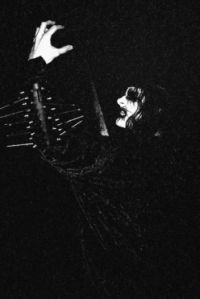 Miasmyr I've played in numerous Black Metal bands before this; Moon was originally a side project when in my previous band. My interest gradually became more focussed on Moon. The name is something I've identified with for a long time, it reflects the Astral Nightside, darkness and the occult. The adversary is said to have drawn its primordial energy from the moon's diminishment under the Sun which is reflective of the darkness of what is unconscious inside the human psyche. After much contemplation I came to hear the name Moon in the way one hears their own name spoken. With all the common names been taken many times over, there was a minimal simplicity to it that held more value for me. Thus the project was named as such.
m[m] As your projects named Moon do you ever record or work on tracks around certainly lunar periods?
Miasmyr Although symbolism of the Moon's power in magick is used in the music I do not match this with the external environment. I don't like to make strong connections with the outside world in my music; the project Moon references most strongly the astral or inner world. Its intention is to reflect that which is chthonic and mythological.
m[m]The first release that brought Moon to the attention of the wider underground black metal scenes was your ghost theme split "The Haunting Resonance" with two other Australian Nekrasov & Nekros Manteia" on Fall Of Nature records. How did this come about, what do you see as the theme behind your featured track?
Miasmyr Nekros Manteia had the concept for their own work only originally. It was a reflection and response to the question, "If all life on Earth was to end, would ghosts still continue to 'exist'?" Forgotten Spirits was a track that depicted spirits inhabiting the world after the fall of man. Their unhinged minds wavering about as shades lost but active; their memories, transient emotions and states floating around the decayed civilization.
m[m]Your first two releases from 2008 (Apparitions & Blood) were two mini CDRs on Netherlands based Svartgalgh Records. Can you tell us how these sounded ?
Miasmyr These recordings both focussed on producing a particular sound and character. Apparitions is atmospheric but harsh Black Metal slowing down the tempo to give space for the elements to breathe. Blood is raw nihilistic screeching; the focal element is the vocal sound.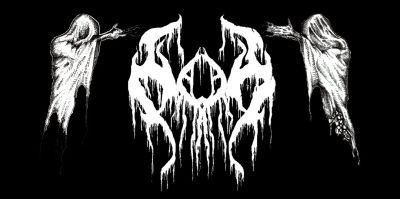 m[m] Do you have any plans to reissue your first two releases from 2008 Apparitions & Blood?
Miasmyr There are plans to do a compilation release of Moon s/t, Apparitions and Blood on CD through Fall of Nature; a date has not been set.

m[m] Your first full length was Caduceus Chalice, which originally appeared in tape form on Netherlands based Wolfsvuur Records, and has recently been reissued in CD form on Moribund Records. Can you tell us what you see as the themes/concept behind this release? Over what period of time was the album recorded? And has anything been altered with the Moribund Records reissue?
Miasmyr The music serves as guided imagery for astral projection; the subject matter is of ritualism, necromancy and wordless travels inside the Underworld. Its title refers to the caduceus and chalice as symbols of male and female sex organs that are representative in a magickal sense of will imposing upon the hidden world to bring it into realization.

Miasmyr The creation period was approximately nine months. I conceive the overall idea of a piece first; it then goes through a stage of growth, recording and listening back allowing more ideas to develop. The music and lyrical concepts are intertwined as connections are made between the two during this time. There haven't been any changes made aside from some slight remastering for better balance on CD.

m[m] Moon's sound is very grim, musty and blurred- how do you create the smudge & sinister feel that pervades all of your tracks and really focus the bass, guitar, keyboards and vocals into a sombre and grey force?
Miasmyr Much of my life's altered states is reflected in the music I produce; this comes naturally and is the vantage point of self production. It has come from working closely with the projects for some time, gradually building and modifying. The character of the music can be strongest in the choice of sounds used; there is a focal point on timbre/quality of sound and character; reverb, delay, distortion, equalization and filtering are some of the tools used to shape and define the sound.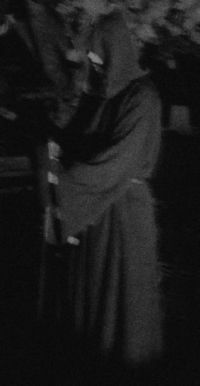 m[m] At times your tracks feel like slowed & slurred takes on either 80's synth dark goth rock or blacked shoe gazing music- are you a fan of either form of music?
Miasmyr No, I prefer to steer clear of rock and metal conventions and to extract the raw and obscure elements I have the most interest in. The influence most strongly comes from my demotive states and long periods of experimentation.
m[m] Have you ever or would you ever want to ever play live?
Miasmyr There has been an active live side to Moon since late 2009 currently comprising of Dirge, Erkon, Elokin and myself. The band continues to play around Brisbane and will be playing around Australia in the next year.

m[m] Can you tell us how Moon works as a live band? I.e. who plays what & is there any kind of stage show or backdrop?
Miasmyr The live line-up is Erkon on drums, Dirge on bass, Elokin on keyboards and myself on guitar and vocals. The live sound remains raw but atmosphere; the vibe grows through the delivery and the stage elements implemented which intend to obscure the scene and saturate and confuse the senses so what is seen is not clear. Smoke machines, cloaks and dim lighting aid in this
m[m] What's next for Moon?
Miasmyr An EP is nearing completion and there will be more live performances in Brisbane our home town in the coming months.
m[m] Can you tell us a bit about the new ep you're working on? I.e. themes, sound etc
Miasmyr This next EP is has some session work on some of the tracks by live members and is like past works self produced. The sound and themes are similar to Caduceus Chalice but delve deeper into Nightside workings. It further endeavours to break down the rational ways of consciousness of the listener to bring them into a submission of darkness.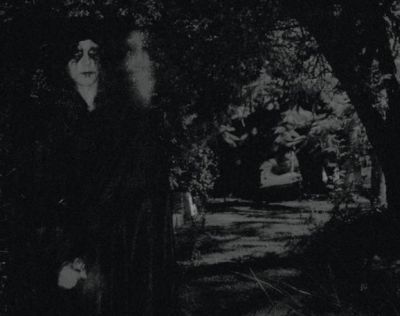 Thanks to Miasmyr for his time & efforts with interview, and thanks for Nathan of Moribund Records for making it possible. "Caduceus Chalice" is out now on Moribund Records, and you'll find our review of the album here. Moon's Myspace is here & Moon's blog can be found here
Roger Batty