Trouble In Mind- Narcolepsia label & troubled sleep zine interview [2011-10-17]

Manuel Pereira is the head of Portuguese filthy noise/industrial music label Narcolepsia. With a very distinctive and old school art style he released material by the likes of N., Richard Ramirez, Paranoid Time, Infirmary, Vomir and more. In my humble opinion, it's one of the most interesting, honest and just plain good labels to raise up from the European noise scene in a long time. He puts togeather 'n' edits collage & interview printed zine Troubled Sleep.....Manuel kindly aggreed to give M[m] an email interview.

m[m]: Hi Manuel! When did you start Narcolepsia? Why?
Manuel: I started Narcolepsia in the beginning of 2009, soon after I ended up the collaboration with Cerebro do Morto (now renamed Cerebro Morto and still alive and kicking). Although I enjoyed those early days, and being proud of what we put out during that period, I wanted to create something more personal at that time and have total control of the releases, the visuals, pretty much everything.

m[m]: What are your main inspirations for the label? I'm thinking about older labels, sounds, bands, brands of whiskey,etc etc
Manuel:There are a lot of things that I absorb in a more direct or indirect way into the label's activities. One of the main inspiration is sleep disorder and the way it brings together all these visions and sounds into a diffuse, mirrored whole. At the time of Narcolepsia's birth I was inspired by labels such as Slaughter Productions, Murder Release, Skeletone and the Swedish tape underground. Werewolf Jerusalem "In Horror" (Abhorrent A.D. , 2007) was also incredibly important during that period. I am heavily into underground film as well, the feverish visions of Pierre Clementi, Alberto Cavallone and Ivan Zulueta, the overwhelming weight of Bela Tarr or early Philippe Garrel, the ultra violence of Alan Clarke or Gerald Kargl, among many many others. Beautiful woman are an inspiration too, Monica Vitti, Soledad Miranda, Bernadette Lafont, Edwige Fenech. Other than that, all these somehow influence me in anything that I do; xerox abuse, eastern europe gymnastics, 10th generation black metal dubs, heavy nights of thick smoke, the terminal apathy of Celas, bodily fluids, Rita Blanco, Necro Schizma, old Tania magazines, brazilian metal of death / brazilian noisecore, Boiled Angel, cheap sci-fi, Ildjarn, insomnia and intoxication.

m[m]: One of my favourite things about Narcolepsia is the art style. Handmade collages, very coherent look for each release, and a filthy old school vibe. Can you explain your choice and talk about your collage style?
Manuel: The Sharon's Last Party "Bayonets to Lhasa" (Kickacid, 2007) was a huge influence regarding the visual presentation of my tapes and the continuity I wanted to have with them from the very beginning. I was interested in creating releases that were to be recognized by the cover image, having little to no information on the outside, as I am very interested in such kind of records. The visual side of underground music has always appealed to me a lot, and it's a indissociable part of a consistent release in my opinion - good taste within bad taste. The lo-fi handmade style comes mainly from the fact that I feel more comfortable to work that way, I don't even know how to use computers for that, so it all came as pretty logic to me. It looks better, feels better. I was also interested to use filthy and nightmarish imagery in a more subtle, less explicit way, perhaps more dense and enigmatic, while trying to make use of colour in a way that most harsher labels generally don't. The collage style developed from there, slowly trying new ideas and solutions while keeping the bleak minimalist vibe.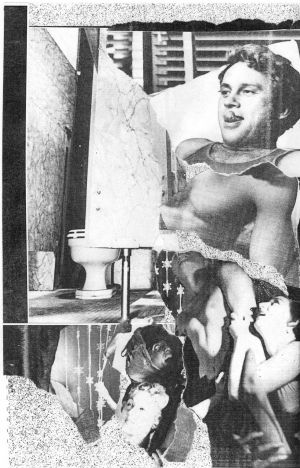 m[m]: How do you choose projects to be released on Narcolepsia? What are you looking for and what are your favorite sounds?
Manuel: I don 't really know how or why a certain project fits within Narcolepsia, it's all very natural. It has not to do with genre or subgenre specificity, but with some other questions, that go from the rawness of sounds, a certain aesthetic that may be appealing to me and probably some previous personal contact and exchange of music / ideas. Not obsessed with finding anything new, just digging for sounds that cause impact and are created and expelled with devotion.
Favourite sounds : burning leather, ripping flesh, crushing teeth. Â Â

m[m]: The usual anthropologist question: is there a noise/industrial scene in Portugal? Are there any names we might not know that are worth to be mentioned?
Manuel:I don't think there is a noise / industrial scene in Portugal, at least nothing around the tiny guetto Narcolepsia dwells within. There are a lot of good projects here though. In Porto there is the closest thing to an Industrial context, with Sektor 304, and an insane amount of projects with them and their close allies. Too lazy to mention all here, but definitely worth checking out. There is also the infamous Matanas, a celebration of scatological absurdity and good wine. In Lisboa there are still lots of great things happening. Things were a bit noisier a few years ago, but all still sounds fresh and interesting, mainly within the free / improv realm. We will always have Barreiro, which is true Mad Max territory. Epic urbanistic disaster, land of good people and home to the best festival dealing with experimental / exploratory music here, Outfest. In Coimbra (my hometown) there isn't much happening besides Erasmus sluts and old delusional rockabillies. We mostly organize some gigs at local squats and gather all the Metal Punk scum for disaster and chaos - small but dedicated group of deranged individuals hooked on Sarcófago and fertilizers. It is also home to the best heavy metal band in the country, Midnight Priest.

m[m]: As far as i know, Narcolepsia is a tape-only label. Do you have an obsession/fetish with cassette tapes? I also remember you were planning VHS releases, can you talk about that?
Manuel:Actually there are plans for other formats soon, but yes, so far, it has been a tape-only label. My relationship with the format is remote, and it is still my favourite by numerous reasons, and the perfect one for noise in my opinion. It's cheap, looks beautiful, sounds muddy and organic, it's alive. It also goes back to the first ever music I purchased (AC/DC "Razor's Edge") and the teenage years of obsessive black metal tape trading, shaping my ear to fit into the abyss. VHS plans were delayed due to some external circunstances and I don't want to reveal much more at the moment, but expect something during 2012 as well.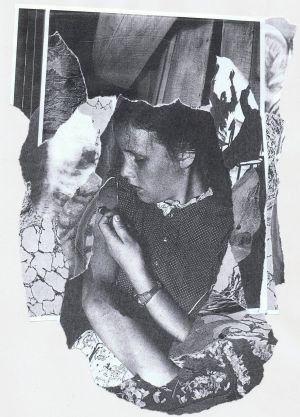 m[m]: Talk about your experience of running a noise label: the troubles, the fun, material assemblage, people's response, suggestions to people who also want to start a label..?Manuel:It has so far been an exciting and very rewarding experience. Many hours of work, assembling and creating by hand every tape, and heavy sessions of chaos and devastation on the way to deafness. Losing money most of the time, but meeting lots of great people, and the incredible sounds they produce, and that's what really matters. It has been harder to sell material these days, the whole world is broke, and generally people with money are busy buying the whatever big thing is happening at the moment, probably to try and resell them and make some quick profit. Responses have been enthusiastic and I have a small but consistent group of people who follow my output and actively support the label's activities, making me able to carry on. I try to do quality work and am dedicated to create something that feels warm and personal. The dimension and the general openness of this scene makes it possible and that's what really cativates me about it, besides the passion for the sounds of course.

m[m]: What about Troubled Sleep zine? Why did you choose to put together a paper magazine? And what about the interview with Japanese director/photographer Tsurisaki Kiyotaka? The zine is all about noise music, except that single interview.
Manuel:Troubled Sleep zine was my attempt to document a subterranean yet effervescent scene, in a personal and insider perspective, and doing it in the old style. I am a big fan of underground publications of this kind, from illustration / comics to obscure metal, from noise to sleaze, so at a certain point of the label's existence it was for me natural to try and create a printed matter companion to Narcolepsia activities, something of my own, basically the zine I wanted to buy / read. Webzines are important too, but I am still very much into the preservation of the object. I don´t really think you can match the individuality of such self published magazines. It was by the same time the first issue came out that other important publications were born or become consolidated : Special Interests, As Loud As Possible, Terror, Night Science, Exoteric. All unique and vital in their own way. Things are much better in this field a couple years from now, which I think is great. I would also like to see a new issue of Acephale, I hope it may happen one of these days. The idea from the start was to gather noise with some transgressive artists that go along the "noise imaginary", Tsurisaki Kiyotaka being an obvious choice, and still an artist that is rarely documented in such ways. He was kind enough to accept doing it, I think it came out great and hopefully it will help more people being exposed to such visceral artwork. Expect more interviews with marginal creators and other cultural terrorists along with the usual dose of noise artists / labels / zines on issue #2.

m[m]: I know you're also making excellent and creepy videos, can you talk about this?
Manuel:I've been doing some videos in the last couple years, after I graduated from university on film studies. I started doing them as background videos for Somˆlia gigs, starting with "Febre", which has been since then released as a DVD-R on Celas Death Squad, and is a journey into sub-saharan demoncy and feverish immobility. Since then I've been collaborating with some portuguese underground musicians and have been continuing to create these collage-videos, painfully slow and heavily intoxicated. Right now more collaborations in progress, on video and hopefully on super 8 too, if I can gather the necessary funds for it.

m[m]: Dumb question: do you have a favorite Narcolepsia release? Why?
Manuel: I still enjoy each and every tape I put out so far, and I think all have their important part on the Narcolepsia catalogue. If I had to mention one I would say Order of Nine Angels "The Abyss is the Gate" due to circumstances I prefer no to reveal here.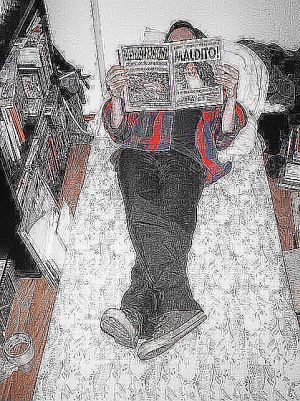 m[m]: Another typical and dumb question: future plans?
Manuel:As always more plans than money / time. Some tapes to come out during the next few months, Urinals, Custodian / Developer, Alo Girl, Bestializer, Dead Body Collection / Placenta Lyposuction, E.E.M. , Fecalove, Knullkraft and a few more. Two bigger releases in preparation as well, a CD by Neuntoter Der Plage and a 7" by Disgust. There are also plans for the first two zines on Black Blood Press, small sublabel for graphic vileness. Besides that new releases by Somˆlia should come out soon, some reissues on Celas Death Squad and some new material on Sound Holes and Matching Head.

m[m]: The last words are yours...
Manuel:Stay clean
Links:
narcolepsiahn.blogspot.com
ageometriadoabutre.blogspot.com
vimeo.com/user3793442
Photo Credits:
Manuel on the bed by Helena Vieira
Photo Collages by Manuel Pereira

Nicola Vinciguerra