Live @ Islington Mill, Salford, UK - Saturday 4th June 2011 [2011-06-14]Tonight's proceedings are held up from the start after the announcement that Alexander Tucker would unfortunately not be playing, no explanation is given as to why after a quick word with the promoters.

After a little wait, Glasgow's very own Take a Worm for a Walk Week hit the stage amongst a slew of technical difficulties, the main one being that the vocals can barely be heard over the rest of the band members. They blend pretty tame post-hardcore with slightly progressive sensibilities, but unfortunately they don't seem to be hitting the mark with the audience tonight, barely a soul moves. Adding to that the fact that the lead singers almost laughable posturing on stage just became annoying rather than entertaining, mixing in mumblings about horses cock which really did not further his cause at all. Overall TAWFAWW were extremely disappointing, but given the tech issues and the strange placement on a bill which probably is not their usual scene, it may be unfair to write them off completely…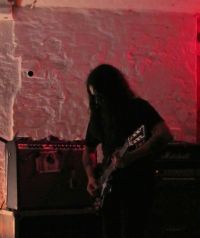 Next up is Wode; they seem to be a very mysterious trio, hardly any information online about their existence or who they are, but they certainly made their presence felt. On first appearances you would not expect the black metal onslaught that was to be spewed forth, playing guitar and drums at ridiculous speeds to create a whirlwind of noise topped off with typically anguished vocals. Very entertaining indeed, but again only a few audience members were actually getting into the spirit of things, a wide circle opening out around the stage. But despite this Wode put on an excellent performance, their sound could be likened to such post-black metal bands such as Wodensthrone and Wolves in the Throne Room, definitely worth keeping an eye on for the future.

At the end of the day though, everyone was here to see one band and one band only, Aethenor. The circle around the stage closed in on the arrival of the band members and with no introduction they start to build up each individual element, tonight's performance was made up of; Daniel O'Sullivan (Guapo, Mothlite, Ulver) utilising keyboard, laptop and vocals, Stephen O'Malley (Sunn , Khanate, KTL) on guitar, Kristoffer Rygg (Ulver, Arcturus, Head Control System) on laptop, synths, vocals and last but certainly not least, Steve Noble (Dereck Bailey, Lol Coxhill, London Improvisers Orchestra) on drums.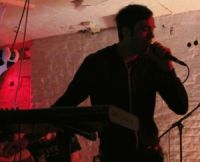 Given the wealth of talent on offer tonight, it was somewhat disheartening to see such a small turn out (70 – 80 punters at a guess?)…but regardless, Aethenor certainly do not disappoint the faithful and spend the next hour crafting some of the most beautiful and absorbing soundscapes imaginable, all completely improvised. Of note was Steve Nobles unreal drumming abilities, watching him play was spellbinding, making the disjointed jazz rhythms he was plucking out of the air seem like child's play and stunningly effortless. Stephen O' Malley adding subtle colour to the overall sound whilst Daniel o' Sullivan put all his effort into creating haunting vocal loops and manipulating the resulting sounds with a plethora of FX pedals and keyboard lunacy. Kristoffer Rygg on the other hand kept a low profile at the back of the stage, only coming to the fore when looping some very bizarre on the spot vocal effects and dropping in harsh walls of rising analogue drones and samples.

Aethenor certainly lived up to expectation and then some, the audience were left in a state of pure musical bliss and with huge grins all over their face. It was one of those shows where you felt privileged to have witnessed that small window in time. A big thank you to 'Fat out Till You Pass Out', the organisers of tonight's event, for bringing yet another amazing, experimental band to Manchester!

All Photos are of Aethenor and are taken by Zoe Fair(c)
http://www.myspace.com/fat_out - Fat out Till You Pass Out
http://www.islingtonmill.com – Islington Mill
www.myspace.com/aethenor - Aethenor
Todd Robinson